Abstract
Background
Patients have a unique role in deciding what treatments should be available for them and regulatory agencies should take their preferences into account when making treatment approval decisions. This is the first study designed to obtain quantitative patient-preference evidence to inform regulatory approval decisions by the Food and Drug Administration Center for Devices and Radiological Health.
Methods
Five-hundred and forty United States adults with body mass index (BMI) ≥30 kg/m2 evaluated tradeoffs among effectiveness, safety, and other attributes of weight-loss devices in a scientific survey. Discrete-choice experiments were used to quantify the importance of safety, effectiveness, and other attributes of weight-loss devices to obese respondents. A tool based on these measures is being used to inform benefit-risk assessments for premarket approval of medical devices.
Results
Respondent choices yielded preference scores indicating their relative value for attributes of weight-loss devices in this study. We developed a tool to estimate the minimum weight loss acceptable by a patient to receive a device with a given risk profile and the maximum mortality risk tolerable in exchange for a given weight loss. For example, to accept a device with 0.01 % mortality risk, a risk tolerant patient will require about 10 % total body weight loss lasting 5 years.
Conclusions
Patient preference evidence was used make regulatory decision making more patient-centered. In addition, we captured the heterogeneity of patient preferences allowing market approval of effective devices for risk tolerant patients. CDRH is using the study tool to define minimum clinical effectiveness to evaluate new weight-loss devices. The methods presented can be applied to a wide variety of medical products. This study supports the ongoing development of a guidance document on incorporating patient preferences into medical-device premarket approval decisions.
Access options
Buy single article
Instant access to the full article PDF.
USD 39.95
Price excludes VAT (USA)
Tax calculation will be finalised during checkout.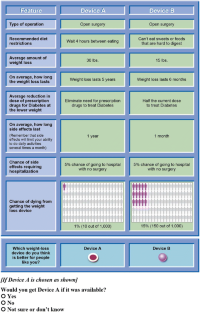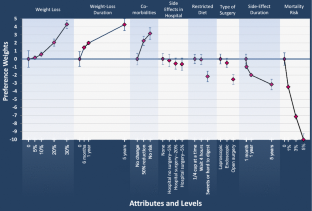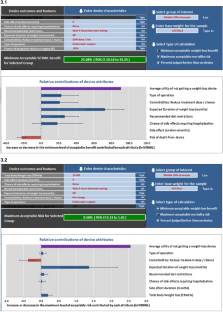 References
http://www.fda.gov/downloads/MedicalDevices/DeviceRegulationandGuidance/GuidanceDocuments/UCM296379.pdf. Accessed 2 Sept 2014

Section 513(a) of the Federal Food, Drug, and Cosmetic Act [21 U.S.C. 360c(a)]

Lerner H, Whang J, Nipper R (2013) Benefit-risk paradigm for clinical trial design of obesity devices: FDA proposal. Surg Endosc 27(3):702–707

Shuren J, Woodcock J (2013) Reviewing FDA's implementation of FDASIA. http://www.fda.gov/NewsEvents/Testimony/ucm374544.htm. Accessed 2 Sept 2014

McMurry-Heath M (2013) FDA brings patients into the process. http://blogs.fda.gov/fdavoice/index.php/2013/09/fda-brings-patients-into-the-process/. Accessed 2 Sept 2014

http://www.ema.europa.eu/docs/en_GB/document_library/Report/2013/10/WC500153276.pdf. Accessed 2 Sept 2014

Marshall D, Bridges JFP, Hauber B et al (2010) Conjoint analysis applications in health: how are studies being designed and reported? Patient 3(4):1178–1653

Bridges JFP, Hauber AB, Marshall D et al (2011) Conjoint analysis applications in health—a checklist: a report of the ISPOR good research practices for conjoint analysis task force. Value Health 14(4):403–413

Johnson FR, Lancsar E, Marshall D et al (2013) Constructing experimental designs for discrete-choice experiments: report of the ISPOR conjoint analysis experimental design good research practices task force. Value Health 16(1):3–13

Kuhfeld WF, Tobias RD, Garratt M (1994) Efficient experimental design with marketing research applications. J Mark Res 31:545–557

Kuhfeld WF (2010) Marketing research methods in SAS. http://support.sas.com/techsup/technote/mr2010.pdf. Accessed 2 Sept 2014

Ogden CL, Carroll MD, Kit BK, Flegal KM (2012) Prevalence of obesity in the United States, 2009–2010. NCHS Data Brief No. 82

Nguyen NT, Masoomi H, Magno CP, Nguyen XMT, Laugenour K, Lane J (2011) Trends in use of bariatric surgery, 2003–2008. J Am Coll Surg 213(2):261–266

Callegaro M, DiSogra C (2008) Computing response metrics for online panels. Public Opin Q 72(5):1008–1032
Acknowledgments
We acknowledge Jeffrey Shuren, MD, JD for his support of the study and insightful advice on the manuscript. We also acknowledge Priya Venkataraman-Rao, MD; Megan Shackelford, MS; Rebecca Nipper; Richard Kotz, MS; Kathleen Olvey; and Martin Golding, MD, for their regulatory input in the development of the survey instrument. We are grateful to the FDA CDRH Obesity Devices Working Group for their comments on interpretation of study results and their feedback on using the MinB–MaxR calculator in regulatory reviews of weight-loss device submissions. The members of that group include Jeffrey Cooper, DVM; Megan Shackelford, MS; Irene Bacalocostantis, PhD; Brandan Reid, PhD; Martha Betz, PhD; Elizabeth Katz, PhD; David Pudwill; Martin Golding, MD; Priya Venkataraman-Rao, MD; and Benjamin Fisher, PhD. The acknowledged persons above are of CDRH, FDA.
Disclosures
Drs. Hauber and Gonzalez received compensation for their work through a contract with the Center for Devices and Radiological Health (CDRH) of the U.S. Food and Drug Administration (FDA). Ho, Lerner, Neuland, Whang, McMurry-Heath, and Irony have no conflicts of interest or financial ties to disclose.
Electronic supplementary material
Below is the link to the electronic supplementary material.
About this article
Cite this article
Ho, M.P., Gonzalez, J.M., Lerner, H.P. et al. Incorporating patient-preference evidence into regulatory decision making. Surg Endosc 29, 2984–2993 (2015). https://doi.org/10.1007/s00464-014-4044-2
Received:

Accepted:

Published:

Issue Date:

DOI: https://doi.org/10.1007/s00464-014-4044-2
Keywords