Abstract
Background
Knowing the exact location of gastrointestinal tumors both preoperatively and intraoperatively is essential for planning and performing laparoscopic surgery. Different techniques have been introduced to ascertain tumor locations during surgery, but none of these are fully satisfactory at establishing the minimum margins for organ resection while retaining curability. A new, non-blurring tissue marker, detectable by both X-ray computed tomography (CT) and near-infrared (NIR) fluorescence laparoscopy, has been developed, and we here examine its utility using an animal model.
Methods
Liposomes, comprised phospholipids and an NIR fluorescent dye (an indocyanine green derivative), and emulsions, consisting of phospholipids and oily radiographic contrast medium, were combined with polyglycerol-polyricinoleate to form giant cluster-like vesicles. This vesicular dispersion (300 μl) was administered into the porcine gastric submucosa using a gastroendoscope, and the detectability of the marker was examined using X-ray CT and NIR fluorescence laparoscopy.
Results
One hour after the administration of the vesicular dispersion, X-ray CT identified four individual injection sites, each at a 1-cm radius of a metal hemostasis clip. NIR fluorescence laparoscopy detected individual fluorescent spots 18 hours after the administration of the vesicular dispersion.
Conclusion
We anticipate that this newly developed tissue marker will contribute to the preoperative simulation of laparoscopic gastrointestinal cancer surgery and its intraoperative navigation.
This is a preview of subscription content, log in to check access.
Access options
Buy single article
Instant access to the full article PDF.
US$ 39.95
Price includes VAT for USA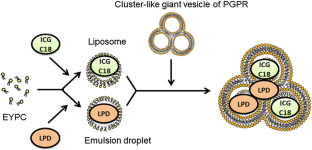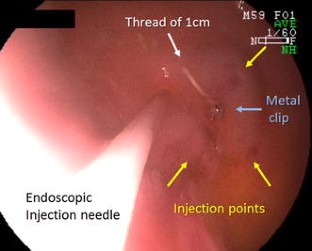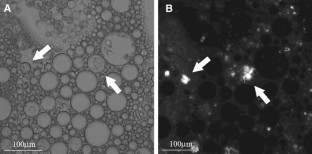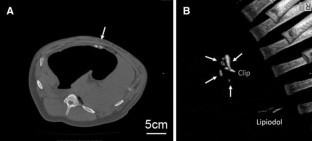 References
1.

Japanese Gastric Cancer Association (2011) Japanese gastric cancer treatment guidelines 2010 (ver. 3). Gastric Cancer 14:113–123

2.

Hachisu T, Miyazaki S, Hamaguchi K (1989) Endoscopic clip-marking of lesions using the newly developed HX-3L clip. Surg Endosc 3:142–147

3.

Ryu KW, Lee JH, Choi IJ, Bae JM (2003) Preoperative endoscopic clipping: localizing technique of early gastric cancer. J Surg Oncol 82:75–77

4.

Ikeda O, Sakaguchi Y, Aoki Y, Harimoto N, Taomoto J, Masuda T, Ohga T, Adachi E, Toh Y, Okamura T, Baba H (2009) Advantages of totally laparoscopic distal gastrectomy over laparoscopically assisted distal gastrectomy for gastric cancer. Surg Endosc 23:2374–2379

5.

Kanaya S, Kawamura Y, Kawada H, Iwasaki H, Gomi T, Satoh S, Uyama I (2011) The delta-shaped anastomosis in laparoscopic distal gastrectomy: analysis of the initial 100 consecutive procedures of intracorporeal gastroduodenostomy. Gastric Cancer 14:365–371

6.

Motoyama K, Kojima K, Hayashi M, Kato K, Inokuchi M, Sugihara K (2013) Beta-Shaped intracorporeal Roux-en-Y reconstruction after totally laparoscopic distal gastrectomy. Gastric Cancer. doi:10.1007/s10120-013-0311-5

7.

Kim HG, Park JH, Jeong SH, Lee YJ, Ha WS, Choi SK, Hong SC, Jung EJ, Ju YT, Jeong CY, Park T (2013) Totally laparoscopic distal gastrectomy after learning curve completion: comparison with laparoscopy-assisted distal gastrectomy. J Gastric Cancer 13:26–33

8.

Jun G, Ping L, Jie C, Qi L, Tang D, Wang D (2013) Totally laparoscopic vs. laparoscopically assisted distal gastrectomy for gastric cancer: a meta-analysis. Hepatogastroenterology 60:1530–1534

9.

Gao J, Li P, Li QG, Chen J, Wang DR, Tang D (2013) Comparison between totally laparoscopic and laparoscopically assisted distal gastrectomy for gastric cancer with a short follow-up: a meta-analysis. J Laparoendosc Adv Surg Tech A 23:693–697

10.

Hyung WJ, Lim JS, Cheong JH, Kim J, Choi SH, Song SY, Noh SH (2005) Intraoperative tumor localization using laparoscopic ultrasonography in laparoscopic-assisted gastrectomy. Surg Endosc 19:1353–1357

11.

Park DJ, Lee HJ, Kim SG, Jung HC, Song IS, Lee KU, Choe KJ, Yang HK (2005) Intraoperative gastroscopy for gastric surgery. Surg Endosc 19:1358–1361

12.

Ohdaira T, Nagai H (2007) Intraoperative localization of early-stage upper gastrointestinal tumors using a magnetic marking clip-detecting system. Surg Endosc 21:810–815

13.

Nagata K, Endo S, Tatsukawa K, Kudo SE (2008) Intraoperative fluoroscopy vs. intraoperative laparoscopic ultrasonography for early colorectal cancer localization in laparoscopic surgery. Surg Endosc 22:379–385

14.

Matsui H, Okamoto Y, Nabeshima K, Kondoh Y, Ogoshi K, Makuuchi H (2009) Endoscopy-assisted gastric resection: a safe and reliable procedure for tumor clearance during laparoscopic high distal or proximal gastrectomy. Surg Endosc 23:1146–1149

15.

Miyoshi N, Ohue M, Noura S, Yano M, Sasaki Y, Kishi K, Yamada T, Miyashiro I, Ohigashi H, Iishi H, Ishikawa O, Imaoka S (2009) Surgical usefulness of indocyanine green as an alternative to India ink for endoscopic marking. Surg Endosc 23:347–351

16.

Choi Y, Kim KG, Kim JK, Nam KW, Kim HH, Sohn DK (2011) A novel endoscopic fluorescent clip for the localization of gastrointestinal tumors. Surg Endosc 25:2372–2377

17.

Jeong O, Cho SB, Joo YE, Ryu SY, Park YK (2012) Novel technique for intraoperative tumor localization during totally laparoscopic distal gastrectomy: endoscopic autologous blood tattooing. Surg Endosc 26:1778–1783

18.

Kim HI, Hyung WJ, Lee CR, Lim JS, An JY, Cheong JH, Choi SH, Noh SH (2011) Intraoperative portable abdominal radiograph for tumor localization: a simple and accurate method for laparoscopic gastrectomy. Surg Endosc 25:958–963

19.

Nakagawa M, Ehara K, Ueno M, Tanaka T, Kaida S, Udagawa H (2013) Accurate, safe, and rapid method of intraoperative tumor identification for totally laparoscopic distal gastrectomy: injection of mixed fluid of sodium hyaluronate and patent blue. Surg Endosc. doi:10.1007/s00464-013-3319-3

20.

Xuan Y, Hur H, Byun CS, Han SU, Cho YK (2013) Efficacy of intraoperative gastroscopy for tumor localization in totally laparoscopic distal gastrectomy for cancer in the middle third of the stomach. Surg Endosc 27:4364–4370

21.

Hatayama H, Toyota T, Hayashi H, Nomoto T, Fujinami M (2014) Application of a novel near infrared-fluorescence giant vesicle- and polymerasome-based tissue marker for endoscopic and laparoscopic navigation. Anal Sci 30:225–230

22.

Toyota T, Fujito H, Suganami A, Ouchi T, Ohishi A, Aoki A, Onoue K, Muraki Y, Madono T, Fujinami M, Tamura Y, Hayashi H (2014) Near-infrared-fluorescence imaging of lymph nodes by using liposomally formulated indocyanine green derivatives. Bioorg Med Chem 22:721–727

23.

Jeong SH, Bae K, Ha CY, Lee YJ, Lee OJ, Jung WT, Choi SK, Hong SC, Jung EJ, Ju YT, Jeong CY, Ha WS (2013) Effectiveness of endoscopic clipping and computed tomography gastroscopy for the preoperative localization of gastric cancer. J Korean Surg Soc 84:80–87

24.

Yu JS, Choi SH, Choi WH, Chung JJ, Kim JH, Kim KW (2007) Value of nonvisualized primary lesions of gastric cancer on preoperative MDCT. AJR Am J Roentgenol 189:W315–W319

25.

Hachisu T (1988) Evaluation of endoscopic hemostasis using an improved clipping apparatus. Surg Endosc 2:13–17

26.

Ponsky JL, King JF (1975) Endoscopic marking of colonic lesions. Gastrointest Endosc 22:42–43
Acknowledgments
This study was supported by grants from the Ministry of Education, Culture, Sports, Science and Technology of Japan (Grant Nos.: 21591693, 24591933 and 23750078), and a grant from the Japan Science and Technology Agency (Grant No.: 231Z04070).
Disclosures
Hideki Hayashi, Taro Toyota, Shoichi Goto, Aki Ooishi, Tao Gao, Lau Bik Ee, Hirosuke Hatayama, Tomonori Nomoto, Masanori Fujinami, and Hisahiro Matsubara have no conflicts of interests or financial ties to disclose.
About this article
Cite this article
Hayashi, H., Toyota, T., Goto, S. et al. Development of a non-blurring, dual-imaging tissue marker for gastrointestinal tumor localization. Surg Endosc 29, 1445–1451 (2015). https://doi.org/10.1007/s00464-014-3822-1
Received:

Accepted:

Published:

Issue Date:
Keywords
Indocyanine green

Lipiodol®

Near-infrared fluorescent dye

Liposome

Giant vesicle