Abstract
Background
Centers for Medicare and Medicaid Services initiated a non-payment policy for certain hospital-acquired conditions (HACs) in 2008. This study aimed to determine the rate of the three most common HACs (surgical site infection (SSI), urinary tract infection (UTI), and venous thromboembolism (VTE)) among bariatric surgery patients. Additionally, the association of HACs with patient factors and the effect of HACs on post-operative outcomes were investigated.
Methods
Patients over 18 years with a body mass index (BMI) ≥35 who underwent bariatric surgery were identified using the American College of Surgeons' National Surgical Quality Improvement Program (ACS-NSQIP) database (2005–2012). Patients were grouped into two categories: HAC versus no HAC patients and baseline characteristics and outcomes, including 30-day mortality, reoperation, and mean length of stay (LOS) were compared. Multivariable logistic regression analysis was performed to identify the risk factors for developing a HAC.
Results
98,553 patients were identified, 2,809 (2.9 %) developed at least one HACs. SSI was the most common HAC (1.8 %), followed by UTI (0.7 %) and VTE (0.4 %). The rate of these HACs significantly decreased from 4.6 % in 2005–2006 to 2.5 % in 2012 (p < 0.001). Laparoscopic gastric banding was associated with the lowest rates of HAC (1.3 %) and open gastric bypass with the highest (8.0 %). HAC patients had significantly higher rates of in-hospital mortality (0.8 vs. 0.1 %, p < 0.001) and LOS (3.9 vs. 2.1 days, p < 0.001). On adjusted analysis, open GBP patients had 5.36-fold higher odds of developing a HAC. Interestingly, the presence of a resident surgeon 7–11 years post graduation was associated with significantly increased odds of HACs (1.86, 1.50–2.31, p < 0.001).
Conclusion
Our data demonstrate a strong correlation between these three HACs following bariatric surgery and factors intrinsic to the bariatric patient population. This calls into question the non-payment policy for inherent patient factors on which they cannot have impact. These findings are important to help inform health care policy decisions regarding access to care for bariatric surgery patients.
Access options
Buy single article
Instant access to the full article PDF.
USD 39.95
Price excludes VAT (USA)
Tax calculation will be finalised during checkout.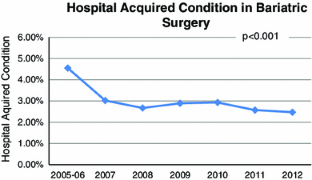 References
Clancy CM (2009) CMS's hospital-acquired condition lists link hospital payment, patient safety. Am J Med Qual 24:166–168. doi:10.1177/1062860608331241

http://www.cms.gov/Medicare/Medicare-Fee-for-Service-Payment/HospitalAcqCond/Hospital-Acquired_Conditions.html. Center for Medicare and Medicaid Services. Accessed 2 Apr 2014

Livingston EH (2010) The incidence of bariatric surgery has plateaued in the U.S. Am J Surg 200:378–385. doi:10.1016/j.amjsurg.2009.11.007

Hall MJ, DeFrances CJ, Williams SN, Golosinskiy A, Schwartzman A (2010) National hospital discharge survey: 2007 summary. Natl Health Stat Rep 24(29):1–20

American College of Surgeons National Surgical Quality Improvement Program. Participants. Chicago, IL, USA http://site.acsnsqip.org/participants/. ACS-NSQIP. Accessed 2 Apr 2014

American College of Surgeon National Surgical Quality Improvement Program. ACS-NSQIP user guide for the 2011 Participant Data Use File. http://site.acsnsqip.org/wp-content/uploads/2013/10/ACSNSQIP.PUF_.UserGuide.2012.pdf. ACS-NSQIP. Accessed 2 Apr 2014

Assmann SF, Hosmer DW, Lemeshow S, Mundt KA (1996) Confidence intervals for measures of interaction. Epidemiology 7:286–290

Podnos YD, Jimenez JC, Wilson SE, Stevens CM, Nguyen NT (2003) Complications after laparoscopic gastric bypass: a review of 3,464 cases. Arch Surg 138:957–961. doi:10.1001/archsurg.138.9.957

Kiran RP, Ahmed Ali U, Coffey JC, Vogel JD, Pokala N, Fazio VW (2012) Impact of resident participation in surgical operations on postoperative outcomes: national surgical quality improvement program. Ann Surg 256:469–475. doi:10.1097/SLA.0b013e318265812a

Raval MV, Wang X, Cohen ME, Ingraham AM, Bentrem DJ, Dimick JB, Flynn T, Hall BL, Ko CY (2011) The influence of resident involvement on surgical outcomes. J Am Coll Surg 212:889–898. doi:10.1016/j.jamcollsurg.2010.12.029

Krell RW, Birkmeyer NJ, Reames BN, Carlin AM, Birkmeyer JD, Finks JF, Michigan Bariatric Surgery Collaborative (2014) Effects of resident involvement on complication rates after laparoscopic gastric bypass. J Am Coll Surg 218:253–260. doi:10.1016/j.jamcollsurg.2013.10.014

Haridas M, Malangoni MA (2008) Predictive factors for surgical site infection in general surgery. Surgery 144:496–501. doi:10.1016/j.surg.2008.06.001 discussion 501–3

Procter LD, Davenport DL, Bernard AC, Zwischenberger JB (2010) General surgical operative duration is associated with increased risk-adjusted infectious complication rates and length of hospital stay. J Am Coll Surg 210(1):60–65. doi:10.1016/j.jamcollsurg.2009.09.034

Finks JF, English WJ, Carlin AM, Krause KR, Share DA, Banerjee M, Birkmeyer JD, Birkmeyer NJ, Michigan bariatric surgery collaborative, center for healthcare outcomes and policy (2012) Predicting risk for venous thromboembolism with bariatric surgery: results from the Michigan Bariatric surgery collaborative. Ann Surg 255:1100–1104. doi:10.1097/SLA.0b013e31825659d4

Nguyen NT, Hohmann S, Slone J, Varela E, Smith BR, Hoyt D (2010) Improved bariatric surgery outcomes for Medicare beneficiaries after implementation of the medicare national coverage determination. Arch Surg 145:72–78. doi:10.1001/archsurg.2009.228

Karve AM, Ou FS, Lytle BL, Peterson ED (2008) Potential unintended financial consequences of pay-for-performance on the quality of care for minority patients. Am Heart J 155:571–576. doi:10.1016/j.ahj.2007.10.043

Werner RM, Asch DA, Polsky D (2005) Racial profiling: the unintended consequences of coronary artery bypass graft report cards. Circulation 111:1257–1263. doi:10.1161/01.CIR.0000157729.59754.09
Acknowledgments
Mr. Edwin Lewis provided generous support of Dr. Lidor's Department of Surgery Research Fund.
Disclosure
The authors Anne O Lidor, Erin Moran-Atkin, Miloslawa Stem, Thomas H Magnuson, Kimberley E Steele, Richard Feinberg, Michael A Schweitzer have no conflict of interest to disclose.
Additional information
Meeting Presentation: Podium presentation at Scientific Session of the SAGES 2014 Annual Meeting, held April 2-5, 2014 at the Salt Lake Convention Center in Salt Lake City, UT.
About this article
Cite this article
Lidor, A.O., Moran-Atkin, E., Stem, M. et al. Hospital-acquired conditions after bariatric surgery: we can predict, but can we prevent?. Surg Endosc 28, 3285–3292 (2014). https://doi.org/10.1007/s00464-014-3602-y
Received:

Accepted:

Published:

Issue Date:

DOI: https://doi.org/10.1007/s00464-014-3602-y
Keywords
Hospital-acquired conditions

Obesity

Bariatric surgery

Outcomes

Non-reimbursement

Surgical site infection