Abstract
Background
Natural orifice transluminal endoscopic surgery (NOTES) and single-incision laparoscopy are emerging, minimally invasive techniques. Total mesorectal excision (TME), the gold standard treatment for patients with resectable distal rectal tumors, is usually performed in an "up-to-down" approach, either laparoscopically or via open techniques. A transanal, "down-to-up" TME has already been reported. Our NOTES variant of TME (NOTESTME) is based on a transperineal approach without any form of abdominal assistance. The aim was to reduce further the invasiveness of the procedure while optimizing the anatomical definition of the distal mesorectum. This approach may lead to reduced postoperative pain, decreased hernia formation and improved cosmesis when compared to standard laparoscopy.
Methods
NOTESTME was attempted in 16 patients with distal rectal neoplasia (i.e., distal edge of the tumor lower than the pouch of Douglas, between 0 and 12 cm from the dentate line). Additional inclusion criteria consisted of an ASA status ≤III and the absence of previous abdominal surgery.
Results
NOTESTME was completed in all patients. Additional abdominal, single-incision laparoscopic assistance was required in 6 (38 %) patients. Mean operative time was 265 min (range 155–440 min). The morbidity rate was 18.8 % (two small bowel obstructions and one pelvic abscess), requiring re-operation in each case. No leaks occurred, and the mortality rate at 30 and 90 days was 0 %. Resection margins were negative in all patients. A median of 17 nodes (range 12–81) was retrieved per specimen. Mean length of hospital stay was 10 days (range 4–29 days). Patients were followed for an average of 7 months (range 3–23 months).
Conclusion
NOTESTME was feasible and safe in this series of patients with mid- or low rectal tumors. The short-term mortality and morbidity rates are acceptable, with no apparent compromise in the oncological quality of the resection. Larger, randomized controlled trials with long-term follow-up are warranted.
Access options
Buy single article
Instant access to the full article PDF.
USD 39.95
Price includes VAT (USA)
Tax calculation will be finalised during checkout.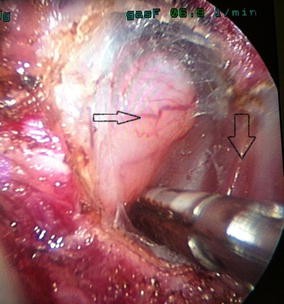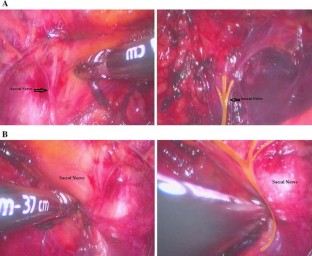 References
1.

Giday SA, Magno P, Kalloo AN (2008) NOTES: the future. Gastrointest Endosc Clin N Am 18:387–395

2.

Moreira-Pinto J, Lima E, Correia-Pinto J, Rolanda C (2011) Natural orifice transluminal endoscopy surgery: a review. World J Gastroenterol 17:3795–3801

3.

Moris DN, Bramis KJ, Mantonakis EI, Papalampros EL, Petrou AS, Papalampros AE (2012) Surgery via natural orifices in human beings: yesterday, today, tomorrow. Am J Surg 204:93–102

4.

Swain P, Bagga HS, Su LM (2009) Status of endoscopes and instruments used during NOTES. J Endourol 23:773–780

5.

Mohiuddin SS, Gonzalez JJ, Glass J, Portillo G, Franklin ME Jr (2009) Laparoscopic-assisted endoluminal hybrid surgery: a stepping stone to NOTES. Surg Laparosc Endosc Percutan Tech 19:474–478

6.

Hu SY (2012) Application of natural orifice transluminal endoscopic surgery and laparoendoscopic single-site surgery techniques in colorectal surgery. Zhonghua Wei Chang Wai Ke Za Zhi 15:770–772

7.

de Lacy AM, Rattner DW, Adelsdorfer C, Tasende MM, Fernández M, Delgado S, Sylla P, Martínez-Palli G (2013) Transanal natural orifice transluminal endoscopic surgery (NOTES) rectal resection: "down-to-up" total mesorectal excision (TME)-short-term outcomes in the first 20 cases. Surg Endosc 27:3165–3172

8.

Osborne AJ, Lim J, Gash KJ, Chaudhary B, Dixon AR (2013) Comparison of single-incision laparoscopic high anterior resection with standard laparoscopic high anterior resection. Colorectal Dis 15:329–333

9.

Leroy J, Jamali F, Forbes L, Smith M, Rubino F, Mutter D, Marescaux J (2004) Laparoscopic total mesorectal excision (TME) for rectal cancer surgery: long-term outcomes. Surg Endosc 18:281–289

10.

Kellokumpu IH, Kairaluoma MI, Nuorva KP, Kautiainen HJ, Jantunen IT (2012) Short- and long-term outcome following laparoscopic versus open resection for carcinoma of the rectum in the multimodal setting. Dis Colon Rectum 55:854–863

11.

Cecil TD, Sexton R, Moran BJ, Heald RJ (2004) Total mesorectal excision results in low local recurrence rates in lymph node-positive rectal cancer. Dis Colon Rectum 47:1145–1149

12.

Faucheron JL (2005) Pelvic anatomy for colorectal surgeons. Acta Chir Belg 105:471–474

13.

Kirkham AP, Mundy AR, Heald RJ, Scholefield JH (2001) Cadaveric dissection for the rectal surgeon. Ann R Coll Surg Engl 83:89–95

14.

Heald RJ (2002) Sphincter and nerve preserving total mesorectal excision. Acta Chir Iugosl 49:7–8

15.

Nesargikar PN, Kaur V, Cocker DM, Lengyel J (2010) Consenting for pelvic nerve injury in colorectal surgery: need to address age and gender bias. Ann R Coll Surg Engl 92:391–394

16.

Leroy J, Barry BD, Melani A, Mutter D, Marescaux J (2012) No-scar transanal total mesorectal excision: the last step to pure NOTES for colorectal surgery. JAMA Surg 148:226–230

17.

Fuchs KH, Breithaupt W, Varga G, Schulz T, Reinisch A, Josipovic N (2013) Transanal hybrid colon resection: from laparoscopy to NOTES. Surg Endosc 27:746–752

18.

Rieder E, Whiteford MH (2011) Transrectal natural orifice transluminal endoscopic surgery (NOTES) for colorectal resection. Colorectal Dis Suppl 7:51–54

19.

Marks JH (2011) TEM as a platform for NOTES. J Gastrointest Surg 15:1313–1315

20.

Zorron R, Phillips HN, Coelho D, Flach L, Lemos FB, Vassallo RC (2012) Perirectal NOTES access: "down-to-up" total mesorectal excision for rectal cancer. Surg Innov 19:11–19

21.

Dumont F, Goéré D, Honoré C, Elias D (2012) Transanal endoscopic total mesorectal excision combined with single-port laparoscopy. Dis Colon Rectum 55:996–1001

22.

Fuchs KH, Meining A, von Renteln D, Fernandez-Esparrach G, Breithaupt W, Zornig C, Lacy A (2013) Euro-NOTES status paper: from the concept to clinical practice. Surg Endosc 27:1456–1467

23.

Sylla P, Bordeianou LG, Berger D, Han KS, Lauwers GY, Sahani DV, Sbeih MA, Lacy AM, Rattner DW (2013) A pilot study of natural orifice transanal endoscopic total mesorectal excision with laparoscopic assistance for rectal cancer. Surg Endosc 27:3396–3405

24.

Telem DA, Berger DL, Bordeianou LG, Rattner DW, Sylla P (2012) Update on transanal NOTES for rectal cancer: transitioning to human trials. Minim Invasive Surg. doi:10.1155/2012/287613. Epub 20 May 2012

25.

Whiteford MH, Denk PM, Swamstrom LL (2007) Feasibility of radical sigmoid colectomy performed as natural orifice transluminal endoscopic surgery (NOTES) using transanal endoscopic microsurgery. Surg Endosc 21:1870–1874

26.

Cahill RA, Mortensen NJ (2010) Natural orifice transluminal endoscopic surgery and localized resection for colorectal neoplasia. World J Gastrointest Surg 2:199–202

27.

Diana M, Dhumane P, Cahill RA, Mortensen N, Leroy J, Marescaux J (2011) Minimal invasive single-site surgery in colorectal procedures: current state of the art. J Minim Access Surg 7:52–60

28.

Boni L, Dionigi G, Cassinotti E, Di Giuseppe M, Diurni M, Rausei S, Caantore F, Dionigi R (2010) Single incision laparoscopic right colectomy. Surg Endosc 24:3233–3236

29.

Champagne BJ, Lee EC, Leblanc F, Stein SL, Delaney CP (2011) Single-incision vs straight laparoscopic segmental colectomy: a case–controlled study. Dis Colon Rectum 54:183–186

30.

Tjandra JJ, Chan MK (2006) Systematic review on the short-term outcome of laparoscopic resection for colon and rectosigmoid cancer. Colorectal Dis 8:375–388

31.

Schwenk W, Haase O, Neudecker J, Müller JM (2005) Short term benefits for laparoscopic colorectal resection. Cochrane Database Syst Rev 3:CD003145

32.

Murray A, Lourenco T, de Verteuil R, Hernandez R, Fraser C, McKinley A, Krukowski Z, Vale L, Grant A (2006) Clinical effectiveness and cost-effectiveness of laparoscopic surgery for colorectal cancer: systematic reviews and economic evaluation. Health Technol Assess 10:1–141

33.

Yeung BP, Gourlay T (2012) A technical review of flexible endoscopic multitasking platforms. Int J Surg 10:345–354

34.

Keating JP (2004) Sexual function after rectal excision. ANZ J Surg 74:248–259

35.

Heald RJ (1988) The 'Holy Plane' of rectal surgery. J R Soc Med 81:503–508
Acknowledgments
The authors wish to thank Joey Marie Robinson for her language and editorial assistance with this manuscript.
Disclosures
Drs. Elie Chouillard, Elias Chahine, Georges Khoury, Beatrice Vinson Bonnet, Andrew Gumbs, Daniel Azoulay and Eddie Abdalla have no conflicts of interest or financial ties to disclose.
Additional information
On behalf of The Intercontinental Society of Natural Orifice, Endoscopic, and Laparoscopic Surgery (i-NOELS), France.
About this article
Cite this article
Chouillard, E., Chahine, E., Khoury, G. et al. Notes total mesorectal excision (TME) for patients with rectal neoplasia: a preliminary experience. Surg Endosc 28, 3150–3157 (2014). https://doi.org/10.1007/s00464-014-3573-z
Received:

Accepted:

Published:

Issue Date:
Keywords
Surgery

Rectum

Mesorectum

NOTES

Single-port

Cancer