Abstract
Background
Structural learning theory suggests that experiencing motor task variation enables the central nervous system to extract general rules regarding tasks with a similar structure—rules that can subsequently be applied to novel situations. Complex minimally invasive surgery (MIS) requires different port sites, but switching ports alters the limb movements required to produce the same endpoint control of the surgical instrument. The purpose of the present study was to determine if structural learning theory can be applied to MIS to inform training methods.
Methods
A tablet laptop running bespoke software was placed within a laparoscopic box trainer and connected to a monitor situated at eye level. Participants (right-handed, non-surgeons, mean age = 23.2 years) used a standard laparoscopic grasper to move between locations on the screen. There were two training groups: the M group (n = 10) who trained using multiple port sites, and the S group (n = 10) who trained using a single port site. A novel port site was used as a test of generalization. Performance metrics were a composite of speed and accuracy (SACF) and normalized jerk (NJ; a measure of movement 'smoothness').
Results
The M group showed a statistically significant performance advantage over the S group at test, as indexed by improved SACF (p < 0.05) and NJ (p < 0.05).
Conclusions
This study has demonstrated the potential benefits of incorporating a structural learning approach within MIS training. This may have practical applications when training junior surgeons and developing surgical simulation devices.
Access options
Buy single article
Instant access to the full article PDF.
US$ 39.95
Tax calculation will be finalised during checkout.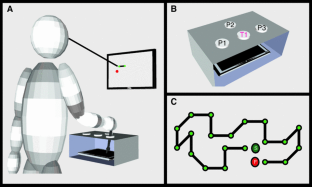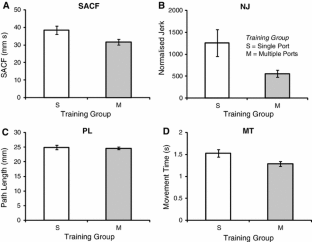 References
1.

Tenenbaum JB, Kemp C, Griffiths TL, Goodman ND (2011) How to grow a mind: statistics, structure, and abstraction. Science 331:1279–2385

2.

Braun D, Mehring C, Wolpert D (2010) Structure learning in action. Behav Brain Res 206:157–165

3.

Braun DA, Aertsen A, Wolpert DM, Mehring C (2009) Learning optimal adaptation strategies in unpredictable motor tasks. J Neurosci 29:6472–6478

4.

Heuer H, Sülzenbrück S (2009) Trajectories in operating a handheld tool. J Exp Psychol Hum Percept Perform 35:375–389

5.

Reich DL, Bennett-Guerrero E, Bodian CA et al (2002) Intraoperative tachycardia and hypertension are independently associated with adverse outcome in noncardiac surgery of long duration. Anesth Analg 95:273–277

6.

Bandrinath SS, Bhaskaran S, Sundararaj I et al (1995) Mortality and morbidity associated with opthalamic surgery. Opthalmic Surg Lasers 26:535–541

7.

Braun DA, Aertsen A, Wolpert DM, Mehring C (2009) Motor task variation induces structural learning. Curr Biol 19:352–357

8.

Kobak D, Mehring C (2012) Adaptation paths to novel motor tasks are shaped by prior structure learning. J Neurosci 32:9898–9908

9.

Yousif N, Diedrichsen J (2012) Structural learning in feedforward and feedback control. J Neurophysiol 108:2373–2382

10.

Seidler RD (2001) Multiple motor learning experiences enhance motor adaptability. J Cogn Neurosci 16:65–73

11.

Abeele S, Bock O (2001) Mechanisms for sensorimotor adaptation to rotated visual input. Exp Brain Res 139:248–253

12.

Cunningham H, Welch R (1994) Multiple concurrent visual-motor mappings: implications for models of adaptation. J Exp Psychol Hum Percept Perform 20:987–999

13.

Roller CA, Cohen HS, Kimball KT, Bloomberg JJ (2001) Variable practice with lenses improves visuo-motor plasticity. Brain Res Cogn Brain Res 12:341–352

14.

Fitts PM, Posner MI (1967) Human performance. Brooks Coles, Oxford

15.

Oldfield R (1971) The assessment and analysis of handedness: the Edinburgh inventory. Neuropsychologia 9:97–113

16.

Culmer PR, Levesley MC, Mon-Williams M, Williams JHG (2009) A new tool for assessing human movement: the Kinematic Assessment Tool. J Neurosci Methods 184:184–192

17.

Welch RB, Bridgeman B, Anand S, Browman KE (1993) Alternating prism exposure causes dual adaptation and generalization to a novel displacement. Percept Psychophys 54:195–204

18.

Turnham EJA, Braun DA, Wolpert DM (2012) Facilitation of learning induced by both random and gradual visuomotor task variation. J Neurophysiol 107:1111–1122

19.

Johnson RL, Culmer PR, Burke MR et al (2010) Exploring structural learning in handwriting. Exp Brain Res 207:291–295

20.

Zhang L, Cao CGL (2012) Effect of automatic image realignment on visuomotor coordination in simulated laparoscopic surgery. Appl Ergon 43:993–1001

21.

Gallagher AG, Al-Akash M, Seymour NE, Satava RM (2009) An ergonomic analysis of the effects of camera rotation on laparoscopic performance. Surg Endosc 23:2684–2691

22.

Cresswell AB, Macmillan AI, Hanna GB, Cuschieri A (1999) Methods for improving performance under reverse alignment conditions during endoscopic surgery. Surg Endosc 13:591–594

23.

Sülzenbrück S, Heuer H (2012) Enhanced mechanical transparency during practice impedes open-loop control of a complex tool. Exp Brain Res 218:283–294

24.

Rogers ML, Heath WB, Uy CC et al (2012) Effect of visual displays and locations on laparoscopic surgical training task. Appl Ergon 43:762–767

25.

Van Det MJ, Meijerink WJHJ, Hoff C et al (2009) Optimal ergonomics for laparoscopic surgery in minimally invasive surgery suites: a review and guidelines. Surg Endosc 23:1279–1285

26.

Veelen MA, Jakimowicz JJ, Goossens RHM et al (2002) Evaluation of the usability of two types of image display systems, during laparoscopy. Surg Endosc 16:674–678

27.

Huang VS, Shadmehr R (2009) Persistence of motor memories reflects statistics of the learning event. J Neurophysiol 102:931–940
Acknowledgments
This work was kindly supported by the Wellcome Trust, Engineering and Physical Sciences Research Council (EPSRC), and the Leeds Teaching Hospitals Charitable Trust. The authors would like to thank Faisal Mushtaq for his contributions in proofreading the manuscript.
Disclosures
Alan D. White, Oscar Giles, Rebekah Sutherland, Oliver Ziff, Mark Mon-Williams, Richard M. Wilkie and J. Peter A. Lodge have no conflicts of interest to declare.
About this article
Cite this article
White, A.D., Giles, O., Sutherland, R.J. et al. Minimally invasive surgery training using multiple port sites to improve performance. Surg Endosc 28, 1188–1193 (2014). https://doi.org/10.1007/s00464-013-3307-7
Received:

Accepted:

Published:

Issue Date:
Keywords
Minimally invasive surgery

Motor control

Kinematic

Motor learning