Abstract
Background
Robotic applications have achieved safe and precise thyroidectomy with notable cosmetic and functional benefits. This study was designed to document the influence of body habitus on robotic thyroidectomy in papillary thyroid carcinoma (PTC) patients.
Methods
From July 2009 to February 2010, 352 patients underwent robotic thyroidectomy using a gasless, transaxillary single-incision approach at Yonsei University Health System. Body habitus was described using body mass index category (normal weight, overweight, obese), neck length, shoulder width, and shoulder width to neck length ratios. The impact of body habitus on surgical outcomes was analyzed with respect to operation time, number of retrieved central nodes, bleeding amount, and postoperative complications.
Results
Of the 352 patients, 217 underwent less than total thyroidectomy and 135 underwent total thyroidectomy. Operative variables (i.e. operation times, bleeding amounts, and numbers of retrieved central nodes) showed no significant differences between three BMI groups for less than total thyroidectomy. However, total operation and working space times were longer for obese patients during total thyroidectomy. In particular, shoulder width was positively correlated with total operation time, working space time, console time, and number of retrieved central nodes. On the other hand, postoperative complications were not significantly different in the three BMI groups and showed no significant correlation with the other indices of body habitus.
Conclusions
Standardized robotic thyroidectomy can be performed safely and feasibly in patients with a large body habitus despite longer operation times.
Access options
Buy single article
Instant access to the full article PDF.
USD 39.95
Price includes VAT (USA)
Tax calculation will be finalised during checkout.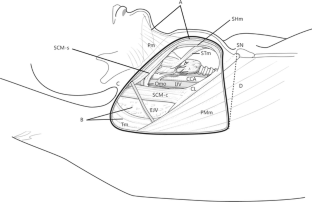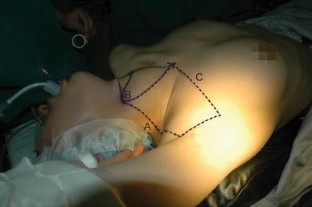 References
1.

Ryu HR, Kang SW, Lee SH, Rhee KY, Jeong JJ, Nam KH, Chung WY, Park CS (2010) Feasibility and safety of a new robotic thyroidectomy through a gasless, transaxillary single-incision approach. J Am Coll Surg 211:e13–e19

2.

Lee J, Yun JH, Nam KH, Choi UJ, Chung WY, Soh EY (2011) Perioperative clinical outcomes after robotic thyroidectomy for thyroid carcinoma: a multicenter study. Surg Endosc 25(3):906–912

3.

Holsinger FC, Terris DJ, Kuppersmith RB (2010) Robotic thyroidectomy: operative technique using a transaxillary endoscopic approach without CO2 insufflation. Otolaryngol Clin North Am 43:381–388 ix-x

4.

Lee J, Nah KY, Kim RM, Ahn YH, Soh EY, Chung WY (2010) Differences in postoperative outcomes, function, and cosmesis: open versus robotic thyroidectomy. Surg Endosc 24(12):3186–3194

5.

Kang SW, Lee SC, Lee SH, Lee KY, Jeong JJ, Lee YS, Nam KH, Chang HS, Chung WY, Park CS (2009) Robotic thyroid surgery using a gasless, transaxillary approach and the da Vinci S system: the operative outcomes of 338 consecutive patients. Surgery 146:1048–1055

6.

Kang SW, Jeong JJ, Nam KH, Chang HS, Chung WY, Park CS (2009) Robot-assisted endoscopic thyroidectomy for thyroid malignancies using a gasless transaxillary approach. J Am Coll Surg 209:e1–e7

7.

Kang SW, Jeong JJ, Yun JS, Sung TY, Lee SC, Lee YS, Nam KH, Chang HS, Chung WY, Park CS (2009) Robot-assisted endoscopic surgery for thyroid cancer: experience with the first 100 patients. Surg Endosc 23:2399–2406

8.

Lee S, Ryu HR, Park JH, Kim KH, Kang SW, Jeong JJ, Nam KH, Chung WY, Park CS (2011) Excellence in robotic thyroid surgery: a comparative study of robot-assisted versus conventional endoscopic thyroidectomy in papillary thyroid micro-carcinoma patients. Ann Surg 253:1060–1066

9.

Lobe TE, Wright SK (2011) The transaxillary, totally endoscopic approach for head and neck endocrine surgery in children. J Laparoendosc Adv Surg Tech A 21:97–100

10.

Muenscher A, Dalchow C, Kutta H, Knecht R (2011) The endoscopic approach to the neck: a review of the literature, and overview of the various techniques. Surg Endosc 25:1358–1363

11.

Papaspyrou G, Ferlito A, Silver CE, Werner JA, Genden E, Sesterhenn AM (2011) Extracervical approaches to endoscopic thyroid surgery. Surg Endosc 25:995–1003

12.

Kandil EH, Noureldine SI, Yao L, Slakey DP (2012) Robotic transaxillary thyroidectomy: an examination of the first one hundred cases. J Am Coll Surg 214(4):558–564 discussion 564-566

13.

Kuppersmith RB, Holsinger FC (2011) Robotic thyroid surgery: an initial experience with North American patients. Laryngoscope 121:521–526

14.

Ogden CL, Carroll MD, Curtin LR, McDowell MA, Tabak CJ, Flegal KM (2006) Prevalence of overweight and obesity in the United States, 1999–2004. JAMA 295:1549–1555

15.

Kim DM, Ahn CW, Nam SY (2005) Prevalence of obesity in Korea. Obes Rev 6:117–121

16.

Park HS, Park CY, Oh SW, Yoo HJ (2008) Prevalence of obesity and metabolic syndrome in Korean adults. Obes Rev 9:104–107

17.

Choban PS, Flancbaum L (1997) The impact of obesity on surgical outcomes: a review. J Am Coll Surg 185:593–603

18.

Fasol R, Schindler M, Schumacher B, Schlaudraff K, Hannes W, Seitelberger R, Schlosser V (1992) The influence of obesity on perioperative morbidity: retrospective study of 502 aortocoronary bypass operations. Thorac Cardiovasc Surg 40:126–129

19.

Foley K, Lee RB (1990) Surgical complications of obese patients with endometrial carcinoma. Gynecol Oncol 39:171–174

20.

Garrow JS, Hastings EJ, Cox AG, North WR, Gibson M, Thomas TM, Meade TW (1988) Obesity and postoperative complications of abdominal operation. BMJ 297:181

21.

Lee CT, Dunn RL, Chen BT, Joshi DP, Sheffield J, Montie JE (2004) Impact of body mass index on radical cystectomy. J Urol 172:1281–1285

22.

Pandya S, Murray JJ, Coller JA, Rusin LC (1999) Laparoscopic colectomy: indications for conversion to laparotomy. Arch Surg 134:471–475

23.

Moriwaki Y, Kunisaki C, Kobayashi S, Harada H, Imai S, Kasaoka C (2003) Does body mass index (BMI) influence morbidity and long-term survival in gastric cancer patients after gastrectomy? Hepatogastroenterology 50:284–288

24.

Djurasovic M, Bratcher KR, Glassman SD, Dimar JR, Carreon LY (2008) The effect of obesity on clinical outcomes after lumbar fusion (Phila Pa 1976). Spine 33:1789–1792

25.

Pikarsky AJ, Saida Y, Yamaguchi T, Martinez S, Chen W, Weiss EG, Nogueras JJ, Wexner SD (2002) Is obesity a high-risk factor for laparoscopic colorectal surgery? Surg Endosc 16:855–858

26.

Terris DJ, Singer MC, Seybt MW (2011) Robotic facelift thyroidectomy: II. Clinical feasibility and safety. Laryngoscope 121:1636–1641

27.

Janus JR, Moore EJ, Price DL, Kasperbauer J (2012) Robotic thyroid surgery: clinical and anatomic considerations. Clin Anat 25:40–53
Disclosures
Drs. Lee, Park, Lee, Son, Kim, Kang, Jeong, Nam, Chung, and Park have no conflict of interest or financial ties to disclose.
About this article
Cite this article
Lee, S., Park, S., Lee, C.R. et al. The impact of body habitus on the surgical outcomes of transaxillary single-incision robotic thyroidectomy in papillary thyroid carcinoma patients. Surg Endosc 27, 2407–2414 (2013). https://doi.org/10.1007/s00464-012-2747-9
Received:

Accepted:

Published:

Issue Date:
Keywords
Body habitus

Robotic thyroidectomy