Abstract
Background
Patients undergoing colorectal cancer resections are at risk for delayed recovery. Prehabilitation aims to enhance functional capacity preoperatively for better toleration of surgery and to facilitate recovery. The authors previously demonstrated the limited impact of a prehabilitation program using exercise alone. They propose an expanded trimodal prehabilitation program that adds nutritional counseling, protein supplementation, and anxiety reduction to a moderate exercise program. This study aimed to estimate the impact of this trimodal program on the recovery of functional capacity compared with standard surgical care.
Methods
Consecutive patients were enrolled in this pre- and postintervention study over a 23-month period. The postoperative recovery for 42 consecutive patients enrolled in the prehabilitation program was compared with that of 45 patients assessed before the intervention began. The primary outcome was functional walking capacity (6-min walk test [6MWT]). The secondary outcomes included self-reported physical activity (CHAMPS questionnaire) and health-related quality of life (SF-36). Data are expressed as mean ± standard deviation or median (interquartile range [IQR]) and were analyzed using Chi-square and Student's t test. All p values lower than 0.05 were considered significant.
Results
The prehabilitation and control groups were comparable in terms of age, gender, body mass index (BMI) and American Society of Anesthesiology (ASA) class. There was no difference in walking capacity at the first assessment (6MWT distance, 422 ± 87 vs 402 ± 57 m; p = 0.21). During the prehabilitation period lasting a median of 33 days (range, 21–46 days), functional walking capacity improved by 40 ± 40 m (p < 0.01). The postoperative complication rates and the hospital length of stay were similar. The patients in the prehabilitation program had better postoperative walking capacity at both 4 weeks (mean difference, 51.5 ± 93 m; p = 0.01) and 8 weeks (mean difference, 84.5 ± 83 m; p < 0.01). At 8 weeks, 81 % of the prehabilitated patients were recovered compared with 40 % of the control group (p < 0.01). The prehabilitation group also reported higher levels of physical activity before and after surgery.
Conclusion
In this pilot study, a 1-month trimodal prehabilitation program improved postoperative functional recovery. A randomized trial is ongoing (NCT01356264).
Access options
Buy single article
Instant access to the full article PDF.
US$ 39.95
Tax calculation will be finalised during checkout.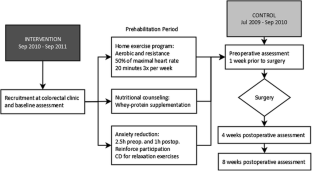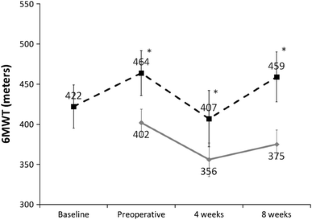 References
1.

Jemal A, Bray F, Center MM, Ferlay J, Ward E, Forman D (2011) Global cancer statistics. CA Cancer J Clin 61:69–90

2.

Schilling PL, Dimick JB, Birkmeyer JD (2008) Prioritizing quality improvement in general surgery. J Am Coll Surg 207:698–704

3.

Zingmond D, Maggard M, O'Connell J, Liu J, Etzioni D, Ko C (2003) What predicts serious complications in colorectal cancer resection? Am Surg 69:969–974

4.

Spanjersberg WR, Reurings J, Keus F, van Laarhoven CJ (2011) Fast-track surgery versus conventional recovery strategies for colorectal surgery. Cochrane Database Syst Rev (online):CD007635

5.

Christensen T, Kehlet H (1993) Postoperative fatigue. World J Surg 17:220–225

6.

Carli F, Mayo N, Klubien K, Schricker T, Trudel J, Belliveau P (2002) Epidural analgesia enhances functional exercise capacity and health-related quality of life after colonic surgery: results of a randomized trial. Anesthesiology 97:540–549

7.

Wilson RJT, Davies S, Yates D, Redman J, Stone M (2010) Impaired functional capacity is associated with all-cause mortality after major elective intraabdominal surgery. Br J Anaesth 105:297–303

8.

Reilly DF, McNeely MJ, Doerner D, Greenberg DL, Staiger TO, Geist MJ, Vedovatti PA, Coffey JE, Mora MW, Johnson TR, Guray ED, Van Norman GA, Fihn SD (1999) Self-reported exercise tolerance and the risk of serious perioperative complications. Arch Intern Med 159:2185–2192

9.

Lawrence V, Hazuda H, Cornell J, Pederson T, Bradshaw P, Mulrow C, Page C (2004) Functional independence after major abdominal surgery in the elderly. J Am Coll Surg 199:762–772

10.

Timmerman H, de Groot JF, Hulzebos HJ, de Knikker R, Kerkkamp HEM, van Meeteren NLU (2011) Feasibility and preliminary effectiveness of preoperative therapeutic exercise in patients with cancer: a pragmatic study. Physiother Theory Pract 27:117–124

11.

Carli F, Zavorsky GS (2005) Optimizing functional exercise capacity in the elderly surgical population. Curr Opin Clin Nutr Metabol Care 8:23–32

12.

Carli F, Charlebois P, Stein B, Feldman L, Zavorsky G, Kim DJ, Scott S, Mayo NE (2010) Randomized clinical trial of prehabilitation in colorectal surgery. Br J Surg 97:1187–1197

13.

Mayo NE, Feldman L, Scott S, Zavorsky G, Kim DJ, Charlebois P, Stein B, Carli F (2011) Impact of preoperative change in physical function on postoperative recovery: argument supporting prehabilitation for colorectal surgery. Surgery 150:505–514

14.

Burden ST, Hill J, Shaffer JL, Todd C (2010) Nutritional status of preoperative colorectal cancer patients. J Hum Nutr Dietetics 23:402–407

15.

Burd NA, Yang Y, Moore DR, Tang JE, Tarnopolsky MA, Phillips SM (2012) Greater stimulation of myofibrillar protein synthesis with ingestion of whey protein isolate v. micellar casein at rest and after resistance exercise in elderly men. Br J Nutr1–5

16.

Aoi W, Takanami Y, Kawai Y, Morifuji M, Koga J, Kanegae M, Mihara K, Yanohara T, Mukai J, Naito Y, Yoshikawa T (2011) Dietary whey hydrolysate with exercise alters the plasma protein profile: a comprehensive protein analysis. Nutrition 27:687–692

17.

Burke DG, Chilibeck PD, Davison K, Candow D, Farthing J, Smith-Palmer T (2001) The effect of whey protein supplementation with and without creatine monohydrate combined with resistance training on lean tissue mass and muscle strength. Int J Sport Nutr Exercise Metabol 11:349–364

18.

Walzem RL, Dillard CJ, German JB (2002) Whey components: millennia of evolution create functionalities for mammalian nutrition: what we know and what we may be overlooking. Crit Rev Food Sci Nutr 42:353–375

19.

Marshall K (2004) Therapeutic applications of whey protein: alternative medicine review. J Clin Therapeutic 9:136–156

20.

Carli F, Charlebois P, Baldini G, Cachero O, Stein B (2009) An integrated multidisciplinary approach to implementation of a fast-track program for laparoscopic colorectal surgery. Can J Anaesth (Journal canadien d'anesthésie) 56:837–842

21.

Bauer J, Capra S, Ferguson M (2002) Use of the scored Patient-Generated Subjective Global Assessment (PG-SGA) as a nutrition assessment tool in patients with cancer. Eur J Clin Nutr 56:779–785

22.

American Thoracic Society (2002) ATS statement: guidelines for the six-minute walk test. Am J Respir Crit Care Med 166:111–117

23.

Gibbons WJ, Fruchter N, Sloan S, Levy RD (2001) Reference values for a multiple repetition 6-minute walk test in healthy adults older than 20 years. J Cardiopulm Rehab 21:87–93

24.

Moriello C, Mayo NE, Feldman L, Carli F (2008) Validating the six-minute walk test as a measure of recovery after elective colon resection surgery. Arch Phys Med Rehab 89:1083–1089

25.

Dindo D, Demartines N, Clavien P-A (2004) Classification of surgical complications. Ann Surg 240:205–213

26.

Ainsworth BE, Haskell WL, Herrmann SD, Meckes N, Bassett DR Jr, Tudor-Locke C, Greer JL, Vezina J, Whitt-Glover MC, Leon AS (2011) 2011 Compendium of physical activities: a second update of codes and MET values. Med Sci Sports Exer 43:1575–1581

27.

Feldman LS, Kaneva P, Demyttenaere S, Carli F, Fried GM, Mayo NE (2009) Validation of a physical activity questionnaire (CHAMPS) as an indicator of postoperative recovery after laparoscopic cholecystectomy. Surgery 146:31–39

28.

Hopman WM, Towheed T, Anastassiades T, Tenenhouse A, Poliquin S, Berger C, Joseph L, Brown JP, Murray TM, Adachi JD (2000) Canadian normative data for the SF-36 health survey. Can Med Assoc J 163:265–271

29.

Zigmond AS, Snaith RP (1983) The hospital anxiety and depression scale. Acta Psychiatr Scand 67:361–370

30.

Graham JW, Olchowski AE, Gilreath TD (2007) How many imputations are really needed? Some practical clarifications of multiple imputation theory. Prevent Sci 8:206–213

31.

Kervio G, Carre F, Ville NS (2003) Reliability and intensity of the six-minute walk test in healthy elderly subjects. Med Sci Sports Exerc 35:169

32.

Honaker J, King G, Blackwell M (2011) Amelia II: a program for missing data. J Stat Softw 45(7):1–47

33.

Imai K, King G, Lau O (2006) Zelig: everyone's statistical software. R package version 2.7–4

34.

Rasekaba T, Lee AL, Naughton MT, Williams TJ, Holland AE (2009) The six-minute walk test: a useful metric for the cardiopulmonary patient. Intern Med J 39:495–501

35.

Perera S, Mody SH, Woodman RC, Studenski SA (2006) Meaningful change and responsiveness in common physical performance measures in older adults. J Am Geriatr Soc 54:743–749

36.

Canadian Society for Surgical Oncology (2009) CSSO position statement. Retrieved 31 March 2012 at http://www.cos.ca/csso/policy.html

37.

Simunovic M, Theriault ME, Paszat L, Coates A, Whelan T, Holowaty E, Levine M (2005) Using administrative databases to measure waiting times for patients undergoing major cancer surgery in Ontario, 1993–2000. Can J of Surg (Journal Canadien de Chirurgie) 48:137–142

38.

Bilimoria KY, Ko CY, Tomlinson JS, Stewart AK, Talamonti MS, Hynes DL, Winchester DP, Bentrem DJ (2011) Wait times for cancer surgery in the United States: trends and predictors of delays. Ann Surg 253:779–785

39.

Moene M, Bergbom I, Skott C (2006) Patients' existential situation prior to colorectal surgery. J Adv Nurs 54:199–207

40.

McHugh JE, Lawlor BA (2011) Exercise and social support are associated with psychological distress outcomes in a population of community-dwelling older adults. J Health Psychol

41.

Scott JG, Mavros MN, Athanasiou S, Gkegkes ID, Polyzos KA, Peppas G, Falagas ME (2011) Do Psychological variables affect early surgical recovery? PLoS ONE 6:e20306

42.

Linn BS, Linn MW, Klimas NG (1988) Effects of psychophysical stress on surgical outcome. Psychosom Med 50:230–244

43.

Rimer J, Dwan K, Lawlor DA, Greig CA, McMurdo M, Morley W, Mead GE (2012) Exercise for depression. Cochrane Database of Systematic Reviews (Online) 7:CD004366
Acknowledgments
This research was supported by grants from the Society of American Gastrointestinal and Endoscopic Surgeons (SAGES), Ethicon Endosurgery Canada, and the Department of Anesthesia, McGill University Health Centre. The Steinberg-Bernstein Centre for Minimally Invasive Surgery and Innovation is supported by an unrestricted educational grant from Covidien Canada.
Disclosures
C. Li reports research support from the Surgeon Scientist Program, Department of Surgery, McGill University. L. S. Feldman reports research and fellowship support from Covidien and research support from Ethicon. L. Lee reports research support from the Canadian Association of General Surgeons and salary support from the Fonds de la recherche en santé du Québec (FRSQ) and the McGill Surgeon Scientist program. F. Carli, P. Charlebois, B. Stein, A. S. Liberman, P. Kaneva, B. Augustin, M. Wongyingsinn, A. Gamsa, D. J. Kim, and M. C. Vassiliou have no conflicts of interest or financial ties to disclose.
Additional information
Presented at the SAGES 2012 Annual Meeting, March 7–March 10, 2012, San Diego, CA.
About this article
Cite this article
Li, C., Carli, F., Lee, L. et al. Impact of a trimodal prehabilitation program on functional recovery after colorectal cancer surgery: a pilot study. Surg Endosc 27, 1072–1082 (2013). https://doi.org/10.1007/s00464-012-2560-5
Received:

Accepted:

Published:

Issue Date:
Keywords
Functional recovery

Perioperative care

Prehabilitation

Preoperative exercise