Abstract
Background
Diaphragmatic endometriosis is a rare condition that may cause invalidating epigastric or thoracic pain and catamenial pneumothorax. During the past decades, laparoscopy has been proposed as an optimal tool for diagnosis and surgical eradication of the disease.
Methods
We present a retrospective series of consecutive patients affected by diaphragmatic endometriosis, treated by laparoscopy at our institution, during a period of 7 years.
Results
Among 3,008 patients with pelvic endometriosis, 46 cases with intraoperative diagnosis of diaphragmatic endometriosis were identified. Operative findings showed multiple diaphragmatic lesions in 32 (69.5 %) patients and single lesions in 14 (30.4 %). Diaphragmatic implants were distributed on the right side in 40 (86.9 %) patients; in 5 patients (10.8 %) they were bilateral and 1 patient had a single lesion on the left hemidiaphragm. Most of the symptomatic patients were treated by complete excision of the nodules, whereas only three patients referring right upper-quadrant abdominal pain and right shoulder catamenial pain had superficial diaphragmatic endometriosis and were treated by diathermocoagulation.
Conclusion
Diaphragmatic endometriosis should be included in the concept of complete eradication of endometriosis. This kind of surgery has been shown to be feasible and cost-effective; however, it should be managed in a referral center, by an expert laparoscopic gynecologist with knowledge of oncological surgical techniques, with the support of a general surgeon and a trained anesthesiologist.
This is a preview of subscription content, log in to check access.
Access options
Buy single article
Instant access to the full article PDF.
US$ 39.95
Price includes VAT for USA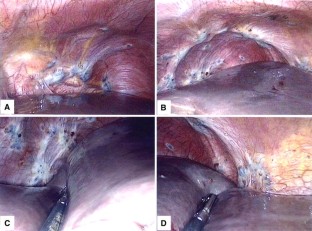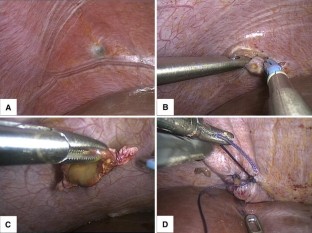 References
1.

Nezhat C, Seidman DS, Nezhat F, Nezhat C (1998) Laparoscopic surgical management of diaphragmatic endometriosis. Fertil Steril 69:1048–1055

2.

Scioscia M, Bruni F, Ceccaroni M, Steinkasserer M, Stepniewska A, Minelli L (2011) Distribution of endometriotic lesions in endometriosis stage IV supports the menstrual reflux theory and requires specific preoperative assessment and therapy. Acta Obstet Gynecol Scand 90:136–139

3.

Giudice LC, Kao LC (2004) Endometriosis. Lancet 364:1789–1799

4.

Rock JA, Markham SM (1987) In: Wilson EA (ed) Endometriosis. Alan Liss, New York, pp 185–206

5.

Giudice LC, Tazuke SI, Swiersz L (1998) Status of current research on endometriosis. J Reprod Med 43:252–262

6.

Ceccaroni M, Clarizia R, Placci A (2010) Pericardial, pleural, and diaphragmatic endometriosis. J Thorac Cardiovasc Surg 140:1189–1190

7.

Brews A (1954) Endometriosis of diaphragm and Meig's syndrome. Proc R Soc Med 47:461–468

8.

Redwine DB (2002) Diaphragmatic endometriosis: diagnosis, surgical management, and long-term results of treatment. Fertil Steril 77:288–296

9.

Canis M, Donnez JG, Guzick DS, Halme JK, Rock JA, Shenken RS, Vernon MW (1997) Revised American Society for Reproductive Medicine classification of endometriosis: 1996. Fertil Steril 67:817–821

10.

Vercellini P, Abbiati A, Viganò P, Somigliana ED, Daguati R, Meroni F, Crosignani PG (2007) Asymmetry in distribution of diaphragmatic endometriotic lesions: evidence in favour of the menstrual reflux theory. Hum Reprod 22:2359–2367

11.

Gao X, Outley J, Botteman M, Spalding J, Simon JA, Pashos CL (2006) Economic burden of endometriosis. Fertil Steril 86:1561–1572

12.

Bianconi L, Hummelshoj L, Coccia ME, Vigano P, Vittori G, Veit J, Music R, Tomassini A, D'Hooghe T (2007) Recognizing endometriosis as a social disease: the European Union-encouraged Italian Senate approach. Fertil Steril 88:1285–1287

13.

Witte A, Guildband O (1995) Endometriosis of the diaphragm. Diagnostic aspects apropos of a case without pneumothorax. Rev Med Intern 16:527–532

14.

Rovati V, Faleschini E, Vercellini P, Nervetti G, Tagliabue G, Benzi G (1990) Endometrioma of the liver. Am J Obstet Gynecol 163:1490–1492

15.

Ishimura T, Masuzaki H (1991) Peritoneal endometriosis: endometrial tissue implantation as its primary etiologic mechanism. Am J Obstet Gynecol 165:214–218

16.

Bristow R, Beth YK (2006) Surgery for ovarian cancer: principles and practice. Taylor and Francis/Informa Healthcare, Abingdon, pp 227–243

17.

Qureshi A (2009) Diaphragm paralysis. Semin Respir Crit Care Med 30:315–320

18.

Bashir S, Gerardi MA, Giuntoli RL II, Montes TP, Bristow RE (2010) Surgical technique of diaphragm full-thickness resection and trans-diaphragmatic decompression of pneumothorax during cytoreductive surgery for ovarian cancer. Gynecol Oncol 119:255–258

19.

Fanfani F, Fagotti A, Gallotta V, Ercoli A, Pacelli F, Costantini B, Vizzielli G, Margariti PA, Garganese G, Scambia G (2010) Upper abdominal surgery in advanced and recurrent ovarian cancer: role of diaphragmatic surgery. Gynecol Oncol 116:497–501

20.

Minelli L, Ceccaroni M, Ruffo G, Bruni F, Pomini P, Pontrelli G, Rolla M, Scioscia M (2010) Laparoscopic conservative surgery for stage IV symptomatic endometriosis: short-term surgical complications. Fertil Steril 94:1212–1218

21.

Landi S, Ceccaroni M, Perutelli A, Allodi C, Barbieri F, Fiaccavento A, Ruffo G, McVeigh E, Zanolla L, Minelli L (2006) Laparoscopic nerve-sparing complete excision of deep endometriosis: is it feasible? Hum Reprod 21:774–781

22.

Ceccaroni M, Pontrelli G, Scioscia M, Ruffo G, Bruni F, Minelli L (2010) Nerve-sparing laparoscopic radical excision of deep endometriosis with rectal and parametrial resection. J Minim Invasive Gynecol 17:14–15

23.

Ceccaroni M, Clarizia R, Roviglione G, Bruni F, Ruffo G, Peters I, De Placido G, Minelli L (2010) Deep rectal and parametrial infiltrating endometriosis with monolateral pudendal nerve involvement: case report and laparoscopic nerve-sparing approach. Eur J Obstet Gynecol Reprod Biol 153:227–229

24.

Gilabert-Estelles J, Zorio E, Castello JM, Estelles A, Gilabert-Aguilar J (2010) Laparoscopic approach to right diaphragmatic endometriosis with argon laser: case report. J Minim Invasive Gynecol 17:124–127
Disclosures
Drs. Marcello Ceccaroni, Giovanni Roviglione, Pierluigi Giampaolino, Roberto Clarizia, Francesco Bruni, Giacomo Ruffo, Tito Silvio Patrelli, Giuseppe De Placido, and Luca Minelli have no conflicts of interest or financial ties to disclose.
About this article
Cite this article
Ceccaroni, M., Roviglione, G., Giampaolino, P. et al. Laparoscopic surgical treatment of diaphragmatic endometriosis: a 7-year single-institution retrospective review. Surg Endosc 27, 625–632 (2013). https://doi.org/10.1007/s00464-012-2505-z
Received:

Accepted:

Published:

Issue Date:
Keywords
Laparoscopy

Endometriosis

Diaphragm

Surgery

Resection

Treatment