Abstract
Background
A modified percutaneous endoscopic gastrostomy (PEG) technique has been widely used as a safe alternative for gaining peritoneal access in transgastric (TG) natural orifice translumenal endoscopic surgery (NOTES). The authors developed a novel insufflating guidewire (IGW) system, which further maximizes the safety of the modified PEG technique by preparation of a preliminary pneumoperitoneum (PP) before TG route creation. This study aimed to assess the feasibility and safety of the modified PEG technique under PP using the IGW system.
Methods
The IGW system was evaluated in porcine models (n = 5). The process of PP creation was monitored with either laparoscopy or real-time magnetic resonance imaging. The times required to create PP and to establish the TG route were prospectively registered. The animals were killed at the end of each experiment for evaluation of any injuries to adjacent organs.
Results
Preliminary pneumoperitoneum was successfully created in all the animals (median procedural time, 240 s) in rapid and highly reproducible fashion. The creation of the TG route also was quick and straightforward (median procedural time, 100 s). No injuries to the adjacent organs were noted at necropsy.
Conclusions
The establishment of the TG route under PP is feasible and safe with the authors' newly developed IGW system. The device seems to be advantageous because the entire session is endoscopically controlled. The device may become one of the useful alternatives for adopting TG NOTES in daily practice. Further assessment with human subjects is necessary to make this system practical and universal.
Access options
Buy single article
Instant access to the full article PDF.
US$ 39.95
Tax calculation will be finalised during checkout.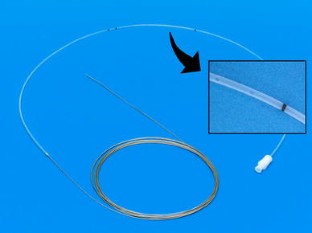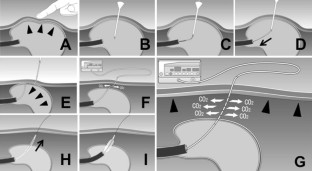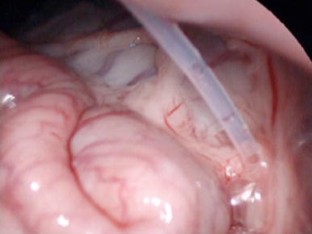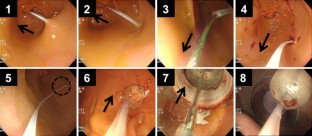 References
1.

Rattner D, Kalloo A (2006) ASGE/SAGES Working Group on Natural Orifice Translumenal Endoscopic Surgery. Surg Endosc 20:329–333

2.

Sohn DK, Turner BG, Gee DW, Willingham FF, Sylla P, Cizginer S, Konuk Y, Brugge WR, Rattner DW (2009) Reducing the unexpectedly high rate of injuries caused by NOTES gastrotomy creation. Surg Endosc 24:277–282

3.

Ko CW, Shin EJ, Buscaglia JM, Clarke JO, Magno P, Giday SA, Chung SS, Cotton PB, Gostout CJ, Hawes RH, Pasricha PJ, Kalloo AN, Kantsevoy SV (2007) Preliminary pneumoperitoneum facilitates transgastric access into the peritoneal cavity for natural orifice transluminal endoscopic surgery: a pilot study in a live porcine model. Endoscopy 39:849–853

4.

Kantsevoy SV, Jagannath SB, Niiyama H, Isakovich NV, Chung SS, Cotton PB, Gostout CJ, Hawes RH, Pasricha PJ, Kalloo AN (2007) A novel safe approach to the peritoneal cavity for per-oral transgastric endoscopic procedures. Gastrointest Endosc 65:497–500

5.

Fritscher-Ravens A, Ghanbari A, Cuming T, Kahle E, Niemann H, Koehler P, Patel K (2008) Comparative study of NOTES alone vs EUS-guided NOTES procedures. Endoscopy 40:925–930

6.

Sporn E, Miedema BW, Astudillo JA, Bachman SL, Loy TS, Davis JW, Calaluce R, Thaler K (2008) Gastrotomy creation and closure for NOTES using a gastropexy technique (with video). Gastrointest Endosc 68:948–953

7.

Onders RP, McGee MF, Marks J, Chak A, Rosen MJ, Ignagni A, Faulx A, Schomisch S, Ponsky J (2007) Natural orifice transluminal endoscopic surgery (NOTES) as a diagnostic tool in the intensive care unit. Surg Endosc 21:681–683

8.

Azevedo JL, Azevedo OC, Miyahira SA, Miguel GP, Becker OM Jr, Hypólito OH, Machado AC, Cardia W, Yamaguchi GA, Godinho L, Freire D, Almeida CE, Moreira CH, Freire DF (2009) Injuries caused by Veress needle insertion for creation of pneumoperitoneum: a systematic literature review. Surg Endosc 23:1428–1432
Acknowledgment
The authors are most grateful to Hidenori Takagi (Hakko Co., Ltd., Nagano, Japan) for his technical assistance.
Disclosures
Kiyokazu Nakajima, Tsuyoshi Takahashi, Yoshihito Souma, Yasuaki Miyazaki, Masaki Mori, and Yuichiro Doki have no conflicts of interest or financial ties to disclose.
Electronic supplementary material
Below is the link to the electronic supplementary material.
Video 1. Computer graphics showing how preliminary pneumoperitoneum (PP) is created using the insufflating guidewire (IGW) system. (MOV 17114 kb)
Video 2. Computer graphics showing how the transgastric (TG) route is established under preliminary pneumoperitoneum (PP). (MOV 14762 kb)
Video 3. Animal laboratory video showing the process of preliminary pneumoperitoneum (PP) and transgastric (TG) route creation. (MOV 24023 kb)
About this article
Cite this article
Nakajima, K., Takahashi, T., Souma, Y. et al. A novel percutaneous insufflating guidewire system for transgastric natural orifice translumenal endoscopic surgery (NOTES) (with video). Surg Endosc 27, 1016–1020 (2013). https://doi.org/10.1007/s00464-012-2298-0
Received:

Accepted:

Published:

Issue Date:
Keywords
Insufflation

Laparoscopy

Natural orifice translumenal endoscopic surgery

NOTES

Pneumoperitoneum

Transgastric