Abstract
Background
The cost implications of laparoscopic distal pancreatectomy (LDP) and a detailed breakdown of hospital expenditures has not been presented in the literature to date. This study aimed to compare hospital costs and short-term clinical outcomes between LDP and open distal pancreatectomy (ODP).
Methods
The authors evaluated all the distal pancreatic resections performed at their center between January 2004 and March 2010. Parametric and nonparametric statistical analysis was used to compare hospital departmental and total hospital costs as well as oncologic and surgical outcomes.
Results
A total of 118 cases (42 laparoscopic resections, including 5 conversions, and 76 open resections) were analyzed. The demographic characteristics were similar between the groups except for a predominance of females in the laparoscopic group (P = 0.036). The indications for surgery differed by a paucity of malignant tumors being approached laparoscopically (P < 0.001). Intraoperatively, there were no differences in estimated blood loss, operating room time, or transfusion requirement. The pathologic outcomes did not differ significantly. The median hospital length of stay (LOS) was 5 days (range 3–31 days) for the LDP cohort and 7 days (range 4–19 days) for the ODP cohort (P < 0.001). Postoperative pancreatic fistula occurred for 22 patients, with a higher proportion observed in the LDP group (28.57%; n = 12) than in the open group (13.16%; n = 10; P = 0.05). However, the rates for grade B and higher grade fistula were higher in the ODP group (0 LDP and 4 ODP). The median preadmission and operative costs did not differ significantly. The ODP cohort had significantly higher costs in all other hospital departments, including the total cost.
Conclusion
LDP is both a cost-effective and safe approach for distal pancreatic lesions. This series showed a shorter LOS and lower total hospital costs for LDP than for ODP, accompanied by equivalent postoperative outcomes.
This is a preview of subscription content, log in to check access.
Access options
Buy single article
Instant access to the full article PDF.
US$ 39.95
Price includes VAT for USA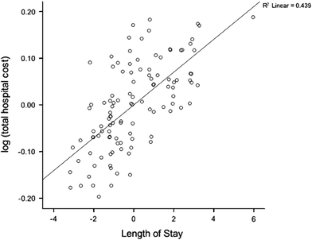 References
1.

Brokelman WJ, Lensvelt M, Borel Rinkes IH, Klinkenbijl JH, Reijnen MM (2011) Peritoneal changes due to laparoscopic surgery. Surg Endosc 25:1–9

2.

Kooby DA, Hawkins WG, Schmidt CM, Weber SM, Bentrem DJ, Gillespie TW, Sellers JB, Merchant NB, Scoggins CR, Martin RC III, Kim HJ, Ahmad S, Cho CS, Parikh AA, Chu CK, Hamilton NA, Doyle CJ, Pinchot S, Hayman A, McClaine R, Nakeeb A, Staley CA, McMasters KM, Lillemoe KD (2010) A multicenter analysis of distal pancreatectomy for adenocarcinoma: is laparoscopic resection appropriate? J Am Coll Surg 210(779–785):86–87

3.

Vijan SS, Ahmed KA, Harmsen WS, Que FG, Reid-Lombardo KM, Nagorney DM, Donohue JH, Farnell MB, Kendrick ML (2010) Laparoscopic vs open distal pancreatectomy: a single-institution comparative study. Arch Surg 145:616–621

4.

Committee on Quality of Health Care in America (2001) Crossing the quality chasm: a new health system for the 21st century Institute of Medicine. Retrieved 23 January 2011 at http://www.nap.edu/openbook.php?record_id=10027&page=39#p200048209970039001

5.

Dalziel K, Segal L, Mortimer D (2008) Review of Australian health economic evaluation—245 interventions: what can we say about cost effectiveness? Cost Eff Resour Alloc 6:9

6.

Haas M, Hall J (1998) The economic evaluation of health care. Health Inf Manag 28:169–172

7.

Robinson R (1993) Economic evaluation and health care: what does it mean? BMJ 307:670–673

8.

Practice HCo (2007) HPB community of practice workshop. Retrieved 9 Feb 2011 at http://www.cancercare.on.ca/SurgicalOncologyNews/642_651.htm

9.

Bassi C, Dervenis C, Butturini G, Fingerhut A, Yeo C, Izbicki J, Neoptolemos J, Sarr M, Traverso W, Buchler M (2005) Postoperative pancreatic fistula: an international study group (ISGPF) definition. Surgery 138:8–13

10.

Benzaquen BS, Eisenberg MJ, Challapalli R, Nguyen T, Brown KJ, Topol EJ (1998) Correlates of in-hospital cost among patients undergoing abdominal aortic aneurysm repair. Am Heart J 136(4 Pt 1):696–702

11.

Wordsworth S, Ludbrook A, Caskey F, Macleod A (2005) Collecting unit cost data in multicentre studies: creating comparable methods. Eur J Health Econ 6:38–44

12.

Health OMo (2011) Ontario health insurance (OHIP) Schedule of benefits and fees. Retrieved 22 Jan 2011 at http://www.health.gov.on.ca/english/providers/program/ohip/sob/sob_mn.html

13.

Charlson ME, Pompei P, Ales KL, MacKenzie CR (1987) A new method of classifying prognostic comorbidity in longitudinal studies: development and validation. J Chronic Dis 40:373–383

14.

Merchant NB, Parikh AA, Kooby DA (2009) Should all distal pancreatectomies be performed laparoscopically? Adv Surg 43:283–300

15.

Park S, Pearle MS, Cadeddu JA, Lotan Y (2007) Laparoscopic and open partial nephrectomy: cost comparison with analysis of individual parameters. J Endourol 21:1449–1454

16.

Cho CS, Kooby DA, Schmidt CM, Nakeeb A, Bentrem DJ, Merchant NB, Parikh AA, Martin RC II, Scoggins CR, Ahmad SA, Kim HJ, Hamilton N, Hawkins WG, Weber SM (2011) Laparoscopic versus open left pancreatectomy: can preoperative factors indicate the safer technique? Ann Surg 253(5):975–980. Erratum in: Ann Surg 254(2):391

17.

Conlon KC, Labow D, Leung D, Smith A, Jarnagin W, Coit DG, Merchant N, Brennan MF (2001) Prospective randomized clinical trial of the value of intraperitoneal drainage after pancreatic resection. Ann Surg 234:487–493 discussion 93–94

18.

Eom BW, Jang JY, Lee SE, Han HS, Yoon YS, Kim SW (2008) Clinical outcomes compared between laparoscopic and open distal pancreatectomy. Surg Endosc 22:1334–1338

19.

Kim SC, Park KT, Hwang JW, Shin HC, Lee SS, Seo DW, Lee SK, Kim MH, Han DJ (2008) Comparative analysis of clinical outcomes for laparoscopic distal pancreatic resection and open distal pancreatic resection at a single institution. Surg Endosc 22:2261–2268

20.

Waters JA, Canal DF, Wiebke EA, Dumas RP, Beane JD, Aguilar-Saavedra JR, Ball CG, House MG, Zyromski NJ, Nakeeb A, Pitt HA, Lillemoe KD, Schmidt CM (2010) Robotic distal pancreatectomy: cost effective? Surgery 148:814–823

21.

Schmidt CM (2011) Randomized trial of laparoscopic versus open distal pancreatectomy in patients with pancreatic disease. Retrieved 23 Jan 2011 at http://clinicaltrials.gov/ct2/show/NCT00988793

22.

Sain AH (1996) Laparoscopic cholecystectomy is the current "gold standard" for the treatment of gallstone disease. Ann Surg 224:689–690

23.

Nguyen NT, Goldman C, Rosenquist CJ, Arango A, Cole CJ, Lee SJ, Wolfe BM (2001) Laparoscopic versus open gastric bypass: a randomized study of outcomes, quality of life, and costs. Ann Surg 234:279–289 discussion 89–91

24.

Jayaraman S, Gonen M, Brennan MF, D'Angelica MI, DeMatteo RP, Fong Y, Jarnagin WR, Allen PJ (2010) Laparoscopic distal pancreatectomy: evolution of a technique at a single institution. J Am Coll Surg 211:503–509

25.

Nigri GR, Rosman AS, Petrucciani N, Fancellu A, Pisano M, Zorcolo L, Ramacciato G, Melis M (2010) Metaanalysis of trials comparing minimally invasive and open distal pancreatectomies. Surg Endosc 25(5):1642–1651

26.

Sonnenday CJ, Birkmeyer JD (2010) A tale of two provinces: regionalization of pancreatic surgery in Ontario and Quebec. Ann Surg Oncol 17(10):2535–2536

27.

Simunovic M, Urbach D, Major D, Sutradhar R, Baxter N, To T, Brown A, Davis D, Levine MN (2010) Assessing the volume-outcome hypothesis and region-level quality improvement interventions: pancreas cancer surgery in two Canadian provinces. Ann Surg Oncol 17:2537–2544
Acknowledgments
The authors thank Mila Geslani and Jane Chen from the UHN Case Costing Center for acquisition of costing data.
Disclosures
Adrian Fox receives scholarship funding from Sanofi-Aventis while in the training position of Surgical Clinical Fellow at University Health Network. Kristen Pitzul, Faizal Bhojani, Max Kaplan, Carol-Anne Moulton, Alice C. Wei, Ian McGilvray, Sean Cleary, and Allan Okrainec have no conflicts of interest or financial ties to disclose.
Appendix
Appendix
See Table 7.
About this article
Cite this article
Fox, A.M., Pitzul, K., Bhojani, F. et al. Comparison of outcomes and costs between laparoscopic distal pancreatectomy and open resection at a single center. Surg Endosc 26, 1220–1230 (2012). https://doi.org/10.1007/s00464-011-2061-y
Received:

Accepted:

Published:

Issue Date:
Keywords
Costs and cost analysis

Laparoscopy

Pancreas

Pancreatectomy/economics

Pancreatectomy/methods

Pancreatic neoplasms