Abstract
Background
Despite being considered the most effective method for colorectal cancer diagnosis, colonoscopy take-up as a mass-screening procedure is limited mainly due to invasiveness, patient discomfort, fear of pain, and the need for sedation. In an effort to mitigate some of the disadvantages associated with colonoscopy, this work provides a preliminary assessment of a novel endoscopic device consisting in a softly tethered capsule for painless colonoscopy under robotic magnetic steering.
Methods
The proposed platform consists of the endoscopic device, a robotic unit, and a control box. In contrast to the traditional insertion method (i.e., pushing from behind), a "front-wheel" propulsion approach is proposed. A compliant tether connecting the device to an external box is used to provide insufflation, passing a flexible operative tool, enabling lens cleaning, and operating the vision module. To assess the diagnostic and treatment ability of the platform, 12 users were asked to find and remove artificially implanted beads as polyp surrogates in an ex vivo model. In vivo testing consisted of a qualitative study of the platform in pigs, focusing on active locomotion, diagnostic and therapeutic capabilities, safety, and usability.
Results
The mean percentage of beads identified by each user during ex vivo trials was 85 ± 11%. All the identified beads were removed successfully using the polypectomy loop. The mean completion time for accomplishing the entire procedure was 678 ± 179 s. No immediate mucosal damage, acute complications such as perforation, or delayed adverse consequences were observed following application of the proposed method in vivo.
Conclusions
Use of the proposed platform in ex vivo and preliminary animal studies indicates that it is safe and operates effectively in a manner similar to a standard colonoscope. These studies served to demonstrate the platform's added advantages of reduced size, front-wheel drive strategy, and robotic control over locomotion and orientation.
This is a preview of subscription content, log in to check access.
Access options
Buy single article
Instant access to the full article PDF.
US$ 39.95
Tax calculation will be finalised during checkout.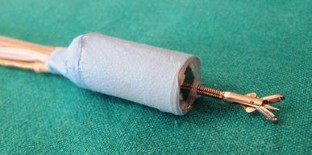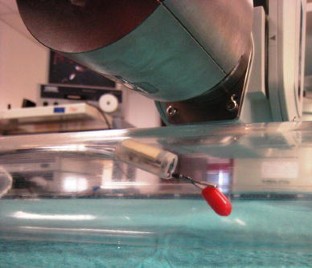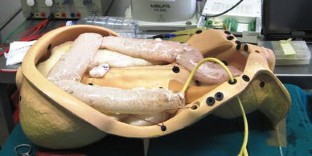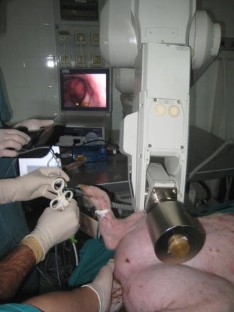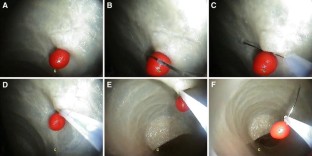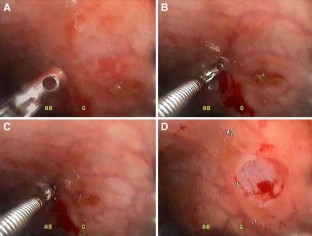 References
1.

World Health Organization, www.who.int/gho/ncd/mortality_morbidity/cancer_text. Accessed 29 July 2011

2.

Cancer Research UK (2009) By stage at diagnosis. Cancer Research UK, London. http://info.cancerresearchuk.org/%20cancerstats/types/bowel/survival/index.htm#stage. Accessed 29 July 2011

3.

Berg AO, Allan JD, Frame PS, Homer CJ, Johnson MS, Klein JD, Lieu TA, Mulrow CD, Orleans CT, Peipert JF, Pender NJ, Siu AL, Teutsch SM, Westhoff C, Woolf SH (2002) Screening for colorectal cancer: recommendation and rationale. Ann Intern Med 137(2):129–131

4.

Atkin WS, Edwards R, Kralj-Hans I, Wooldrage K, Hart AR, Northover JMA, Parkin DM, Wardle J, Duffy SW, Cuzick J (2010) Once-only flexible sigmoidoscopy screening in prevention of colorectal cancer: a multicentre randomized controlled trial. Lancet 375(9726):1624–1633

5.

Winawer S, Fletcher R, Rex D et al (2003) Colorectal cancer screening and surveillance: clinical guidelines and rationaledupdate based on new evidence. Gastroenterology 124:544–560

6.

Bujanda L, Sarasqueta C, Zubiaurre L, Cosme A, Muñoz C, Sánchez A, Martín C, Tito L, Piñol V, Castells A, Llor X, Xicola RM, Pons E, Clofent J, de Castro ML, Cuquerella J, Medina E, Gutierrez A, Arenas JI, Jover R (2007) Low adherence to colonoscopy in the screening of first-degree relatives of patients with colorectal cancer. Gut 56:1714–1718

7.

Fernandez-Urien I, Carretero C, Borda A, Muñoz-Navas M (2008) Colon capsule endoscopy. World J Gastroenterol 14:5265–5268

8.

Loeve A, Breedveld P, Dankelman J (2010) Scopes too flexible and too stiff. IEEE Pulse 1(3):26–41

9.

Eickhoff A, Van Dam J, Jakobs R, Kudis V, Hartmann D, Damian U, Weickert U, Schilling D, Riemann JF (2007) Computer-assisted colonoscopy (the NeoGuide endoscopy system): results of the first human clinical trial ("PACE study"). Am J Gastroenterol 102(2):261–266

10.

Lee SH, Chung IK, Kim SJ, Kim JO, Ko BM, Hwangbo Y, Kim WH, Park DH, Lee SK, Park CH, Baek IH, Park DI, Park SJ, Ji JS, Jang BI, Jeen YT, Shin JE, Byeon JS, Eun CS, Han DS (2008) An adequate level of training for technical competence in screening and diagnostic colonoscopy: a prospective multicenter evaluation of the learning curve. Gastrointest Endosc 67(4):683–689

11.

Cruz-Correa M, Schultz K, Jagannath S, Harris M, Kantsevoy S, Bedine M, Kalloo A (2007) Performance characteristics and comparison of two fecal occult blood tests in patients undergoing colonoscopy. Dig Liver Dis 52(4):1009–1013

12.

Aschoff AJ, Ernst AS, Brambs HJ, Juchems MS (2008) CT colonography: an update. Eur Radiol 18(3):429–437

13.

Achiam MP, Chabanova E, Løgager V, Thomsen HS, Rosenberg J (2007) Implementation of MR colonography. Abdom Imag 32(4):457–462

14.

Tumino E, Sacco R, Bertini M, Bertoni M, Parisi G, Capria A (2010) Endotics system vs colonoscopy for the detection of polyps. World J Gastroenterol 16(43):5452–5456

15.

Fritscher-Ravens A, Fox S, Swain CP, Milla P, Long G (2006) CathCam guide wire–directed colonoscopy: first pilot study in patients with a previous incomplete colonoscopy. Endoscopy 38(3):209–213

16.

Arber N, Grinshpon R, Pfeffer J, Maor J, Bar–Meir S, Rex D (2007) Proof-of-concept study of the Aer-O-Scope omnidirectional colonoscopic viewing system in ex vivo and in vivo porcine models. Endoscopy 39(5):412–417

17.

Eliakim R, Yassin K, Niv Y, Metzger Y, Lachter J, Gal E, Sapoznikov B, Konikoff F, Leichtmann G, Fireman Z, Kopelman Y, Adler SN (2009) Prospective multicenter performance evaluation of the second-generation colon capsule compared with colonoscopy. Endoscopy 41(12):1026–1031

18.

Rösch T, Adler A, Pohl H, Wettschureck E, Koch M, Wiedenmann B, Hoepffner N,MD (2008) A motor-driven single-use colonoscope controlled with a hand-held device: a feasibility study in volunteers. Gastrointest Endosc 67(7):1139–1145

19.

Groth S, Rex DK, Rösch T, Hoepffner N (2011) High cecal intubation rates with a new computer-assisted colonoscope: a feasibility study. Am J Gastroenterol 106(6):1075–1080

20.

Shike M, Fireman Z, Eliakim R, Segol O, Sloyer A, Cohen LB, Goldfarb-Albak S, Repici A (2008) Sightline ColonoSight system for a disposable, power-assisted, non-fiber-optic colonoscopy (with video). Gastrointest Endosc 68(4):701–710

21.

Drew B, Ross AS, Gluck MN, Brandabur JJ, McCormick SE, Lin OS (2011) Spiral overtube–assisted colonoscopy after incomplete colonoscopy in the redundant colon. Gastrointest Endosc 73(3):515–519

22.

Rey JF, Ogata H, Hosoe N, Ohtsuka K, Ogata N, Ikeda K, Aihara H, Pangtay I, Hibi T, Kudo S, Tajiri S (2010) Feasibility of stomach exploration with a guided capsule endoscope. Endoscopy 42(7):541–545

23.

Keller J, Fibbe K, Volke F, Gerber J, Mosse AC, Reimann-Zawadzki M, Rabinovitz E, Layer P, Schmitt D, Andresen V, Rosien U, Swain P (2011) Inspection of the human stomach using remote-controlled capsule endoscopy: a feasibility study in healthy volunteers (with videos). Gastrointest Endosc 73(1):22–28

24.

Ciuti G, Donlin R, Valdastri P, Arezzo A, Menciassi A, Morino M, Dario P (2010) Preliminary validation of a novel robotic-controlled platform for capsule endoscopy. Endoscopy 42(2):148–152

25.

Ciuti G, Valdastri P, Menciassi A, Dario P (2010) Robotic magnetic steering and locomotion of capsule endoscope for diagnostic and surgical endoluminal procedures. Robotica 28:199–207

26.

Arezzo A, Menciassi A, Valdastri P, Ciuti G, Lucarini G, Salerno M, Di Natali C, Verra M, Dario P, Morino M (2011) Experimental assessment of a novel robotically driven endoscopic capsule for colonoscopy: a comparative study. In: XVII meeting of European surgical association, Helsinki, Finland, 20–21 May 2011

27.

Metzger YC, Adler SM, Bar-Gil Shitrit A, Koslowsky B, Bjarnason I (2009) Comparison of a new PillCam™ SB2 video capsule versus the standard PillCam™ SB for detection of small bowel disease. Rep Med Imag 2:7–11

28.

Modlin IM (2000) A brief history of endoscopy. MultiMed, Milan

29.

Long G, Fritscher-Ravens A, Mosse CA, Mills T, Swain P (2006) The Cath-Cam: a new concept in colonoscopy. Gastrointest Endosc 64(6):997–1001

30.

Intuitive Surgical, http://www.intuitivesurgical.com/ Accessed 29 July 2011
Acknowledgments
The authors would like to acknowledge Dr. Christian Graf and Karl Storz GmbH for providing the CCD module and related support. Special thanks go to Nicodemo Funaro and the staff of the BioRobotics Institute mechanical workshop for manufacturing the prototypes. The authors are also grateful to Dr. Silvia Burchielli and the staff of the Experimental Surgery Center of San Piero a Grado (Pisa) for their support during in vivo testing. Special thanks to Byron Smith for English proof-reading. Research support for this study was provided by the European Commission within the framework of ARAKNES FP7 European project 224565 and VECTOR FP6 European project 033970.
Disclosures
Authors P. Valdastri, G. Ciuti, A. Verbeni, A. Menciassi, P. Dario, A. Arezzo, and M. Morino have no conflicts of interest or financial ties to disclose.
About this article
Cite this article
Valdastri, P., Ciuti, G., Verbeni, A. et al. Magnetic air capsule robotic system: proof of concept of a novel approach for painless colonoscopy. Surg Endosc 26, 1238–1246 (2012). https://doi.org/10.1007/s00464-011-2054-x
Received:

Accepted:

Published:

Issue Date:
Keywords
Colonoscopy

Colorectal cancer

Robotic endoscopy

Wireless capsule endoscopy

Advanced colonoscopy

Self-propelling colonoscopy