Abstract
Background
Laparoscopic intracorporeal knot tying has traditionally been considered the most difficult skill in laparoscopic surgery. We developed a novel device for assisting laparoscopic intracorporeal knotting that transforms a pre-tied slip knot into a secure double sheet bend. The aim of this study is to check the feasibility of using this novel device to assist in performing laparoscopic knot tying.
Methods
We used a laparoscopic trainer with a piece of plastic artificial skin as an experimental model. Twenty laparoscopic device-assisted double sheet bends (experimental group) and 20 traditional laparoscopic two-turn flat square knots (control group) were performed in random order. After cutting the loop and the ends of each knot, all 40 knotted threads and an additional eight unknotted threads were transferred to a tensiometer to test their strength using the single-strand method. Post-knotting variables of the two groups were compared.
Results
Knot strength (mean ± standard deviation) did not differ between the two groups (experimental group: 2.26 ± 0.50 kg vs. control group: 2.03 ± 0.94 kg; P = 0.51). The knot efficiencies of the experimental and control group were 60.6 and 54.4% (P = 0.51), respectively. However, the experimental group had a lower knot failure rate (5 vs. 40%, P = 0.02) and shorter knotting time (37.0 ± 9.2 vs. 107.0 ± 47.7 s, P < 0.001) compared with the control group.
Conclusions
This novel device significantly shortened the knotting time of laparoscopic intracorporeal knot tying, and did not compromise the success rate or strength of the knot.
Access options
Buy single article
Instant access to the full article PDF.
US$ 39.95
Tax calculation will be finalised during checkout.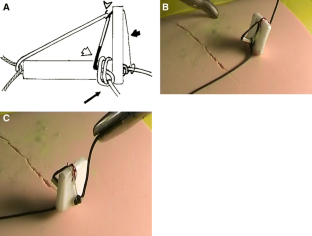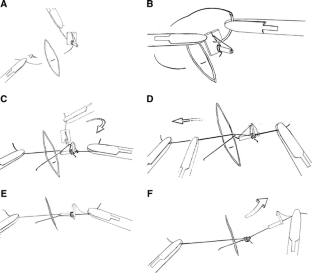 References
1.

James H, Dorsy C, Tabb R, Zucker KA (2001) Laparoscopic suturing and knot tying. In: Zucker KA, Bailey RW, Reddick EJ (eds) Surgical laparoscopy update. Lippincott Williams and Wilkins, Philadelphia, pp 75–95

2.

Pattaras JG, Smith GS, Landman J, Moore RG (2001) Comparison and analysis of laparoscopic intracorporeal suturing devices: preliminary results. J Endourol 15:187–192

3.

Tan A, Razvi H (2005) Evaluation of a novel modified suture material designed to facilitate intracorporeal knot tying during laparoscopic surgery. J Endourol 19:1104–1108

4.

Jernigan SR, Chanoit G, Veeramani A, Owen SB, Hilliard M, Cormier D, Laffitte B, Buckner G (2010) A laparoscopic knot-tying device for minimally invasive cardiac surgery. Eur J Cardiothorac Surg 37:626–630

5.

Bermas H, Fenoglio M, Haun W, Moore JT (2004) Laparoscopic suturing and knot tying: a comparison of standard techniques to a mechanical assist device. JSLS 8:187–189

6.

Nouira Y, Horchani A (2001) The pre-looped intracorporeal knot: a new technique for knot tying in laparoscopic surgery. J Urol 166:195–197

7.

Asao T, Yamaguchi S, Tsutsumi S, Mochiki E, Kuwano H (2007) Experimental results and early clinical experience with an easy method for intracorporeal knot tying using a novel laparoscopic needleholder. Surg Endosc 21:1553–1556

8.

Chi T, Eisner BH, Berger AD, Stoller ML (2010) An ex-vivo evaluation of the application and strength of a novel laparoscopic knot substitute device. J Endourol 24:95–98

9.

Akl MN, Long JB, Giles DL, Cornella JL, Pettit PD, Chen AH, Magtibay PM (2009) Robotic-assisted sacrocolpopexy: technique and learning curve. Surg Endosc 23:2390–2394

10.

Trimbos JB (1984) Security of various knots commonly used in surgical practice. Obstet Gynecol 64:274–280

11.

Tera H, Aberg C (1977) Strength of knots in surgery in relation to type of knot, type of suture material and dimension of suture thread. Acta Chir Scand 143:75–83

12.

Tera H, Aberg C (1976) Tensile strengths of twelve types of knot employed in surgery, using different suture materials. Acta Chir Scand 142:1–7

13.

Treasure T (2002) Surgeons' knots: old skills, new training. Lancet 359:642

14.

Dorsey JH, Sharp HT, Chovan JD, Holtz PM (1995) Laparoscopic knot strength: a comparison with conventional knots. Obstet Gynecol 86:536–540

15.

Sharp HT, Dorsey JH, Chovan JD, Holtz PM (1996) The effect of knot geometry on the strength of laparoscopic slip knots. Obstet Gynecol 88:408–411

16.

Visser JD (1980) Dynamic strength of surgical suture materials. In: Winter GD, Leray JL, de Groot K (eds) Evaluation of biomaterials. Wiley, London, pp 269–274
Acknowledgment
This study was supported by a grant from Far Eastern Memorial Hospital (FEMH-99-B-001).
Disclosures
Author Fung-Chao Tu is the inventor of this novel device. Authors Wen-Yih Wu, Ho-Hsiung Lin, and Sheng-Mou Hsiao have no conflicts of interest or financial ties to disclose.
Electronic supplementary material
Below is the link to the electronic supplementary material.
Supplementary material 1 (WMV 9537 kb)
About this article
Cite this article
Tu, FC., Wu, WY., Lin, HH. et al. Laparoscopic intracorporeal knot tying using a novel device. Surg Endosc 26, 872–876 (2012). https://doi.org/10.1007/s00464-011-1971-z
Received:

Accepted:

Published:

Issue Date:
Keywords
Laparoscopic intracorporeal knot tying

Device-assisted knot tying

Double sheet bend

Two-turn flat square knot