Abstract
Objective
The aim of the study is to describe techniques of robot-assisted parenchymal-sparing liver surgery.
Background
Laparoscopy provides the same oncologic outcomes as open liver resection and better early outcome. Limitations of laparoscopy remain resections in posterior and superior liver segments, frequently approached with laparoscopic right hepatectomy, bleeding from the section line, and prolonged operative times when a combined procedure is needed.
Methods
We retrospectively analyzed our series of robot-assisted liver resections between 2008 and September 2010 to evaluate whether robot assistance can overcome the limitations of laparoscopy.
Results
A total of 23 patients underwent robot-assisted liver resection for a total of 21 subsegmentectomies, 6 segmentectomies, 2 segmentectomies S6 + subsegmentectomies S7, 1 bisegmentectomy S2–3, and 2 pericystectomies. In ten cases (47.8%) liver nodules were located in the posterior and superior liver segments. In three cases the tumor was in contact with a main portal branch and in two cases with a hepatic vein. In one case the tumor had contact with both hepatic vein and portal branch. In the latter cases a no-margin resection was carried out. In 16 cases (65.5%) liver resection was associated with a concomitant procedure (10 laparoscopic colectomies, 1 robotic rectal resection, 3 laparoscopic radiofrequency ablations, and 2 extensive adhesiolyses). Mean operative time was 280 ± 101 min, blood loss was 245 ± 254 ml, and mean hospital stay was 8.9 ± 9.4 days. Mortality was nil. One case of biliary leakage and two of intraoperative hemorrhage requiring transfusion were the main complications encountered.
Conclusions
Robot assistance allows optimal access to all liver segments and facilitates parenchymal-sparing surgery also for lesions located in the posterosuperior segments or in contact with main liver vessels.
Access options
Buy single article
Instant access to the full article PDF.
US$ 39.95
Tax calculation will be finalised during checkout.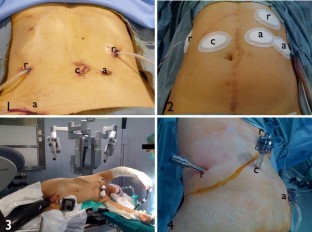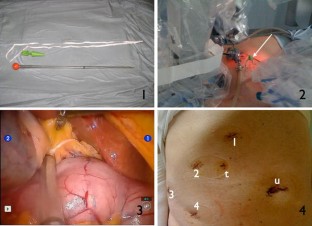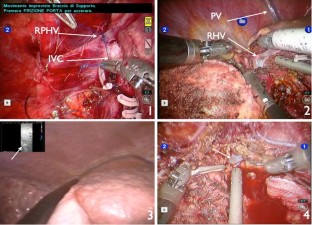 References
1.

Simillis C, Constantinides VA, Tekkis PP, Darzi A, Lovegrove R, Jiao L, Antoniou A (2007) Laparoscopic versus open hepatic resections for benign and malignant neoplasms–a meta-analysis. Surgery 141:203–211

2.

Cherqui D (2003) Laparoscopic liver resection. Br J Surg 90:644–646

3.

Abu Hilal M, Underwood T, Taylor MG, Hamdan K, Elberm H, Pearce NW (2010) Bleeding and hemostasis in laparoscopic liver surgery. Surg Endosc 24:572–577

4.

Buell JF, Cherqui D, Geller DA, O'Rourke N, Iannitti D, Dagher I, Koffron AJ, Thomas M, Gayet B, Han HS, Wakabayashi G, Belli G, Kaneko H, Ker CG, Scatton O, Laurent A, Abdalla EK, Chaudhury P, Dutson E, Gamblin C, D'Angelica M, Nagorney D, Testa G, Labow D, Manas D, Poon RT, Nelson H, Martin R, Clary B, Pinson WC, Martinie J, Vauthey JN, Goldstein R, Roayaie S, Barlet D, Espat J, Abecassis M, Rees M, Fong Y, McMasters KM, Broelsch C, Busuttil R, Belghiti J, Strasberg S, Chari RS (2009) The international position on laparoscopic liver surgery: The Louisville Statement, 2008. Ann Surg 250:825–830

5.

Buell JF, Thomas MT, Rudich S, Marvin M, Nagubandi R, Ravindra KV, Brock G, McMasters KM (2008) Experience with more than 500 minimally invasive hepatic procedures. Ann Surg 248:475–486

6.

Cho JY, Han HS, Yoon YS, Shin SH (2009) Outcomes of laparoscopic liver resection for lesions located in the right side of the liver. Arch Surg 144:25–29

7.

Gold JS, Are C, Kornprat P, Jarnagin WR, Gonen M, Fong Y, DeMatteo RP, Blumgart LH, D'Angelica M (2008) Increased use of parenchymal-sparing surgery for bilateral liver metastases from colorectal cancer is associated with improved mortality without change in oncologic outcome: trends in treatment over time in 440 patients. Ann Surg 247:109–117

8.

Torzilli G, Montorsi M, Donadon M, Palmisano A, Del Fabbro D, Gambetti A, Olivari N, Makuuchi M (2005) "Radical but conservative" is the main goal for ultrasonography-guided liver resection: prospective validation of this approach. J Am Coll Surg 201:517–528

9.

Nardo B, Patriti A, Piazzese E, Cavallari G, Montalti R, Beltempo P, Bertelli R, Puviani L, Cavallari A (2003) Radical surgical treatment of recurrent hepatic hydatidosis. Hepatogastroenterology 50:1478–1481

10.

Patriti A, Graziosi L, Sanna A, Gulla N, Donini A (2005) Laparoscopic treatment of liver hemangioma. Surg Laparosc Endosc Percutan Techn 15:359–362

11.

Patriti A, Ceccarelli G, Bartoli A, Spaziani A, Lapalorcia LM, Casciola L (2009) Laparoscopic and robot-assisted one-stage resection of colorectal cancer with synchronous liver metastases: a pilot study. J Hepatobiliary Pancreat Surg 16:450–457

12.

Pang YY (2002) The Brisbane 2000 terminology of liver anatomy and resections. HPB 2000; 2:333-39. HPB (Oxford) 4: 99; author reply 99-100

13.

Torzilli G, Procopio F, Botea F, Marconi M, Del Fabbro D, Donadon M, Palmisano A, Spinelli A, Montorsi M (2009) One-stage ultrasonographically guided hepatectomy for multiple bilobar colorectal metastases: a feasible and effective alternative to the 2-stage approach. Surgery 146:60–71

14.

Matsui Y, Terakawa N, Satoi S, Kaibori M, Kitade H, Takai S, Kwon AH, Kamiyama Y (2007) Postoperative outcomes in patients with hepatocellular carcinomas resected with exposure of the tumor surface: clinical role of the no-margin resection. Arch Surg 142:596–602; discussion 603

15.

Gumbs AA, Gayet B (2008) Video: the lateral laparoscopic approach to lesions in the posterior segments. J Gastrointest Surg 12:1154

16.

Simsek A, Yagci G, Zeybek N, Gorgulu S, Kaymakcioglu N, Kesim E, Akdeniz A, Ozmen MM, Renda N (2002) Effects of portal triad occlusion on left-sided colonic anastomosis. Int Surg 87:25–30

17.

Casciola L, Codacci-Pisanelli M, Ceccarelli G, Bartoli A, Di Zitti L, Patriti A (2008) A modified umbilical incision for specimen extraction after laparoscopic abdominal surgery. Surg Endosc 22:784–786

18.

Torzilli G, Procopio F, Cimino M, Del Fabbro D, Palmisano A, Donadon M, Montorsi M (2010) Anatomical segmental and subsegmental resection of the liver for hepatocellular carcinoma: a new approach by means of ultrasound-guided vessel compression. Ann Surg 251:229–235

19.

Elias D, Cavalcanti A, Sabourin JC, Lassau N, Pignon JP, Ducreux M, Coyle C, Lasser P (1998) Resection of liver metastases from colorectal cancer: the real impact of the surgical margin. Eur J Surg Oncol 24:174–179

20.

Muratore A, Ribero D, Zimmitti G, Mellano A, Langella S, Capussotti L (2010) Resection margin and recurrence-free survival after liver resection of colorectal metastases. Ann Surg Oncol 17:1324–1329

21.

Ferrero A, Vigan L, Lo Tesoriere R, Russolillo N, Sgotto E, Capussotti L (2009) Bisegmentectomies as alternative to right hepatectomy in the treatment of colorectal liver metastases. Hepatogastroenterology 56:1429–1435

22.

Vigano L, Ferrero A, Sgotto E, Polastri R, Muratore A, Capussotti L (2005) Parenchyma sparing: evolution of the resective surgical approach of hepatic metastasis from the colorectum. Suppl Tumori 4:S35

23.

Torzilli G, Botea F, Donadon M, Cimino M, Del Fabbro D, Palmisano A (2010) Minimesohepatectomy for colorectal liver metastasis invading the middle hepatic vein at the hepatocaval confluence. Ann Surg Oncol 17:483

24.

Torzilli G, Montorsi M, Del Fabbro D, Palmisano A, Donadon M, Makuuchi M (2006) Ultrasonographically guided surgical approach to liver tumours involving the hepatic veins close to the caval confluence. Br J Surg 93:1238–1246

25.

Makuuchi M HH, Yamazaki S. (1981) Intraoperative ultrasonic examination for hepatectomy. Jpn J Clin Oncol 367-390

26.

Dahiya D, Wu TJ, Lee CF, Chan KM, Lee WC, Chen MF (2010) Minor versus major hepatic resection for small hepatocellular carcinoma (HCC) in cirrhotic patients: a 20-year experience. Surgery 147:676–685

27.

Giulianotti PC, Coratti A, Sbrana F, Addeo P, Bianco FM, Buchs NC, Annechiarico M, Benedetti E (2011) Robotic liver surgery: results for 70 resections. Surgery 149:29–39

28.

Gurusamy KS, Pamecha V, Sharma D, Davidson BR (2009) Techniques for liver parenchymal transection in liver resection. Cochrane Syst Rev (Online): CD006880

29.

Gurusamy KS, Sheth H, Kumar Y, Sharma D, Davidson BR (2009) Methods of vascular occlusion for elective liver resections. Cochrane Syst Rev (Online): CD007632

30.

Takayama T, Makuuchi M, Kubota K, Harihara Y, Hui AM, Sano K, Ijichi M, Hasegawa K (2001) Randomized comparison of ultrasonic vs clamp transection of the liver. Arch Surg 136:922–928

31.

Lesurtel M, Selzner M, Petrowsky H, McCormack L, Clavien PA (2005) How should transection of the liver be performed?: a prospective randomized study in 100 consecutive patients: comparing four different transection strategies. Ann Surg 242:814–822; discussion 822-813

32.

Gurusamy KS, Kumar Y, Ramamoorthy R, Sharma D, Davidson BR (2009) Vascular occlusion for elective liver resections. Cochrane Syst Rev (Online): CD007530

33.

Kornprat P, Jarnagin WR, DeMatteo RP, Fong Y, Blumgart LH, D'Angelica M (2007) Role of intraoperative thermoablation combined with resection in the treatment of hepatic metastasis from colorectal cancer. Arch Surg 142:1087–1092

34.

Torzilli G, Donadon M, Cimino M, Del Fabbro D, Procopio F, Botea F (2009) Systematic subsegmentectomy by ultrasound-guided finger compression for hepatocellular carcinoma in cirrhosis. Ann Surg Oncol 16:1843

35.

Giulianotti PC, Sbrana F, Bianco FM, Addeo P (2010) Robot-assisted laparoscopic extended right hepatectomy with biliary reconstruction. J Laparoendosc Adv Surg Tech 20:159–163

36.

Berber E, Akyildiz HY, Aucejo F, Gunasekaran G, Chalikonda S, Fung J (2010) Robotic versus laparoscopic resection of liver tumours. HPB (Oxford) 12:583–586
Acknowledgment
The authors wish to thank the nursing staff of the Department of Surgery, Hospital San Matteo degli Infermi for their daily work.
Disclosure
Authors Luciano Casciola, Alberto Patriti, Graziano Ceccarelli, Alberto Bartoli, Cecilia Ceribelli, and Alessandro Spaziani have no conflicts of interest or financial ties to disclose.
Additional information
The first two authors are joint first authors.
About this article
Cite this article
Casciola, L., Patriti, A., Ceccarelli, G. et al. Robot-assisted parenchymal-sparing liver surgery including lesions located in the posterosuperior segments. Surg Endosc 25, 3815–3824 (2011). https://doi.org/10.1007/s00464-011-1796-9
Received:

Accepted:

Published:

Issue Date:
Keywords
Liver resection

Robot-assisted

Laparoscopic

Liver tumor

Liver metastasis

Hydatid disease