Abstract
Objective
Better patient-reported outcomes (PROs) of laparoscopic cholecystectomy (LC) are premised upon PROs such as postoperative pain and fatigue. These PROs are indices of convalescence and return to normal activity. Curcumin (turmeric) is used in India for traumatic pain and fatigue for its anti-inflammatory/antioxidant and tissue modulation/healing properties. We studied the effect of curcumin on pain and postoperative fatigue in patients of LC.
Methods and procedures
From July to September 2009, 50 consecutive day-care LC candidates were enrolled for a prospective, double-blind randomized placebo-controlled study. A uniform general anesthesia and analgesia protocol was followed. Curcumin/placebo and rescue analgesic were prescribed at discharge. Patients were told to maintain pain/fatigue/adverse event diaries based upon 100-point visual analog pain scale (VAS) and 10-point interval rating fatigue scale (IRS). Patients were followed up at third day (D3), first week (W1), second week (W2), and third week (W3). The blind labels were opened at the end of study.
Results
Demographic characteristics, comorbidity, and gallbladder pathology profiles were comparable in the study (n = 25) and control groups (n = 25). There was no adverse surgical outcome, adverse PRO or withdrawal. Pain and fatigue scores at D3 were similar in the two groups. At W1 and W2, the study group showed significantly lower (p value 0.000) mean pain scores, i.e., 15 ± 5.204 versus 30 ± 13 in controls. Fatigue scores at W1, W2, and W3 were significantly lower (p value 0.000) in the study group, i.e., 2.16 ± 1.748, 1, and 0, respectively, versus 5.16 ± 1.375, 4.20 ± 1.633, and 1 in controls. All patients were pain free at W3. Analgesic tablet usage was significantly lower (p value 0.000) in the study group, i.e., 6.96 ± 1.837 versus 39.32 ± 16.509 in controls.
Conclusions
Turmeric (curcumin) improves postoperative pain- and fatigue-related PROs following LC.
This is a preview of subscription content, log in to check access.
Access options
Buy single article
Instant access to the full article PDF.
US$ 39.95
Price includes VAT for USA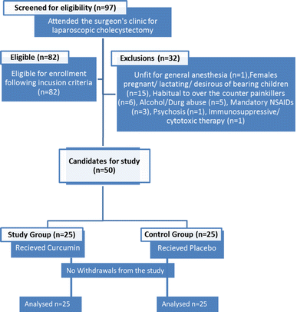 References
1.

Topal B, Peeters G, Verbert A, Penninckx F (2007) Outpatient laparoscopic cholecystectomy: clinical pathway implementation is efficient and cost effective and increases hospital bed capacity. Surg Endosc 21:1142–1146

2.

Tang B, Hanna GB, Joice P, Cuschieri A (2004) Identification and categorization of technical errors by Observational Clinical Human Reliability Assessment (OCHRA) during laparoscopic cholecystectomy. Arch Surg 139:1215–1220

3.

Bisgaard T, Klarskov B, Rosenberg J, Kehlet H (2001) Factors determining convalescence after uncomplicated laparoscopic cholecystectomy. Arch Surg 136:917–921

4.

Bisgaard T, Kehlet H, Rosenberg J (2001) Pain and convalescence after laparoscopic cholecystectomy. Eur J Surg 167:84–96

5.

Bisgaard T (2006) Analgesic treatment after laparoscopic cholecystectomy: a critical assessment of the evidence. Anesthesiology 104:835–846

6.

Goel A, Kunnumakkara AB, Aggarwal BB (2008) Curcumin as "Curecumin": from kitchen to clinic. Biochem Pharmacol 75:787–809

7.

Anand P, Thomas SG, Kunnumakkara AB, Sundaram C, Harikumar KB, Sung B, Tharakan ST, Misra K, Priyadarsini IK, Rajasekharan KN, Aggarwal BB (2008) Biological activities of curcumin and its analogues (Congeners) made by man and Mother Nature. Biochem Pharmacol 76:1590–1611

8.

Agarwal BB (2011) Do dietary spices impair the patient-reported outcomes for stapled hemorrhoidopexy? A randomized controlled study. Surg Endosc 25(5):1535–1540

9.

Bisht S, Feldmann G, Soni S, Ravi R, Karikar C, Maitra A, Maitra A (2007) Polymeric nanoparticle-encapsulated curcumin ("nanocurcumin"): a novel strategy for human cancer therapy. J Nanobiotechnol 5:3

10.

Reeta KH, Mehla J, Gupta YK (2009) Curcumin is protective against phenytoin-induced cognitive impairment and oxidative stress in rats. Brain Res 1301:52–60

11.

Christensen T, Hougård F, Kehlet H (1985) Influence of pre- and intra- operative factors on the occurrence of postoperative fatigue. Br J Surg 72:63–65

12.

MacFadyen BV (1995) Outcomes in medical care—what are they? Surg Endosc 9:1213–1214

13.

Agarwal BB, Mahajan KC (2010) Laparoscopic biliary tract injury prevention: zero tolerance, error free performance. Surg Endosc 24:728–729

14.

Pappas-Gogos G, Tsimogiannis KE, Zikos N, Nikas K, Manataki A, Tsimoyiannis EC (2008) Preincisional and intraperitoneal ropivacaine plus normal saline infusion for postoperative pain relief after laparoscopic cholecystectomy: a randomized double-blind controlled trial. Surg Endosc 22:2036–2045

15.

Wasowicz-Kemps DK, Slootmaker SM, Kemps HM, Borel-Rinkes IH, Biesma DH, van Ramshorst B (2009) Resumption of daily physical activity after day-case laparoscopic cholecystectomy. Surg Endosc 23:2034–2040

16.

Torres K, Torres A, Staśkiewicz GJ, Chrościcki A, Loś T, Maciejewski R (2009) A comparative study of angiogenic and cytokine responses after laparoscopic cholecystectomy performed with standard- and low-pressure pneumoperitoneum. Surg Endosc 23:2117–2123

17.

Agarwal BB, Agarwal KA, Mahajan KC (2009) Prospective double-blind randomized controlled study comparing heavy- and lightweight polypropylene mesh in totally extraperitoneal repair of inguinal hernia: early results. Surg Endosc 23:242–247

18.

Zargar-Shoshtari K, Hill AG (2009) Postoperative fatigue: a review. World J Surg 33:738–745

19.

Gögenur I, Bisgaard T, Burgdorf S, van Someren E, Rosenberg J (2009) Disturbances in the circadian pattern of activity and sleep after laparoscopic versus open abdominal surgery. Surg Endosc 23:1026–1031

20.

Aggarwal BB, Sung B (2009) Pharmacological basis for the role of curcumin in chronic diseases: an age-old spice with modern targets. Trends Pharmacol Sci 30:85–94

21.

Deeb D, Jiang H, Gao X, Al-Holou S, Danyluk AL, Dulchavsky SA, Gautam SC (2007) Curcumin [1,7-bis(4-hydroxy-3-methoxyphenyl)-1–6-heptadine-3, 5-dione; C21H20O6] sensitizes human prostate cancer cells to tumor necrosis factor-related apoptosis-inducing ligand/Apo2L-induced apoptosis by suppressing nuclear factor-kappaB via inhibition of the prosurvival Akt signaling pathway. J Pharmacol Exp Ther 321:616–625

22.

Gao X, Kuo J, Jiang H, Deeb D, Liu Y, Divine G, Chapman RA, Dulchavsky SA, Gautam SC (2004) Immunomodulatory activity of curcumin: suppression of lymphocyte proliferation, development of cell-mediated cytotoxicity, and cytokine production in vitro. Biochem Pharmacol 68:51–61

23.

Gaedeke J, Noble NA, Border WA (2005) Curcumin blocks fibrosis in anti-Thy 1 glomerulonephritis through up-regulation of heme oxygenase 1. Kidney Int 68:2042–2049

24.

Rose S (2009) Darwin 200: Should scientists study race and IQ? NO: Science and society do not benefit. Nature 457:786–788

25.

Sharma S, Kulkarni SK, Agrewala JN, Chopra K (2006) Curcumin attenuates thermal hyperalgesia in a diabetic mouse model of neuropathic pain. Eur J Pharmacol 536(3):256–261

26.

Sharma S, Chopra K, Kulkarni SK (2007) Effect of insulin and its combination with resveratrol or curcumin in attenuation of diabetic neuropathic pain: participation of nitric oxide and TNF-alpha. Phytother Res 21(3):278–283

27.

Maes M, Mihaylova I, Bosmans E (2007) Not in the mind of neurasthenic lazybones but in the cell nucleus: patients with chronic fatigue syndrome have increased production of nuclear factor kappa beta. Neuro Endocrinol Lett 28(4):456–462

28.

Tajik H, Tamaddonfard E, Hamzeh-Gooshchi N (2007) Interaction between curcumin and opioid system in the formalin test of rats. Pak J Biol Sci 15:2583–2586

29.

Tajik H, Tamaddonfard E, Hamzeh-Gooshchi N (2008) The effect of curcumin (active substance of turmeric) on the acetic acid-induced visceral nociception in rats. Pak J Biol Sci 11(2):312–314

30.

Mittal N, Joshi R, Hota D, Chakrabarti A (2009) Evaluation of antihyperalgesic effect of curcumin on formalin-induced orofacial pain in rat. Phytother Res 23(4):507–512

31.

Yeon KY, Kim SA, Kim YH, Lee MK, Ahn DK, Kim HJ, Kim JS, Jung SJ, Oh SB (2010) Curcumin produces an antihyperalgesic effect via antagonism of TRPV1. J Dent Res 89(2):170–174

32.

Agarwal BB (2008) Journey of the carbon-literate and climate-conscious endosurgeon having a head, heart, hands, and holistic sense of responsibility. Surg Endosc 22:2539–2540
Acknowledgement
We are grateful to Dr. Konark Malhotra for his help in documentation and data compilation. We express our thanks to Indsaff, Inc., India for the gift of the curcumin/placebo and blind labeling of the same.
Disclosure
Krishna A. Agarwal, C. D. Tripathi, Brij B. Agarwal, and Satish Saluja have no conflicts of interest or financial ties to disclose.
About this article
Cite this article
Agarwal, K.A., Tripathi, C.D., Agarwal, B.B. et al. Efficacy of turmeric (curcumin) in pain and postoperative fatigue after laparoscopic cholecystectomy: a double-blind, randomized placebo-controlled study. Surg Endosc 25, 3805–3810 (2011). https://doi.org/10.1007/s00464-011-1793-z
Received:

Accepted:

Published:

Issue Date:
Keywords
Laparoscopic cholecystectomy

Postoperative pain

Postoperative fatigue

Turmeric

Curcumin

Patient-reported outcomes