Abstract
Background
Outcomes after ventral incisional hernia (VIH) repair are measured by recurrence rate and subjective measures. No objective metrics evaluate functional outcomes after abdominal wall reconstruction. This study aimed to develop testing of abdominal wall strength (AWS) that could be validated as a useful metric.
Methods
Data were prospectively collected during 9 months from 35 patients. A total of 10 patients were evaluated before and after VIH repair, for a total of 45 encounters. The patients were tested simultaneously or in succession by two of three examiners. Data were collected for three tests: double leg lowering (DLL), trunk raising (TR), and supine reaching (SR). Raw data were compared and tested for validity, and continuous data were transformed to categorical data. Agreement was measured using the intraclass correlation coefficient (ICC) for DLL and using kappa for the ordinal measures.
Results
Simultaneous testing yielded the following interobserver reliability: DLL (0.96 and 0.87), TR (1.00 and 0.95), and SR (0.76). Reproducibility was assessed by consecutive tests, with correlation as follows: DLL (0.81), TR (0.81), and RCH (0.21). Due to poor interobserver reliability for the SR test compared with the DLL and TR tests, the SR test was excluded from calculation of an overall score. Based on raw data distribution from the DLL and TR tests, the DLL data were categorized into 10º increments, allowing construction of a 10-point score. The median AWS score was 5 (interquartile range [IQR], 4–7), and there was agreement within 1 point for 42 of the 45 encounters (93%).
Conclusions
The findings from this study demonstrate that the 10-point AWS score may measure AWS in an accurate and reproducible fashion, with potential for objective description of abdominal wall function of VIH patients. This score may help to identify patients suited for abdominal wall reconstruction while measuring progress after VIH repair. Further longitudinal outcomes studies are needed.
Access options
Buy single article
Instant access to the full article PDF.
USD 39.95
Price excludes VAT (USA)
Tax calculation will be finalised during checkout.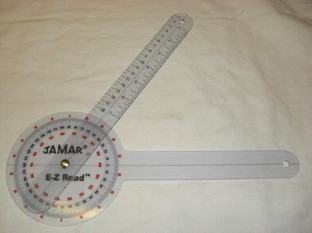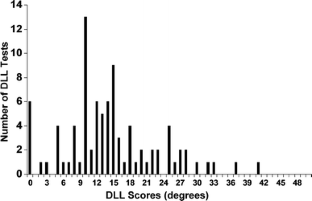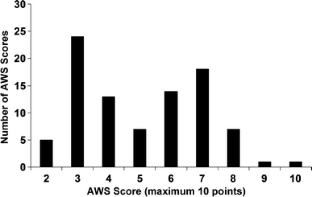 References
Park A, Birch DW, Lovrics P (1998) Laparoscopic and open incisional hernia repair: a comparison study. Surgery 124:816–821 (discussion 821–822)

Ramshaw BJ, Esartia P, Schwab J, Mason EM, Wilson RA, Duncan TD, Miller J, Lucas GW, Promes J (1999) Comparison of laparoscopic and open ventral herniorrhaphy. Am Surg 65:827–831 (discussion 831–832)

Rosen M, Garcia-Ruiz A, Malm J, Mayes JT, Steiger E, Ponsky J (2001) Laparoscopic hernia repair enhances early return of physical work capacity. Surg Laparosc Endosc Percutan Tech 11:28–33

Lejour M, Dome M (1991) Abdominal wall function after rectus abdominis transfer. Plast Reconstr Surg 87:1054–1068

Mizgala CL, Hartrampf CR Jr, Bennett GK (1994) Assessment of the abdominal wall after pedicled TRAM flap surgery: 5- to 7-year follow-up of 150 consecutive patients. Plast Reconstr Surg 93:988–1002 (discussion 1003–1004)

Kind GM, Rademaker AW, Mustoe TA (1997) Abdominal-wall recovery following TRAM flap: a functional outcome study. Plast Reconstr Surg 99:417–428

Dulin WA, Avila RA, Verheyden CN, Grossman L (2004) Evaluation of abdominal wall strength after TRAM flap surgery. Plast Reconstr Surg 113:1662–1665 (discussion 1666–1667)

Zauner-Dungl A, Resch KL, Herczeg E, Piza-Katzer H (1995) Quantification of functional deficits associated with rectus abdominis muscle flaps. Plast Reconstr Surg 96:1623–1628

Moreland J, Finch E, Stratford P, Balsor B, Gill C (1997) Interrater reliability of six tests of trunk muscle function and endurance. J Orthop Sports Phys Ther 26:200–208

Youdas JW, Garrett TR, Egan KS, Therneau TM (2000) Lumbar lordosis and pelvic inclination in adults with chronic low back pain. Phys Ther 80:261–275

Krause DA, Youdas JW, Hollman JH, Smith J (2005) Abdominal muscle performance as measured by the double leg-lowering test. Arch Phys Med Rehabil 86:1345–1348

Magee DJ (2008) Orthopedic physical assessment, 5th edn. Saunders Elsevier, St. Louis

Kendall FP (1983) Muscles, testing and function, 3rd edn. Williams & Wilkins, Baltimore

Reese NB (1999) Muscle and sensory testing, 2nd edn. WB Saunders Co, Philadelphia

Clarkson HM (2000) Musculoskeletal assessment: joint range of motion and manual muscle strength, 2nd edn. Lippincott Williams & Wilkins, Philadelphia
Acknowledgments
We acknowledge Ms. Barbara J. Williams for her assistance in formatting the figures used in this report.
Disclosures
Michael Parker, Ross F. Goldberg, Maryane M. Dinkins, Horacio J. Asbun, C. Daniel Smith, Susanne Preissler, and Steven P. Bowers have no conflicts of interest or financial ties to disclose.
Additional information
Presented at the SAGES 2011 Annual Meeting, March 30–April 2, 2011, San Antonio, TX.
About this article
Cite this article
Parker, M., Goldberg, R.F., Dinkins, M.M. et al. Pilot study on objective measurement of abdominal wall strength in patients with ventral incisional hernia. Surg Endosc 25, 3503–3508 (2011). https://doi.org/10.1007/s00464-011-1744-8
Received:

Accepted:

Published:

Issue Date:

DOI: https://doi.org/10.1007/s00464-011-1744-8
Keywords