Abstract
Background
Significant weight regain occurs for 10% to 20% of patients after Roux-en-Y gastric bypass (RYGB). Potential causative factors include anatomic abnormalities such as enlargement of the gastric pouch and gastrojejunostomy (GJ). This report describes endoscopic findings for patients referred for investigation of weight regain and presents the outcomes of revisional therapy for patients with abnormal anatomy.
Methods
To evaluate gastric pouch and stoma size, RYGB patients referred for weight regain underwent upper endoscopy. A GJ was defined as enlarged if it had a diameter greater than 2 cm in any dimension, and a pouch was defined as enlarged if its length exceeded 6 cm long or its width exceeded 5 cm. Patients with abnormal anatomy who subsequently underwent revisional procedures were arbitrarily categorized into three groups based on the interval from RYGB to endoscopic evaluation: less than 5 years (group 1), 5 to 10 years (group 2), longer than 10 years (group 3). The percentage of regained weight lost (%RWL) after revision was compared between the groups.
Results
In this study, 205 RYGB patients (176 women with a mean age of 47 ± 10 years and a current body mass index [BMI] of 43.4 ± 8.4 kg/m2) were evaluated. The mean time from primary RYGB was 6.9 ± 3.7 years, and the increase in BMI from its nadir was 9.78 ± 5.80 kg/m2. Abnormal endoscopic findings (n = 146, 71.2%) included large GJ (n = 86, 58.9%), large pouch (n = 42, 28.8%), or both (n = 18, 12.3%). Of the 205 patients, 51 (24.9%) underwent a revisional surgical or endoluminal procedure. At a mean follow-up assessment 13 months after revision, group 1 (n = 12) had a mean %RWL of 103% ± 89.3%, and 62% of these patients lost all their regained weight. The mean %RWL was 45% ± 12.6% in group 2 (n = 30) and 40% ± 13.6% in group 3 (n = 9).
Conclusion
Endoscopy is a valuable tool for evaluating weight regain after bariatric surgery that can identify abnormal post-RYGB anatomy in a majority of patients. Revisional procedures to restore normal RYGB anatomy appear to be most successful if performed within 5 years after the primary procedure.
Access options
Buy single article
Instant access to the full article PDF.
US$ 39.95
Tax calculation will be finalised during checkout.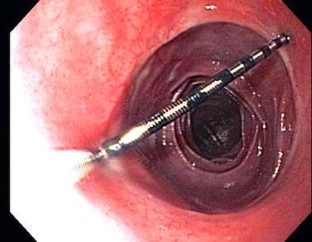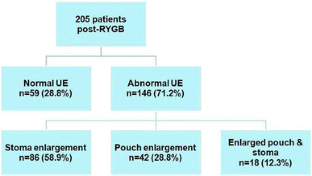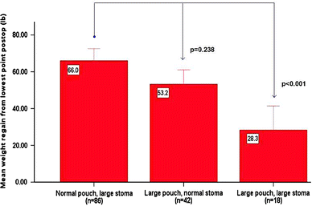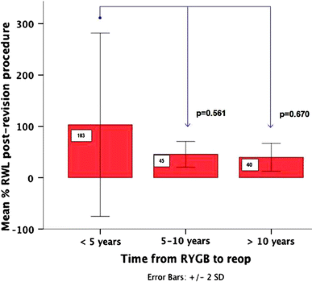 References
1.

Christou NV, Look D, Maclean LD (2006) Weight gain after short- and long-limb gastric bypass in patients followed for longer than 10 years. Ann Surg 244:734–740

2.

Magro DO, Geloneze B, Delfini R, Pareja BC, Callejas F, Pareja JC (2008) Long-term weight regain after gastric bypass: a 5-year prospective study. Obes Surg 18:648–651

3.

Meguid MM, Glade MJ, Middleton FA (2008) Weight regain after Roux-en-Y: a significant 20% complication related to PYY. Nutrition 24:832–842

4.

Flanagan L (1996) Measurement of functional pouch volume following the gastric bypass procedure. Obes Surg 6:38–43

5.

Herron DM, Birkett DH, Thompson CC, Bessler M, Swanstrom LL (2008) Gastric bypass pouch and stoma reduction using a transoral endoscopic anchor placement system: a feasibility study. Surg Endosc 22:1093–1099

6.

Muller MK, Wildi S, Scholz T, Clavien PA, Weber M (2005) Laparoscopic pouch resizing and redo of gastrojejunal anastomosis for pouch dilatation following gastric bypass. Obes Surg 15:1089–1095

7.

Schwartz RW, Strodel WE, Simpson WS, Griffen WO Jr (1988) Gastric bypass revision: lessons learned from 920 cases. Surgery 104:806–812

8.

Thompson CC, Slattery J, Bundga ME, Lautz DB (2006) Peroral endoscopic reduction of dilated gastrojejunal anastomosis after Roux-en-Y gastric bypass: a possible new option for patients with weight regain. Surg Endosc 20:1744–1748

9.

Bessler M, Daud A, DiGiorgi MF, Olivero-Rivera L, Davis D (2005) Adjustable gastric banding as a revisional bariatric procedure after failed gastric bypass. Obes Surg 15:1443–1448

10.

Brethauer SA, Pryor AD, Chand B, Schauer P, Rosenthal R, Richards W, Bessler M (2009) Endoluminal procedures for bariatric patients: expectations among bariatric surgeons. Surg Obes Relat Dis 5:231–236

11.

Ellsmere JC, Thompson CC, Brugge WR, Chuttani R, Desilets DJ, Rattner DW, Tarnoff EM, Kaplan LM (2009) Endoscopic interventions for weight loss surgery. Obes Silver Spring 17:929–933

12.

Borao F, Gorcey S, Capuano A (2010) Prospective single-site case series utilizing an endolumenal tissue anchoring system for revision of post-RYGB stomal and pouch dilatation. Surg Endosc 24:2308–2313

13.

Brethauer SA, Nfonsam V, Sherman V, Udomsawaengsup S, Schauer PR, Chand B (2006) Endoscopy and upper gastrointestinal contrast studies are complementary in evaluation of weight regain after bariatric surgery. Surg Obes Relat Dis 2:643–648 (discussion 649–650)

14.

Brolin RE (2002) Bariatric surgery and long-term control of morbid obesity. JAMA 288:2793–2796

15.

Tice JA, Karliner L, Walsh J, Petersen AJ, Feldman MD (2008) Gastric banding or bypass? A systematic review comparing the two most popular bariatric procedures. Am J Med 121:885–893

16.

Lim CS, Liew V, Talbot ML, Jorgensen JO, Loi KW (2009) Revisional bariatric surgery. Obes Surg 19:827–832

17.

Fobi MA (2004) Surgical treatment of obesity: a review. J Natl Med Assoc 96:61–75

18.

Powers MA, Pappas TN (1989) Physiologic approaches to the control of obesity. Ann Surg 209:255–260

19.

Catalano MF, Rudic G, Anderson AJ, Chua TY (2007) Weight gain after bariatric surgery as a result of a large gastric stoma: endotherapy with sodium morrhuate may prevent the need for surgical revision. Gastrointest Endosc 66:240–245

20.

Ryou M, Mullady DK, Lautz DB, Thompson CC (2009) Pilot study evaluating technical feasibility and early outcomes of second-generation endosurgical platform for treatment of weight regain after gastric bypass surgery. Surg Obes Relat Dis 5:450–454

21.

Spaulding L, Osler T, Patlak J (2007) Long-term results of sclerotherapy for dilated gastrojejunostomy after gastric bypass. Surg Obes Relat Dis 3:623–626

22.

Carpenter RO, Williams DB, Richards WO (2010) Laparoscopic adjustable gastric banding after previous Roux-en-Y gastric bypass. Surg Obes Relat Dis 6:93–95

23.

Mikami D, Needleman B, Narula V, Durant J, Melvin WS (2010) Natural orifice surgery: initial U.S. experience utilizing the StomaphyX device to reduce gastric pouches after Roux-en-Y gastric bypass. Surg Endosc 24:223–228

24.

Morales MP, Wheeler AA, Ramaswamy A, Scott JS, de la Torre RA (2010) Laparoscopic revisional surgery after Roux-en-Y gastric bypass and sleeve gastrectomy. Surg Obes Relat Dis 6:485–490

25.

Valezi AC, Mali Junior J, de Menezes MA, de Brito EM, de Souza SA (2010) Weight loss outcome after silastic ring Roux-en-Y gastric bypass: 8 years of follow-up. Obes Surg 20:1491–1495

26.

Schauer P, Chand B, Brethauer S (2007) New applications for endoscopy: the emerging field of endoluminal and transgastric bariatric surgery. Surg Endosc 21:347–356

27.

Spyropoulos C, Kehagias I, Panagiotopoulos S, Mead N, Kalfarentzos F (2010) Revisional bariatric surgery: 13-year experience from a tertiary institution. Arch Surg 145:173–177

28.

Thompson CC, Roslin MS, Chand B, Chen YK, de Marco DC, Miller LS, Schweitzer M, Rothstein RL, Lautz DB, Ryan MB, Brethauer SA, Schauer PR, Mitchell MC, Starpoli AA, Haber GB, Catalano MF, Edmundowicz SA, Fagnant A, Kaplan LM (2010) RESTORe: randomized evaluation of endoscopic suturing transorally for anastomotic outlet reduction: a double-blinded, sham-controlled multicenter study for treatment of inadequate weight loss or weight regain following Roux-en-Y gastric bypass. Gastroenterology (2010 DDW Abstract Suppl) 138:S-388

29.

Fogel R, De Fogel J, Bonilla Y, De La Fuente R (2008) Clinical experience of transoral suturing for an endoluminal vertical gastroplasty: 1-year follow-up in 64 patients. Gastrointest Endosc 68:51–58

30.

Reinhold RB (1982) Critical analysis of long-term weight loss following gastric bypass. Surg Gynecol Obstet 155:385–394

31.

Fried M, Peskova M (1996) Does laparoscopic gastric banding demand sophisticated measurement devices? Obes Surg 6:336–340

32.

Nishie A, Brown B, Barloon T, Kuehn D, Samuel I (2007) Comparison of size of proximal gastric pouch and short-term weight loss following routine upper gastrointestinal contrast study after laparoscopic Roux-en-Y gastric bypass. Obes Surg 17:1183–1188

33.

Roberts K, Duffy A, Kaufman J, Burrell M, Dziura J, Bell R (2007) Size matters: gastric pouch size correlates with weight loss after laparoscopic Roux-en-Y gastric bypass. Surg Endosc 21:1397–1402
About this article
Cite this article
Yimcharoen, P., Heneghan, H.M., Singh, M. et al. Endoscopic findings and outcomes of revisional procedures for patients with weight recidivism after gastric bypass. Surg Endosc 25, 3345–3352 (2011). https://doi.org/10.1007/s00464-011-1723-0
Received:

Accepted:

Published:

Issue Date:
Keywords
Weight regain

Bariatric surgery

Roux-en-Y gastric bypass

Gastrojejunal anastomosis dilation

Pouch dilation

Endoscopy

Stoma enlargement