Abstract
Background
Flexible endoscopic procedures in the gastric cavity are usually performed by operative instruments introduced through the working channels of a gastroscope. To enable additional functions and to widen the spectrum of possible surgical procedures, assistive internal surgical instruments (AISI) may be deployed through the esophagus and fixed onto the gastric wall for the entire duration of the procedure. This paper presents a solution for deploying, positioning, and anchoring AISI inside the stomach by exploiting a chemical approach.
Methods
A mucoadhesive polymer was synthesized and tested inside the stomach. In vivo trials were performed on a porcine model by introducing the AISI provided with mucoadhesive by means of an overtube through the mouth. Targeted deployment was achieved by a purposely developed delivery device, passed through the operative channel of a gastroscope. The total time for deployment, positioning, and anchoring of the AISI was evaluated by testing the procedure with passive modules (10, 12, 15, 20 mm in diameter) and active devices: e.g., a miniaturized wired camera and a wireless illumination module. The time and force required for the detachment of the modules were measured.
Results
The whole procedure of in vivo deployment, positioning, and attachment of an AISI was performed in approximately 6 min. A preload force of 5 N for 3 min was required for anchoring the modules. The stable adhesion was maintained for a maximum of 110 min. Thanks to the positioning of the camera in the fundus, a wide view of the gastric cavity was obtained. The force required to detach the modules reached 2.8 N.
Conclusions
Mucoadhesive anchoring represents a completely biocompatible and safe solution for stable positioning of AISI onto mucosal tissue. This novel polymeric mechanism can be useful for designing intraluminal accessories and tools that enhance surgeons' performances in endoluminal procedures.
This is a preview of subscription content, log in to check access.
Access options
Buy single article
Instant access to the full article PDF.
US$ 39.95
Tax calculation will be finalised during checkout.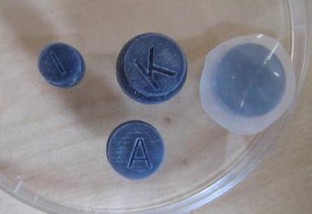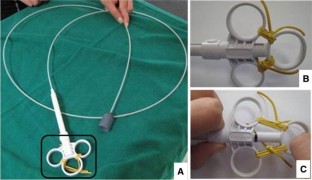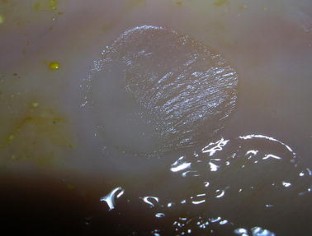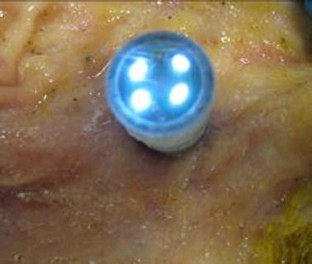 References
1.

Ponsky JL (2006) Endoluminal surgery: past, present and future. Surg Endosc 20:S500–S502

2.

McCune WS, Shorb PE, Moscovitz H (1968) Endoscopic cannulation of the ampulla of Vater: a preliminary report. Ann Surg 167:752

3.

Kawai K, Akasaka Y, Murakami K, Tada M, Koli Y (1974) Endoscopic sphincterotomy of the ampulla of Vater. Gastrointest Endosc 20:148

4.

Huibregtse K, Katon RM, Coene PP, Tytgat GN (1986) Endoscopic palliative treatment in pancreatic cancer. Gastrointest Endosc 32:334

5.

Lanza FL, Graham DY, Nelson RS, Godines R, McKechnie JC (1981) Endoscopic upper gastrointestinal polypectomy. Am J Gastroenterol 75:345

6.

Randall GM (1992) Endoscopic diagnosis of gastric neoplasms. Gastrointest Endosc Clin North Am 2:469

7.

Martınez-Serna T, Filipi CJ (1999) Endoluminal surgery. World J Surg 23:368–377

8.

Cadeddu J, Fernandez R, Desai M, Bergs R, Tracy C, Tang SJ, Rao P, Desai M, Scott D (2009) Novel magnetically guided intra-abdominal camera to facilitate laparoendoscopic single-site surgery: initial human experience. Surg Endosc 23:1894–1899

9.

Lehman AC, Berg KA, Dumpert J, Wood NA, Visty AQ, Rentschler ME, Platt SR, Farritor SM, Oleynikov D (2008) Surgery with cooperative robots. Comput Aided Surg 13:95–105

10.

Canes D, Lehman AC, Farritor SM, Oleynikov D, Desai MM (2009) The future of NOTES instrumentation: flexible robotics and in vivo minirobots. J Endourol 23:787–792

11.

Dominguez G, Durand L, De Rosa J, Danguise E, Arozamena C, Ferraina PA (2009) Retraction and triangulation with neodymium magnetic forceps for single-port laparoscopic cholecystectomy. Surg Endosc 23:1660–1666

12.

Simi M, Ciuti G, Tognarelli S, Valdastri P, Menciassi A, Dario P (2010) Magnetic link design for a robotic laparoscopic camera. J Appl Phys 107(9):09B302–09B303

13.

Harada K, Oetomo D, Susilo E, Menciassi A, Daney D, Merlet JP, Dario P (2010) A reconfigurable modular robotic endoluminal surgical system: vision and preliminary results. Robotica 28(2):171–183

14.

Tognarelli S, Pensabene V, Condino S, Valdastri P, Menciassi A, Arezzo A, Dario P (2011) A pilot study on a new anchoring mechanism for surgical applications based on mucoadhesives. Minim Invasiv Ther 20:3–13

15.

Dodou D, Breedveld P, Wieringa PA (2006) Stick, unstick, restick sticky films in the colon. Minim Invasiv Ther 15(5):286–295

17.

Schulman AP, del Genio F, Sinha N, Rubino F (2009) "Metabolic" surgery for treatment of type 2 diabetes mellitus. Endocr Pract 15(6):624–631

18.

Blackburn GL, Mun EC (2005) Therapy insight: weight-loss surgery and major cardiovascular risk factor. Nat Clin Pract Cardiovasc Med 2:585–591

19.

Kobiela J, Stefaniak T, Mackowiak M, Lachinski AJ, Sledzinski Z (2008) NOTES-third generation surgery: vain hopes or the reality of tomorrow? Langenbecks Arch Surg 393:405–411

20.

Pleskow D, Rothstein R, Haber G, Gostout C, Lo S, Hawes R, Lembo A (2008) Endoscopic full-thickness placation for the treatment of GERD: five-year long-term multicenter results. Surg Endosc 22:326–332

21.

Kwiatek MA, Pandolfino JE (2008) The Bravo (TM) pH capsule system. Dig Liver Dis 40(3):156–160

22.

Schostek S, Müller V, Rieber F, Ho CN, Rakoschi C, Anhoeck G, Schurr MO (2008) Implantable optical sensor concept for the detection of gastrointestinal bleeding. Conference of the society for medical innovation and technology, SMIT 2008

23.

Errachid A, Ivorra A, Aguilo J, Villa R, Zine N, Bausells J (2001) New technology for multi-sensor silicon needles for biomedical applications. Sens Actuators B 78:279–284

24.

Wang Z, Wang L, Tang B, Frank T, Brown S, Cuschieri A (2008) Retraction by surface ferromagnetisation of target tissues: Preliminary studies on feasibility of magnetic retraction for endoscopic surgery. Surg Endosc 22:1838–1844
Acknowledgment
Research support for this study was provided by the European Commission in the framework of ARAKNES FP7 European Project 224565.
Disclosures
V. Pensabene, P. Valdastri, S. Tognarelli, A. Menciassi, A. Arezzo, and P. Dario have no conflicts of interest or financial ties to disclose.
About this article
Cite this article
Pensabene, V., Valdastri, P., Tognarelli, S. et al. Mucoadhesive film for anchoring assistive surgical instruments in endoscopic surgery: in vivo assessment of deployment and attachment. Surg Endosc 25, 3071–3079 (2011). https://doi.org/10.1007/s00464-011-1672-7
Received:

Accepted:

Published:

Issue Date:
Keywords
Mucoadhesion

Endoluminal surgery

Assistive tools

Anchoring system