Abstract
Background
Laparoscopy-assisted distal gastrectomy (LADG) is a less invasive alternative compared with an open procedure. However, it is difficult to obtain a full-view image and to estimate the three-dimensional (3D) relationships between organs during laparoscopic procedures. Determining the vascular anatomy by 3D CT imaging has been shown to play a critical role in reducing the risks associated with laparoscopic gastric cancer surgery. The purpose of this study was to evaluate the clinical anatomic variations and to estimate its positive contribution in obtaining less intraoperative bleeding.
Methods
Scanning was performed using a 64-row MDCT scanner. Three-dimensional CT images in the arterial and portal phase were reconstructed and fused together using the volume-rendering technique. The intraoperative bleeding findings were compared between two periods.
Results
The anatomic variations of the celiac trunk were divided into six types. There were 159 patients with Adachi's type I, type II = 8, type III = 1, type IV = 1, type V = 2, type VI = 3, and other = 1. The inflows of the left gastric coronary vein (LCV) were divided into three types. The LCV flowed into the portal vein (PV) in 79 patients, into the splenic vein (SpV) in 65, and into the junction of these two veins in 27. The splenic artery was divided into flat type and curved type, and 65 cases (37%) showed the flat type. Intraoperative bleeding was significantly less between 2007 and 2008, in which the operations were performed without first making a 3D anatomy study, than in 2009, in which 3D anatomy studies were made and analyzed before surgery in all patients.
Conclusions
Dual-phase 3D CT is a useful and essential modality to visualize the precise anatomy around the stomach. As a result, by comparing 3D CT images with our classifications, it is believed that any surgeons may reduce the degree of intraoperative blood loss.
Access options
Buy single article
Instant access to the full article PDF.
USD 39.95
Price excludes VAT (USA)
Tax calculation will be finalised during checkout.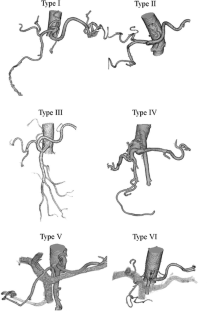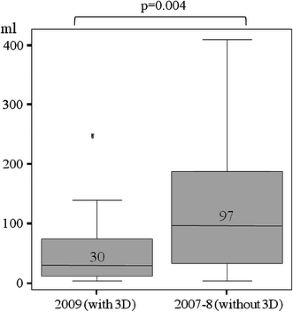 References
Kitano S, Iso Y, Moriyama M, Sugimachi K (1994) Laparoscopy-assisted Billroth I gastrectomy. Surg Laparosc Endosc 4:146–148

Kitano S, Shiraishi N, Fujii K, Yasuda K, Inomata M, Adachi Y (2002) A randomized controlled trial comparing open vs laparoscopy-assisted distal gastrectomy for the treatment of early gastric cancer: an interim report. Surgery 131:S306–S311

Hayashi H, Ochiai T, Shimada H, Gunji Y (2005) Prospective randomized study of open versus laparoscopy-assisted distal gastrectomy with extraperigastric lymph node dissection for early gastric cancer. Surg Endosc 19:1172–1176

Matsuki M, Tanikake M, Kani H, Tatsugami F, Kanazawa S, Kanamoto T, Inada Y, Yoshikawa S, Narabayashi I, Lee SW, Nomura E, Okuda J, Tanigawa N (2006) Dual-phase 3D CT angiography during a single breath-hold using 16-MDCT: assessment of vascular anatomy before laparoscopic gastrectomy. AJR Am J Roentgenol 186:1079–1085

Adachi B (1928) Das Arteriensystem der Japaner, vol 2. Maruzen, Tokyo

Michels N (1955) Blood supply and anatomy of the upper abdominal organs. Lippincott, Philadelphia

Douglass BE, Baggenstoss AH, Hollinshead WH (1950) The anatomy of the portal vein and its tributaries. Surg Gynecol Obstet 91:562–576

Lee IJ, Lee JM, Kim SH, Shin CI, Lee JY, Kim SH, Han JK, Choi BI (2010) Diagnostic performance of 64-channel multidetector CT in the evaluation of gastric cancer: differentiation of mucosal cancer (T1a) from submucosal involvement (T1b and T2). Radiology 255:805–814

Kim AY, Kim HJ, Ha HK (2005) Gastric cancer by multidetector row CT: preoperative staging. Abdom Imaging 30:465–472

Hwang SW, Lee DH, Lee SH, Park YS, Hwang JH, Kim JW, Jung SH, Kim NY, Kim YH, Lee KH, Kim HH, Park do J, Lee HS, Jung HC, Song IS (2009) Preoperative staging of gastric cancer by endoscopic ultrasonography and multidetector-row computed tomography. J Gastroenterol Hepatol 25:512–518

Lee JH, Kim YW, Ryu KW, Lee JR, Kim CG, Choi IJ, Kook MC, Nam BH, Bae JM (2007) A phase-II clinical trial of laparoscopy-assisted distal gastrectomy with D2 lymph node dissection for gastric cancer patients. Ann Surg Oncol 14:3148–3153

Fukunaga T, Hiki N, Tokunaga M, Nohara K, Akashi Y, Katayama H, Yoshiba H, Yamada K, Ohyama S, Yamaguchi T (2009) Left-sided approach for suprapancreatic lymph node dissection in laparoscopy-assisted distal gastrectomy without duodenal transection. Gastric Cancer 12:106–112

Ferrari R, De Cecco CN, Iafrate F, Paolantonio P, Rengo M, Laghi A (2007) Anatomical variations of the coeliac trunk and the mesenteric arteries evaluated with 64-row CT angiography. Radiol Med 112:988–998

Lee SW, Shinohara H, Matsuki M, Okuda J, Nomura E, Mabuchi H, Nishiguchi K, Takaori K, Narabayashi I, Tanigawa N (2003) Preoperative simulation of vascular anatomy by three-dimensional computed tomography imaging in laparoscopic gastric cancer surgery. J Am Coll Surg 197:927–936

Japanese Gastric Cancer Association (2004) Gastric cancer treatment guideline (in Japanese), 2nd edn. Kanehara-Shuppan, Tokyo

Ryu KW, Kim YW, Lee JH, Nam BH, Kook MC, Choi IJ, Bae JM (2008) Surgical complications and the risk factors of laparoscopy-assisted distal gastrectomy in early gastric cancer. Ann Surg Oncol 15:1625–1631
Disclosures
Drs. Toshiyuki Natsume, Kiyohiko Shuto, Noriyuki Yanagawa, Takashi Akai, Hiroshi Kawahira, Hideki Hayashi, and Hisahiro Matsubara have no conflicts of interest or financial ties to disclose.
About this article
Cite this article
Natsume, T., Shuto, K., Yanagawa, N. et al. The classification of anatomic variations in the perigastric vessels by dual-phase CT to reduce intraoperative bleeding during laparoscopic gastrectomy. Surg Endosc 25, 1420–1424 (2011). https://doi.org/10.1007/s00464-010-1407-1
Received:

Accepted:

Published:

Issue Date:

DOI: https://doi.org/10.1007/s00464-010-1407-1
Keywords
Imaging and VR < Technical

GI < cancer

3D CT

Laparoscopic gastrectomy