Abstract
Background
According to the "vascular" theory, arterial overflow in the superior hemorrhoidal arteries would lead to dilatation of the hemorrhoidal venous plexus. A 980-nm diode laser-pulsed shot causes shrinkage of tissue. The depth of shrinkage can be regulated by the power and duration of the laser beam. Through a 1000-micron conic fiber, five laser shots generated at a power of 13 W with duration of 1.2 s each and a pause of 0.6 s caused shrinkage of tissues to the depth of approximately 5 mm. Terminal branches of the superior hemorrhoidal artery in the anal canal, if precisely identified through a Doppler signal, can be closed with the use of this laser.
Methods
A specially designed proctoscope has a small window that allows introducing a Doppler probe whose function is to identify hemorrhoidal arteries. Approximately 3 cm above the dentate line, the terminal branches of the superior hemorrhoidal artery (usually 8–12) are recognized through a clockwise rotation of the proctoscope and progressively fulgurated through a laser optic fiber. The procedure does not require anesthesia and can be performed as an ambulatory treatment.
Results
Thirty patients (16 men) with second to third grade symptomatic hemorrhoids have been treated with the described technique. The procedure proved to be successful at 3 months' follow-up in 92% of cases. No major adverse effects or complications were reported. Bleeding was observed in four cases. In two cases surgical hemostasis was necessary. Minor pain that required medication was reported in three cases.
Conclusions
The hemorrhoidal laser procedure (HeLP) represents a new nonexcisional, mini-invasive treatment for patients suffering from second and third degree hemorrhoids without severe mucosal prolapse. Thermal occlusion of the hemorrhoidal arteries causes a progressive shrinkage of hemorrhoidal cushions. The procedure does not require anesthesia, is technically easy, repeatable, and can be performed as an office treatment.
Access options
Buy single article
Instant access to the full article PDF.
USD 39.95
Price includes VAT (USA)
Tax calculation will be finalised during checkout.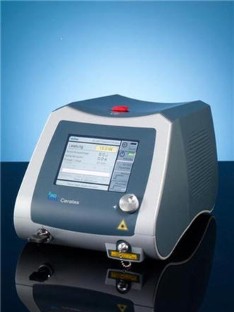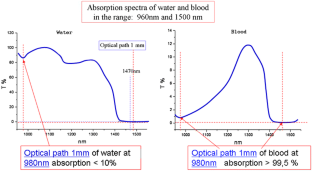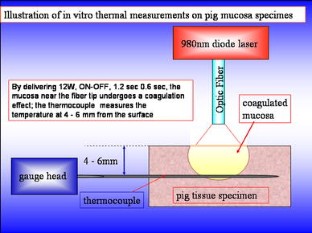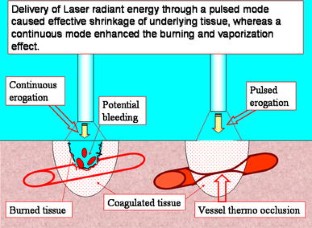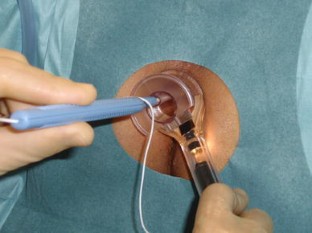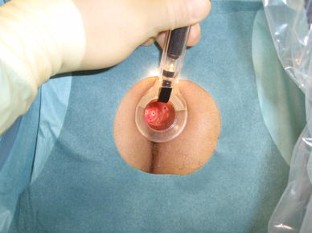 References
1.

Loder PB, Kamm MA, Nicholls RJ, Phillips RKS (1994) Haemorrhoids: pathology, pathophysiology and aetiology. Br J Surg 81:946–954

2.

Bleday R, Pena JP, Rothenberg DA, Goldberg SM, Buls JG (1992) Symptomatic hemorrhoids: current incidence and complications of operative therapy. Dis Colon Rectum 35:477–481

3.

Morinaga K, Hasuda K, Ikeda T (1995) A novel therapy for internal hemorrhoids: ligation of the hemorrhoidal artery with a newly devised instrument (Moricorn) in conjunction with a Doppler flowmeter. Am J Gastroenterol 90:610–613

4.

Dal Monte PP, Tagariello C, Sarago M, Giordano P, Shafi A, Cudazzo E, Franzini M (2007) Transanal haemorrhoidal dearterialisation: nonexcisional surgery for the treatment of haemorrhoidal disease. Tech Coloproctol 11:333–338

5.

Gaj F, Trecca A (2004) PATE 2000 Sorrento: a modern, effective instrument for defining haemorrhoids. A multicentre observational study conducted in 930 symptomatic patients. Chir Ital 56:509–515

6.

Aigner F, Bodner G, Conrad F, Mbaka G, Kreczy A, Fritsch H (2004) The superior rectal artery and its branching pattern with regard to its clinical influence on ligation techniques for internal hemorrhoids. Am J Surg 187:102–108

7.

Aigner F, Bodner G, Gruber H, Conrad F, Fritsch H, Margreiter R, Bonatti H (2006) The vascular nature of hemorrhoids. J Gastrointest Surg 10:1044–1050

8.

Schuurman JP, Go PMNYH, Bleys RLAW (2009) Anatomical branches of the superior rectal artery in the distal rectum. Colorectal Dis 11:967–971

9.

Giordano P, Overton J, Madeddu F, Zaman S, Gravante G (2009) Transanal hemorrhoidal dearterialization: a systematic review. Dis Colon Rectum 52:1665–1671

10.

Plaper H, Hage R, Duarte J, Lopes N, Masson I, Cazarini C, Fukuda T (2009) A new method for hemorrhoid surgery: intrahemorrhoidal diode laser, does it work? Photomed Laser Surg 25:819

11.

Karahaliloglu AF (2007) First results after laser obliteration of first and second degree hemorrhoids. Coloproctology 29:329–336

12.

Salfi R (2009) A new technique for ambulatory hemorrhoidal treatment. Coloproctology 31:1–7
Disclosures
Dr. Paolo Giamundo, Prof. Walter Cecchetti, Dr. Luigi Esercizio, Dr. Giovanni Fantino, Dr. Maria Geraci, Dr. Roberto Lombezzi, Dr. Michele Pittaluga, Dr. Livio Tibaldi, Dr. Giovanni Torre, and Dr. Marco Valente have no conflicts of interest or financial ties to disclose.
About this article
Cite this article
Giamundo, P., Cecchetti, W., Esercizio, L. et al. Doppler-guided hemorrhoidal laser procedure for the treatment of symptomatic hemorrhoids: experimental background and short-term clinical results of a new mini-invasive treatment. Surg Endosc 25, 1369–1375 (2011). https://doi.org/10.1007/s00464-010-1370-x
Received:

Accepted:

Published:

Issue Date:
Keywords
Hemorrhoids

Dearterialization

Doppler

Laser