Abstract
Background
Perioperative administration of pregabalin, which is effective for neuropathic pain, might reduce early postoperative and chronic pain. This randomized, double-blinded, placebo-controlled trial (Clinical Trials.gov ID NCT00905580) was designed to investigate the efficacy and safety of pregabalin for reducing both acute postoperative pain and the development of chronic pain in patients after robot-assisted endoscopic thyroidectomy.
Methods
Ninety-nine patients were randomly assigned to groups that received pregabalin 150 mg or placebo 1 h before surgery, with the dose repeated after 12 h. Assessments of pain and side effects were performed 48 h postoperatively. The incidences of chronic pain and hypoesthesia in the anterior chest were recorded 3 months after surgery.
Results
Ninety-four patients completed the study. Verbal numerical rating scale scores for pain and the need for additional analgesics were lower in the pregabalin group (n = 47) than the placebo group (n = 47) during 48 h postoperatively (P < 0.05). However, incidences of sedation and dizziness were higher in the pregabalin group (P < 0.05). There were no differences between the groups in the incidences of chronic pain and chest hypoesthesia at 3 months after surgery.
Conclusions
Perioperative administration of pregabalin (150 mg twice per day) was effective in reducing early postoperative pain but not chronic pain in patients undergoing robot-assisted endoscopic thyroidectomy. Caution should be taken regarding dizziness and sedation.
Access options
Buy single article
Instant access to the full article PDF.
USD 39.95
Price includes VAT (USA)
Tax calculation will be finalised during checkout.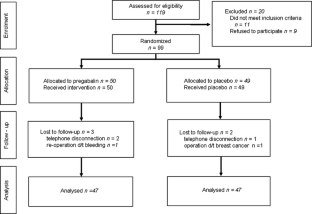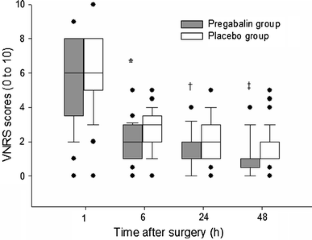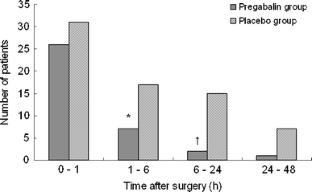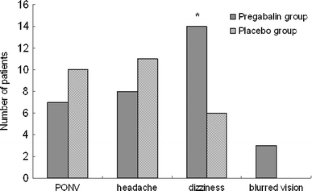 References
1.

Gagner M (1996) Endoscopic subtotal parathyroidectomy in patients with primary hyperparathyroidism. Br J Surg 83:875

2.

Gutt CN, Oniu T, Mehrabi A, Kashfi A, Schemmer P, Buchler MW (2004) Robot-assisted abdominal surgery. Br J Surg 91:1390–1397

3.

Savitt MA, Gao G, Furnary AP, Swanson J, Gately HL, Handy JR (2005) Application of robotic-assisted techniques to the surgical evaluation and treatment of the anterior mediastinum. Ann Thorac Surg 79:450–455 discussion 455

4.

Gagner M, Inabnet WB III (2001) Endoscopic thyroidectomy for solitary thyroid nodules. Thyroid 11:161–163

5.

Ikeda Y, Takami H, Sasaki Y, Takayama J, Niimi M, Kan S (2003) Clinical benefits in endoscopic thyroidectomy by the axillary approach. J Am Coll Surg 196:189–195

6.

Brodner G, Mertes N, Buerkle H, Marcus MA, Van Aken H (2000) Acute pain management: analysis, implications and consequences after prospective experience with 6349 surgical patients. Eur J Anaesthesiol 17:566–575

7.

Katz J, Jackson M, Kavanagh BP, Sandler AN (1996) Acute pain after thoracic surgery predicts long-term post-thoracotomy pain. Clin J Pain 12:50–55

8.

Dahl JB, Mathiesen O, Moiniche S (2004) 'Protective premedication': an option with gabapentin and related drugs? A review of gabapentin and pregabalin in the treatment of post-operative pain. Acta Anaesthesiol Scand 48:1130–1136

9.

Mathiesen O, Moiniche S, Dahl JB (2007) Gabapentin and postoperative pain: a qualitative and quantitative systematic review, with focus on procedure. BMC Anesthesiol 7:6

10.

Tiippana EM, Hamunen K, Kontinen VK, Kalso E (2007) Do surgical patients benefit from perioperative gabapentin/pregabalin? A systematic review of efficacy and safety. Anesth Analg 104:1545–1556

11.

Jokela R, Ahonen J, Tallgren M, Haanpaa M, Korttila K (2008) A randomized controlled trial of perioperative administration of pregabalin for pain after laparoscopic hysterectomy. Pain 134:106–112

12.

Jokela R, Ahonen J, Tallgren M, Haanpaa M, Korttila K (2008) Premedication with pregabalin 75 or 150 mg with ibuprofen to control pain after day-case gynaecological laparoscopic surgery. Br J Anaesth 100:834–840

13.

Mathiesen O, Jacobsen LS, Holm HE, Randall S, Adamiec-Malmstroem L, Graungaard BK, Holst PE, Hilsted KL, Dahl JB (2008) Pregabalin and dexamethasone for postoperative pain control: a randomized controlled study in hip arthroplasty. Br J Anaesth 101:535–541

14.

Mathiesen O, Rasmussen ML, Dierking G, Lech K, Hilsted KL, Fomsgaard JS, Lose G, Dahl JB (2009) Pregabalin and dexamethasone in combination with paracetamol for postoperative pain control after abdominal hysterectomy. A randomized clinical trial. Acta Anaesthesiol Scand 53:227–235

15.

Reuben SS, Buvanendran A, Kroin JS, Raghunathan K (2006) The analgesic efficacy of celecoxib, pregabalin, and their combination for spinal fusion surgery. Anesth Analg 103:1271–1277

16.

Kang SW, Jeong JJ, Nam KH, Chang HS, Chung WY, Park CS (2009) Robot-assisted endoscopic thyroidectomy for thyroid malignancies using a gasless transaxillary approach. J Am Coll Surg 209:e1–e7

17.

Kang SW, Jeong JJ, Yun JS, Sung TY, Lee SC, Lee YS, Nam KH, Chang HS, Chung WY, Park CS (2009) Robot-assisted endoscopic surgery for thyroid cancer: experience with the first 100 patients. Surg Endosc 23:2399–2406

18.

Macrae WA (2001) Chronic pain after surgery. Br J Anaesth 87:88–98

19.

Al-Mujadi H, AR AR, Katzarov MG, Dehrab NA, Batra YK, Al-Qattan AR (2006) Preemptive gabapentin reduces postoperative pain and opioid demand following thyroid surgery. Can J Anaesth 53:268–273

20.

Hashizume M, Konishi K, Tsutsumi N, Yamaguchi S, Shimabukuro R (2002) A new era of robotic surgery assisted by a computer-enhanced surgical system. Surgery 131:S330–S333

21.

Ben-Menachem E (2004) Pregabalin pharmacology and its relevance to clinical practice. Epilepsia 45(Suppl 6):13–18

22.

Agarwal A, Gautam S, Gupta D, Agarwal S, Singh PK, Singh U (2008) Evaluation of a single preoperative dose of pregabalin for attenuation of postoperative pain after laparoscopic cholecystectomy. Br J Anaesth 101:700–704

23.

Lombardi CP, Raffaelli M, Modesti C, Boscherini M, Bellantone R (2004) Video-assisted thyroidectomy under local anesthesia. Am J Surg 187:515–518

24.

Kavoussi R (2006) Pregabalin: from molecule to medicine. Eur Neuropsychopharmacol 16(Suppl 2):S128–S133

25.

White PF, Tufanogullari B, Taylor J, Klein K (2009) The effect of pregabalin on preoperative anxiety and sedation levels: a dose-ranging study. Anesth Analg 108:1140–1145
Disclosures
Drs. So Yeon Kim, Jong Ju Jeong, Woong Youn Chung, Hyun Joo Kim, Kee-Hyun Nam, and Yon Hee Shim have no conflicts of interest or financial ties to disclose.
About this article
Cite this article
Kim, S.Y., Jeong, J.J., Chung, W.Y. et al. Perioperative administration of pregabalin for pain after robot-assisted endoscopic thyroidectomy: a randomized clinical trial. Surg Endosc 24, 2776–2781 (2010). https://doi.org/10.1007/s00464-010-1045-7
Received:

Accepted:

Published:

Issue Date:
Keywords
Endoscopic thyroid surgery

Postoperative pain

Pregabalin

Robot-assisted