Abstract
Background
Studies using conventional consoles have suggested a possible link between video-gaming and laparoscopic skill. The authors hypothesized that the Nintendo Wii, with its motion-sensing interface, would provide a better model for laparoscopic tasks. This study investigated the relationship between Nintendo Wii skill, prior gaming experience, and laparoscopic skill.
Methods
In this study, 20 participants who had minimal experience with either laparoscopic surgery or Nintendo Wii performed three tasks on a Webcam-based laparoscopic simulator and were assessed on three games on the Wii. The participants completed a questionnaire assessing prior gaming experience.
Results
The score for each of the three Wii games correlated positively with the laparoscopic score (r = 0.78, 0.63, 0.77; P < 0.001), as did the combined Wii score (r = 0.82; P < 0.001). The participants in the top tertile of Wii performance scored 60.3% higher on the laparoscopic tasks than those in the bottom tertile (P < 0.01). Partial correlation analysis with control for the effect of prior gaming experience showed a significant positive correlation between the Wii score and the laparoscopic score (r = 0.713; P < 0.001). Prior gaming experience also correlated positively with the laparoscopic score (r = 0.578; P < 0.01), but no significant difference in the laparoscopic score was observed when the participants in the top tertile of experience were compared with those in the bottom tertile (P = 0.26).
Conclusions
The study findings suggest a skill overlap between the Nintendo Wii and basic laparoscopic tasks. Surgical candidates with advanced Nintendo Wii ability may possess higher baseline laparoscopic ability.
We're sorry, something doesn't seem to be working properly.
Please try refreshing the page. If that doesn't work, please contact support so we can address the problem.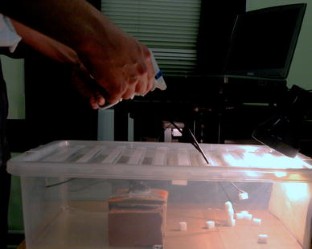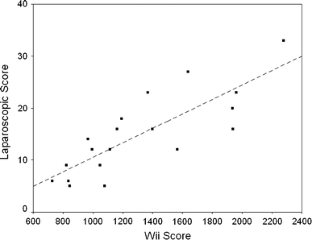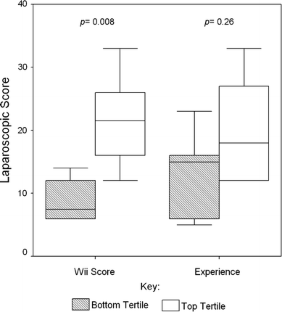 References
1.

Moore MJ, Bennett CL (1995) The learning curve for laparoscopic cholecystectomy. The Southern Surgeons Club. Am J Surg 170:55–59

2.

Miskry T, Magos T, Magos A (2002) If you're no good at computer games, don't operate endoscopically! Gynae Endosc 11:345–347

3.

Grantcharov TP, Bardram L, Funch-Jensen P, Rosenberg J (2003) Impact of hand dominance, gender, and experience with computer games on performance in virtual reality laparoscopy. Surg Endosc 1:1082–1085

4.

Rosenberg BH, Landsittel D, Averch TD (2005) Can video games be used to predict or improve laparoscopic skills? J Endourol 19:372–376

5.

Rosser JC Jr, Lynch PJ, Cuddihy L, Gentile DA, Klonsky J, Merrell R (2007) The impact of video games on training surgeons in the 21st century. Arch Surg 142:181–186

6.

Harper JD, Kaiser S, Ebrahimi K, Lamberton GR, Hadley HR, Ruckle HC, Baldwin DD (2007) Prior video game exposure does not enhance robotic surgical performance. J Endourol 21:1207–1210

7.

Madan AK, Harper JL, Frantzides CT, Tichansky DS (2008) Nonsurgical skills do not predict baseline scores in inanimate box or virtual-reality trainers. Surg Endosc 22:1686–1689

8.

Sharma D, Shaban A, Riddell A, Kalsi V, Arya M, Grange P (2009) Video-games station or minimally invasive skills training station? BJU Int 104(2):159–160

9.

Beatty JD (2005) How to build an inexpensive laparoscopic webcam-based trainer. BJU Int 96:679–682

10.

Chung SY, Landsittel D, Chon CH, Ng CS, Fuchs GJ (2005) Laparoscopic skills training using a Webcam trainer. J Urol 173:180–183

11.

Newmark J, Dandolu V, Milner R, Grewal H, Harbison S, Hernandez E (2007) Correlating virtual reality and box trainer tasks in the assessment of laparoscopic surgical skills. Am J Obstet Gynecol 197:546–546

12.

Gettman MT, Kondraske GV, Traxer O, Ogan K, Napper C, Jones DB, Pearle MS, Cadeddu JA (2003) Assessment of basic human performance resources predicts operative performance of laparoscopic surgery. J Am Coll Surg 197:489–496

13.

Risucci D, Geiss A, Gellman L, Pinard B, Rosser JC (2000) Experience and visual perception in resident acquisition of laparoscopic skills. Current Surgery 57:368–372
Acknowledgments
The authors thank Dr. Faisal Basheer for the use of his Nintendo Wii console in this study.
Disclosures
Shiraz Badurdeen, Giles Story, Omar Abdul-Samad, Clare Wilson, Sue Down and Adrian Harris have no conflicts of interest or financial ties to disclose.
Additional information
S. Badurdeen, O. Abdul-Samad, G. Story, and C. Wilson have equally contributed to this work. S. Down and A. Harris supervised the project and edited the manuscript.
About this article
Cite this article
Badurdeen, S., Abdul-Samad, O., Story, G. et al. Nintendo Wii video-gaming ability predicts laparoscopic skill. Surg Endosc 24, 1824–1828 (2010). https://doi.org/10.1007/s00464-009-0862-z
Received:

Accepted:

Published:

Issue Date:
Keywords
Games

Gaming

Laparoscopic

Surgery

Video

Wii