Abstract
Background
Optimal results of bariatric surgery are achieved when it is performed within a multidisciplinary team. Within this team, the dietician plays a key role before and after surgery in patient education and behaviour change. With long-term follow-up, the number of patients per surgeon increases exponentially. This study evaluated the outcomes of a dietician-only led management program for patients who underwent laparoscopic gastric banding in our unit.
Methods
Between April 2003 and November 2007, 1,335 patients underwent laparoscopic gastric banding in two hospitals by the same surgical team. Weight loss outcomes were compared for patients in a dietician-led management program against a surgeon/nurse specialist follow-up program with more frequent patient visits. For the dietician-led group, a standard protocol of six postoperative visits and two to three fluoroscopic adjustments was developed from referral until 2 years after surgery.
Results
There were 316 patients followed up in a dietician-led program. They were compared with the remaining patients who were followed up in a surgeon/ nurse specialist led program. The mean preoperative weight and body mass index (BMI) for the dietetic-led subset was significantly higher (weight: 147.4 ± 30.2; BMI: 52.8 ± 8.9) compared with the remaining group (weight: 113.8 ± 18.7; BMI: 41.6 ± 5.2; p < 0.001: Mann–Whitney test). Percent BMI loss was initially lower in the dietician-led group, but this difference disappeared at the end of 24 months (p = 0.056).
Conclusions
A patient management program led by specialist dieticians is an effective way to manage large numbers of patients after laparoscopic gastric banding while maintaining comparable weight loss to surgeon/nurse-led series.
Access options
Buy single article
Instant access to the full article PDF.
US$ 39.95
Tax calculation will be finalised during checkout.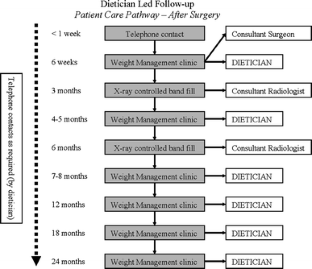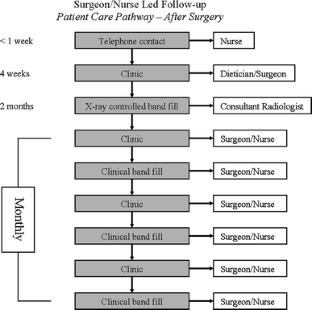 References
1.

Singhal R, Kitchen M, Ndirika S, Hunt K, Bridgwater S, Super P (2008) The "Birmingham stitch"—avoiding slippage in laparoscopic gastric banding. Obes Surg 18:359–363

2.

Deitel M (2007) A synopsis of the development of bariatric operations. Obes Surg 17:707–710

3.

del Genio F, Alfonsi L, Marra M, Finelli C, del Genio G, Rossetti G, del Genio A, Contaldo F, Pasanisi F (2007) Metabolic and nutritional status changes after 10% weight loss in severely obese patients treated with laparoscopic surgery vs integrated medical treatment. Obes Surg 17:1592–1598

4.

Shen R, Dugay G, Rajaram K, Cabrera I, Siegel N, Ren CJ (2004) Impact of patient follow-up on weight loss after bariatric surgery. Obes Surg 14:514–519

5.

Gould JC, Beverstein G, Reinhardt S, Garren MJ (2007) Impact of routine and long-term follow-up on weight loss after laparoscopic gastric bypass. Surg Obes Relat Dis 3:627–630

6.

McGlinch BP, Que FG, Nelson JL, Wrobleski DM, Grant JE, Collazo-Clavell ML (2006) Perioperative care of patients undergoing bariatric surgery. Mayo Clin Proc 81(10 Suppl):S25–S33

7.

Fried M, Hainer V, Basdevant A, Buchwald H, Deitel M, Finer N, Greve JW, Horber F, Mathus-Vliegen E, Scopinaro N, Steffen R, Tsigos C, Weiner R, Widhalm K (2007) Bariatric Scientific Collaborative Group Expert Panel. Interdisciplinary European guidelines for surgery for severe (morbid) obesity. Obes Surg 17:260–270

8.

Zappa MA, Micheletto G, Lattuada E, Mozzi E, Spinola A, Meco M, Roviaro G, Doldi SB (2006) Prevention of pouch dilatation after laparoscopic adjustable gastric banding. Obes Surg 16:132–136

9.

Favretti F, Segato G, Ashton D, Busetto L, De Luca M, Mazza M, Ceoloni A, Banzato O, Calo E, Enzi G (2007) Laparoscopic adjustable gastric banding in 1, 791 consecutive obese patients: 12-year results. Obes Surg 17:168–175

10.

Suter M, Calmes JM, Paroz A, Giusti V (2006) A 10-year experience with laparoscopic gastric banding for morbid obesity: high long-term complication and failure rates. Obes Surg 16:829–835

11.

Ponce J, Haynes B, Paynter S, Fromm R, Lindsey B, Shafer A, Manahan E, Sutterfield C (2004) Effect of Lap-Band-induced weight loss on type 2 diabetes mellitus and hypertension. Obes Surg 14:1335–1342

12.

Chevallier JM, Zinzindohoué F, Douard R, Blanche JP, Berta JL, Altman JJ, Cugnenc PH (2004) Complications after laparoscopic adjustable gastric banding for morbid obesity: experience with 1, 000 patients over 7 years. Obes Surg 14:407–414

13.

Ponce J, Paynter S, Fromm R (2005) Laparoscopic adjustable gastric banding: 1, 014 consecutive cases. J Am Coll Surg 201:529–535

14.

Biagini J, Karam L (2008) Ten-years experience with laparoscopic adjustable gastric banding. Obes Surg 18:573–577

15.

Ballantyne GH, Belsley S, Stephens D, Saunders JK, Trivedi A, Ewing DR, Iannace V, Davis D, Capella RF, Wasielewski A, Moran S, Schmidt HJ (2008) Bariatric surgery: low mortality at a high-volume center. Obes Surg 18:660–667

16.

Silberhumer GR, Miller K, Kriwanek S, Widhalm K, Pump A, Prager G (2006) Laparoscopic adjustable gastric banding in adolescents: the Austrian experience. Obes Surg 16:1062–1067

17.

McMahon MM, Sarr MG, Clark MM, Gall MM, Knoetgen J 3rd, Service FJ, Laskowski ER, Hurley DL (2006) Clinical management after bariatric surgery: value of a multidisciplinary approach. Mayo Clin Proc 81(10 Suppl):S34–S45

18.

Hubbard VS, Hall WH (1991) Gastrointestinal surgery for severe obesity. Obes Surg 1:257–265

19.

Metropolitan Life Foundation (1983) 1983 Metropolitan height and weight tables. New York, Metropolitan Life Foundation, Statistical Bulletin 64:2–9

20.

Deitel M, Gawdat K, Melissas J (2007) Reporting weight loss 2007. Obes Surg 17:565–568

21.

Mechanick JI, Kushner RF, Sugerman HJ, Gonzalez-Campoy JM, Collazo-Clavell ML, Guven S, Spitz AF, Apovian CM, Livingston EH, Brolin R, Sarwer DB, Anderson WA, Dixon J (2008) American Association of Clinical Endocrinologists, The Obesity Society, and American Society for Metabolic & Bariatric Surgery Medical Guidelines for Clinical Practice for the perioperative nutritional, metabolic, and nonsurgical support of the bariatric surgery patient. Surg Obes Relat Dis 4(5 Suppl):S109–S184

22.

Champion JK, Williams M (2006) Economic impact of bariatrics on a general surgery practice. Obes Surg 16:113–118

23.

Faria SL, de Oliveira Kelly E, Lins RD, Faria OP (2008) Nutritional management of weight regain after bariatric surgery. Obes Surg

24.

Cowburn G, Summerbell C (1998) A survey of dietetic practice in obesity management. J Human Nutrition Dietetics 11:191–195

25.

Ash S, Reeves MM, Yeo S, Morrison G, Carey D, Capra S (2003) Effect of intensive dietetic interventions on weight and glycemic control in overweight men with type II diabetes: a randomised trial. Int J Obes Relat Metab Disord 27:797–802

26.

Giusti V, De Lucia A, Di Vetta V, Calmes JM, Héraïef E, Gaillard RC, Burckhardt P, Suter M (2004) Impact of preoperative teaching on surgical option of patients qualifying for bariatric surgery. Obes Surg 14:1241–1246
Disclosures
Rishi Singhal, Mark Kitchen, Sue Bridgwater, and Paul Super have no conflicts of interest or financial ties to disclose.
About this article
Cite this article
Singhal, R., Kitchen, M., Bridgwater, S. et al. Dietetic-led management of patients undergoing laparoscopic gastric banding: early results. Surg Endosc 24, 1268–1273 (2010). https://doi.org/10.1007/s00464-009-0758-y
Received:

Accepted:

Published:

Issue Date:
Keywords
Obesity

Banding

LAGB

Dietician

Follow-up