Abstract
Background
Although video-assisted thoracoscopic surgery (VATS) for pulmonary resection was first described more than 15 years ago, it has yet to gain grass-roots acceptance. The majority of surgeons who routinely perform VATS resections work in academic or government institutions. The perceived complexity of the technique, inadequate instrumentation and resources, and concern regarding the potential compromise of surgical and oncologic principles may present a greater barrier to adoption by community-based surgeons. This article illustrates some of the technical aspects of a hybrid technique that enables a single surgeon to perform VATS pulmonary resection on a routine basis in a community-based practice.
Methods
From January 2005 to March 2008, 492 VATS pulmonary resections were performed by a community-based, solo-practice surgeon using a hybrid VATS technique. The highlight of this technique is utilization of a thoracoscopy port and a utility incision. The advantages of this dual access are ease in instrumentation, visualization, lighting, and retraction. In addition, this technique allows immediate access under direct vision for urgent control of bleeding, which can be difficult using a conventional thoracoscopic approach.
Results
Mean operative time was 52 (median, 48) minutes. Mean length of stay was 7 (median, 4) days. Mean length of ICU stay was 1.7 days, with 85% of patients having no days spent in the ICU. Mean length of chest tube duration was 4 days. Perioperative mortality was 3.5% and overall mortality was 9.8%, with a mean follow-up of 239 days. These results compare favorably with the conventional VATS approach.
Conclusions
This series shows that our hybrid VATS approach to pulmonary resection is safe and feasible at community hospital-based practices.
Access options
Buy single article
Instant access to the full article PDF.
US$ 39.95
Tax calculation will be finalised during checkout.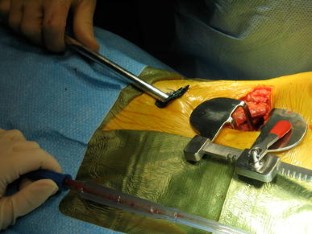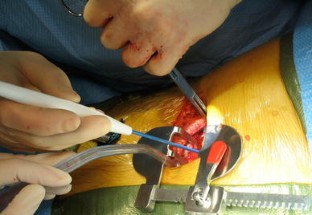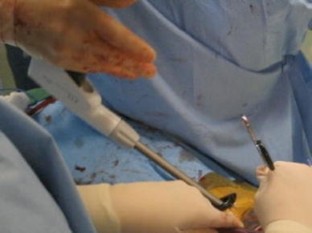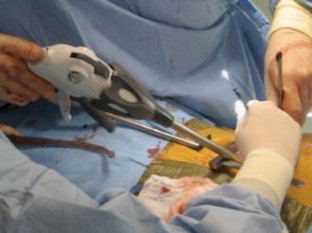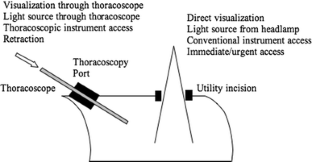 References
1.

Roviaro G, Rebuffat C, Varoli F, Vergani C, Mariani C, Maciocco M (1992) Videoendoscopic pulmonary lobectomy for cancer. Surg Laparosc Endosc 2:244–247

2.

McKenna RJ Jr, Houck W, Fuller CB (2006) Video-assisted thoracic surgery lobectomy: experience with 1, 100 cases. Ann Thorac Surg 81:421–425

3.

Walker WS, Codispoti M, Soon SY, Stamenkovic S, Carnochan F, Pugh G (2003) Long-term outcomes following VATS lobectomy for non-small cell bronchogenic carcinoma. Eur J Cardiothorac Surg 23:397–402

4.

Yim AP, Landreneau RJ, Izzat MB, Fung AL, Wan S (1998) Is video-assisted thoracoscopic lobectomy a unified approach? Ann Thorac Surg 66:1155–1158

5.

Alam N, Flores RM (2007) Video-assisted thoracic surgery (VATS) lobectomy: the evidence base. JSLS 11:368–374

6.

Mack MJ, Scruggs GR, Kelly KM, Shennib H, Landreneau RJ (1997) Video-assisted thoracic surgery: has technology found its place? Ann Thorac Surg 64:211–215

7.

Kirby TJ, Mack MJ, Landreneau RJ, Rice TW (1995) Lobectomy–video-assisted thoracic surgery versus muscle-sparing thoracotomy. A randomized trial. J Thorac Cardiovasc Surg 109:997–1001

8.

Sugi K, Kaneda Y, Esato K (2000) Video-assisted thoracoscopic lobectomy achieves a satisfactory long-term prognosis in patients with clinical stage IA lung cancer. World J Surg 24:27–30

9.

Demmy TL, Curtis JJ (1999) Minimally invasive lobectomy directed toward frail and high-risk patients: a case-control study. Ann Thorac Surg 68:194–200

10.

Okada M, Sakamoto T, Yuki T, Mimura T, Miyoshi K, Tsubota N (2005) Hybrid surgical approach of video-assisted minithoracotomy for lung cancer: significance of direct visualization on quality of surgery. Chest 128:2696–2701

11.

Sugi K, Kaneda Y, Esato K (2000) Video-assisted thoracoscopic lobectomy achieves a satisfactory long-term prognosis in patients with clinical stage IA lung cancer. World J Surg 24:27–30; discussion 30–31

12.

McKenna RJ Jr, Wolf RK, Brenner M, Fischel RJ, Wurnig P (1998) Is lobectomy by video-assisted thoracic surgery an adequate cancer operation? Ann Thorac Surg 66:1903–1908

13.

Lewis RJ, Caccavale RJ (1998) Video-assisted thoracic surgical non-rib spreading simultaneously stapled lobectomy (VATS(n)SSL). Semin Thorac Cardiovasc Surg 10:332–339

14.

Kaseda S, Aoki T (2002) Video-assisted thoracic surgical lobectomy in conjunction with lymphadenectomy for lung cancer. Nippon Geka Gakkai Zasshi 103:717–721

15.

Hoksch B, Ablassmaier B, Walter M, Muller JM (2003) Complication rate after thoracoscopic and conventional lobectomy. Zentralbl Chir 128:106–110

16.

Roviaro G, Varoli F, Vergani C, Maciocco M, Nucca O, Pagano C (2004) Video-assisted thoracoscopic major pulmonary resections: technical aspects, personal series of 259 patients, and review of the literature. Surg Endosc 18:1551–1558

17.

Shaw JP, Dembitzer FR, Wisnivesky JP, Litle VR, Weiser TS, Yun J, Chin C, Swanson SJ (2008) Video-assisted thoracoscopic lobectomy: state of the art and future directions. Ann Thorac Surg 85:S705–S709

18.

Congregado M, Merchan RJ, Gallardo G, Ayarra J, Loscertales J (2008) Video-assisted thoracic surgery (VATS) lobectomy: 13 years' experience. Surg Endosc 22:1852–1857

19.

Hazelrigg SR, Cetindag IB, Fullerton J (2002) Acute and chronic pain syndromes after thoracic surgery. Surg Clin North Am 82:849–865
About this article
Cite this article
Kim, R.H., Takabe, K. & Lockhart, C.G. A hybrid technique: video-assisted thoracoscopic surgery (VATS) pulmonary resections for community-based surgeons. Surg Endosc 24, 700–704 (2010). https://doi.org/10.1007/s00464-009-0615-z
Received:

Revised:

Accepted:

Published:

Issue Date:
Keywords
Video-assisted thoracoscopic surgery

Pulmonary resection

Minimally invasive

Community-based

Lung cancer