Abstract
Background
Minimally invasive esophagectomy (MIE) is being performed at an increasing number of institutions. The thoracoscopic portion is generally performed in the left lateral decubitus position. Recently there has been increasing interest in esophageal mobilization in the prone position and the potential benefits of this technique with regard to operative time, surgeon ergonomics, and operative exposure. We sought to objectively compare thoracoscopic mobilization of the esophagus in the left lateral decubitus position versus the prone position and identify potential differences between the two techniques.
Methods
A retrospective review of a prospectively maintained esophagectomy database identified 44 patients undergoing MIE during a 20-month period (June 2005–February 2007). Of these, 32 patients underwent thoracoscopic esophageal mobilization with cervical esophagogastric anastomosis. Eleven cases were performed in the left lateral decubitus position and 21 performed in the prone position.
Results
The patients were comparable in age, tumor stage, and fraction undergoing neoadjuvant therapy. There was no statistically significant difference between decubitus position and prone position with regard to number of lymph nodes procured (14.6 versus 15.5, p = 0.69), complications (6/11 versus 10/21, p = 1.0), length of stay (9 versus 10 days, p  = 1.0), or intraoperative blood loss (85 versus 65 cc, p = 0.14). Thoracoscopic operative times were significantly shorter in the prone group than the decubitus group (86 versus 123 min, p = 0.0001).
Conclusions
Prone thoracoscopic esophageal mobilization appears to be equivalent to decubitus thoracoscopic esophageal mobilization with respect to blood loss, number of lymph nodes dissected, and complications, but with a significant reduction in thoracoscopic surgical time.
Access options
Buy single article
Instant access to the full article PDF.
USD 39.95
Price excludes VAT (USA)
Tax calculation will be finalised during checkout.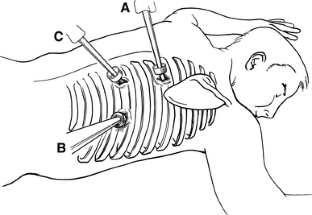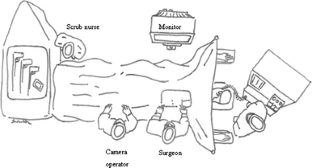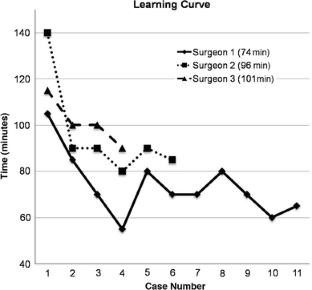 References
Luketich JD, Alvelo-Rivera M, Buenaventura PO, Christie NA, McCaughan JS, Litle VR et al (2003) Minimally invasive esophagectomy: outcomes in 222 patients. Ann Surg 238(4):486–94; discussion 94–95

Nguyen NT, Roberts P, Follette DM, Rivers R, Wolfe BM (2003) Thoracoscopic and laparoscopic esophagectomy for benign and malignant disease: lessons learned from 46 consecutive procedures. J Am Coll Surg 197(6):902–913

Cuschieri A (1994) Thoracoscopic subtotal oesophagectomy. Endosc Surg Allied Technol 2(1):21–25

Palanivelu C, Prakash A, Senthilkumar R, Senthilnathan P, Parthasarathi R, Rajan PS et al (2006) Minimally invasive esophagectomy: thoracoscopic mobilization of the esophagus and mediastinal lymphadenectomy in prone position–experience of 130 patients. J Am Coll Surg 203(1):7–16

Fabian T, McKelvey AA, Kent MS, Federico JA (2007) Prone thoracoscopic esophageal mobilization for minimally invasive esophagectomy. Surg Endosc 21(9):1667–1670

Birkmeyer JD, Siewers AE, Finlayson EV, Stukel TA, Lucas FL, Batista I et al (2002) Hospital volume and surgical mortality in the United States. N Engl J Med 346(15):1128–1137

DePaula AL, Hashiba K, Ferreira EA, de Paula RA, Grecco E (1995) Laparoscopic transhiatal esophagectomy with esophagogastroplasty. Surg Laparosc Endosc 5(1):1–5

Johnstone PA, Rohde DC, Swartz SE, Fetter JE, Wexner SD (1996) Port site recurrences after laparoscopic and thoracoscopic procedures in malignancy. J Clin Oncol 14(6):1950–1956

Gu Y, Swisher SG, Ajani JA, Correa AM, Hofstetter WL, Liao Z et al (2006) The number of lymph nodes with metastasis predicts survival in patients with esophageal or esophagogastric junction adenocarcinoma who receive preoperative chemoradiation. Cancer 106(5):1017–1025

Jobe BA, Kim CY, Minjarez RC, O'Rourke R, Chang EY, Hunter JG (2006) Simplifying minimally invasive transhiatal esophagectomy with the inversion approach: lessons learned from the first 20 cases. Arch Surg 141(9):857–866

Nguyen NT, Follette DM, Wolfe BM, Schneider PD, Roberts P, Goodnight JE Jr (2000) Comparison of minimally invasive esophagectomy with transthoracic and transhiatal esophagectomy. Arch Surg 135(8):920–925

Orringer MB, Marshall B, Iannettoni MD (2001) Transhiatal esophagectomy for treatment of benign and malignant esophageal disease. World J Surg 25(2):196–203
About this article
Cite this article
Fabian, T., Martin, J., Katigbak, M. et al. Thoracoscopic esophageal mobilization during minimally invasive esophagectomy: a head-to-head comparison of prone versus decubitus positions. Surg Endosc 22, 2485–2491 (2008). https://doi.org/10.1007/s00464-008-9799-x
Received:

Revised:

Accepted:

Published:

Issue Date:

DOI: https://doi.org/10.1007/s00464-008-9799-x
Keywords
Clinical papers–trials–research

Surgical–Technical

General–Oesophageal

Oesophageal–Cancer

Thoracoscopy