Abstract
Background
Findings have shown that music affects cognitive performance, but little is known about its influence on surgical performance. The hypothesis of this randomized controlled trial was that arousing (activating) music has a beneficial effect on the surgical performance of novice surgeons in the setting of a laparoscopic virtual reality task.
Methods
For this study, 45 junior surgeons with no previous laparoscopic experience were randomly assigned to three equal groups. Group 1 listened to activating music; group 2 listened to deactivating music; and group 3 had no music (control) while each participant solved a surgical task five times on a virtual laparoscopic simulator. The assessed global task score, the total task time, the instrument travel distances, and the surgeons' heart rate were assessed.
Results
All surgical performance parameters improved significantly with experience (task repetition). The global score showed a trend for a between-groups difference, suggesting that the group listening to activating music had the worst performance. This observation was supported by a significant between-groups difference for the first trial but not subsequent trials (activating music, 35 points; deactivating music, 66 points; no music, 91 points; p = 0.002). The global score (p = 0.056) and total task time (p = 0.065) showed a trend toward improvement when participants considered the music pleasant rather than unpleasant.
Conclusions
Music in the operating theater may have a distracting effect on novice surgeons performing new tasks. Surgical trainers should consider categorically switching off music during teaching procedures.
Access options
Buy single article
Instant access to the full article PDF.
US$ 39.95
Tax calculation will be finalised during checkout.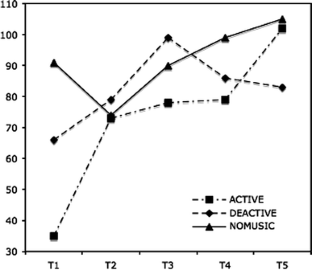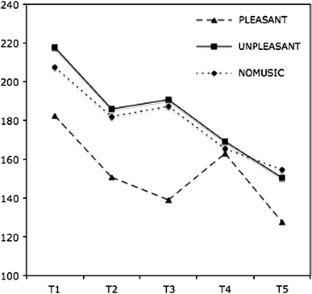 References
1.

Wakin D (2006) While in surgery, do you prefer Abba or Verdi? The New York Times. Retrieved 10 June 2006 at http://www.nytimes.com/2006/06/10/arts/music/10doct.html?ex=1307592000&en=b2c79518e16bb962&ei=5088&partner=rssnyt&emc=rss

2.

Riley R (2006) The MP3 surgeon and the opera fan. Med J Aust 184:255

3.

Rauscher F, Shaw G, Ky K (1993) Music and spatial task performance. Nature 365:611

4.

Steele K, Bass K, Crook M (1999) The mystery of the Mozart effect: failure to replicate. Psych Sci 10:366–369

5.

Munte T, Altenmuller E, Jancke L (2002) The musician's brain as a model of neuroplasticity. Nat Rev Neurosci 3:473–478

6.

Peretz I, Zatorre R (2005) Brain organization for music processing. Annu Rev Psychol 56:89–114

7.

Schellenberg E (2001) Music and nonmusical abilities. Ann N Y Acad Sci 930:355–371

8.

Zatorre R (2003) Music and the brain. Ann N Y Acad Sci 999:4–14

9.

Baumgartner T, Lutz K, Schmidt C, Jancke L (2006) The emotional power of music: how music enhances the feeling of affective pictures. Brain Res 1075:151–164

10.

Jancke L (2006) From cognition to action. In: Altenmueller E, Wiesendanger M, Kesselring J (eds) Music, motor control, and the brain, 1st edn. Oxford University Press, New York, pp 25–38

11.

Allen K, Blascovich J (1994) Effects of music on cardiovascular reactivity among surgeons. JAMA 272:882–884

12.

Sanderson P, Tosh N, Philp S, Rudie J, Watson MO, Russell WJ (2005) The effects of ambient music on simulated anaesthesia monitoring. Anaesthesia 60:1073–1078

13.

Rosenthal R, Gantert WA, Scheidegger D, Oertli D (2006) Can skills assessment on a virtual reality trainer predict a surgical trainee's talent in laparoscopic surgery? Surg Endosc 20:1286–90

14.

Moorthy K, Munz Y, Undre S, Darzi A (2004) Objective evaluation of the effect of noise on the performance of a complex laparoscopic task. Surgery 136:25–30

15.

Hines M, O'Connor J (1926) A measure of finger dexterity. J Pers Res 4:379–382

16.

Annett M (1970) A classification of hand preference by association analysis (Annett Handedness Questionnaire). Br J Psychol 61:303–321

17.

Hampel R (1977) Adjektiv-Skalen zur Einschätzung der Stimmung (SES). Diagnostica 23:43–60

18.

Schijven M, Jakimowicz J (2003) Construct validity: experts and novices performing on the Xitact LS500 laparoscopy simulator. Surg Endosc 17:803–810

19.

Schijven M, Jakimowicz J (2004) The learning curve on the Xitact LS500 laparoscopy simulator: profiles and performance. Surg Endosc 18:121–127

20.

Aggarwal R, Grantcharov T, Eriksen J, Blirup D, Kristiansen VB, Funch-Jensen P, Darzi A (2006) Evidence-based virtual reality training program for novice laparoscopic surgeons. Ann Surg 244:310–314

21.

O'Brien R, Kaiser M (1985) MANOVA method for analyzing repeated measures designs: an extensive primer. Psychol Bull 97:316–333
Conflict of Interest
The corresponding author discloses on behalf of all authors any conflict of interest including any financial interests and relationships. There was no sponsoring for this study.
About this article
Cite this article
Miskovic, D., Rosenthal, R., Zingg, U. et al. Randomized controlled trial investigating the effect of music on the virtual reality laparoscopic learning performance of novice surgeons. Surg Endosc 22, 2416–2420 (2008). https://doi.org/10.1007/s00464-008-0040-8
Received:

Revised:

Accepted:

Published:

Issue Date:
Keywords
Laparoscopy

Music

Performance

Simulation

Surgical training/courses