Abstract
Background
Endoscopic ultrasound-guided fine-needle aspiration (EUS FNA) has a high accuracy in the evaluation of mediastinal lesions. The use of a core biopsy needle for EUS guided biopsy (EUS TCB) may further improve the yield of EUS. The aims of this study are to evaluate the safety of EUS TCB in thoracic lesions and to compare the diagnostic accuracy of TCB with FNA and FNA + TCB.
Methods
A single-center retrospective study. All patients underwent EUS-FNA and TCB. A cytopathologist was not present during the procedure. EUS FNA, TCB and FNA + TCB diagnostic accuracy were compared.
Results
A total of 48 patients were included. The lesions sampled included 41 lymph nodes (six aorto-pulmonary window, 32 subcarinal, two right paratracheal, one paraesophageal ATS station 8), five lung masses, and two esophageal masses. Twenty-nine patients had malignant disease and 19 had benign disorders. The overall diagnostic accuracy of FNA, TCB and FNA + TCB was 79%, 79% and 98% respectively (p = 0.007). TCB changed the diagnosis in nine cases missed by FNA. EUS TCB was better than FNA for benign diseases (89% vs. 63%, p = 0.04). All eight patients with a prior failed biopsy had a correct diagnosis established by EUS. No patient required mediastinoscopy or thoracoscopy after EUS.
Conclusion
The combination of TCB and FNA is superior to FNA alone. EUS-guided TCB should be considered in patients with benign disorders of the mediastinum when other modalities fail to yield a diagnosis.
This is a preview of subscription content,
to check access.
Access this article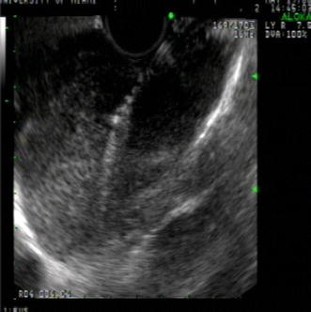 Similar content being viewed by others
References
Raj M, Chen RY. (2006) Interventional applications of endoscopic ultrasound. J Gastroenterol Hepatol 21(2):348–57

Fritscher-Ravens A, Sriram PV, Bobrowski C, et al. (2000) Mediastinal lymphadenopathy in patients with or without previous malignancy: EUS-FNA-based differential cytodiagnosis in 153 patients. Am J Gastroenterol 95(9):2278–84

Annema JT, Veselic M, Rabe KF. (2005) Endoscopic ultrasound-guided fine-needle aspiration for the diagnosis of sarcoidosis. Eur Respir J 25(3):405–9

Jhala NC, Jhala DN, Chhieng DC, Eloubeidi MA, Eltoum IA. (2003) Endoscopic ultrasound-guided fine-needle aspiration. A cytopathologist's perspective. Am J Clin Pathol 120(3):351–67

Wiersema MJ, Vazquez-Sequeiros E, Wiersema LM. (2001) Evaluation of mediastinal lymphadenopathy with endoscopic US-guided fine-needle aspiration biopsy. Radiology 219:252–7

Larsen SS, Krasnik M, Vilmann P, Pedersen JH, Faurschou P, Folke K. (2002) Endoscopic ultrasound guided biopsy of mediastinal lesions has a major impact on patient management. Thorax 57:98–103

Fickling W, Wallace MB. (2002) EUS in lung cancer. Gastrointest Endosc 56(4 suppl):S18–S21

Wildi SM, Judson MA, Fraig M, et al. (2000) Is endosonography guided fine needle aspiration (EUS-FNA) for sarcoidosis as good as we think? Thorax 59(9):794–9

Storch I, Jorda M, Thurer R, et al. (2006) Advantage of EUS Trucut biopsy combined with fine-needle aspiration without immediate on-site cytopathologic examination. Gastrointest Endosc 64(4):505–11

Storch I, Jorda M, Ribeiro A. (2005) EUS-guided biopsy in the diagnosis of pulmonary lymphoma in a patient with an esophagopulmonary fistula. Gastrointest Endosc 61(7):904–6

Larghi A, Rodriguez-Wulff E, Noffsinger A. (2006) Dye CERecurrent malignant thymoma diagnosed by EUS-guided Trucut biopsy. Gastrointest Endosc 63(6):859–60

Wittmann J, Kocjan G, Sgouros SN, Deheragoda M, Pereira SP. (2006) Endoscopic ultrasound- guided tissue sampling by combined fine needle aspiration and trucut needle biopsy: a prospective study. Cytopathology 17(1):27–33

Varadarajulu S, Fraig M, Schmulewitz N, et al. (2006) Comparison of EUS-guided 19-gauge Trucut needle biopsy with EUS-guided fine-needle aspiration. Endoscopy 36(5):397–401

Levy MJ, Jondal ML, Clain J, Wiersema MJ. (2003) Preliminary experience with an EUS-guided trucut biopsy needle compared with EUS guided FNA. Gastrointest Endosc 57:101–6

AJCC cancer staging manual (1997) American Joint Committee on Cancer. 5th ed. Philadelphia, PA:Lippincott-Raven, 720–726

Emery SC, Savides TJ, Behling CA. (2004) Utility of immediate evaluation of endoscopic ultrasound-guided transesophageal fine needle aspiration of mediastinal lymph nodes. Acta Cytol 48(5):630–4

Tournoy KG, Praet MM, Van Maele G, Van Meerbeeck JP. (2005) Esophageal Endoscopic ultrasound with fine-needle aspiration with an on-site cytopathologist: high accuracy for the diagnosis of mediastinal lymphadenopathy. Chest 128:3004–9

Gines A, Wiersema MJ, Clain JE, Pochron NL, Rajan E, Levy MJ. (2006) Prospective study of a trucut needle performing EUS-guided biopsy with EUS-guided FNA rescue. Gastrointes Endosc 62:602–4
About this article
Cite this article
Storch, I., Shah, M., Thurer, R. et al. Endoscopic ultrasound-guided fine-needle aspiration and Trucut biopsy in thoracic lesions: When tissue is the issue. Surg Endosc 22, 86–90 (2008). https://doi.org/10.1007/s00464-007-9374-x
Received:

Accepted:

Published:

Issue Date:

DOI: https://doi.org/10.1007/s00464-007-9374-x
Keywords