Abstract
Background
Perioperative nutrition for patients undergoing colon surgery seems to be effective in reducing catabolism and improving immunologic parameters. A relatively low-fiber and highly absorbable diet may facilitate the intestinal cleansing and loop relaxation fundamental for laparoscopic surgery with a lower dose of iso-osmotic laxative.
Methods
From 1 February 2004 to 30 July 2005, 28 patients referred to our unit with colon disease (neoplasms and diverticular disease) amenable to laparoscopic surgery were prospectively randomized into two groups of 14 patients each. For 6 days preoperatively, the patients in group 1 were given 750 ml/day of a diet enriched with arginine, omega-3 fatty acids, and ribonucleic acid (RNA) associated with low-fiber foods. They had 1 day of intestinal preparation with 3 l of iso-osmotic laxative. On postoperative day 2, they were fed orally with the same diet. The patients in group 2 preoperatively received a low-fiber diet. They had 2 days of preparation with iso-osmotic laxative (3 l/day). On postoperative day 3, oral nutrition was restored. Intraoperatively, we evaluated loop relaxation and intestinal cleanliness. Clinical trends were monitored in both groups, as well as adverse reactions to early nutrition. The nutritional (albumin, prealbumin) and immunologic (lymphocyte subpopulations, immunoglobulins) biohumoral parameters were evaluated at the first visit, on the day before surgery, on postoperative day 7, and 1 month after surgery.
Results
The two groups did not differ in terms of age, gender, distribution of disease, or baseline anthropometric, biohumoral, or immunologic parameters. There was a significant increase in CD4 lymphocytes on the day before surgery as compared with baseline parameters (p < 0.05) in group 1, but not in group 2. There was no statistically significant difference between the two groups in intestinal loop relaxation or cleanliness or in postoperative infectious complications.
Conclusions
Perioperative immunonutrition proved to be safe and useful in increasing the perioperative immunologic cell response. It may contribute toward improving the preparation and relaxation of the intestinal loops despite the shorter intestinal preparation.
This is a preview of subscription content, log in to check access.
Access options
Buy single article
Instant access to the full article PDF.
US$ 39.95
Price includes VAT for USA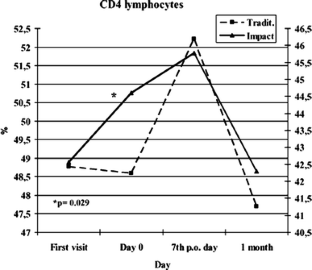 References
1.

Beale RJ, Bryg DJ, Bihari DJ (1999) Immunonutrition in the critically ill: a systematic review of clinical outcome. Crit Care Med 27: 2799–2805

2.

Binderow SR, Cohen SM, Wexner SD, Nogueras JJ (1994) Must early postoperative oral intake be limited to laparoscopy? Dis Col Rectum 37: 584–589

3.

Braga M, Gianotti L, Gentilini O, Parisi V, Salis C , Di Carlo V (2001) Early postoperative enteral nutrition improves gut oxygenation and reduces costs compared with total parenteral nutrition. Crit Care Med 29: 242–248

4.

Bufo AJ, Feldman S, Daniels GA, Lieberman RC (1994) Early postoperative feeding. Dis Colon Rectum 37: 1260–1265

5.

Choi J, O'Connell TX (1996) Safe and effective early postoperative feeding and hospital discharge after open colon resection. Am Surg 62: 853–856

6.

Daly JM, Lieberman MD, Goldfine J, Shou J, Weitraub F, Rosato EF, Lavin P (1992) Enteral nutrition with supplemental arginine, RNA, and omega 3 fatty acids in patients after operation: immunologic, metabolic, and clinical outcome. Surgery 112: 56–67

7.

Fa-Si-Oen P, Roumen R, Buitenweg J, Van de Velde C, Van Geldere Ds (2005) Mechanical bowel preparation or not? Outcome of a multicenter, randomized trial in elective open colon surgery. Dis Col Rectum 48: 1509–1516

8.

Fronzo LA, Cymerman J, O'Connell TX (1999) Factors affecting early postoperative feeding following elective open colon resection. Arch Surg 134: 941–946

9.

Gianotti L, Alexander JW, Gennari R, Pyles T, Babcock GF (1995) Oral glutamine decrease bacterial translocation and improves survival in experimental gut-origin sepsis. JPEN 19: 69–74

10.

Gianotti L, Alexander JW, Pyles T, Fukushima R (1993) Arginine-supplemented diets improve survival in gut-derived sepsis and peritonitis by modulating bacterial clearance: the role of nitric oxide. Ann Surg 217: 644–654

11.

Gianotti L, Braga M, Nespoli L, Radaelli G, Beneduce A, Di Carlo V (2002) A randomized controlled trial of preoperative oral supplementation with a specialized diet in patients with gastrointestinal cancer. Gastroenterology 122: 1763–1770

12.

Gianotti L, Braga M, Vignali A, Balzano G, Zerbi A, Bisagni P, Di Carlo V (1997) Effect of route of delivery and formulation of postoperative nutritional support in patients undergoing major operations for malignant neoplasm. Arch Surg 132: 1222–1230

13.

Kemen M, Senkal M, Homann HH, Mumme A, Dauphin AK, Baier J, Windeler J, Neumann H, Zumtobel V (1995) Early postoperative enteral nutrition with arginine-omega-3 fatty acids and ribonucleic acid–supplemented diet versus placebo in cancer patients: an immunologic evaluation of Impact. Crit Care Med 23: 652–659

14.

Khalili TM, Fleshner PR, Hiatt JR (1998) Colorectal cancer: comparison of laparoscopic with open approaches. Dis Col Rectum 41: 832–838

15.

Moore FA, Feliciano DV, Andrassy RJ (1992) Early enteral feeling compared with parenteral reduces postoperative septic complication: the results of a meta-analysis. Ann Surg 216: 172–183

16.

Ortiz H, Armendariz P, Yarnoz C (1996) Is early postoperative feeding feasible in elective colon and rectal surgery? Int J Colorectal Dis 11: 119–121

17.

Reissman P, Teoh TA, Cohen SM, Weiss EG, Nogueras JJ, Wexner SD (1995) Is early oral feeding safe after elective colorectal surgery? A prospective randomized trial. Ann Surg 222: 73–77

18.

Senagore AJ, Luchtefeld MA, Mackeigan JM, Mazier WP (1993) Open colectomy versus laparoscopic colectomy: are there differences? Am Surg 59: 549–554

19.

Senkal M, Zumtobel V, Bauer KH, Marpe B, Wolfram G, Frei A, Eickhoff U, Kemen M (1999) Outcome and cost effectiveness of perioperative enteral immunonutrition in patients undergoing elective upper gastrointestinal tract surgery: a prospective randomized study. Arch Surg 134: 1309–1316

20.

Slim K, Vicaut E, Panis Y, Chipponi J (2004) Meta-analysis of randomized clinical trials of colorectal surgery with or without mechanical bowel preparation. Br J Surg 91: 1125–1130
About this article
Cite this article
Finco, C., Magnanini, P., Sarzo, G. et al. Prospective randomized study on perioperative enteral immunonutrition in laparoscopic colorectal surgery. Surg Endosc 21, 1175–1179 (2007). https://doi.org/10.1007/s00464-007-9238-4
Received:

Revised:

Accepted:

Published:

Issue Date:
Keywords
Colorectal surgery

Fast tracking

Immunonutrition

Laparoscopy

Perioperative nutrition