Abstract
Background
Bariatric surgery may be complicated by enlargement of the liver, especially of the left lobe, caused by nonalcoholic fatty liver disease often present with morbid obesity.
Methods
The effect of a very low carbohydrate diet for 4 weeks before surgery on liver density and volume was assessed in 14 candidates for bariatric surgery. Computed tomography (CT) scans were performed before and at termination of the diet period.
Results
The CT scans clearly showed a significant increase in mean liver density (p = 0.06) and a decrease in mean liver volume (p = 0.01). The increased mean density of the left lobe was markedly greater than that of the right lobe.
Conclusions
The findings show that 4 weeks of a very low carbohydrate diet reduces liver fat content and liver size, particularly of the left lobe. This approach may render bariatric surgery or any foregut operations less difficult in morbidly obese patients and may be a useful treatment for nonalcoholic fatty liver disease.
Access options
Buy single article
Instant access to the full article PDF.
US$ 39.95
Tax calculation will be finalised during checkout.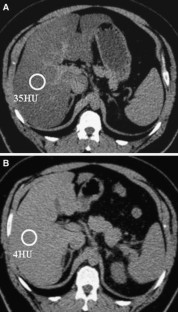 References
1.

Adams LA, Lymp JF, St Sauveur J, Sanderson SO, Lindor KD, Feldstein A, Angulo P (2005) The natural history of nonalcoholic fatty liver disease: a population-based cohort study. Gastroenterology 129: 113–121

2.

Alfalah H, Phillipe B, Ghazal F, Jany T, Arnalsteen L, Romon M, Pattou F (2006) Intragastric balloon for preoperative weight reduction in candidates for laparoscopic gastric bypass with massive obesity. Obes Surg 16: 147–150

3.

Beymer C, Kowdley KV, Larson A, Edmonson P, Dellinger EP, Flum DR (2003) Prevalence and predictors of asymptomatic liver disease in patients undergoing gastric bypass surgery. Arch Surg 138: 1240–1244

4.

Eriksson S, Eriksson KF, Bondesson L (1986) Nonalcoholic steatohepatitis in obesity: a reversible condition. Acta Med Scand 220: 83–88

5.

Foster GD, Wyatt HR, Hill JO, McGuckin BG, Brill C, Mohammed BS, Szapary PO, Rader DJ, Edman JS, Klein S (2003) A randomized trial of a low-carbohydrate diet for obesity. N Engl J Med 348: 2082–2090

6.

Fris RJ (2004) Preoperative low-energy diet diminishes liver size. Obes Surg 14:1165–1170

7.

Gill HK, Wu GY (2006) Nonalcoholic fatty liver disease and the metabolic syndrome: effects of weight loss and a review of popular diets: are low-carbohydrate diets the answer? World J Gastroenterol 12: 345–353

8.

Hwang S, Lee SG, Jang SJ, Cho SH, Kim KH, Ahn CS, Moon DB, Ha TY (2004) The effect of donor weight reduction on hepatic steatosis for living donor liver transplantation. Liver Transpl 10: 721–725

9.

Lewis MC, Phillips ML, Slavotinek JP, Kow L, Thompson CH, Toouli J (2006) Change in liver size and fat content after treatment with Optifast very low calorie diet. Obes Surg 16: 697–701

10.

Luyckx FH, Desaive C, Thiry A, Dewe W, Scheen AJ, Gielen JE, Lefebvre PJ (1998) Liver abnormalities in severely obese subjects: effect of drastic weight loss after gastroplasty. Int J Obes Relat Metab Disord 22: 222–226

11.

Mattar SG, Velcu LM, Rabinovitz M, Demetris AJ, Krasinskas AM, Barinas EM, Eid GM, Ramanathan R, Taylor DS, Schauer PR (2005) Surgically-induced weight loss significantly improves nonalcoholic fatty liver disease and the metabolic syndrome. Ann Surg 242: 610–620

12.

Nakamuta M, Morizono S, Soejima Y, Yoshizumi T, Aishima S, Takasugi S, Yoshimitsu K, Enjoji M, Kotoh K, Taketomi A, Uchiyama H, Shimada M, Nawata H, Maehara Y (2005) Short-term intensive treatment for donors with hepatic steatosis in living-donor liver transplantation. Transplantation 80: 608–612

13.

Nomura F, Ohnishi K, Ochiai T, Okuda K (1987) Obesity-related nonalcoholic fatty liver: CT features and follow-up studies after low-calorie diet. Radiology 162: 845–847

14.

Papadia FS, Marinari GM, Camerinei G, Murelli F, Carlini F, Stabilini C, Scopinaro N (2004) Liver damage in severely obese patients: clinical-biochemical-morphologic study on 1,000 liver biopsies. Obes Surg 14: 952–958

15.

Piekarski J, Goldberg HI, Royal SA, Axel L, Moss AA (1980) Difference between liver and spleen CT numbers in the normal adult: its usefulness in predicting the presence of diffuse liver disease. Radiology 137: 727–729

16.

Posulka PS, Bistrain BR, Benotti PN, Blackburn GL (1986) The risks of surgery in obese patients. Ann Intern Med 104: 540–546

17.

Schwartz JM, Linfoot P, Dare D, Aghajanian K (2003) Hepatic de novo lipogenesis in normoinsulinemic and hyperinsulinemic subjects consuming high fat, low-carbohydrate and low-fat, high-carbohydrate isoenergenic diets. Am J Clin Nutr 77:43–50

18.

Sjostorm CD, Lissner L, Wedel H, Sjostorm L (1999) Reduction in incidence of diabetes, hypertension, and lipid disturbance after intentional weight loss induced by bariatric surgery: the SOS intervention study. Obes Res 7: 477–484

19.

Solga S, Alkhuraishe AR, Clark JM, Torbenson M, Greenwald A, Diehl AM, Magnuson T (2004) Dietary composition and nonalcoholic fatty liver disease. Dig Dis Sci 49: 1578–1583

20.

Volek J, Sharman M, Gomez A, Judelson D, Rubin MR, Watson G, Sokmen B, Silvestre R, French D, Kraemer W (2004) Comparison of energy-restricted very low carbohydrate and low-fat diets on weight loss and body composition in overweight men and women. Nutr Metabol 1: 1–13

21.

Yanovski SZ, Yanovski JA (2002) Obesity. N Engl J Med 346:591–602
About this article
Cite this article
Benjaminov, O., Beglaibter, N., Gindy, L. et al. The effect of a low-carbohydrate diet on the nonalcoholic fatty liver in morbidly obese patients before bariatric surgery. Surg Endosc 21, 1423–1427 (2007). https://doi.org/10.1007/s00464-006-9182-8
Received:

Revised:

Accepted:

Published:

Issue Date:
Keywords
Bariatric surgery

Low-carbohydrate diet

Nonalcoholic fatty liver