Abstract
Background
The closure of the hiatal crura has proven to be a fundamental issue in laparoscopic antireflux surgery. In particular, the use of prosthetic meshes for crural closure results in a significantly lower rate of postoperative hiatal hernia recurrence with or without intrathoracic migration of the fundic wrap. The aim of the present study was to evaluate different methods of crural closure depending on the size of the hiatal defect by measuring the hiatal surface area.
Methods
Fifty-five consecutive patients (mean age = 53 years) with symptomatic gastroesophageal reflux disease (GERD) were scheduled for laparoscopic antireflux surgery (LARS) in our surgical unit. Intraoperatively, the length, breadth, and diameter of the hiatal defect was measured using an endoscopic ruler. In every patient, the hiatal surface area (HSA) was calculated using an arithmetic formula. Depending on the calculated HSA, hiatal closure was performed by (1) simple sutures, (2) simple sutures with a 1 × 3-cm polypropylene mesh, (3) simple sutures with dual Parietex® dual mesh, or (4) "tension-free" polytetrafluoroethylene BARD Crurasoft® mesh.
Results
Twenty-six patients (47.2%) underwent laparoscopic 360° "floppy" Nissen fundoplication. The remaining 29 patients (52.8%) with esophageal body motility disorder underwent laparoscopic 270° Toupet fundoplication. Mean calculated HSA in all patients was 5.092 cm2. Thirty-two patients (58.2%) with a smaller hiatal defect (mean HSA = 3.859 cm2) underwent hiatal closure with simple sutures (mean number of sutures: = 2.0). In 12 patients (21.8%) with a mean HSA of 7.148 cm2, hiatal closure was performed with a 1 × 3-cm polypropylene mesh in addition to simple sutures. Five patients with a mean HSA of 6.703 cm2 underwent hiatal closure with Parietex mesh, and in the remaining six patients, who had a mean HSA of 8.483 cm2, the hiatus was closed using BARD Crurasoft mesh. For a mean followup period of 6.3 months, only one patient (1.8%) developed a postoperative partial intrathoracic wrap migration.
Conclusion
Measurement of HSA with subsequent tailoring of the hiatal closure to the hiatal defect is an effective procedure to prevent hiatal hernia recurrence and/or intrathoracic wrap migration in laparoscopic antireflux surgery.
Access options
Buy single article
Instant access to the full article PDF.
US$ 39.95
Tax calculation will be finalised during checkout.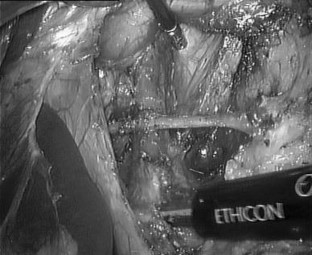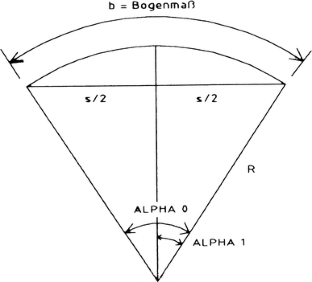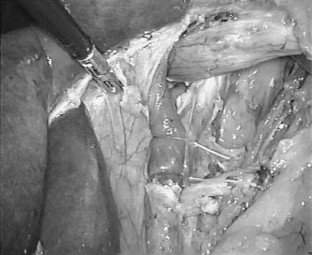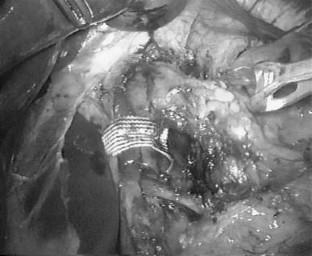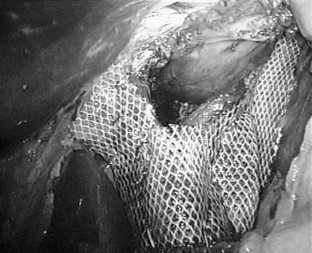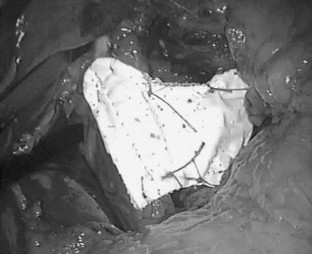 References
1.

Basso N, De Leo A, Genco A, Rosato P, Rea S, Spaziani E, Primavera A (2000) 360° laparoscopic fundoplication with tension—free hiatoplasty in the treatment of symptomatic gastroesophageal reflux disease. Surg Endosc 14: 164–169

2.

Carlson MA, Frantzides CT (2001) Complications and results of primary minimally invasive antireflux procedures: a review of 10,735 reported cases. J Am Coll Surg 193: 428–439

3.

Carlson MA, Condon RE, Ludwig KA, Schulte WJ (1998) Management of intrathoracic stomach with polypropylene mesh prosthesis reinforced transabdominal hiatus hernia repair. J Am Coll Surg 187(3): 227–230

4.

Carlson MA, Richards CG, Frantzides CT (1999) Laparoscopic prosthetic reinforcement of hiatal herniorrhaphy. Dig Surg 16: 407–410

5.

Casaccia M, Torelli P, Panaro F, Cavaliere D, Ventura A, Valente U (2002) Laparoscopic physiologic hiatoplasty for hiatal hernia: new composite "A" shaped mesh. Surg Endosc 16: 1441–1445

6.

Champion JK, Rock D 2003 Laparoscopic mesh cruroplasty for large paraesophageal hernias. Surg Endosc 17: 551–553

7.

Edelman DS (1995) Laparoscopic paraesophageal hernia repair with mesh. Surg Laparosc Endosc 5: 32–37

8.

Frantzides CT, Richards CG, Carlson MA (1999) Laparoscopic repair of large hiatal hernia with polytetrafluoroethylene. Surg Endosc 13: 906–908

9.

2Frantzides CT, Madan AK, Carlson MA, Stavropoulos GP (2002) A prospective, randomized trial of laparoscopic polytetrafluoroethylene (PTFE) patch repair vs simple cruroplasty for large hiatal hernia. Arch Surg 137: 649–653

10.

Granderath FA, Kamolz T, Schweiger UM, Pasiut M, Haas CF, Wykypiel H Jr, Pointner R (2002) Long-term results of laparoscopic antireflux surgery: surgical outcome and analysis of failure after 500 laparoscopic antireflux procedures. Surg Endosc 16: 753–757

11.

Granderath FA, Schweiger UM, Kamolz T, Pasiut M, Haas CF, Pointner R (2002) Laparoscopic antireflux surgery with routine mesh hiatoplasty in the treatment of gastroesophageal reflux disease. J Gastrointest Surg 6: 347–353

12.

Granderath FA, Kamolz T, Schweiger UM, Pointner R (2003) Laparoscopic refundoplication with prosthetic hiatal closure for recurrent hiatal hernia after primary failed antireflux surgery. Arch Surg 138: 902–907

13.

Granderath FA, Schweiger UM, Kamolz T, Asche KU, Pointner R (2005) Laparoscopic Nissen fundoplication with prosthetic hiatal closure reduces postoperative intrathoracic wrap herniation: Preliminary results of a prospective randomized functional and clinical study. Arch Surg 140: 40–48

14.

Hashemi M, Peters JH, DeMeester TR, Huprich JE, Quek M, Hagen JA, Crookes PF, Theisen J, DeMeester SR, Sillin LF, Bremner CG (2000) Laparoscopic repair of large type III hiatal hernia: objective followup reveals high recurrence rate. J Am Coll Surg 190(5): 553–560; discussion 560–561

15.

Hui TT, David T, Spyrou M, Phillips EH (2001) Mesh crural repair of large paraesophageal hiatal hernias. Am Surg 67: 1170–1174

16.

Hunter JG, Smith CD, Branum GD, Waring JP, Trus TL, Cornwell M, Galloway K 1999 Laparoscopic fundoplication failures: patterns of failure and response to fundoplication revision. Ann Surg 230: 595–604

17.

Huntington TR (1997) Laparoscopic mesh repair of the oesophageal hiatus. J Am Coll Surg 184: 399–401

18.

Keidar A, Szold A (2003) Laparoscopic repair of paraesophageal hernia with selective use of mesh. Surg Laparosc Endosc 13: 149–154

19.

Kuster GG, Gilroy S (1993) Laparoscopic technique for repair of paraesophageal hiatal hernias. J Laparoendosc Surg 3: 331–338

20.

Lambert AW, Huddart SN (2001) Mesh hiatal reinforcement in Nissen funduplication. Pediatr Surg Int 17: 491–492

21.

Oelschlager BK, Barreca M, Chang L, Pellegrini CA (2003) The use of small intestine submucosa in the repair of paraesophageal hernias: initial observations of a new technique.Am J Surg. 186(1): 4–8

22.

Paul MG, De Rosa RP, Petrucci PE, Palmer ML, Danovitch SH (1997) Laparoscopic tension-free repair of large paraesophageal hernias. Surg Endosc 11: 303–307

23.

Soper NJ, Dunnegan D (1999) Anatomic fundoplication failure after laparoscopic antireflux surgery. Ann Surg 229: 669–677

24.

Targarona EM, Bendahan G, Balague C, Garriga J, Trias M (2004) Mesh in the hiatus—A controversial issue. Arch Surg 139: 1286–1296
About this article
Cite this article
Granderath, F.A., Schweiger, U.M. & Pointner, R. Laparoscopic antireflux surgery: Tailoring the hiatal closure to the size of hiatal surface area. Surg Endosc 21, 542–548 (2007). https://doi.org/10.1007/s00464-006-9041-7
Received:

Revised:

Accepted:

Published:

Issue Date:
Keywords
Laparoscopic antireflux surgery

Crural closure

Mesh

Prosthetic

Hiatal hernia