Abstract
Background
Video-assisted thoracoscopic (VATS) thymectomy has been applied as a surgical option for autoimmune myasthenia gravis. Prior identification and fine division of the thymic veins are critical to the prevention of unexpected severe bleeding that may require conversion to open surgery. Until recently, such bleeding could be avoided only by meticulous dissection of thymic fat tissue away from the left brachiocephalic vein (LBV). With recent advances in computed tomography (CT), multidetector-row computed tomography (MDCT) can readily be obtained and provides three-dimensional (3D) images. This study explored its value for preoperative identification of the thymic veins draining into the LBV, and thus for prevention of injury to these veins during endoscopic thymectomy.
Methods
Five patients with myasthenia gravis, thymoma, or both underwent enhanced MDCT preoperatively. The thymic veins draining into the LBV were visualized using both horizontal and sagittal/coronal CT images. Then 3D images were reconstructed to enable operators to simulate endoscopic views. During each VATS extended thymectomy, the numbers and branching patterns of the thymic veins were compared with the preoperative MDCT images.
Results
The thymic veins draining into the LBV were clearly identified with MDCT in all five patients examined. Reconstructed 3D images clearly located their courses in the thymic/fat tissue and their entry routes into the LBV, thus simulating the actual intraoperative endoscopic views. All tributaries divided during surgery were identified preoperatively with MDCT.
Conclusions
Location of thymic veins with MDCT can provide precise preoperative information about thymic venous anatomy. This easy and less invasive examination has the potential to make VATS thymectomy easier and safer.
This is a preview of subscription content,
to check access.
Access this article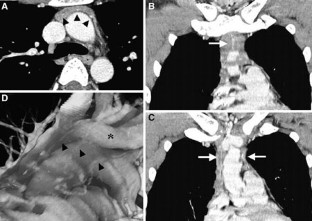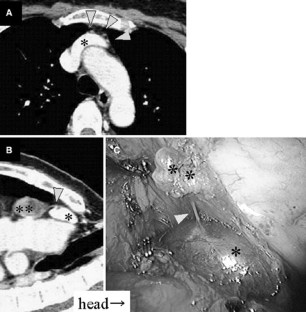 References
Beghi E, Antozzi C, Batocchi AP, Cornelio F, Cosi V, Evoli A, Lombardi M, Mantegazza R, Monticelli ML, Piccolo G (1991) Prognosis of myasthenia gravis: a multicenter follow-up study of 844 patients. J Neurol Sci 106: 213–220

Jaretzki A III (2003) Thymectomy for myasthenia gravis: analysis of controversies: patient management. Neurologist 9: 77–92

Jaretzki A III, Barohn RJ, Ernstoff RM, Kaminski HJ, Keesey JC, Penn AS, Sanders DB (2000) Myasthenia gravis: recommendations for clinical research standards. Task Force of the Medical Scientific Advisory Board of the Myasthenia Gravis Foundation of America. Neurology 55: 16–23

Loscertales J, Ayarra Jarne J, Congregado M, Arroyo Tristan A, Jimenez Merchan R, Giron Arjona JC, Arenas Linares C (2004) Video-assisted thoracoscopic thymectomy for the treatment of myasthenia gravis. Arch Bronconeumol 40: 409–413

Mack MJ, Landreneau RJ, Yim AP, Hazelrigg SR, Scruggs GR (1996) Results of video-assisted thymectomy in patients with myasthenia gravis. J Thorac Cardiovasc Surg 112: 1352–1359

Masaoka A, Yamakawa Y, Niwa H, Fukai I, Kondo S, Kobayashi M, Fujii Y, Monden Y (1996) Extended thymectomy for myasthenia gravis patients: a 20-year review. Ann Thorac Surg 62: 853–859

Novellino L, Longoni M, Spinelli L, Andretta M, Cozzi M, Faillace G, Vitellaro M, De Benedetti D, Pezzuoli G (1994) "Extended" thymectomy, without sternotomy, performed by cervicotomy and thoracoscopic technique in the treatment of myasthenia gravis. Int Surg 79: 378–381

Ohta M, Hirabayashi H, Okumura M, Minami M, Matsuda H (2003) Thoracoscopic thymectomy using anterior chest wall–lifting method. Ann Thorac Surg 76: 1310–1311

Savcenko M, Wendt GK, Prince SL, Mack MJ (2002) Video-assisted thymectomy for myasthenia gravis: an update of a single institution experience. Eur J Cardiothorac Surg 22: 978–983

Savitt MA, Gao G, Furnary AP, Swanson J, Gately HL, Handy JR (2005) Application of robotic-assisted techniques to the surgical evaluation and treatment of the anterior mediastinum. Ann Thorac Surg 79: 450–455

Taguchi S, Niibori T, Moro K (2000) Use of three-dimensional computed tomography images in deciding the approach for ministernotomy operations. Ann Thorac Surg 70: 1090–1093

Watanabe S, Arai K, Watanabe T, Koda W, Urayama H (2003) Use of three-dimensional computed tomographic angiography of pulmonary vessels for lung resections. Ann Thorac Surg 75: 388–392

Yune HY, Klatte EC (1970) Thymic venography. Radiology 96: 521–526
Acknowledgment
We thank N. Willcox, Professor of Oxford University for his great help in preparing the manuscript.
About this article
Cite this article
Shiono, H., Inoue, A., Tomiyama, N. et al. Safer video-assisted thoracoscopic thymectomy after location of thymic veins with multidetector computed tomography. Surg Endosc 20, 1419–1422 (2006). https://doi.org/10.1007/s00464-005-0659-7
Received:

Accepted:

Published:

Issue Date:

DOI: https://doi.org/10.1007/s00464-005-0659-7
Keywords