Abstract
Background
The role of laparoscopic colon resection in the management of colon cancer is still controversial. In this article, the surgical strategy and techniques are described, with further consideration of the oncologically relevant aspects.
Methods
Between March 1993 and July 2003, we performed laparoscopic right hemicolectomy in 56 patients with right colon carcinoma. Average age was 74.5 years (range, 17–92). We performed a standardized surgical procedure that included mobilization from the vascularized mesenteric bridges with a window technique, transection of the ileocolic lymphovascular pedicle, and lateral and proximal mobilization of the ileocecum, ascending colon, right flexure, and proximale transversum. After enlargement of one of the trocar incisions the exteriorized colon was resected and an extracorporeal anastomosis was performed in the standard manner.
Results
There were no conversions to open. The mean operating time was 119 ± 38 min, the mean length of resected colon was 27.8 ± 4.48 cm, and the average width of the clear margins was 6.8 ± 5.3 cm. One patient died. Lymph nodes were positive in 21 patients. The 5-year survival rate in the 48 patients who were operated on with curative intent was 75%. We have had two local recurrences. The overall 5-year mortality-free fraction was 63%. Cox multivariate analysis showed that the mortality-prognostic factors were tumor stage and length of resected colon, whereas Kaplan-Meier analysis showed that the mortality-prognostic factors were positive lymph nodes and tumor stage.
Conclusions
Our results show that laparoscopic right hemicolectomy for colon cancer can be performed safely. Complications and recurrence rates are comparable to those for left-sided laparoscopic and open procedures. Therefore, we recommend this procedure as the method of choice. Laparoscopically treated patients with stage II and stage III disease have almost the same cumulative rate of survival.
Access options
Buy single article
Instant access to the full article PDF.
US$ 39.95
Tax calculation will be finalised during checkout.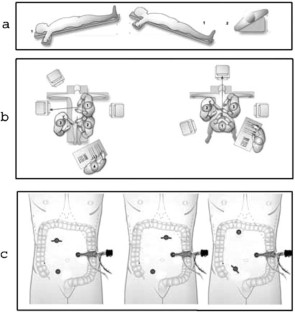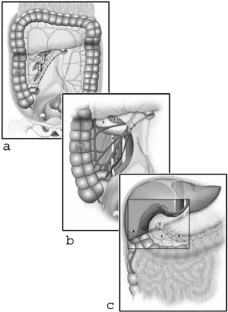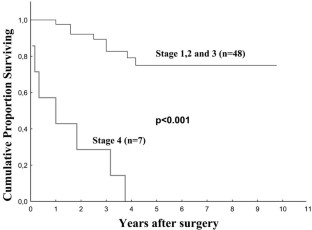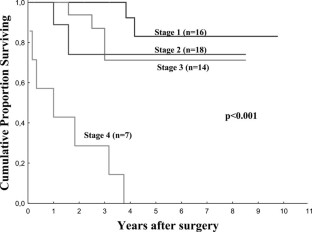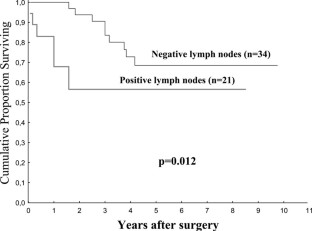 References
1.

CA Anderson FR Kennedy M Potter HL Opie S Flowers S Lewis M Belmont DL Fowler (2002) ArticleTitleResults of laparoscopically assisted colon resection for carcionoma Surg Endosc 16 607–610 Occurrence Handle1:STN:280:DC%2BD383jsVersQ%3D%3D Occurrence Handle11972198

2.

Baća I, Amend G (2002) Laparoskopische kolorektale Chirurgie. Multimediale Operationslehre zu videoendoskopisch ausgeführte Standardoperationen an Kolon und Rektum (DVD-ROM). Pabst Science Publishers

3.

I Baća V Götzen M Petričević A Petričević (1996) ArticleTitleLaparoscopy-assisted colorectal surgery Croat Med J 37 169–173

4.

I Baća C Schultz V Götzen L Grzybowsky (1997) ArticleTitleFrühergebnisse bei gut- und bösartigen Erkrankungen. Eine prospektive Untersuchung von 120 Patienten Zentralbl Chir 122 569–577 Occurrence Handle9340965

5.

FJ Berends G Kazemier HJ Bonjer JF Lange (1994) ArticleTitleSubcutaneous metastases after laparoscopic colectomy Lancet 344 58 Occurrence Handle10.1016/S0140-6736(94)91079-0 Occurrence Handle1:STN:280:ByuB1crmtFA%3D

6.

ND Bouvy RL Marquet J Jeekel HJ Bonjer (1996) ArticleTitleLaparoscopic surgery is associated with less tumour growth stimulation than conventional surgery: an experimental study Br J Surg 84 358–361

7.

WH Cole (1985) ArticleTitleThe increase in immunosuppression and its role in the development of malignant lesions J Surg Oncol 30 139–144 Occurrence Handle1:STN:280:BimD1M%2Fls1Y%3D Occurrence Handle3908826

8.

ML DaCosta HP Redmond N Finnegan M Flynn D Bouchier-Hayes (1998) ArticleTitleLaparotomy and laparoscopy differentially accelerate experimental flank tumour growth Br J Surg 85 1439–1442

9.

D Decker M Schondorf F Bidlingmaier A Hirner AA Ruecker Particlevon (1996) ArticleTitleSurgical stress induces a shift in the type-1/type-2 T-helper cell balance, suggesting down-regulation of cell mediated and up-regulation of antibody-mediated immunity commensurate to the trauma Surgery 119 316–325 Occurrence Handle1:STN:280:BymB3c3lsFY%3D Occurrence Handle8619187

10.

S Delgado AM Lacy X Filella A Casstells JC Garcia-Valdecassas JM Pique D Momblan J Visa (2001) ArticleTitleAcute phase response in laparoscopic and conventional colectomy in colon cancer: a randomised study Dis Colon Rectum 44 638–646 Occurrence Handle1:STN:280:DC%2BD3M3msVeiug%3D%3D Occurrence Handle11357021

11.

F Feliciotti AM Paganini M Guerrieri A Sanctis R Campagnacci E Lezoche (2002) ArticleTitleResults of laparoscopic vs open resections for colon cancer in patients with a minimum follow-up of 3 years Surg Endosc 16 1158–1161 Occurrence Handle1:STN:280:DC%2BD38vjt1ehsA%3D%3D Occurrence Handle11984684

12.

JW Fleshman H Nelson WR Peters et al. (1996) ArticleTitleEarly results of laparoscopic surgery for colorectal cancer: retrospective analysis of 372 patients treated by Clinical Outcomes of Surgical Therapy (COST) Study Group Dis Colon Rectum 39 S53–S58 Occurrence Handle1:STN:280:BymH38fksVA%3D Occurrence Handle8831547

13.

Franklin M, Rosenthal D, Abrego-Medina D, Dorman J, Glass J, Norem R, Diaz A (200x) Prospective comparison of open vs laparoscopic colon surgery for carcinoma. Dis Colon Rectum 196: S35–S46

14.

ME Franklin GB Kazantsev D Abrego JA Diaz-E J Balli JL Glass (2000) ArticleTitleLaparoscopic surgery for stage III colon cancer: long-term follow-up Surg Endosc 14 612–616 Occurrence Handle1:STN:280:DC%2BD3M7gvFWmsw%3D%3D Occurrence Handle10948295

15.

JF Hansbrough EM Bender R Zapata-Sirvent J Anderson (1984) ArticleTitleAltered helper and suppressor lymphocyte populations in surgical populations in surgical patients: a measure of postoperative immunosuppression Am J Surg 148 303–307 Occurrence Handle1:STN:280:BiuA3cvntFw%3D Occurrence Handle6236703

16.

JE Hartley BJ Mehigan AW MacDonald PW Lee JR Monson (2000) ArticleTitlePatterns of recurrence and survival after laparoscopic and conventional resections for colorectal carcinoma Ann Surg 232 181–186 Occurrence Handle1:STN:280:DC%2BD3cvgvVGmtA%3D%3D Occurrence Handle10903594

17.

ESR Hughes FT McDermott AL Polglase WR Johnson (1983) ArticleTitleTumor recurrence in the abdominal wall scar after large-bowel cancer surgery Dis Colon Rectum 26 571–572 Occurrence Handle1:STN:280:BiyB287htFQ%3D Occurrence Handle6223795

18.

M Jacobs JC Verdeja HS Goldstein (1991) ArticleTitleMinimally invasive colon resection (laparoscopic colectomy) Surg Laparosc Endosc 1 144–150 Occurrence Handle1:STN:280:ByuD1c%2FkslA%3D Occurrence Handle1688289

19.

F Köckerling C Schneider MA Reymond et al. (1998) ArticleTitleEarly results of a prospective multicenter study on 500 consecutive cases of laparoscopic colorectal surgery Surg Endosc 12 37–41 Occurrence Handle9419300

20.

C Kuntz F Wunsch J Windeler F Glaser C Herfarth (1998) ArticleTitleProspective randomised study of stress and immune response after laparoscopy vs conventional colonic resections Surg Endosc 7 963–967

21.

AM Lacy JC García-Valdecasas S Delgado A Castells P Taurá JM Piqué J Visa (2002) ArticleTitleLaparoscopy-assisted colectomy versus open colectomy for treatment of non-metastatic colon cancer: a randomised trial Lancet 29 2224–2229

22.

KL Leung RY Yiu PB Lai JF Lee KH Thung WY Lau (1999) ArticleTitleLaparoscopic-assisted resection of colorectal carcinoma: five-year audit Dis Colon Rectum 42 327–332 Occurrence Handle1:STN:280:DyaK1M3jvValtQ%3D%3D Occurrence Handle10223751

23.

E Lezoche F Feliciotti AM Paganini M Guearrei A Sanctis ParticleDe S Minervini R Campagnacci (2002) ArticleTitleLaparoscopic vs open hemicolectomy for colon cancer Surg Endosc 16 596–602 Occurrence Handle10.1007/s00464-001-9053-2 Occurrence Handle1:STN:280:DC%2BD383jsVersw%3D%3D Occurrence Handle11972196

24.

E Lezoche F Feliciotti M Guerrieri AM Paganini A Sanctis ParticleDe R Campagnacci G D'Ambrosio (2003) ArticleTitleLaparoscopic versus open hemicolectomy Minerva Chir 58 491–502 Occurrence Handle1:STN:280:DC%2BD3srisFWqtg%3D%3D Occurrence Handle14603161

25.

JW Milsom B Bohm KA Hammerhofer V Fazio E Steiger P Elson (1998) ArticleTitleA prospective, randomised trial comparing laparoscopic versus conventional techniques in colorectal cancer surgery: a preliminary report J Am Coll Surg 187 46–54 Occurrence Handle1:STN:280:DyaK1czitFClsw%3D%3D Occurrence Handle9660024

26.

JM Müller (1999) ArticleTitleVideoendoskopische Chirurgie: Eine Standorbestimmung Dtsch Arztebl 96 1418–1424

27.

RC Newland PH Chapuis MT Pheils JG Macpherson (1981) ArticleTitleThe relationship of survival to staging and grading of colorectal carcinoma: a prospective study of 503 cases Cancer 47 1424–1429 Occurrence Handle1:STN:280:Bi6C1crpslI%3D Occurrence Handle7226068

28.

DB Pearlstone PF Mansfield SA Curley M Kumparatana P Cook BW Feig (1999) ArticleTitleLaparoscopy in 533 patients with abdominal malignancy Surgery 125 67–72 Occurrence Handle1:STN:280:DyaK1M7gs1Cktg%3D%3D Occurrence Handle9889800

29.

EC Poulin J Mamazza CM Schlachta R Gregoire N Roy (1999) ArticleTitleLaparoscopic resection does not adversely affect early survival curves in patients undergoing surgery for colorectal adenocarcinoma Ann Surg 229 487–492 Occurrence Handle1:STN:280:DyaK1M3hslOgsg%3D%3D Occurrence Handle10203080

30.

WT Reilly H Nelson G Schroeder HS Wieand J Bolton MJ O'Connell (1996) ArticleTitleWound recurrence following conventional treatment of colorectal cancer Dis Colon Rectum 39 200–207 Occurrence Handle1:STN:280:BymB38zntlA%3D Occurrence Handle8620788

31.

THK Schiedeck O Schwandner I Baca et al. (2000) ArticleTitleLaparoscopic surgery for the cure of colorectal cancer: results of a prospective german five-center study Dis Colon Rectum 43 1–8 Occurrence Handle1:STN:280:DC%2BD3c3ntFahtg%3D%3D Occurrence Handle10813116

32.

O Schwandner THK Schiedeck C Killaitis HP Bruch (1999) ArticleTitleA case-control study comparing laparoscopic versus open surgery for rectosigmoidal and rectal cancer Int J Colorect Dis 14 158–163 Occurrence Handle1:STN:280:DyaK1MzptFyhtg%3D%3D

33.

L Stocchi H Nelson TM Young-Fadok DR Larson DM Ilstrup (2000) ArticleTitleSafety and advantages of laparoscopic vs open colectomy in the elderly: matched-control study Dis Colon Rectum 43 326–332 Occurrence Handle1:STN:280:DC%2BD3c7psFamsw%3D%3D Occurrence Handle10733113

34.

A Tittel V Schumpelick (2001) ArticleTitleLaparoskopische Chirurgie: Erwartungen und Realität Chirurg 72 227–235 Occurrence Handle1:STN:280:DC%2BD3MvkvVWqsw%3D%3D Occurrence Handle11317440

35.

FJ Vittimberga SuffixJr DP Foley WC Meyers MP Callery (1998) ArticleTitleLaparoscopic surgery and the systemic immune response Ann Surg 227 326–334

36.

P Vukasin AE Ortega FL Greene et al. (1996) ArticleTitleWound recurrence following laparoscopic colon cancer resection: results of the American Society of Colon and Rectal Surgeons Laparoscopic Registry Dis Colon Rectum 39 S20–S23 Occurrence Handle1:STN:280:BymH38fktl0%3D Occurrence Handle8831542
About this article
Cite this article
Baća, I., Perko, Z., Bokan, I. et al. Technique and survival after laparoscopically assisted right hemicolectomy. Surg Endosc 19, 650–655 (2005). https://doi.org/10.1007/s00464-004-9068-6
Received:

Accepted:

Published:

Issue Date:
Keywords
Laparoscopy

Colon resection

Right hemicolectomy

Survival

Cancer