Abstract
Background
Since the 1930s, carbon dioxide (CO2) has been combined with cold storage for the preservation of food. However, its use for the prevention of surgical wound infection was long considered to be impractical. Now CO2 is widely used during laparoscopic procedures, and a method has been developed to create a CO2 atmosphere in an open wound. The aim of this study was to investigate the effect of CO2 on the growth of Staphylococcus aureus at body temperature.
Methods
First, S. aureus inoculated on blood agar were exposed to pure CO2 (100%), standard anaerobic gas (5% CO2, 10% hydrogen, 85% nitrogen), or air at 37°C for a period of 24 h; then a viable count of the bacteria was made. Second, S. aureus inoculated in brain–heart infusion broth and kept at 37°C were exposed to CO2 or air for 0, 2, 4, 6, and 8 h; then the optical density of the bacteria was measured.
Results
After 24 h, the number of S. aureus on blood agar was about 100 times lower in CO2 than in anaerobic gas (p = 0.001) and about 1,000 times lower than in air (p = 0.001). Also, in broth, there were fewer bacteria with CO2 than with air (p < 0.01). After 2 h, the number of bacteria was increased with air (p < 0.001) but not with CO2 (p = 0.13). After 8 h, the optical density had increased from zero to 1.2 with air but it had increased only to 0.01 with CO2 (p = 0.001).
Conclusion
Pure CO2 significantly decreased the growth rate of S. aureus at body temperature. The inhibitory effect of CO2 increased exponentially with time. Its bacteriostatic effect may help to explain the low infection rates in patients who undergo laparoscopic procedures.
Access options
Buy single article
Instant access to the full article PDF.
US$ 39.95
Tax calculation will be finalised during checkout.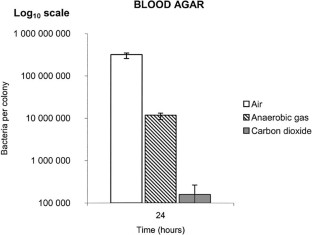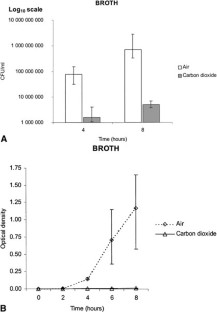 References
1.

M Braga A Vignali L Gianotti W Zuliani G Radaelli P Gruarin P Dellabona et al. (2002) ArticleTitleLaparoscopic versus open colorectal surgery: a randomized trial on short-term outcome Ann Surg 236 759–766 Occurrence Handle10.1097/00000658-200212000-00008 Occurrence Handle12454514

2.

JP Burke (1961) ArticleTitleThe effective period of preventive antibiotic action in experimental incisions and dermal lesions Surgery 50 161–168

3.

DC Classen RS Evans SL Pestotnik SD Horn RL Menlove JP Burke (1992) ArticleTitleThe timing of prophylactic administration of antibiotics and the risk of surgical-wound infection N Engl J Med 326 281–286 Occurrence Handle1:STN:280:By2C3c%2FhsVQ%3D Occurrence Handle1728731

4.

FP Coyne (1933) ArticleTitleThe effect of carbon dioxide on bacterial growth Roy Soc Proc 113 196–217

5.

NM Dixon DB Kell (1989) ArticleTitleThe inhibition by CO2 of the growth and metabolism of micro-organisms J Appl Bacteriol 67 109–136 Occurrence Handle1:CAS:528:DyaL1MXmtFensro%3D Occurrence Handle2509409

6.

K Draper R Jefson R Jongeward SuffixJr M McLeod (1997) ArticleTitleDuration of postlaparoscopic pneumoperitoneum Surg Endosc 11 809–811 Occurrence Handle10.1007/s004649900459 Occurrence Handle1:STN:280:ByiH3M7ntVE%3D Occurrence Handle9266640

7.

SO Enfors G Molin (1978) ArticleTitleThe influence of high concentrations of carbon dioxide on the germination of bacterial spores J Appl Bacteriol 45 279–285 Occurrence Handle1:CAS:528:DyaE1MXjs1Wnuw%3D%3D Occurrence Handle31348

8.

SO Enfors G Molin (1980) ArticleTitleEffect of high concentrations of carbon dioxide on growth rate of Pseudomonas fragi, Bacillus cereus and Streptococcus cremoris J Appl Bacteriol 48 409–416 Occurrence Handle1:CAS:528:DyaL3cXltVyns7s%3D Occurrence Handle6773917

9.

SO Enfors G Molin A Ternstrom (1979) ArticleTitleEffect of packaging under carbon dioxide, nitrogen or air on the microbial flora of pork stored at 4 degrees C J Appl Bacteriol 47 197–208 Occurrence Handle1:STN:280:Bi%2BC2MbmtlU%3D Occurrence Handle120356

10.

EJ Hanly M Mendoza-Sagaon K Murata JM Hardacre A Maio ParticleDe MA Talamini (2003) ArticleTitleCO2 pneumoperitoneum modifies the inflammatory response to sepsis Ann Surg 237 343–350 Occurrence Handle10.1097/00000658-200303000-00007 Occurrence Handle12616117

11.

MA Mitz (1979) ArticleTitleCO2 biodynamics: a new concept of cellular control J Theor Biol 80 537–551 Occurrence Handle1:CAS:528:DyaL3cXhslKjsw%3D%3D Occurrence Handle120472

12.

G Molin (1983) ArticleTitleThe resistance to carbon dioxide of some food-related bacteria Eur J Appl Microbiol Biotechnol 18 214–217

13.

M Persson J van der Linden Particlevan der (2003) ArticleTitleDe-airing of a cardiothoracic wound cavity model with carbon dioxide: theory and comparison of a gas diffuser with conventional tubes J Cardiothorac Vasc Anesth 17 329–335 Occurrence Handle10.1016/S1053-0770(03)00050-8 Occurrence Handle12827581

14.

M Persson P Svenarud J van der Linden Particlevan der (2004) ArticleTitleWhat is the optimal device for carbon dioxide de-airing of the cardiothoracic wound and how should it be positioned? J Cardiothorac Vasc Anesth 18 180–184 Occurrence Handle10.1053/j.jvca.2004.01.024 Occurrence Handle15073708

15.

C Richards J Edwards D Culver TG Emori J Tolson R Gaynes (2003) ArticleTitleDoes using a laparoscopic approach to cholecystectomy decrease the risk of surgical site infection? Ann Surg 237 358–362 Occurrence Handle10.1097/00000658-200303000-00009 Occurrence Handle12616119

16.

P Svenarud M Persson J van der Linden Particlevan der (2003) ArticleTitleEfficiency of a gas-diffuser and influence of suction in carbon dioxide de-airing of a cardiothoracic wound cavity model J Thorac Cardiovasc Surg 125 1043–1049 Occurrence Handle10.1067/mtc.2003.50 Occurrence Handle12771877

17.

P Svenarud M Persson J van der Linden Particlevan der (2003) ArticleTitleIntermittent or continuous carbon dioxide insufflation for de-airing of the cardiothoracic wound cavity? An experimental study with a new gas-diffuser Anesth Analg 96 321–327 Occurrence Handle10.1097/00000539-200302000-00005 Occurrence Handle1:CAS:528:DC%2BD3sXhsFyhtLc%3D Occurrence Handle12538172

18.

P Svenarud M Persson J van der Linden Particlevan der (2004) ArticleTitleThe effect of CO2 insufflation on the number and behavior of air microemboli in open-heart surgery Circulation 109 1127–1132
Acknowledgments
This work was supported by the Karolinska Institute and Cardia Innovation AB, Stockholm, Sweden. M.P. P.S. and J.v.d.L. are shareholders of Cardia Innovation AB, the company that produces the gas diffuser and owns the patents. We thank Professor Emeritus Willem van der Linden for his help with the preparation of the manuscript. We are also grateful to technicians Ingegerd Löfving Arvholm and Ann-Chatrin Palmgren of the Division of Clinical Bacteriology, Karolinska Institute, Stockholm, Sweden, for their assistance in the lab.
About this article
Cite this article
Persson, M., Svenarud, P., Flock, JI. et al. Carbon dioxide inhibits the growth rate of Staphylococcus aureus at body temperature. Surg Endosc 19, 91–94 (2005). https://doi.org/10.1007/s00464-003-9334-z
Received:

Accepted:

Published:

Issue Date:
Keywords
Surgery

Laparoscopy

Wound infection

Carbon dioxide

Bacteriostatic effect