Abstract
Background:
Robotically enhanced telemanipulation for totally endoscopic coronary artery bypass does not provide adequate tactile feedback, traction, or countertraction. The exposition of coronary target sites is difficult, the visual field is limited, and the epicardial stabilization may be troublesome. A fourth robotic arm for endothoracic instrumentation has been added to the da Vinci surgical system to facilitate totally endoscopic operations. The stereoendoscope was upgraded with a wide-angle feature.
Methods:
The procedure was performed in five patients. Four of these patients had left internal thoracic artery (LITA) to left anterior descending artery (LAD) grafting on the beating heart and the fifth had sequential bypass grafting (LITA to diagonal branch and LAD) on an arrested heart. The additional effector arm of the da Vinci surgical system was brought into the operative field beneath the operating table and used as a second right arm. The wide-angle view was activated by either the console or the patient side surgeon.
Results:
The mean operative, port placement, and anastomotic times for a beating-heart totally endoscopic coronary artery bypass were 195 ± 58, 25 ± 10, and 18 ± 5 min, respectively. All procedures were free of morbidity and mortality, with satisfactory angiographic control. The sequential arterial bypass grafting procedure was fully completed in totally endoscopic technique.
Conclusions:
The additional instrumentation arm and wide-angle visualization are useful technical improvements of the da Vinci surgical system, solving the problem of traction, countertraction, and facilitated exposition of target sites as well as visualization of the surgical field. They provide potential for wider acceptance of totally endoscopic coronary artery bypass grafting in a larger surgical community.
Access options
Buy single article
Instant access to the full article PDF.
USD 39.95
Price excludes VAT (USA)
Tax calculation will be finalised during checkout.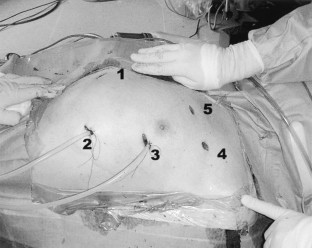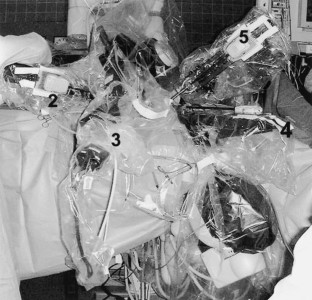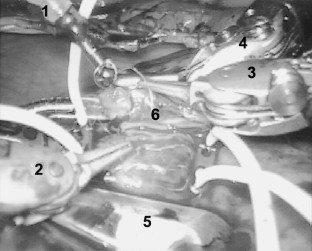 References
WD Boyd R Rayman ND Desai AH Menkis W Dobkowski S Ganapathy B Kiaii G Jablonsky FN McKenzie RJ Novick (2000) ArticleTitleClosed-chest coronary artery bypass grafting on the beating heart with the use of a computer-enhanced surgical robotic system J Thorac Cardiovasc Surg 120 807–809 Occurrence Handle10.1067/mtc.2000.109541 Occurrence Handle11003767

J Bucerius S Metz T Walther V Falk N Doll F Noack D Holzhey A Diegeler FW Mohr (2002) ArticleTitleEndoscopic internal thoracic artery dissection leads to significant reduction of pain after minimally invasive direct coronary artery bypass graft surgery Ann Thorac Surg 73 1180–1184 Occurrence Handle10.1016/S0003-4975(02)03385-4 Occurrence Handle11996260

S Dogan T Aybek E Andressen C Byhahn S Mierdl K Westphal G Matheis A Moritz G Wimmer-Greinecker (2002) ArticleTitleTotally endoscopic coronary artery bypass grafting on cardiopulmonary bypass with robotically enhanced telemanipulation: report of forty-five cases J Thorac Cardiovasc Surg 123 1125–1431 Occurrence Handle10.1067/mtc.2002.121305 Occurrence Handle12063459

S Dogan T Aybek S Mierdl G Wimmer-Greinecker (2002) ArticleTitleTotally endoscopic coronary artery bypass grafting on the arrested heart is a prerequisite for successful totally endoscopic beating heart coronary revascularization Interactive Cardiovasc Thorac Surg 1 30–34 Occurrence Handle10.1016/S1569-9293(02)00008-7

S Dogan T Aybek K Westphal S Mierdl A Moritz G Wimmer-Greinecker (2001) ArticleTitleComputer-enhanced totally endoscopic sequential arterial coronary artery bypass Ann Thorac Surg 72 610–611 Occurrence Handle10.1016/S0003-4975(00)02295-5 Occurrence Handle11515911

S Dogan G Wimmer-Greinecker T Aybek O Dzemali C Herzog TJ Vogl A Moritz (2001) ArticleTitleMultidetector CT scan facilitates complex totally endoscopic coronary artery bypass grafting Heart Surg Forum 1 239–250

V Falk A Diegeler T Walther J Banusch J Brucerius J Raumans R Autschbach FW Mohr (2000) ArticleTitleTotal endoscopic computer-enhanced coronary artery bypass grafting Eur J Cardiothorac Surg 17 38–45 Occurrence Handle10.1016/S1010-7940(99)00356-5 Occurrence Handle10735410

V Falk A Diegeler T Walther S Jacobs J Raumans FW Mohr (2000) ArticleTitleTotal endoscopic off-pump coronary artery bypass grafting Heart Surg Forum 3 29–31 Occurrence Handle11064543

U Kappert R Cichon J Schneider V Gulielmos T Alimadzade J Nicolai SM Tugtekin S Schueler (2001) ArticleTitleTechnique of closed chest coronary artery surgery on the beating heart Eur J Cardiothorac Surg 20 765–769 Occurrence Handle10.1016/S1010-7940(01)00859-4 Occurrence Handle11574222

U Kappert J Schneider R Cichon V Gulielmos SM Tugtekin J Nicolai K Matschke S Schueler (2001) ArticleTitleDevelopment of robotic-enhanced endoscopic surgery for the treatment of coronary artery disease Circulation 18;104 IssueID12 Suppl 1 I102–I107

D Loulmet A Carpentier N d'Attellis A Berrebi C Cardon O Ponzio B Aupecle JY Relland (1999) ArticleTitleEndoscopic coronary artery bypass grafting with the aid of robotic-assisted instruments J Thorac Cardiovasc Surg 118 4–10 Occurrence Handle10384177

L Torracca G Ismeno A Quarti O Alfieri (2002) ArticleTitleTotally endoscopic atrial septal defect closure with a robotic system: experience with seven cases Heart Surg Forum 5 125–127 Occurrence Handle12125664
About this article
Cite this article
Dogan, S., Aybek, T., Risteski, P. et al. Totally endoscopic coronary artery bypass graft: initial experience with an additional instrument arm and an advanced camera system. Surg Endosc 18, 1587–1591 (2004). https://doi.org/10.1007/s00464-003-9193-7
Received:

Accepted:

Published:

Issue Date:

DOI: https://doi.org/10.1007/s00464-003-9193-7
Keywords