Abstract
Background
With the spread of minimally invasive surgery and training in this field, development of metrics for skills assessment and training progress has become increasingly important. Our approach was to use the tracking of motion for the definition of objectives metrics.
Methods
We have developed an inanimate model and tracked the 3D coordinates of the instrument tips with an ultrasound system. Besides already validated parameters (time, error time, and distance efficiency ratio) we examined the transit and the speed profile for their evidentiary power. Performances of experts (who have already performed >100 laparoscopic operations) and novices (<20 laparoscopic operations) were evaluated.
Result
The standardized time, the error time as a precision indicator, and the transit profile parameter for spatial perception could significantly (p < 0.05) distinguish between experts and novices. Furthermore, these parameters and the distance efficiency ratio improved significantly during a training course in laparoscopic surgery.
Conclusion
Our model showed changes of the mentioned parameters with experience. According to our results, it can be used for skills assessment and as a training progress measurement system. We propose transit profile as an additional important parameter for assessment.
Access options
Buy single article
Instant access to the full article PDF.
US$ 39.95
Tax calculation will be finalised during checkout.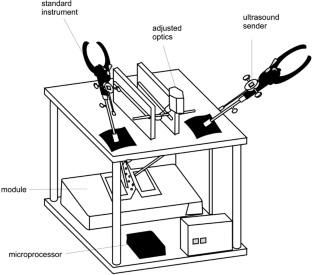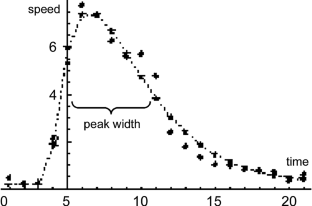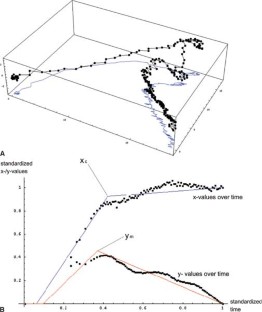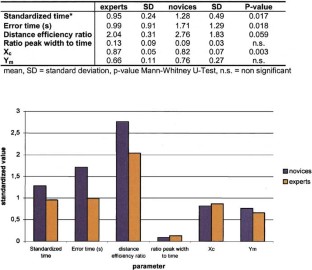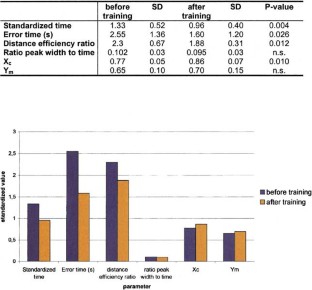 References
1.

http://www.zebris.de

2.

JP Browne (2000) ArticleTitleValidating simulation and assessment devices in surgery: a review. MITAT 9 353–356

3.

IR Crothers AG Gallagher N McClure DTD James J McGuigan (1999) ArticleTitleExperienced laparoscopic surgeons are automated to the "fulcrum effect": an ergonomic demonstration. Endoscopy 31 365–369 Occurrence Handle10.1055/s-1999-26 Occurrence Handle1:STN:280:DyaK1MzmtVChtQ%3D%3D Occurrence Handle10433045

4.

A Darzi S Smith N Taffinder (1999) ArticleTitleAssessing operative skill—needs to become more objective. Br Med J 318 887–888 Occurrence Handle1:STN:280:DyaK1M3jtVCluw%3D%3D

5.

Z Dvir T Prushansky (2000) ArticleTitleReproducibility and instrument validity of a new ultrasonography-based system for measuring cervical spine kinematics. Clin Biomechanics 15 658–664 Occurrence Handle10.1016/S0268-0033(00)00033-4 Occurrence Handle1:STN:280:DC%2BD3cvpsVGgtQ%3D%3D

6.

N Francis GB Hanna A Cuscheri (2002) ArticleTitleThe performance of master surgeons on the Advanced Dundee Endoscopic Psychomotor Tester: contrast validity study. Arch Surg 137 841–844 Occurrence Handle10.1001/archsurg.137.7.841 Occurrence Handle12093343

7.

GB Hanna T Drew P Clinch B Hunter S Shimi MP Dunkley A Cuschieri (1996) ArticleTitleA mircoprocessor-controlled psychomotor tester for minimal access surgery. Surg Endosc 10 965–969 Occurrence Handle10.1007/s004649900215 Occurrence Handle1:STN:280:ByiD38%2FhtlU%3D Occurrence Handle8864086

8.

HM Hasson NV Kumari J Eekhout (2001) ArticleTitleTraining simulator for developing laparoscopic skills. J Soc Laparosc Surg 5 255–265 Occurrence Handle1:STN:280:DC%2BD3MvpvFOiug%3D%3D

9.

S Mackey V Datta M Mandalia P Bassett A Darzi (2002) ArticleTitleElectromagnetic motion analysis in the assessment of surgical skill: Relationship between time and movement. ANZ J Surg 72 632–634 Occurrence Handle10.1046/j.1445-2197.2002.02511.x Occurrence Handle12269912

10.

NJ Taffinder SGT Smith J Jansen B Ardehali RCG Russell A Darzi (1998) ArticleTitleObjective measurement of surgical dexterity—validation of the Imperial College Surgical Assessment Device (ICSAD). MITAT 7 IssueIDSuppl 11

11.

J Torkington SG Smith B Rees A Darzi (2001) ArticleTitleThe role of the basic surgical skills course in the acquisition and retention of laparoscopic skill. Surg Endosc 15 1071–1075 Occurrence Handle1:STN:280:DC%2BD3MnotV2jsA%3D%3D Occurrence Handle11727072

12.

JC Rosser LE Rosser RS Savalgi (1998) ArticleTitleObjective evaluation of a laparoscopic surgical skill program for residents and senior surgeons. Arch Surg 133 657–661 Occurrence Handle10.1001/archsurg.133.6.657 Occurrence Handle1:STN:280:DyaK1c3pvFGrsg%3D%3D Occurrence Handle9637467

13.

RM Satava (1999) ArticleTitleThe need for metrics in surgical education. Surg Endosc 13 1082 Occurrence Handle10.1007/s004649901177 Occurrence Handle10556442

14.

CD Smith TM Farrell SS McNatt RE Metreveli (2001) ArticleTitleAssessing laparoscopic manipulative skills. Am J Surg 181 547–550 Occurrence Handle10.1016/S0002-9610(01)00639-0 Occurrence Handle1:STN:280:DC%2BD3MvmvV2huw%3D%3D Occurrence Handle11513783

15.

SGT Smith J Torkington TJ Brown NJ Taffinder A Darzi (2002) ArticleTitleMotion analysis: A tool for assessing laparoscopic dexterity in the performance of a laboratory-based laparoscopic cholecystectomy. Surg Endosc 16 640–645 Occurrence Handle10.1007/s004640080081 Occurrence Handle1:STN:280:DC%2BD383jsVeqsg%3D%3D Occurrence Handle11972205

16.

KR Wanzel M Ward RK Reznick (2002) ArticleTitleTeaching the surgical craft: from selection to certification. Curr Probl Surg 39 573–659 Occurrence Handle10.1067/mog.2002.123481 Occurrence Handle12037512
About this article
Cite this article
Sokollik, C., Gross, J. & Buess, G. New model for skills assessment and training progress in minimally invasive surgery. Surg Endosc 18, 495–500 (2004). https://doi.org/10.1007/s00464-003-9065-1
Received:

Accepted:

Published:

Issue Date:
Keywords
Laparoscopy

Training

Assessment

Metrics

Motion analysis