Abstract
Background
This study aimed to evaluate the laparoscopic repair of childhood hernias and to identify technical refinements for improvements.
Methods
The records of 49 boys and 13 girls who underwent laparoscopic hernia repair in the authors' institution between July 2002 and July 2003 were reviewed. Their mean age was 4.5 years (range, 3 months to 15 years). No hernia opening was found in two patients, whereas 17 bilateral hernias (28%, 17/60) were found laparoscopically. Two bilateral hernias were diagnosed preoperatively. Four patients had the operation for recurrent hernias after open procedures.
Results
Over a mean follow-up period of 7.5 months (range, 3–15 months), there was one recurrence (1%, 1/79), but no other complication. With saline injection administered extraperitoneally, laparoscopic hernia repair can be performed safely for boys. Use of the "needle" sign avoided damage to the testicular vessel and vas. Placement of the needle medial to a prominent inferior epigastric artery and the presence of a "complete ring" sign prevented recurrence. The use of reusable 3-mm ports and round polypropylene stitches lowered the cost of the operation and improved the cosmesis for the patients. For recurrent hernias after open repair, the laparoscopic method was as simple as fresh hernia repair.
Conclusions
Laparoscopic hernia repair allows detection and repair of contralateral hernias during the same operation. With refinements in technique, the procedure can be safely performed for boys, with the added advantages of lower costs, fewer recurrences, and improved cosmesis.
Access options
Buy single article
Instant access to the full article PDF.
USD 39.95
Price excludes VAT (USA)
Tax calculation will be finalised during checkout.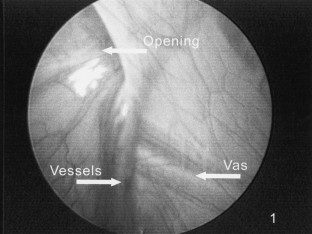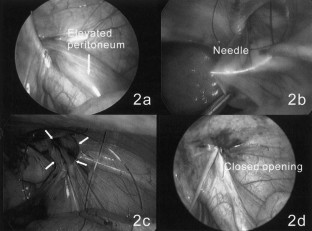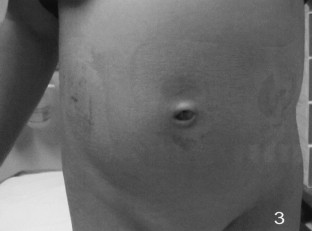 References
PM Carneiro (1990) ArticleTitleInguinal herniotomy in children. East Afr Med J 67 359–364 Occurrence Handle1:STN:280:DyaK3czmtV2htA%3D%3D Occurrence Handle2390959

KL Chan PKH Tam (2003) ArticleTitleA safe laparoscopic technique for the repair of inguinal hernias in boys. J Am Coll Surg 196 987–989 Occurrence Handle10.1016/S1072-7515(03)00121-2

TT Cheung KL Chan (2003) ArticleTitleLaparoscopic inguinal hernia repair in children. Ann Coll Surg HK 7 94–96 Occurrence Handle10.1046/j.1442-2034.2003.00173.x

DP Geisler S Jegathesan MC Parmley et al. (2001) ArticleTitleLaparoscopic exploration for the clinically undetected hernia in infancy and childhood. Am J Surg 182 693–696 Occurrence Handle1:STN:280:DC%2BD387ktVOisQ%3D%3D Occurrence Handle10.1016/S0002-9610(01)00797-8

JL Grosfeld K Minnick F Shedd et al. (1991) ArticleTitleInguinal hernia in children: factors affecting recurrence in 62 cases. J Pediatr Surg 26 283–287 Occurrence Handle1:STN:280:DyaK3M3jt1Sksw%3D%3D Occurrence Handle10.1016/0022-3468(91)90503-L

MH Harvey MJ Johnstone DP Fossara (1985) ArticleTitleInguinal herniotomy in children: a five-year survey. Br J Surg 72 485–487 Occurrence Handle1:STN:280:DyaL2M3ltlKntw%3D%3D Occurrence Handle10.1002/bjs.1800720627

JM Laberge (2002) ArticleTitleWhat's new in pediatric surgery? J Am Coll Surg 195 208–215 Occurrence Handle10.1016/S1072-7515(02)01267-X

MA Levitt D Ferraraccio MC Arbesman et al. (2002) ArticleTitleVariability of inguinal hernia surgical technique: a survey of North American pediatric surgeons. J Pediatr Surg 37 745–751 Occurrence Handle1:STN:280:DC%2BD383kslChsw%3D%3D Occurrence Handle10.1053/jpsu.2002.32269

P Montupet C Esposito (1999) ArticleTitleLaparoscopic treatment of congenital inguinal hernia in children. J Pediatr Surg 34 420–423 Occurrence Handle1:STN:280:DyaK1M3is1KhtQ%3D%3D Occurrence Handle10.1016/S0022-3468(99)90490-6

R Prasad HN Lovvorn SuffixIII GM Wadie et al. (2003) ArticleTitleEarly experience with needleoscopic inguinal herniorrhaphy in children. J Pediatr Surg 38 1055–1058 Occurrence Handle10.1016/S0022-3468(03)00191-X

F Schier (1998) ArticleTitleLaparoscopic herniorrhaphy in girls. J Pediatr Surg 33 1495–1497 Occurrence Handle1:STN:280:DyaK1M%2FhslOquw%3D%3D Occurrence Handle10.1016/S0022-3468(98)90483-3

F Schier (2000) ArticleTitleLaparoscopic surgery in inguinal hernias in children: initial experience. J Pediatr Surg 35 1331–1335 Occurrence Handle1:STN:280:DC%2BD3cvkslWiuw%3D%3D Occurrence Handle10.1053/jpsu.2000.9326

F Schier P Montupet C Esposito (2002) ArticleTitleLaparoscopic inguinal herniorrhaphy in children: a three-center experience with 933 repairs. J Pediatr Surg 37 395–397 Occurrence Handle10.1053/jpsu.2002.30842

R Surana P Puri (1993) ArticleTitleIs contralateral exploration necessary in infants with unilateral inguinal hernia? J Pediatr Surg 28 1026–1027 Occurrence Handle1:STN:280:DyaK2c%2Fks1egtg%3D%3D Occurrence Handle10.1016/0022-3468(93)90509-J
About this article
Cite this article
Chan, K.L., Tam, P.K.H. Technical refinements in laparoscopic repair of childhood inguinal hernias. Surg Endosc 18, 957–960 (2004). https://doi.org/10.1007/s00464-003-8263-1
Received:

Accepted:

Published:

Issue Date:

DOI: https://doi.org/10.1007/s00464-003-8263-1
Keywords
Laparoscopic repair

Childhood inguinal hernia