Abstract
Background: Laparoscopic adrenalectomy is considered the standard method for removal of benign adrenal tumors, regardless of hormone activity. Minimally invasive surgery for thymomectomy aims at limited approaches, avoiding complete sternotomy or large thoracotomy. Methods: We report on a case in which totally endoscopic thymomectomy and adrenal gland resection were performed sequentially using a computer-enhanced telemanipulation system within 3 weeks. Results: Operating time was 4.5 h for totally endoscopic adrenalectomy and 1.5 h for totally endoscopic thymomectomy. The patient was transferred to the normal ward on the day of operation after either procedure and had an uneventful recovery. Pathology yielded no malignancy in both cases. Conclusion: This report demonstrates the safety and feasibility of various totally endoscopic procedures performed sequentially.
Access options
Buy single article
Instant access to the full article PDF.
USD 39.95
Price excludes VAT (USA)
Tax calculation will be finalised during checkout.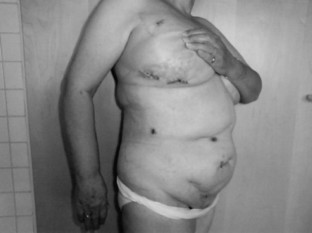 References
JL Azevedo D Mattos M Ricci O Azevedo (1999) ArticleTitleDissemination of latent colon adenocarcinoma after laparoscopic cholecystectomy. Endoscopy 31 828–830 Occurrence Handle1:STN:280:DC%2BD3c%2FmvVWhtw%3D%3D Occurrence Handle10604625

GH Barsoum CW Windsor (1992) ArticleTitleParietal seeding of carcinoma of the gallbladder after laparoscopic cholecystectomy. Br J Surg 79 846 Occurrence Handle1:STN:280:ByyD3cjgtVU%3D

J Binder W Kramer (2001) ArticleTitleRobotically-assisted laparoscopic radical prostatectomy. BJU Int 87 408–410

JH Braxton et al. (2000) ArticleTitleMediastinitis and long term survival after coronary artery bypass surgery. Ann Thorac Surg 70 2004–2007 Occurrence Handle10.1016/S0003-4975(00)01814-2 Occurrence Handle1:STN:280:DC%2BD3M%2FpvFCitg%3D%3D Occurrence Handle11156110

YM Dion F Gaillard (1997) ArticleTitleVisual integration of data and basic motor skills under laparoscopy. Influence of 2-D and 3-D video-camera systems. Surg Endosc 11 995–1000

S Dogan T Aybek E Andreßen C Byhahn S Mierdl K Westphal G Matheis A Moritz G Wimmer-Greinecker (2002) ArticleTitleTotally endoscopic coronary artery bypass grafting on cardiopulmonary bypass with robotically enhanced telemanipulation: report of forty-five cases. J Thorac Cardiovasc Surg 123 (6) 1125–1131 Occurrence Handle10.1067/mtc.2002.121305

F Drouard J Delamarre JP Capron (1991) ArticleTitleCutaneous seeding of gallbladder cancer after laparoscopic cholecystectomy. N Engl J Med 325 1316 Occurrence Handle1:STN:280:By2D3Mfgs1E%3D

M Gagner A Lacroix RA Prinz et al. (1993) ArticleTitleEarly experience with laparoscopic approach for adrenalectomy. Surgery 114 1120–1124 Occurrence Handle1:STN:280:ByuD2sfisFM%3D Occurrence Handle8256217

G Guazzoni F Montorsi A Bocciardi et al. (1995) ArticleTitleTransperitoneal laparoscopic versus open adrenalectomy for benign hyperfunctioning adrenal tumors: a comparative study. J Urol 153 1597–1600 Occurrence Handle10.1097/00005392-199505000-00068 Occurrence Handle1:STN:280:ByqB3s%2FnvVw%3D Occurrence Handle7714980

LA Israelsson T Jonsson (1997) ArticleTitleOverweight and healing of midline incisions: the importance of suture technique. Eur J Surg 163 175–180 Occurrence Handle9085058

G Janetschek M Marberger (2000) ArticleTitleLaparoscopic surgery in urology. Curr Opin Urol 10 351–357 Occurrence Handle10.1097/00042307-200007000-00010 Occurrence Handle10918974

J Marescaux MK Smith D Folscher F Jamali B Malassagne J Leroy (2001) ArticleTitleTelerobotic laparoscopic cholecystectomy: initial clinical experience with 25 patients. Ann Surg 234 1–7 Occurrence Handle10.1097/00000658-200107000-00001 Occurrence Handle1:STN:280:DC%2BD3MzlvFCisg%3D%3D Occurrence Handle11420476

FW Mohr V Falk A Diegeler T Walther JF Gummert J Bucerius S Jacobs R Autschbach (2001) ArticleTitleComputer-enhanced "robotic" cardiac surgery: experience in 148 patients. J Thorac Cardiovasc Surg 121 842–853 Occurrence Handle1:STN:280:DC%2BD3MzisFyjuw%3D%3D Occurrence Handle11326227

T Murakawa J Nakajima T Kohno M Tanaka J Matsumoto E Takeuchi S Takamoto (2000) ArticleTitleResults from surgical treatment for thymoma. 43 years of experience. Jpn J Thorac Cardiovasc Surg 48 89–95 Occurrence Handle1:STN:280:DC%2BD3c3jt1ymsA%3D%3D Occurrence Handle10769987

JB Petelin (1996) ArticleTitleLaparoscopic adrenalectomy. Sem Laparosc Surg 3 84–94

GB Thompson CS Grant JA van Heerden et al. (1997) ArticleTitleLaparoscopic versus open posterior adrenalectomy: a case–control study of 100 patients. Surgery 122 1132–1136 Occurrence Handle1:STN:280:DyaK1c%2Foslyjuw%3D%3D Occurrence Handle9426429

I Yoshino M Hashizume M Shimada M Tomikawa M Tomiyasu R Suemitsu K Sugimachi (2001) ArticleTitleThoracoscopic thymomectomy with the da Vinci computer-enhanced surgical system. J Thorac Cardiovasc Surg 122 783–785 Occurrence Handle10.1067/mtc.2001.115231 Occurrence Handle1:STN:280:DC%2BD3MrjsVektw%3D%3D Occurrence Handle11581613
About this article
Cite this article
Khan, M., Binder, J., Dogan, S. et al. First report on sequential totally endoscopic thymomectomy and adrenalectomy using computer-enhanced telemanipulation . Surg Endosc 17, 1496 (2003). https://doi.org/10.1007/s00464-003-4201-5
Received:

Accepted:

Published:

Issue Date:

DOI: https://doi.org/10.1007/s00464-003-4201-5
Keywords