Abstract
Voice change post-swallow, observed during a clinical swallow examination, is often used as a clinical indicator of dysphagia risk. However, there has been limited research that evaluated the level of agreement between voice change and swallow dysfunction reported to date. This systematic review aims to investigate existing evidence relating to the relationship between vocal change post-swallow and swallow deficits identified on a Videofluoroscopic Swallow Study (VFSS). The studies were selected by two independent evaluators for inclusion, without restriction on language or date of publication and the methodological quality and the risk of bias were assessed using QUADAS-2. Following the PRISMA recommendation, 271 articles were analyzed, of which 17 were included in the study. Of these, the methodology described in five studies employed voice analyses using only acoustic methods, seven others conducted only auditory-perceptual analyses, and five other studies used both. Across the studies there was no homogeneity in the voice quality parameters assessed, analytic methods used, and results obtained. Forty seven per cent of the studies presented a high risk of bias in the analysis of vocal quality due to lack of clarity and blinding of VFSS. There was no homogeneity in the choice of consistencies evaluated during swallowing, as well as standardization of the outcome investigated in VFSS without a vocal parameter attributable to accurate detection in each outcome. It is not possible to obtain a consensus regarding the recommendation of the use of vocal evaluation as an accurate method for identifying swallowing alterations due to heterogeneity of the vocal evaluation methods, the outcomes evaluated in the VFSS examination, heterogeneity in food and liquid consistencies, and the methodological quality of the studies.
Access options
Buy single article
Instant access to the full article PDF.
US$ 39.95
Tax calculation will be finalised during checkout.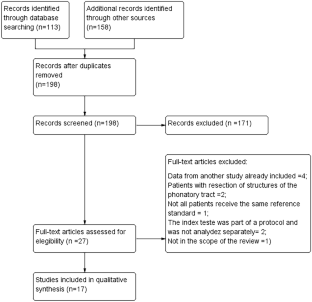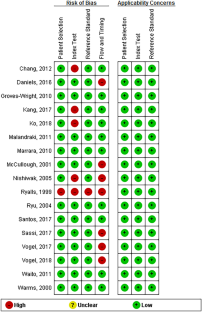 References
1.

Philpott H, Garg M, Tomic D, Balasubramanian S, Sweis R. Dysphagia: thinking outside the box. World J Gastroenterol. 2017;23(38):6942–51. https://doi.org/10.3748/wjg.v23.i38.6942.

2.

Takizawa C, Gemmell E, Kenworthy J, Speyer R. A systematic review of the prevalence of oropharyngeal dysphagia in stroke, Parkinson's disease, Alzheimer's disease, head injury, and pneumonia. Dysphagia. 2016;31(3):434–41. https://doi.org/10.1007/s00455-016-9695-9.

3.

Burgos R, Bretón I, Cereda E, Desport JC, Dziewas R, Genton L, Gomes F, Jésus P, Leischker A, Muscaritoli M, Poulia KA, Preiser JC, Van der Marck M, Wirth R, Singer P, Bischoff SC. ESPEN guideline clinical nutrition in neurology. Clin Nutr. 2018;37(1):354–96. https://doi.org/10.1016/j.clnu.2017.09.003.

4.

Murugappan M, Boyce S, Khosla S, Kelchner L, Gutmark E. Acoustic characteristics of phonation in "wet voice" conditions. J Acoust Soc Am. 2010;127(4):2578–89. https://doi.org/10.1121/1.3308478.

5.

Santos KW, Scheeren B, Maciel AC, Cassol M. Vocal variability post swallowing in individuals with and without oropharyngeal dysphagia. Int Arch Otorhinolaryngol. 2015;19(1):61–6. https://doi.org/10.1055/s-0034-1394129.

6.

Kang YA, Kim J, Jee SJ, Jo CW, Koo BS. Detection of voice changes due to aspiration via acoustic voice analysis. Auris Nasus Larynx. 2018;45(4):801–6. https://doi.org/10.1016/j.anl.2017.10.007.

7.

Groves-Wright KJ, Boyce S, Kelchner L. Perception of wet vocal quality in identifying penetration/aspiration during swallowing. J Speech Lang Hear Res. 2010;53(3):620–32. https://doi.org/10.1044/1092-4388(2009/08-0246).

8.

Patel RR, Awan SN, Barkmeier-Kraemer J, Courey M, Deliyski D, Eadie T, Paul D, Švec JG, Hillman R. Recommended protocols for instrumental assessment of voice: American speech-language-hearing association expert panel to develop a protocol for instrumental assessment of vocal function. Am J Speech Lang Pathol. 2018;27(3):887–905. https://doi.org/10.1044/2018_AJSLP-17-0009.

9.

Stráník A, Čmejla R, Vokřál J. Acoustic parameters for classification of breathiness in continuous speech according to the GRBAS scale. J Voice. 2014;28(5):653.e9-653.e17. https://doi.org/10.1016/j.jvoice.2013.07.016.

10.

McInnes MDF, Moher D, Thombs BD, McGrath TA, Bossuyt PM, Clifford T, et al. Preferred reporting items for a systematic review and meta-analysis of diagnostic test accuracy studies: the PRISMA-DTA Statement. JAMA. 2018;319(4):388–96. https://doi.org/10.1001/jama.2017.19163.

11.

Vogel AP, Rommel N, Oettinger A, Stoll LH, Kraus EM, Gagnon C, Horger M, Krumm P, Timmann D, Storey E, Schöls L, Synofzik M. Coordination and timing deficits in speech and swallowing in autosomal recessive spastic ataxia of Charlevoix-Saguenay (ARSACS). J Neurol. 2018;265(9):2060–70. https://doi.org/10.1007/s00415-018-8950-4.

12.

Sassi FC, Medeiros GC, Zilberstein B, Jayanthi SK, de Andrade CRF. Screening protocol for dysphagia in adults: comparison with videofluoroscopic findings. Clinics. 2017;72(12):718–22. https://doi.org/10.6061/clinics/2017(12)01.

13

Santos KWD, Scheeren B, Maciel AC, Cassol M. Postswallow voice modification: compatibility with videofluoroscopy findings. Codas. 2017;29(6):e20170004. https://doi.org/10.1590/2317-1782/20172017004.

14.

Vogel AP, Rommel N, Oettinger A, Horger M, Krumm P, Kraus EM, Schöls L, Synofzik M. Speech and swallowing abnormalities in adults with POLG associated ataxia (POLG-A). Mitochondrion. 2017;37:1–7. https://doi.org/10.1016/j.mito.2017.06.002.

15.

Chang HY, Torng PC, Wang TG, Chang YC. Acoustic voice analysis does not identify presence of penetration/aspiration as confirmed by videofluoroscopic swallowing study. Arch Phys Med Rehabil. 2012;93(11):1991–4. https://doi.org/10.1016/j.apmr.2012.05.028.

16.

Malandraki GA, Hind JA, Gangnon R, Logemann JA, Robbins J. The utility of pitch elevation in the evaluation of oropharyngeal dysphagia: preliminary findings. Am J Speech Lang Pathol. 2011;20(4):262–8. https://doi.org/10.1044/1058-0360(2011/10-0097).

17.

McCullough GH, Wertz RT, Rosenbek JC. Sensitivity and specificity of clinical/bedside examination signs for detecting aspiration in adults subsequent to stroke. J Commun Disord. 2001;34(1–2):55–72.

18.

Warms T, Richards J. "Wet Voice" as a predictor of penetration and aspiration in oropharyngeal dysphagia. Dysphagia. 2000;15(2):84–8.

19.

Waito A, Bailey GL, Molfenter SM, Zoratto DC, Steele CM. Voice-quality abnormalities as a sign of dysphagia: validation against acoustic and videofluoroscopic data. Dysphagia. 2011;26(2):125–34. https://doi.org/10.1007/s00455-010-9282-4.

20.

Ryu JS, Park SR, Choi KH. Prediction of laryngeal aspiration using voice analysis. Am J Phys Med Rehabil. 2004;83(10):753–7.

21

Ko EJ, Chae M, Cho SR. Relationship between swallowing function and maximum phonation time in patients with Parkinsonism. Ann Rehabil Med. 2018;42(3):425–32. https://doi.org/10.5535/arm.2018.42.3.425.

22.

Ryalls J, Gustafson K, Santini C. Preliminary investigation of voice onset time production in persons with dysphagia. Dysphagia. 1999;14(3):169–75.

23.

Marrara JL. Vocal Dynamic Visual Patterns (VDVP) for swallowing dysfunctions analysis in patients with neurological diseases. (2010). M.Sc. Dissertation, Escola de Engenharia de São Carlos, Universidade de São Paulo, São Carlos. https://doi.org/10.11606/D.18.2010.tde-06052010-160149.

24.

Daniels SK, Pathak S, Rosenbek JC, Morgan RO, Anderson JA. Rapid aspiration screening for suspected stroke: Part 1: Development and validation. Arch Phys Med Rehabil. 2016;97(9):1440–8. https://doi.org/10.1016/j.apmr.2016.03.025.

25.

Nishiwaki K, Tsuji T, Liu M, Hase K, Tanaka N, Fujiwara T. Identification of a simple screening tool for dysphagia in patients with stroke using factor analysis of multiple dysphagia variables. J Rehabil Med. 2005;37(4):247–51.

26.

Rosenbek JC, Robbins JA, Roecker EB, Coyle JL, Wood JL. A penetration-aspiration scale. Dysphagia. 1996;11(2):93–8.

27.

Álvarez G, Dias FJ, Lezcano MF, Arias A, Fuentes R. A novel three-dimensional analysis of tongue movement during water and saliva deglutition: a preliminary study on swallowing patterns. Dysphagia. 2019;34(3):397–406. https://doi.org/10.1007/s00455-018-9953-0.
Ethics declarations
Conflict of interest
The authors declare that they have no conflict of interest.
Additional information
Publisher's Note
Springer Nature remains neutral with regard to jurisdictional claims in published maps and institutional affiliations.
Supplementary Information
Below is the link to the electronic supplementary material.
About this article
Cite this article
dos Santos, K.W., da Cunha Rodrigues, E., Rech, R.S. et al. Using Voice Change as an Indicator of Dysphagia: A Systematic Review. Dysphagia (2021). https://doi.org/10.1007/s00455-021-10319-y
Received:

Accepted:

Published:
Keywords
Deglutition disorders

Deglutition

Voice quality

Voice