Abstract
As the dysphagia handicap index (DHI) becomes more commonly used in clinical practice as a diagnostic tool, it is essential to establish the normative value of DHI. The main purpose of this study is to determine the normative value of DHI among subjects who had no history of dysphagia or neurological disease as well as no history of head or neck malignancy. A systematic literature search was performed using PubMed, Scopus and ScienceDirect to access relevant databases and to locate outcome studies. Eligibility criteria included type of publication, participant characteristics and report of outcomes. Data analysis were conducted using meta-analysis method. Five articles were included for the final analysis. The normative value of DHI was 2.49 with confidence interval of 0.51–4.48 for a group of 323 subjects, age range of 20–86 years.
Access options
Buy single article
Instant access to the full article PDF.
USD 39.95
Price excludes VAT (USA)
Tax calculation will be finalised during checkout.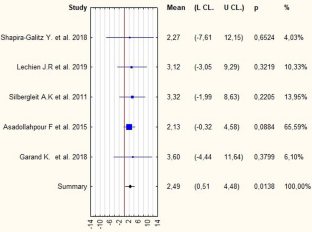 References
Carucci LR, Turner MA. Dysphagia revisited: common and unusual causes. RadioGraphics. 2015;35(1):105–22.

Barzegar-Bafrooei E, Bakhtiary J, Khatoonabadi AR, Fatehi F, Maroufizadeh S, Fathali M. Validation of the Persian version of the dysphagia handicap index in patients with neurological disorders. Iran J Neurol. 2016;15(3):128–32.

Gustafsson B, Tibbling L. Dysphagia, An Unrecognized Handicap. Dysphagia. 1991;6:193–9.

Silbergleit AK, Schultz L, Jacobson BH, Beardsley T, Johnson AF. The dysphagia handicap index: Development and validation. Dysphagia. 2012;27(1):46–52.

Krishnamurthy R, Balasubramanium RK. Translation and validation of Kannada version of the dysphagia handicap index. Am J Speech Lang Pathol. 2020;29(1):255–62.

Asadollahpour F, Baghban K, Asadi M. Validity and reliability of the persian version of the Dysphagia Handicap Index (DHI). Iran J Otorhinolaryngol. 2015;27(80):185–91.

Shapira-Galitz Y, Drendel M, Yousovich-Ulriech R, Shtreiffler-Moskovich L, Wolf M, Lahav Y. Translation and validation of the Dysphagia Handicap Index in Hebrew-speaking patients. Dysphagia. 2019;34(1):63–72.

Farahat M, Malki KH, Mesallam TA, Bukhari M, Alharethy S. Development of the Arabic version of Dysphagia Handicap Index (DHI). Dysphagia. 2014;29(4):459–67.

Oda C, Yamamoto T, Fukumoto Y, Nakayama K, Sato M, Murata M, Kobayashi Y. Patient Validation of the Japanese translation of the dysphagia handicap index. Patient Prefer Adherence. 2017;11:193–8.

Chen AY, Frankowski R, Bishop-Leone J, Hebert T, Leyk S, Lewin J, Goepfert H. The Development and Validation of a Dysphagia-Specific Quality-of-Life Questionnaire for Patients with Head and Neck Cancer: The MD Anderson Dysphagia Inventory. Arch Otolaryngol Head Neck Surg. 2001;127(7):870–6.

Ekberg O, Hamdy S, Woisard V, Wuttge-Hannig A, Ortega P. Social and Psychological Burden of Dysphagia: Its Impact on Diagnosis and Treatment. Dysphagia. 2002;17(2):139–46.

Moher D, Liberati A, Tetzlaff J, Altman DG. Preferred reporting items for systematic reviews and meta-analyses: the PRISMA statement. PLoS Med. 2009;6(7):e1000097.

Lechien JR, Cavelier G, Thill MP, Huet K, et al. Validity and reliability of the French version of Eating Assessment Tool (EAT-10). Eur Arch Otorhinolaryngol. 2019;276(6):1727–36.

Garand KL, Strange C, Paoletti L, Hopkins-Rossabi T, Martin-Harris B. Oropharyngeal swallow physiology and swallowing-related quality of life in underweight patients with concomitant advanced chronic obstructive pulmonary disease. Int J Chron Obstruct Pulmon Dis. 2018;13:2663–71.

Mulheren RW, Azola AM, Kwiatkowski S, et al. Swallowing Changes in Community-Dwelling Older Adults. Dysphagia. 2018;33:848–56.

Speyer R, Cordier R, Kertscher B, Heijnen BJ. Psychometric properties of questionnaires on functional health status in oropharyngeal dysphagia: A systematic literature review. BioMed Res Int. 2014;2014:1–11.

Schindler A, Ginocchio D, Ruoppolo G. What we don't know about dysphagia complications? Rev Laryng Otol Rhinol. 2008;129(2):75–8.

Rofes L, Arreola V, Almirall J, et al. Diagnosis and Management of Oropharyngeal Dysphagia and Its Nutritional and Respiratory Complications in the Elderly. Gastroenterol Res Pract. 2010;2011:818979.

Yang EJ, Kim MH, Lim J, Paik N-J. Oropharyngeal Dysphagia in a Community-Based Elderly Cohort: the Korean Longitudinal Study on Health and Aging. J Korean Med Sci. 2013;28(10):1534–9.

Chen PH, Golub JS, Hapner ER, Johns MM. Prevalence of perceived dysphagia and quality-of-life impairment in a geriatric population. Dysphagia. 2009;24(1):1–6.

Holland G, Jayasekeran V, Pendleton N, Horan M, Jones M, Hamdy S. Prevalence and symptom profiling of oropharyngeal dysphagia in a community dwelling of an elderly population: a self-reporting questionnaire survey. Dis Esophagus. 2011;24(7):476–80.

González-Fernández M, Ottenstein L, Atanelov L, Christian AB. Dysphagia after Stroke: An Overview. Curr Phys Med Rehabil Rep. 2013;1(3):187–96.

Clavé P, Terré R, de Kraa M, Serra M. Approaching oropharyngeal dysphagia. Rev Esp Enferm Dig. 2004;96(2):119–31.
Funding
The authors of the manuscript report no biomedical financial interests. The present work had no financial support.
Ethics declarations
Conflict of interest
The authors declare that they have no conflicts of interest.
Research Involving Human and Animal Participants
The authors have not performed any research on humans nor animals—all data used in the above manuscript were taken from published papers.
Additional information
Publisher's Note
Springer Nature remains neutral with regard to jurisdictional claims in published maps and institutional affiliations.
About this article
Cite this article
Sobol, M., Kober, A.M. & Sielska-Badurek, E.M. The Dysphagia Handicap Index (DHI)—Normative Values. Systematic Review and Meta-Analysis. Dysphagia 36, 1005–1009 (2021). https://doi.org/10.1007/s00455-020-10231-x
Received:

Accepted:

Published:

Issue Date:

DOI: https://doi.org/10.1007/s00455-020-10231-x
Keywords