Abstract
Evidence supporting sensory stimulation of swallowing is based mostly on videofluoroscopy and provides little insight into changes to swallowing physiology. In this study, the impact of sensory stimulation on pharyngo-esophageal swallowing biomechanics was investigated in adults with dysphagia using pharyngeal high-resolution manometry. Fifteen adults (8 males; 45–86 years) with mixed etiology dysphagia were consecutively recruited over a three-month period. PHRM equipment with a 4.2 mm pressure catheter was used. The protocol included duplicate 10 ml neutral, sour, cold, and carbonated liquid swallows in randomized order. Semi-automated analysis was completed using an online portal (www.swallowgateway.com). Data from 98/120 swallows were analyzed. During the pharyngeal phase, mean pharyngeal contractile integral (PhCI) increased significantly with cold (p = 0.03), sour (p = 0.00), and carbonation (p = 0.02). Mean velopharyngeal contractile integral (VCI) (p = 0.01) and mesopharyngeal contractile integral (MCI) (p = 0.04) both increased significantly with carbonation. Mean hypopharyngeal contractile integral (HPCI) was not significantly altered by sensory stimulation. Regarding UES opening, UES relaxation time (UESRT) increased significantly with cold (p = 0.032), carbonation (p = 0.032), and sour (p = 0.027). Extent of UES opening as measured by IRP reduced significantly with cold stimulation (9.34 to 5.17 mmHg) (p = 0.032). No significant changes were observed to UES basal pressure or UES peak pressure with sensory stimulation. Sensory stimulation induced biomechanical changes to pharyngeal contraction vigor, UES relaxation time and extent of UES opening during swallowing in adults with dysphagia. This study contributes evidence to support sensory stimulation as a dysphagia intervention. Further combined pressure impedance studies in homogeneous clinical populations are ongoing.
Access options
Buy single article
Instant access to the full article PDF.
USD 39.95
Price excludes VAT (USA)
Tax calculation will be finalised during checkout.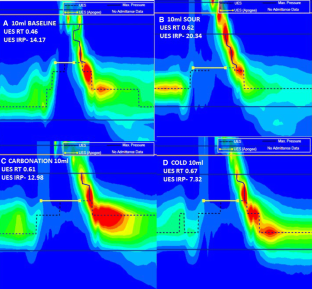 References
Fox MR, Bredenoord AJ. Oesophageal high-resolution manometry: moving from research into clinical practice. Gut. 2008;57:405–23.

Omari TI, Dejaeger E, van Beckevoort D, et al. A method to objectively assess swallow function in adults with suspected aspiration. Gastroenterology. 2011;140:1454–63.

Omari TI, Dejeager E, Van Beckevoort D, Goeleven A, De Cock P, Hoffmen I, Smet MH, Davidson GP, Tack J, Rommel N. A novel method for the nonradiological assessment of ineffective swallowing. Am J Gastroenterol. 2011;106:1796–802.

Omari TI, Ciucci M, Gozdzikowska K, Hernández E, Hutcheson K, Jones C, et al. High-resolution pharyngeal manometry and impedance: protocols and metrics—recommendations of a High-Resolution Pharyngeal Manometry International Working Group. Dysphagia. 2019. https://doi.org/10.1007/s00455-019-10023-y.

Hoffman MR, Ciucci MR, Mielens JD, Jiang JJ, McCulloch TM. Pharyngeal swallow adaptations to bolus volume measured with high-resolution manometry. Laryngoscope. 2010;120(12):2367–73.

Lin T, Xu G, Dou Z, Lan Y, Yu F, Jiang L. Effect of bolus volume on pharyngeal swallowing assessed by high-resolution manometry. Physiol Behav. 2014;128:46–51.

Omari T, Dejaeger E, Tack J, Van Beckevoort D, Rommel N. Effect of bolus volume and viscosity on pharyngeal automated impedance manometry variables derived for broad Dysphagia patients. Dysphagia. 2013;28(2):146–52.

Doeltgen SH, Ong E, Scholten I, Cock C, Omari T. Biomechanical quantification of Mendelsohn maneuver and effortful swallowing on pharyngoesophageal function. Otolaryngol Head Neck Surg. 2017;157(5):816–23.

McCulloch TM, Hoffman MR, Ciucci MR. High-resolution manometry of pharyngeal swallow pressure events associated with head turn and chin tuck. Ann Otol Rhinol Laryngol. 2010;119(6):369–76.

Hoffman MR, Mielens JD, Ciucci MR, Jones CA, Jiang JJ, McCulloch TM. High-resolution manometry of pharyngeal swallow pressure events associated with effortful swallow and the Mendelsohn maneuver. Dysphagia. 2012;27(3):418–26.

Logemann JA, Pauloski BR, Colangelo L, Lazarus C, Fujiu M, Kahrilas PJ. Effects of a sour bolus on oropharyngeal swallowing measures in patients with neurogenic dysphagia. J Speech Hear Res. 1995;38:556–63.

Bulow M, Olsson R, Ekberg O. Videoradiographic analysis of how carbonated thin liquids and thickened liquids affect the physiology of swallowing in subjects with aspiration on thin liquids. Acta Radiol. 2003;44:366–72.

Sdravou K, Walshe M, Dagdilelis L. Effects of carbonated liquids on oropharyngeal swallowing measures in people with neurogenic dysphagia. Dysphagia. 2011;27:1–11.

Turkington L, Ward EC, Farrell A, Porter L, Wall LR. Impact of carbonation on neurogenic dysphagia and an exploration of the clinical predictors of a response to carbonation. Int J Lang Commun Disord. 2019;54:499–513.

Bisch EM, Logemann JA, Rademaker AW, Kahrilas PJ, Lazarus CL. Pharyngeal effects of bolus volume, viscosity, and temperature in patients with dysphagia resulting from neurologic impairment and in normal subjects. J Speech Hear Res. 1994;37:1041–9.

Dietsch A, Solomon N, Steele C, Pelletier C. The effect of barium on perceptions of taste intensity and palatability. Dysphagia. 2014;29:96–108.

André J. Brain stem control of swallowing: neuronal network and cellular mechanisms. Physiol Rev. 2001;81(2):929–69.

Crary MA, Mann GDC, Groher ME. Initial psychometric assessment of a functional oral intake scale for dysphagia in stroke patients. Arch Phys Med Rehabil. 2005;86(8):1516–20.

Guiu Hernandez E, Gozdzikowska K, Apperley O, Huckabee ML. Effect of topical nasal anesthetic on swallowing in healthy adults: a double-blind, high-resolution manometry study. Laryngoscope. 2018;128(6):1335–9.

O'Rourke A, Humphries K, Lazar A, Martin-Harris B. The pharyngeal contractile integral is a useful indicator of pharyngeal swallowing impairment. Neurogastroenterol Motil. 2017;29(12):e13144.

Winiker K, Gillman A, Hernandez EG, Huckabee ML, Gozdzikowska K. A systematic review of current methodology of high resolution pharyngeal manometry with and without impedance. Eur Arch Oto-Rhino-Laryngol. 2019;276(3):631–45.

Omari TI, Savilampi J, Kokkinn K, Schar M, Lamvik K, Doeltgen S, Cock C. The reliability of pharyngeal high-resolution manometry with impedance and derivation of measures of swallowing function. Int J Otolaryngol. 2016. https://doi.org/10.1155/2016/2718482.

Singendonk M, Cock C, Bieckmann L, Szczesniak M, Ferris L, Benninga M, Omari T. Reliability of an online analysis platform for pharyngeal high-resolution impedance manometry recordings. Speech Lang Hear. 2018;22(4):195–203.

Palmer PM, McCulloch TM, Jaffe D, Neel AT. Effects of a sour bolus on the intramuscular electromyographic (EMG) activity of muscles in the submental region. Dysphagia. 2005;20:210–7.

Ding R, Logemann JA, Larson CR, Rademaker AW. The effects of taste and consistency on swallow physiology in younger and older healthy individuals: a surface electromyographic study. J Speech Hear Res. 2003;46:977–89.

Leow LP, Huckabee ML, Sharma S, Tooley TP. The influence of taste on swallowing apnea, oral preparation time, and duration and amplitude of submental muscle contraction. Chem Sens. 2006;32(2):119–28.

Miura Y, Morita Y, Koizumi H, Shingai T. Effects of taste solutions, carbonation, and cold stimulus on the power frequency content of swallowing submental surface electromyography. Chem Sens. 2009;34(4):325–31.

Cola P, Gatto A, Da Silva R, Spadotto A, Schelp A, Henr M. The influence of sour taste and cold temperature in pharyngeal transit duration in pharyngeal transit duration in patients with stroke. Arch Gastroenterol. 2010;47:18–211.

Robertson E, Lee Y, Derakhshan M, Wirz A, Whiting J, Seenan J, Connolly P, McColl KE. High-resolution esophageal manometry: addressing thermal drift of the manoscan system. Neurogastroenterol Motil. 2012;24:61–5.

Lamvik K, Guiu Hernandez E, Jones R, Huckabee ML. Characterization and correction of pressure drift in the ManoScan™ high-resolution manometry system: in vitro and in vivo. Neurogastroenterol Motil. 2016;28(5):732–42.

Choi YJ, Park MI, Park SJ, Moon W, Kim SE, Kwon HJ, Kim JH, Jeon WS. The effect of water bolus temperature on esophageal motor function as measured by high-resolution manometry. Neurogastroenterol Motil. 2014;26:1628–34.

Elvivi A, Bravi I. Effect of cold water on esophageal motility in patients with achalasia and non-obstructive dysphagia: a high-resolution manometry study. Neurogastroenterol Motil. 2014;20(1):79–86.

Ren Y, Ke M, Fang X, et al. Response of esophagus to high and low temperatures in patients with achalasia. J Neurogastroenterol Motil. 2012;18:391–8.

Molfenter SM, Steele CM. Kinematic and temporal factors associated with penetration–aspiration in swallowing liquids. Dysphagia. 2014;29(2):269–76.

Kendall KA, Leonard RJ. Videofluoroscopic upper esophageal sphincter function in elderly dysphagic patients. Laryngoscope. 2002;112(2):332–7.

Flynn E, Smith CH, Walsh CD, Walshe M. Modifying the consistency of food and fluids for swallowing difficulties in dementia. Cochrane Database Syst Rev. 2018. https://doi.org/10.1002/14651858.CD011077.pub2.

Cock C, Jones CA, Hammer MJ, et al. Modulation of upper esophageal sphincter (UES) relaxation and opening during volume swallowing. Dysphagia. 2017;32(2):216–24.

Ferris L, Schar M, McCall L, Doeltgen S, Scholten I, Rommel N, et al. Characterization of swallow modulation in response to bolus volume in healthy subjects accounting for catheter diameter. Laryngoscope. 2018;128(6):1328–34.

Shaker R, Lang I. Effect of aging on the deglutitive oral, pharyngeal, and esophageal motor function. Dysphagia. 1994;9:221–8.

Nativ-Zeltzer N, Logemann JA, Zecker SG, Kahrilas PJ. Pressure topography metrics for high-resolution pharyngeal–esophageal manofluorography—a normative study of younger and older adults. Neurogastroenterol Motil. 2016;28(5):721–31.
Acknowledgements
Thanks to the members of the speech and language therapy department in Tallaght University Hospital for their support, to all participants who took part and to Sword Medical for their technical support.
Additional information
Publisher's Note
Springer Nature remains neutral with regard to jurisdictional claims in published maps and institutional affiliations.
About this article
Cite this article
Regan, J. Impact of Sensory Stimulation on Pharyngo-esophageal Swallowing Biomechanics in Adults with Dysphagia: A High-Resolution Manometry Study. Dysphagia 35, 825–833 (2020). https://doi.org/10.1007/s00455-019-10088-9
Received:

Accepted:

Published:

Issue Date:

DOI: https://doi.org/10.1007/s00455-019-10088-9
Keywords