Abstract
Modified Barium Swallow Studies (MBSSs) are a fluoroscopic exam that exposes patients to ionizing radiation. Even though radiation exposure from MBSSs is relatively small, it is necessary to understand the excess cancer risk to the patient, in order to ensure a high benefit-to-risk ratio from the exam. This investigation was aimed at estimating the excess radiation risks during MBSSs. We examined 53 adult MBSSs performed using the full Modified Barium Swallow Impairment Profile (MBSImP) protocol. For each exam, the radiation dose (in terms of dose area product), patient age, and sex was recorded. Using published methodology, we determined the effective dose and organ specific dose then used BEIR VII data to calculate the excess cancer incidence related to radiation exposure from MBSSs in adults. Excess cancer incidence risks due to MBSSs were 11 per million exposed patients for 20-year-old males, 32 per million exposed patients for 20-year-old females, 4.9 per million exposed patients for 60-year-old males, and 7.2 per million exposed patients for 60-year-old females. Radiation exposure to the thyroid, lung, and red bone marrow contributed over 90% of the total cancer incidence risk. For the 20-year-old males, the excess cancer incidence risk is 4.7%/Sv, which is reduced to 1.0%/Sv in the 80-year-olds. For the 20-year-old females, the excess cancer incidence risk is 14%/Sv, which is reduced to 1.3%/Sv for 80-year-olds. Overall, the risk per unit effective dose from MBSSs is lower than the risk estimates for uniform whole-body irradiation. Patient age is the most important determinant of patient cancer risk from MBSSs.
This is a preview of subscription content, log in to check access.
Access options
Buy single article
Instant access to the full article PDF.
US$ 39.95
Price includes VAT for USA
Subscribe to journal
Immediate online access to all issues from 2019. Subscription will auto renew annually.
US$ 99
This is the net price. Taxes to be calculated in checkout.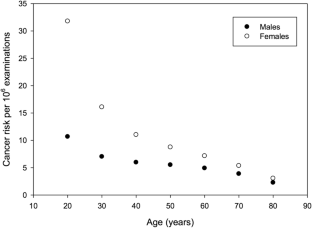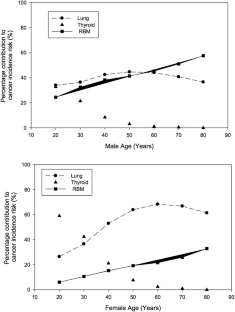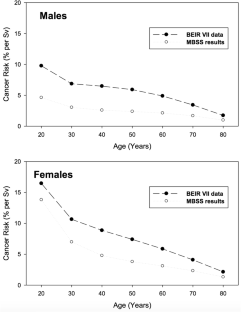 References
1.

Agency for Health Care Policy and Research (AHCPR). Diagnosis and treatment of swallowing disorders (dysphagia) in acute-care stroke patients. Evid Rep Technol Assess (Summ). 1999;8:1–6.

2.

Bhattacharyya N. The prevalence of dysphagia among adults in the United States. Otolaryngol Head Neck Surg. 2014;151(5):765–9. https://doi.org/10.1177/0194599814549156.

3.

Bonilha HS, Blair J, Carnes B, Huda W, Humphries K, McGrattan K, Michel Y, Martin-Harris B. Preliminary investigation of the effect of pulse rate on judgments of swallowing impairment and treatment recommendations. Dysphagia. 2013;28:528–38.

4.

Bonilha HS, Wilmskoetter J, Tipnis SV, Martin-Harris B, Huda W. Effective dose per unit kerma-area product conversion factors in adults undergoing modified barium swallow studies. Radiat Prot Dosimetry. 2017;176:1–9. https://doi.org/10.1093/rpd/ncx006.

5.

Bonilha HS, Wilmskoetter J, Tipnis SV, Martin-Harris B, Huda W. Estimating thyroid doses from Modified Barium Swallow Studies. Health Phys. 2018;115(3):360–8.

6.

Crawley MT, Savage P, Oakley F. Patient and operator dose during fluoroscopic examination of swallow mechanism. Br J Radiol. 2004;77(920):654–6. https://doi.org/10.1259/bjr/22832251.

7.

Huda W. Kerma-area product in diagnostic radiology. AJR Am J Roentgenol. 2014;203(6):W565–9. https://doi.org/10.2214/ajr.14.12513.

8.

Huda W. Radiation risks: what is to be done? AJR Am J Roentgenol. 2015;204(1):124–7. https://doi.org/10.2214/ajr.14.12834.

9.

Huda W, Ogden KM, Khorasani MR. Converting dose-length product to effective dose at CT. Radiology. 2008;248(3):995–1003. https://doi.org/10.1148/radiol.2483071964.

10.

Huda W, Tipnis SV, Sterzik A, Schoepf UJ. Computing effective dose in cardiac CT. Phys Med Biol. 2010;55(13):3675.

11.

ICRP. The 2007 recommendations of the international commission on radiological protection. ICRP Publication 103. Ann ICRP. 2007;37(2–4):1–332.

12.

ICRP. Radiological protection in medicine. ICRP Publication 105. Ann ICRP. 2007;37(6):2.

13.

Kim HM, Choi KH, Kim TW. Patients' radiation dose during videofluoroscopic swallowing studies according to underlying characteristics. Dysphagia (0179051X). 2013;28(2):153–8. https://doi.org/10.1007/s00455-012-9424-y.

14.

Martin-Harris B, Jones B. The videofluorographic swallowing study. Phys Med Rehabil Clin N Am. 2008;19(4):769–85. https://doi.org/10.1016/j.pmr.2008.06.004.

15.

Martin-Harris B, Logemann JA, McMahon S, Schleicher M, Sandidge J. Clinical utility of the modified barium swallow. Dysphagia. 2000;15(3):136–41.

16.

Martin-Harris B, Brodsky MB, Michel Y, Castell DO, Schleicher M, Sandidge J, Maxwell R, Blair J. MBS measurement tool for swallow impairment–MBSImp: establishing a standard. Dysphagia. 2008;23(4):392–405.

17.

Miller DL, Vañó E, Bartal G, Balter S, Dixon R, Padovani R, Schueler B, Cardella JF, De Baère T. Occupational radiation protection in interventional radiology: a joint guideline of the cardiovascular and interventional radiology Society of Europe and the Society of Interventional Radiology. Cardiovasc Intervent Radiol. 2010;33:230–9.

18.

National Research Council of the National Academies. Health risks from exposure to low levels of ionizing radiation: BEIR VII Phase 2. Washington: The National Academies Press; 2006. p. 245.

19.

Radiological Society of North America (RSNA) & American College of Radiology. Patient safety—radiation dose in X-ray and CT exams. https://www.radiologyinfo.org/en/info.cfm?pg=safety-xray.

20.

Tapiovaara M, Siiskonen T. PCXMC. A montecarlo program for calculating patient doses in medical X-ray examination. STUK-A231. 2nd ed. Helsinki: Finnish Centre for Radiation and Nuclear Safety; 2008.

21.

Wright RER, Boyd CS, Workman A. Radiation doses to patients during pharyngeal videofluoroscopy. Dysphagia. 1998;13(2):113–5.

22.

Zammit-Maempel I, Chapple CL, Leslie P. Radiation dose in videofluoroscopic swallow studies. Dysphagia. 2007;22(1):13–5. https://doi.org/10.1007/s00455-006-9031-x.
Ethics declarations
Conflict of interest
All authors declare that they have no conflict of interest.
Ethical Approval
All procedures performed in studies involving human participants were in accordance with the ethical standards of the institutional and/or national research committee and with the 1964 Helsinki declaration and its later amendments or comparable ethical standards.
Informed Consent
The research study protocol was reviewed by our IRB who deemed that informed consent should be waived as MBSSs were standard of care and de-identified prior to research use.
Additional information
Publisher's Note
Springer Nature remains neutral with regard to jurisdictional claims in published maps and institutional affiliations.
About this article
Cite this article
Bonilha, H.S., Huda, W., Wilmskoetter, J. et al. Radiation Risks to Adult Patients Undergoing Modified Barium Swallow Studies. Dysphagia 34, 922–929 (2019). https://doi.org/10.1007/s00455-019-09993-w
Received:

Accepted:

Published:

Issue Date:
Keywords
Deglutition disorders

Fluoroscopy

Radiation exposure

Cancer risks