Abstract
While voice-related disorders in Parkinson's disease (PD) are commonly discussed in the literature, dysphagia in PD is less widely published. Vocal fold augmentation, including injection laryngoplasty (IL), is a well-established treatment for glottal insufficiency (Cates et al. in Otolaryngol Head Neck Surg 155(3):454–457, 2016). This study aimed to observe the effects of IL in PD patients with vocal bowing, with or without therapy, on glottic closure and patient-reported dysphagia outcomes. The study design was based on retrospectively collected database and cohort–case series. PD patients selected for retrospective review over a 2-year period were referred and evaluated in the Voice, Swallowing, and Airway multidisciplinary clinic by speech language pathologist and laryngologist, and were undergoing IL. Charts were reviewed for age, gender, Body Mass Index (BMI), onset of PD, and Movement Disorders Society-Unified Parkinson's Disease Rating Scale Part 3 (MDS-UPDRS) scoring. We compared pre/postoperatively (> 1 < 3 months) using validated patient-reported outcome tools: Reflux Symptom Index (RSI), Glottal Function Index (GFI), Eating Assessment Tool-10 (EAT), and stroboscopic examinations. The study included 14 patients undergoing 22 IL or 1.6 IL/patient: mean age 70 years (63–80), 100% male, and BMI 25.9 ± 4.3 (mean ± SD). MDS-UPDRS scoring 33 ± 20 (moderate severity), with time between PD diagnosis and IL 8 ± 10 years. All patients had pre- and post-stroboscopic examinations; however, only 4:14 underwent formal swallowing evaluation. Overall, 14 IL patients improved on patient-reported measures (ΔRSI = 4; ΔGFI = 3; ΔEAT = 4). Based on the findings of the study, we conclude that PD is a progressive neurodegenerative condition with dysphagia. The presented pilot data suggest that IL may be considered as a beneficial adjunct for PD patients with glottal insufficiency.
Level of Evidence
4.
This is a preview of subscription content, log in to check access.
Access options
Buy single article
Instant access to the full article PDF.
US$ 39.95
Tax calculation will be finalised during checkout.
Subscribe to journal
Immediate online access to all issues from 2019. Subscription will auto renew annually.
US$ 99
Tax calculation will be finalised during checkout.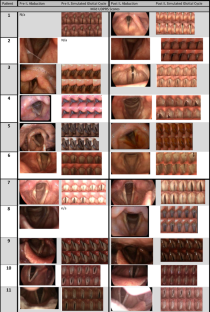 References
1.

Cates DJ, Venkatesan NN, Strong B, Kuhn MA, Belafsky PC. Effect of vocal fold medialization on dysphagia in patients with unilateral vocal fold immobility. Otolaryngol Head Neck Surg. 2016;155(3):454–7.

2.

Pringsheim T, Jette N, Frolkis A, Steeves TD. The prevalence of Parkinson's disease: a systematic review and meta-analysis. Mov Disord. 2014;29(13):1583–90.

3.

Liu B, Chen H, Fang F, Tillander A, Wirdefeldt K. Early-life factors and risk of Parkinson's disease: a register-based cohort study. PLoS ONE. 2016;11(4):e0152841.

4.

Ho AK, Iansek R, Marigliani C, Bradshaw JL, Gates S. Speech impairment in a large sample of patients with Parkinson's disease. Behav Neurol. 1998;11(3):131–7.

5.

Ramig LO, Sapir S, Countryman S, Pawlas AA, O'Brien C, Hoehn M, Thompson LL. Intensive voice treatment (LSVT) for patients with Parkinson's disease: a 2 year follow-up. J Neurol Neurosurg Psychiatry. 2001;71(4):493–8.

6.

Beyer MK, Herlofson K, Arsland D, Larsen JP. Causes of death in a community-based study of Parkinson's disease. Acta Neurol Scand. 2001;103(1):7–11.

7.

D'Amelio M, Ragonese P, Morgante L, et al. Long-term survival of Parkinson's disease: a population-based study. J Neurol. 2006;253(1):33–7.

8.

Goetz CG, Tilley BC, Shaftman SR, et al. Movement disorder society-sponsored revision of the unified Parkinson's disease rating scale (MDS-UPDRS): scale presentation and clinimetric testing results. Mov Disord. 2008;23(15):2129–70.

9.

Martinez-Martin P, Rodriguez-Blazquez C, Mario A, et al. Parkinson's disease severity levels and MDS-unified Parkinson's disease rating scale. Parkinsonism Relat Disord. 2015;21(1):50–4.

10.

Bach KK, Belafsky PC, Wasylik K, Postma GN, Koufman JA. Validity and reliability of the Glottal Function Index. Arch Otolaryngol Head Neck Surg. 2005;131(11):961–4.

11.

Belafsky PC, Postma GN, Koufman JA. The validity and reliability of the reflux symptom index (RSI)). J Voice. 2002;16(2):274–7.

12.

Belafsky PC, Mouadeb DA, Rees CJ, et al. Validity and reliability of the eating assessment tool (EAT-10). Ann Otol Rhinol Laryngol. 2008;117(12):919–24.

13.

Bové MJ, Jabbour N, Krishna P, Flaherty K, Saul M, Wunar R, Rosen CA. Operating room versus office-based injection laryngoplasty: a comparative analysis of reimbursement. Laryngoscope. 2007;117(2):226–30.

14.

Roberts DP, Lewis SJG. Considerations for general anaesthesia in Parkinson's disease. J Clin Neurosci. 2018;48:34–41.

15.

Pepper PV, Goldstein MK. Posteroperative complications in Parkinson's disease. J Am Geriatr Soc. 1999;47(8):967–72.

16.

Berke GS, Gerratt B, Kreiman J, Jackson K. Treatment of Parkinson hypophonia with percutaneous collagen augmentation. Laryngoscope. 1999;109(8):1295–9.

17.

Hill AN, Jankovic J, Vuong KD, Donovan D. Treatment of hypophonia with collagen vocal cord augmentation in patients with Parkinsonism. Mov Disord. 2003;18(10):1190–2.

18.

Remacle M, Lawson G. Results with collagen injection into the vocal folds for medialization. Curr Opin Otolaryngol Head Neck Surg. 2007;15(3):148–52.

19.

Dion GR, Achlatis E, Teng S, Fang Y, Persky M, Branski RC, Amin MR. Changes in peak airflow measurement during maximal cough after vocal fold augmentation in patients with glottic insufficiency. JAMA Otolaryngol Head Neck Surg. 2017;143(11):1141–5. https://doi.org/10.1001/jamaoto.2017.0976.

20.

Dion GR, Fritz MA, Teng SE, Marcus S, Fang Y, Branski RC, Amin MR. Impact of vocal fold augmentation and laryngoplasty on dyspnea in patients with glottal incompetence. Laryngoscope. 2018;128(2):427–9. https://doi.org/10.1002/lary.26850.

21.

Ruddy BH, Pitts TE, Lehman J, Spector B, Lewis V, Sapienza CM. Improved voluntary cough immediately following office-based vocal fold medialization injections. Laryngoscope. 2014;124(7):1645–7.

22.

Silverman EP, Carnaby G, Singletary F, Hoffman-Ruddy B, Yeager J, Sapienza C. Measurement of voluntary cough production and airway protection in Parkinson disease. Arch Phys Med Rehabil. 2016;97(3):413–20.
Ethics declarations
Conflict of interest
The authors declare that they have no competing interest.
About this article
Cite this article
Howell, R.J., Webster, H., Kissela, E. et al. Dysphagia in Parkinson's Disease Improves with Vocal Augmentation. Dysphagia 34, 862–868 (2019). https://doi.org/10.1007/s00455-019-09982-z
Received:

Accepted:

Published:

Issue Date:
Keywords
Parkinson's disease

Parkinsonism

Injection laryngoplasty

Dysphagia

Vocal augmentation