Abstract
The aim of this study was to assess pharyngeal swallowing impairments in thyroidectomy patients and to delineate the contributory kinematic components. Forty consecutive patients (mean age = 47.33 years) and fourteen age- and sex-matched heathy adult volunteers (mean age = 42.64 years) participated in this study. A videofluoroscopic swallowing study (VFSS) was performed 1 day prior to surgery, and at 1 week and 3 months post-surgery. VFSS images were evaluated using the Modified Barium Swallowing Impairment Profile (MBSImp). Kinematic and temporal aspects of swallowing were characterized by measurement of maximum hyoid and laryngeal excursion, pharyngeal transit duration, laryngeal response duration (LRD), and laryngeal closure duration at each three time-points. At 1 week post-surgery, only pharyngeal impairment was significantly deteriorated than pre-surgery (p = 0.001). However, at 3 months, a significant improvement was observed to pre-surgery level (p = 0.01). Post-surgery, maximum hyoid excursion was significantly reduced in patients compared controls (p = 0.001). Although the maximal distance of the hyoid and the laryngeal excursion was shorter than before surgery, laryngeal excursion at all three time-points was similar to that of controls. At all three time-points, LRD was significantly longer in patients than in controls (p = 0.01). Following thyroidectomy, pharyngeal aspects of swallowing as measured by the MBSImp and kinematic aspects of swallowing were reduced with incomplete recovery at 3 months. These exploratory data may guide decision regarding management of pharyngeal swallowing impairment with patients undergoing total thyroidectomy.
This is a preview of subscription content, log in to check access.
Access options
Buy single article
Instant access to the full article PDF.
US$ 39.95
Price includes VAT for USA
Subscribe to journal
Immediate online access to all issues from 2019. Subscription will auto renew annually.
US$ 99
This is the net price. Taxes to be calculated in checkout.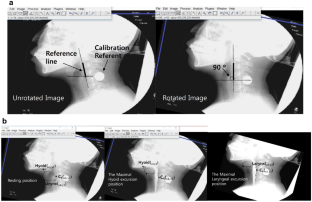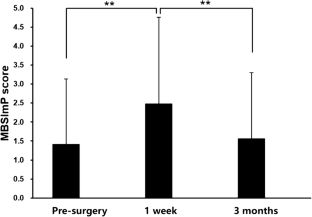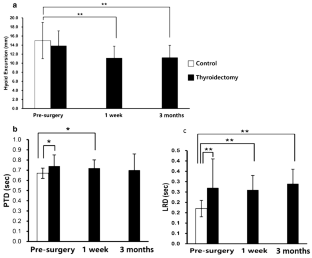 References
1.

Onkendi EO, McKenzie TJ, Richards ML, Farley DR, Thompson GB, Kasperbauer JL, Hay ID, Grant CS. Reoperative experience with papillary thyroid cancer. World J Surg. 2014;38(3):645–52. https://doi.org/10.1007/s00268-013-2379-9.

2.

Korea Statistics (2018) 24 Carcinoma Incidence Report of the Korea (1999–2015). http://kosis.kr/statHtml/statHtml.do?orgId=117&tblId=DT_117N_A00022&vw_cd=MT_ZTITLE&list_id=101_11744&seqNo=&lang_mode=ko&language=kor&obj_var_id=&itm_id=&conn_path=MT_ZTITLE.

3.

Holler T, Anderson J. Prevalence of voice & swallowing complaints in pre-operative thyroidectomy patients: a prospective cohort study. J Otolaryngol. 2014;43:28. https://doi.org/10.1186/s40463-014-0028-4.

4.

Scerrino G, Inviati A, Di Giovanni S, Paladino NC, Di Paola V, Lo Re G, Almasio PL, Cupido F, Gulotta G, Bonventre S. Esophageal motility changes after thyroidectomy; possible associations with postoperative voice and swallowing disorders: preliminary results. Otolaryngol Head Neck Surg. 2013;148(6):926–32. https://doi.org/10.1177/0194599813482299.

5.

Arakawa-Sugueno L, Ferraz AR, Morandi J, Capobianco DM, Cernea CR, Sampaio MA, Kulcsar MA, Simoes CA, Brandao LG. Videoendoscopic evaluation of swallowing after thyroidectomy: 7 and 60 days. Dysphagia. 2015;30(5):496–505. https://doi.org/10.1007/s00455-015-9628-z.

6.

Jung SP, Kim SH, Bae SY, Lee SK, Kim S, Choi MY, Kim J, Kim M, Kil WH, Choe JH, Kim JH, Nam SJ, Kim JS. A new subfascial approach in open thyroidectomy: efficacy for postoperative voice, sensory, and swallowing symptoms. A randomized controlled study. Ann Surg Oncol. 2013;20(12):3869–76. https://doi.org/10.1245/s10434-013-3163-7.

7.

Grover G, Sadler GP, Mihai R. Morbidity after thyroid surgery: patient perspective. Laryngoscope. 2013;123(9):2319–23. https://doi.org/10.1002/lary.23850.

8.

Kim WW, Jung JH, Lee J, Kang JG, Baek J, Lee WK, Park HY. Comparison of the quality of life for thyroid cancer survivors who had open versus robotic thyroidectomy. J Laparoendosc Adv Surg Tech Part A. 2016;26(8):618–24. https://doi.org/10.1089/lap.2015.0546.

9.

Lombardi CP, Raffaelli M, De Crea C, D'Alatri L, Maccora D, Marchese MR, Paludetti G, Bellantone R. Long-term outcome of functional post-thyroidectomy voice and swallowing symptoms. Surgery. 2009;146(6):1174–81. https://doi.org/10.1016/j.surg.2009.09.010.

10.

Martin-Harris B, Brodsky MB, Michel Y, Castell DO, Schleicher M, Sandidge J, Maxwell R, Blair J. MBS measurement tool for swallow impairment–MBSImp: establishing a standard. Dysphagia. 2008;23(4):392–405. https://doi.org/10.1007/s00455-008-9185-9.

11.

Kim Y, McCullough GH. Maximum hyoid displacement in normal swallowing. Dysphagia. 2008;23(3):274–9. https://doi.org/10.1007/s00455-007-9135-y.

12.

Sia I, Carvajal P, Carnaby-Mann GD, Crary MA. Measurement of hyoid and laryngeal displacement in video fluoroscopic swallowing studies: variability, reliability, and measurement error. Dysphagia. 2012;27(2):192–7. https://doi.org/10.1007/s00455-011-9352-2.

13.

Im I, Kim H, Kim H-G, Ko M-H. Relationship between temporal measurements of pharyngeal swallowing and penetration-aspiration in unilateral stroke patients. Commun Sci Disord. 2017;22(3):570–7.

14.

Logemann JA, Pauloski BR, Rademaker AW, Colangelo LA, Kahrilas PJ, Smith CH. Temporal and biomechanical characteristics of oropharyngeal swallow in younger and older men. J Speech Lang Hear Res. 2000;43(5):1264–74.

15.

Nam HS, Oh BM, Han TR. Temporal characteristics of hyolaryngeal structural movements in normal swallowing. Laryngoscope. 2015;125(9):2129–33. https://doi.org/10.1002/lary.25229.

16.

Jordan Hazelwood R, Armeson KE, Hill EG, Bonilha HS, Martin-Harris B. Identification of swallowing tasks from a modified barium swallow study that optimize the detection of physiological impairment. J Speech Lang Hear Res. 2017;60(7):1855–63. https://doi.org/10.1044/2017_jslhr-s-16-0117.

17.

Pauloski BR, Logemann JA, Fox JC, Colangelo LA. Biomechanical analysis of the pharyngeal swallow in postsurgical patients with anterior tongue and floor of mouth resection and distal flap reconstruction. J Speech Hear Res. 1995;38(1):110–23.

18.

Vashishta R, Mahalingam-Dhingra A, Lander L, Shin EJ, Shah RK. Thyroidectomy outcomes: a national perspective. Otolaryngol Head Neck Surg. 2012;147(6):1027–34. https://doi.org/10.1177/0194599812454401.

19.

Webster KT, Samlan RA, Jones B, Bunton K, Tufano RP. Supracricoid partial laryngectomy: swallowing, voice, and speech outcomes. Ann Otol Rhinol Laryngol. 2010;119(1):10–6. https://doi.org/10.1177/000348941011900102.

20.

Jin S, Bao W, Borkhuu O, Yang YT. Clinical study on the etiology of postthyroidectomy skin sinus formation. Surg Res Pract. 2017;2017:5283792. https://doi.org/10.1155/2017/5283792.

21.

Burnett TA, Mann EA, Cornell SA, Ludlow CL. Laryngeal elevation achieved by neuromuscular stimulation at rest. J Appl Physiol. (Bethesda, Md : 1985). 2003;94(1):128–34. https://doi.org/10.1152/japplphysiol.00406.2002.

22.

Hong KH, Yang WS, Park MJ, Oh JS, Han BH. Changes in oral vowel sounds and hyoid bone movement after thyroidectomy. Clin Exp Otorhinolaryngol. 2017;10(2):168–73. https://doi.org/10.21053/ceo.2015.01585.

23.

Woisard V, Puech M, Yardeni E, Serrano E, Pessey JJ. Deglutition after supracricoid laryngectomy: compensatory mechanisms and sequelae. Dysphagia. 1996;11(4):265–9.

24.

Steele CM, Alsanei WA, Ayanikalath S, Barbon CE, Chen J, Cichero JA, Hanson B. The influence of food texture and liquid consistency modification on swallowing physiology and function: a systematic review. Dysphagia. 2015;30(1):2–26.
Acknowledgements
The first author would like to thank CCC-SLP., Todd R Fix, Instructor of the Communication Disorders Clinic at UCF, for his support and help.
Ethics declarations
Conflict of interest
The authors have no conflict of interest to disclose.
About this article
Cite this article
Im, I., Jun, J., Crary, M.A. et al. Longitudinal Kinematic Evaluation of Pharyngeal Swallowing Impairment in Thyroidectomy Patients. Dysphagia 34, 161–169 (2019). https://doi.org/10.1007/s00455-018-9949-9
Received:

Accepted:

Published:

Issue Date:
Keywords
Thyroidectomy

The modified barium swallowing impairment

Deglutition

Kinematic hyolaryngeal excursion

Temporal measurement

Deglutition disorders