Abstract
Ultrasound imaging is simple, repeatable, gives real-time feedback, and its dynamic soft tissue imaging may make it superior to other modalities for swallowing research. We tested this hypothesis and measured certain spatial and dynamic aspects of the swallowing to investigate its efficacy. Eleven healthy adults wearing a headset to stabilize the probe participated in the study. Both thickened and thin liquids were used, and liquid bolus volumes of 10 and 25 ml were administered to the subjects by using a cup. The tongue's surface was traced as a spline superimposed on a fan-shaped measurement space for every image from the time at which the tongue blade started moving up toward the palate at the start of swallowing to the time when the entire tongue was in contact with the palate. To measure depression depth, the distance (in mm) was measured along each radial fan line from the location at which the tongue's surface spline intersected the fan line to the point where the hard palate intersected the fan line at each timepoint. There were differences between individual participants in the imageability of the swallow, and so we defined quantitatively "measureable" and "unmeasurable" types. The most common type was measureable, in which we could find a clear bolus depression in the cupped tongue's surface. Indeed, with 10 ml of thin liquids, we were able to find and measure the depression depth for all participants. The average maximum radial distance from the palate to the tongue's surface was 20.9 mm (median) (IQR: 4.3 mm) for swallowing 10 ml of thin liquid compared to 24.6 mm (IQR: 3.3 mm) for 25 ml of thin liquid swallow (p < 0.001). We conclude that it is possible to use ultrasound imaging of the tongue to capture spatial aspects of swallowing.
This is a preview of subscription content, log in to check access.
Access options
Buy single article
Instant access to the full article PDF.
US$ 39.95
Price includes VAT for USA
Subscribe to journal
Immediate online access to all issues from 2019. Subscription will auto renew annually.
US$ 99
This is the net price. Taxes to be calculated in checkout.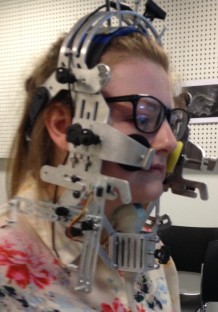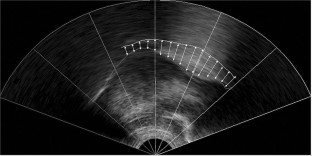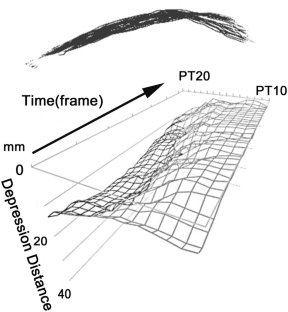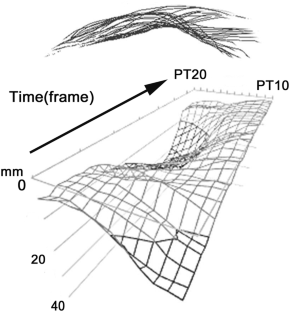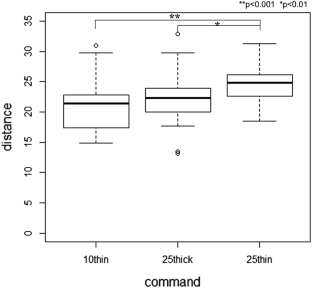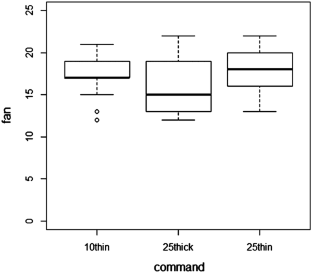 References
1.

Logemann JA, Rademaker AW, Pauloski BR, Ohmae Y, Kahrilas PJ. Normal swallowing physiology as viewed by videofluoroscopy and videoendoscopy. Folia Phoniatr Logop. 1998;50(168–169):311–9.

2.

Campbell SK. Neural control of oral somatic motor function. Phys Therapy. 1981;61:16–22.

3.

Dodds WJ, Stewart ET, Logemann JA. Physiology and radiology of the normal oral and pharyngeal phases of swallowing. AJR Am J Roentgenol. 1990;154:953–63. https://doi.org/10.2214/ajr.154.5.2108569.

4.

Hartl DM, Albiter M, Kolb F, Luboinski B, Sigal R. Morphologic parameters of normal swallowing events using single-shot fast spin echo dynamic MRI. Dysphagia. 2003;18:255–62.

5.

Shawker TH, Sonies B, Stone M, Baum BJ. Real-time ultrasound visualization of tongue movement during swallowing. J Clin Ultrasound. 1983;11:485–90.

6.

Li C, Li J, Zhang C, Cao X, Li N, Song D, Yu T. Application of B + M-mode ultrasonography in assessing deglutitive tongue movements in healthy adults. Med Sci Monit. 2015;21:1648–55. https://doi.org/10.12659/MSM.893591.

7.

Peng CL, Jost-Brinkmann PG, Miethke RR, Lin CT. Ultrasonographic measurement of tongue movement during swallowing. J Ultrasound Med. 2000;19:15–20.

8.

Wrench A. Articulate assistant advanced user guide: version 2.13. Edinburgh, UK: Articulate Instruments, Ltd.; 2011.

9.

Lawson E, Scobbie JM, Stuart-Smith J. Bunched /r/ promotes vowel merger to schwar: an ultrasound tongue imaging study of Scottish sociophonetic variation. J Phon. 2013;41:198–210.

10.

Scobbie JM, Stuart-Smith J, Lawson E. Back to front: a socially-stratified ultrasound tongue imaging study of Scottish English /u/. Ital J Linguist. 2012;24:103–48.

11.

Bennett JW, Van Lieshout PH, Pelletier CA, Steele CM. Sip-sizing behaviors in natural drinking conditions compared to instructed experimental conditions. Dysphagia. 2009;24:152–8. https://doi.org/10.1007/s00455-008-9183-y.

12.

Hamlet SL. Dynamic aspects of lingual propulsive activity in swallowing. Dysphagia. 1989;4:136–45.

13.

Kahrilas PJ, Lin S, Logemann JA, Ergun GA, Facchini F. Deglutitive tongue action: volume accommodation and bolus propulsion. Gastroenterology. 1993;104:152–62.

14.

Steele CM, Van Lieshout P. Tongue movements during water swallowing in healthy young and older adults. J Speech Lang Hear Res. 2009;52:1255–67. https://doi.org/10.1044/1092-4388(2009/08-0131).

15.

Tasko SM, Kent RD, Westbury JR. Variability in tongue movement kinematics during normal liquid swallowing. Dysphagia. 2002;17:126–38. https://doi.org/10.1007/s00455-001-0112-6.

16.

Garcia JM, Chambers E IV. Managing dysphagia through diet modifications. Am J Nurs. 2010;110:26–33. https://doi.org/10.1097/01.NAJ.0000390519.83887.02.

17.

Garcia JM, Chambers E 4th, Molander M. Thickened liquids: practice patterns of speech-language pathologists. Am J Speech Lang Pathol. 2005;14:4–13.

18.

Miller JL, Watkin KL. The influence of bolus volume and viscosity on anterior lingual force during the oral stage of swallowing. Dysphagia. 1996;11:117–24.

19.

Steele CM, Molfenter SM, Péladeau-Pigeon M, Polacco RC, Yee C. Variations in tongue-palate pressures when swallowing xanthan gum-thickened liquids. Dysphagia. 2014;29:678–84. https://doi.org/10.1007/s00455-014-9561-6.

20.

Dantas RO, Dodds WJ, Massey BT, Kern MK. The effect of high- vs low-density barium preparations on the quantitative features of swallowing. AJR Am J Roentgenol. 1989;153:1191–5.
Acknowledgements
We are grateful to the participants in this study. We were extremely fortunate to have the help of several individuals in the data collection. Special thanks to Prof. Alan Wrench for advice on instrumentation and Mr. Steve Cowen for his help in conducting the recording. Our thanks also go to members of Clinical Audiology, Speech and Language Research Centre, Queen Margaret University.
Ethics declarations
Conflict of interest
The authors report no conflicts of interest. The authors alone are responsible for the content and writing of the paper.
Ethical Approval
All procedures performed in studies involving human participants were in accordance with the ethical standards of the institutional and/or national research committee and with the 1964 Helsinki declaration and its later amendments or comparable ethical standards.
About this article
Cite this article
Ohkubo, M., Scobbie, J.M. Tongue Shape Dynamics in Swallowing Using Sagittal Ultrasound. Dysphagia 34, 112–118 (2019). https://doi.org/10.1007/s00455-018-9921-8
Received:

Accepted:

Published:

Issue Date:
Keywords
Ultrasound

Tongue

Swallow

Movement

Bolus