Abstract
The Dysphagia Handicap Index (DHI) is a 25-item questionnaire assessing the physical, functional, and emotional aspects of dysphagia patients' quality of life (QoL). The study goal was to translate and validate the Hebrew-DHI. 148 patients undergoing fiberoptic endoscopic examination of swallowing (FEES) in two specialized dysphagia clinics between February and August 2017 filled the Hebrew-DHI and self-reported their dysphagia severity on a scale of 1–7. 21 patients refilled the DHI during a 2-week period following their first visit. FEES were scored for residue (1 point per consistency), penetration and aspiration (1 point for penetration, 2 points for aspiration, per consistency). 51 healthy volunteers also filled the DHI. Internal consistency and test–retest reproducibility were used for reliability testing. Validity was established by comparing DHI scores of dysphagia patients and healthy controls. Concurrent validity was established by correlating the DHI score with the FEES score. Internal consistency of the Hebrew-DHI was high (Cronbach's alpha = 0.96), as was the test–retest reproducibility (Spearman's correlation coefficient = 0.82, p < 0.001). The Hebrew-DHI's total score, and its three subscales (physical/functional/emotional) were significantly higher in dysphagia patients compared to those in healthy controls (median 38 pts, IQR 18–56 for dysphagia patients compared to 0, IQR 0–2 for healthy controls, p < 0.0001). A strong correlation was observed between the DHI score and the self-reported dysphagia severity measure (Spearman's correlation coefficient = 0.88, p < 0.0001). A moderate correlation was found between the DHI score and the FEES score (Pearson's correlation coefficient = 0.245, p = 0.003). The Hebrew-DHI is a reliable and valid questionnaire assessing dysphagia patients' QoL.
Access options
Buy single article
Instant access to the full article PDF.
USD 39.95
Price excludes VAT (USA)
Tax calculation will be finalised during checkout.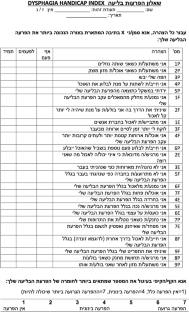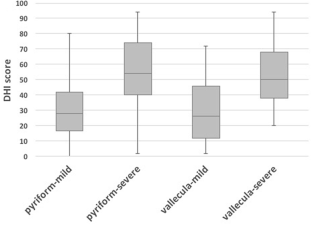 References
Lindgren S, Janzon L. Prevalence of swallowing complaints and clinical findings among 50–79-year-old men and women in an urban population. Dysphagia. 1991;6:187–92.

Wilkins T, Gillies RA, Thomas AM, Wagner PJ. The prevalence of dysphagia in primary care patients: a HamesNet research network study. J Am Board Fam Med. 2007;20:144–50.

Mann G, Hankey GJ, Cameron D. Swallowing disorders following acute stroke: prevalence and diagnostic accuracy. Cerebrovasc Dis. 2000;10:380–6.

Coates C, Bakheit AM. Dysphagia in Parkinson's disease. Eur Neurol. 1997;38:49–52.

Bloem BR, Lagaay AM, van Beek W, Haan J, Roos RAC, Wintzen AR. Prevalence of subjective dysphagia in community residents aged over 87. BMJ. 1990;300:721–2.

Garcia-Peris P, Paron L, Velasco C, de la Cuerda C, Camblor M, Breton I, Herencia H, Verdaguer J, Navarro C, Clave P. Long-term prevalence of oropharyngeal dysphagia in head and neck cancer patients: impact on quality of life. Clin Nutr. 2007;26:710–7.

Nguyen NP, Frank C, Moltz CC, et al. Impact of dysphagia on quality of life after treatment of head and neck cancer. Int J Radiat Oncol Biol Phys. 2005;61:772–8.

Campbell BH, Spinelli K, Marbella AM, et al. Aspiration, weight loss and quality of life in head and neck cancer survivors. Arch Otolaryngol Head Neck Surg. 2004;130:1100–3.

Ekberg O, Hamdy S, Woisard V, Wuttge-Hannig A, Ortega P. Social and psychological burden of dysphagia: its impact on diagnosis and treatment. Dysphagia. 2002;17:139–46.

Higginson IJ, Carr AJ. Using quality of life measures in the clinical setting. BMJ. 2001;322:1297–300.

Timmerman AA, Speyer R, Heijnen BJ, Klijn-Zwijnenberg IR. Psychometric characteristics of health-related quality-of-life questionnaires in oropharyngeal dysphagia. Dysphagia. 2014;29(2):183–98.

Chen AY, Frankowski R, Bishop-Leone J, et al. The development and validation of a dysphagia-specific quality-of-life questionnaire for patients with head and neck cancer: the M. D. Anderson dysphagia inventory. Arch Otolaryngol Head Neck Surg. 2001;127:870–6.

Gustafsson B, Tibbling L. Dysphagia, an unrecognized handicap. Dysphagia. 1991;6:193–9.

McHorney CA, Robbins J, Lomax K, Rosenbek JC, Chignell K, Kramer AE, et al. The SWAL-QOL and SWAL-CARE outcomes tool for oropharyngeal dysphagia in adults: III. Documentation of reliability and validity. Dysphagia. 2002;17(2):97–114.

Belafsky PC, Mouadeb DA, Rees CJ, et al. Validity and reliability of the eating assessment tool (EAT-10). Ann Otol Rhinol Laryngol. 2008;117:919–24.

Silbergleit AK, Schultz L, Jacobson BH, Beardsley T, Johnson AF. The Dysphagia Handicap Index: development and validation. Dysphagia. 2012;27:46–52.

Asadollahpour F, Baghban K, Asadi M. Validity and reliability of the Persian version of the Dysphagia Handicap Index (DHI). Iran J Otorhinolaryngol. 2015;27(3):185–91.

Mohamed F, Khalid HM, Tamer AM, Manal B, Sami A. Development of the Arabic version of Dysphagia Handicap Index (DHI). Dysphagia. 2014;29:459–67.

Oda C, Yamamoto T, Fukumoto Y, Nakayama K, Sato M, Murata M, Kobayashi Y. Validation of the Japanese translation of the Dysphagia Handicap Index. Dovepress. 2017;11:193–8.

Cohen JT, Manor Y. Swallowing disturbance questionnaire for detecting dysphagia. Laryngoscope. 2011;121:1383–7.

Wild D, Grove A, Martin M, et al. Principles of good practice for the translation and cultural adaptation process for patient-reported outcomes (PRO) measures: report of the ISPOR task force for translation and cultural adaptation. Value Health. 2005;8(2):94–104.

Langmore SE, Schatz K, Olsen N. Fiberoptic endoscopic examination of swallowing safety: a new procedure. Dysphagia. 1988;2:216–9.

Fife TA, Butler SG, Langmore SE, Lester S, Wright SC Jr, Kemp S, Grace-Martin K, Lintzenich CR. Use of topical nasal anesthesia during flexible endoscopic evaluation of swallowing in dysphagic patients. Ann Otol Rhinol Laryngol. 2015;124(3):206–11.

O'Dea MB, Langmore SE, Krisciunas GP, Walsh M, Zanchetti LL, Scheel R, McNally E, Kaneoka AS, Guarino AJ, Butler SG. Effect of lidocaine on swallowing during FEES in patients with dysphagia. Ann Otol Rhinol Laryngol. 2015;124(7):537–44.

Rosenbek JC, Robbins JA, Roecker EB, Coyle JC, Wood JL. A penetration–aspiration scale. Dysphagia. 1996;11:93–8.

Neubauer PD, Hersey DP, Leder SB. Pharyngeal residue severity rating scales based on fiberoptic endoscopic evaluation of swallowing: a systematic review. Dysphagia. 2016;31(3):352–9.

Martino R, Beaton D, Diamant NE. Using different perspectives to generate items for a new scale measuring medical outcomes of dysphagia (MOD). J Clin Epidemiol. 2009;62(5):518–26.

Meyer TK, Pisegna JM, Krisciunas GP, Pauloski BR, Langmore SE. Residue influences quality of life independently of penetration and aspiration in head and neck cancer survivors. Laryngoscope. 2017;127(7):1615–21.

Silbergleit AK, LeWitt P, Junn F, Schultz LR, Collins D, Beardsley T, et al. Comparison of dysphagia before and after deep brain stimulation in Parkinson's disease. Move Disord. 2012;27(14):1763–8.

Wilmskoetter J, Bonilha H, Hong I, Hazelwood RJ, Martin-Harris B, Velozo C. Construct validity of the eating assessment tool (EAT-10). Disabil Rehabil. 2017;9:1–11.

Cordier R, Joosten A, Clavé P, Schindler A, Bülow M, Demir N, Arslan SS, Speyer R. Evaluating the psychometric properties of the eating assessment tool (EAT-10) using Rasch analysis. Dysphagia. 2017;32(2):250–60.
Ethics declarations
Conflict of interest
The authors have no conflict of interest to declare.
Ethical Approval
All procedures performed in the study involving human participants were in accordance with the ethical standards of the institutional research committee and with the 1964 Helsinki declaration and its later amendments or comparable ethical standards.
Informed Consent
All participants signed an informed consent form.
About this article
Cite this article
Shapira-Galitz, Y., Drendel, M., Yousovich-Ulriech, R. et al. Translation and Validation of the Dysphagia Handicap Index in Hebrew-Speaking Patients. Dysphagia 34, 63–72 (2019). https://doi.org/10.1007/s00455-018-9914-7
Received:

Accepted:

Published:

Issue Date:

DOI: https://doi.org/10.1007/s00455-018-9914-7
Keywords