Unexpected Late Complication Causing Dysphagia
Clinical Conundrum
A 65-year-old man presented to our outpatient clinic with a 6-month history of dysphagia, cough and neck pain. Dysphagia was non-selective for liquids or solid foods with an accompanying neck pain at all times. The cough was non-productive and he reported tobacco and alcohol consumption for 40 years. He did not report weight loss or other constitutional symptoms. His past medical history was uneventful, except for a cervical disc hernia operation performed 17 years ago. Physical examination of the patient did not show any positive findings. Endoscopic examination showed a smooth surfaced mucosal lesion on the posterior pharyngeal wall (Fig.
1
). The structure and mobility of the vocal folds and other laryngeal parts were normal. A cervical computed tomography (CT) was performed (Fig.
2
).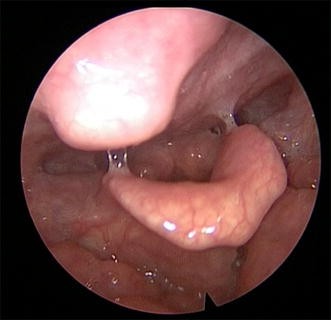 Keywords
Dysphagia 
Deglutition 
Deglutition disorders 
Anterior cervical plating 
Notes
Compliance with Ethical Standards
Conflict of interest
The authors have no conflict of interest to disclose.
Ethical Approval
This article does not contain any studies with human participants or animals performed by any of the authors.
Copyright information
© Springer Science+Business Media, LLC, part of Springer Nature 2018