Abstract
The purpose of this study was to describe a newly developed speech therapy program as an innovating therapeutic approach and to assess the results of this intervention in patients with supragastric belching. This is a retrospective analysis of prospectively gathered data from 73 patients with supragastric belching who were treated with speech therapy between 2007 and 2017. Of these, 48 were included for evaluation of therapy. Thirty patients had supragastric belching proven by 24-h impedance measurements. Eighteen patients were diagnosed by an experienced speech language pathologist as having supragastric belching according to precise criteria. Speech therapy consists of explanation, creating awareness of esophageal air influx and exercises to discontinue the supragastric belching mechanism. Therapy effect was measured by comparing visual analogue scale (VAS) scores on belching and related symptoms. The median symptom duration at the start of therapy was 2 years. Supragastric belching symptoms decreased significantly with a total median VAS score of 406 (291–463) prior to treatment and a median VAS score of 125 (17–197) following treatment. Forty patients (83%) had a sufficient to major result with a median therapy duration of 3 months and ten sessions. Speech therapy was an effective treatment in the majority of patients with supragastric belching.
Access options
Buy single article
Instant access to the full article PDF.
USD 39.95
Price excludes VAT (USA)
Tax calculation will be finalised during checkout.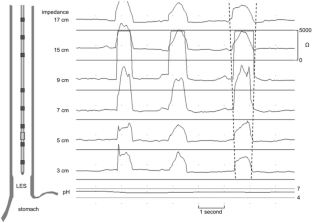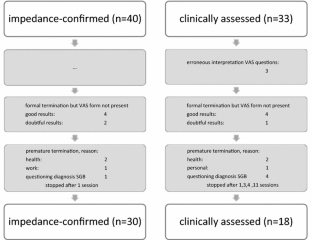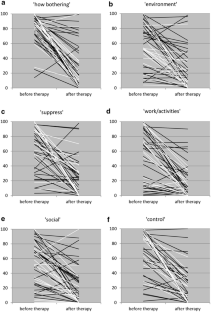 References
Scheffer RCH, Akkermans LMA, Bais JE, Roelofs JMM, Smout AJPM, Gooszen HG. Elicitation of transient lower oesophageal sphincter relaxations in response to gastric distension and meal ingestion. Neurogastroenterol Motil. 2002;14:647–55.

Bredenoord AJ. Management of belching, hiccups, and aerophagia. Clin Gastroenterol Hepatol. 2013;11:6–12.

Wyman JB, Dent J, Heddle R, Dodds WJ, Toouli J, Downton J. Control of belching by the lower oesophageal sphincter. Gut. 1990;31:639–46.

Bredenoord AJ, Weusten BLAM, Timmer R, Smout AJPM. Psychological factors affect the frequency of belching in patients with aerophagia. Am J Gastroenterol. 2006;101:2777–81.

Hwang JB, Kim JS, Ahn BH, Jung CH, Lee YH, Kam S. Clonazepam treatment of pathologic childhood aerophagia with psychological stresses. J Korean Med Sci. 2007;22:205–8.

Bredenoord AJ, Weusten BLAM, Sifrim D, Timmer R, Smout AJPM. Aerophagia, gastric, and supragastric belching: a study using intraluminal electrical impedance monitoring. Gut. 2004;53:1561–5.

Kessing BF, Bredenoord AJ, Smout AJPM. Mechanisms of gastric and supragastric belching: a study using concurrent high-resolution manometry and impedance monitoring: gastric belching and supragastric belching. Neurogastroenterol Motil. 2012;24:e573–9.

Hemmink GJM, Ten Cate L, Bredenoord AJ, Timmer R, Weusten BLAM, Smout AJPM. Speech therapy in patients with excessive supragastric belching: a pilot study. Neurogastroenterol Motil. 2010;22(24–28):e2–3.

Koukias N, Woodland P, Yazaki E, Sifrim D. Supragastric belching: prevalence and association with gastroesophageal reflux disease and esophageal hypomotility. J Neurogastroenterol Motil. 2015;21:398–403.

Lang IM, Medda BK, Shaker R. Characterization and mechanisms of the supragastric belch in the cat. Am J Physiol Gastrointest Liver Physiol. 2017;313:G220–9.

Cigrang JA, Hunter CM, Peterson AL. Behavioral treatment of chronic belching due to aerophagia in a normal adult. Behav Modif. 2006;30:341–51.

Katzka DA. Simple office-based behavioral approach to patients with chronic belching. Dis Esophagus. 2013;26:570–3.

Riehl ME, Kinsinger S, Kahrilas PJ, Pandolfino JE, Keefer L. Role of a health psychologist in the management of functional esophageal complaints. Dis Esophagus. 2015;28:428–36.

Ellegård E, Nilsén CH. Supragastric belching – case report of a severe handicap. Acta Oto-Laryngol Case Rep. 2016;1:1–3.

Kotby MN, Shiromoto O, Hirano M. The accent method of voice therapy: effect of accentuations on F0, SPL, and airflow. J Voice. 1993;7:319–25.

Boone DR, McFarlane SC, Von Berg SL, Zraick RI. The voice and voice therapy. Boston: Allyn & Bacon; 2009.

Martin-Harris B. Coordination of respiration and swallowing. GI Motil Online. 2006. https://doi.org/10.1038/gimo.10.

Chitkara DK, Bredenoord AJ, Talley NJ, Whitehead WE. Aerophagia and rumination: recognition and therapy. Curr Treat Options Gastroenterol. 2006;9:305–13.

Chitkara DK, Bredenoord AJ, Rucker MJ, Talley NJ. Aerophagia in adults: a comparison with functional dyspepsia. Aliment Pharmacol Ther. 2005;22:855–8.

Kessing BF, Bredenoord AJ, Smout AJPM. The pathophysiology, diagnosis and treatment of excessive belching symptoms. Am J Gastroenterol. 2014;8:1196–203.

Damsté PH. Methods of restoring the voice after laryngectomy. Laryngoscope. 1975;85:649–55.

Van Den Berg J, Moolenaar-Bijl AJ, Damste PH. Oesophageal speech. Folia Phoniatr (Basel). 1958;10:65–84.

Edels Y. The voice and pseudo-voice. In: Edels Y, editor. Laryngectomy, diagnosis to rehabilitation. London: Croom Helm; 1983. p. 107–41.

Schutte HK, Nieboer GJ. Aerodynamics of esophageal voice production with and without a Groningen voice prosthesis. Folia Phoniatr Logop. 2002;54:8–18.

Evidente VG. Is it a tic or Tourette's? Clues for differentiating simple from more complex tic disorders. Postgrad Med. 2000;108(175–6):179–82.
Ethics declarations
Conflict of interest
The authors declare that they have no conflict of interest.
Ethical Approval
All procedures performed in studies involving human participants were in accordance with the ethical standards of the institutional and/or national research committee and with the 1964 Helsinki declaration and its later amendments or comparable ethical standards.
Informed Consent
Informed consent was not required because our manuscript describes a retrospective study wherein the gathered data are part of the regular treatment.
About this article
Cite this article
ten Cate, L., Herregods, T.V.K., Dejonckere, P.H. et al. Speech Therapy as Treatment for Supragastric Belching. Dysphagia 33, 707–715 (2018). https://doi.org/10.1007/s00455-018-9890-y
Received:

Accepted:

Published:

Issue Date:

DOI: https://doi.org/10.1007/s00455-018-9890-y
Keywords
Supragastric belching

Speech therapy

Air inhalation

Air injection

Glottal closure

Abdominal breathing

Deglutition

Deglutition disorders