Abstract
Malnutrition is a major cause of hospitalization for residents of long-term care facilities (LTC). Dysphagia is thought to contribute to malnutrition. Tongue weakness is suggested to predict poor food intake, longer meals, and dysphagia. We explored the relationships between tongue strength, dysphagia, malnutrition and mealtime outcomes in LTC residents. Data were collected from 639 LTC residents (199 male), aged 62–102 (mean 87). Maximum isometric tongue pressures (MIPs) and saliva swallow pressures (MSPs) were measured using the Iowa Oral Performance Instrument. Participants also completed the Screening Tool for Acute Neuro Dysphagia. Nutrition status was assessed using the Patient-Generated Subjective Global Assessment. A series of repeated meal observations provided measures of meal duration and calories consumed. Mean MIPs were 33 kPa (95% CI 29–37) and MSPs were 26 kPa (95% CI 23–29). The odds of showing signs of dysphagia were 3.7 times greater in those with MSPs less than 26 kPa (p < 0.05). The odds of being malnourished were almost double in those showing signs of dysphagia. Co-occurrence of dysphagia and malnutrition was seen in 29%. Residents with low MSPs also had significantly longer mealtime durations (MTD) (p < 0.05). Moreover, those with both low swallowing pressures and suspected dysphagia consumed fewer calories/minute (p < 0.05) and had significantly longer MTDs (p < 0.05). This study confirms associations between tongue weakness, signs of dysphagia, mealtime outcomes and malnutrition among LTC residents. These findings suggest that saliva swallow pressure measures may be helpful for early identification of dysphagia and nutritional risk in this population.
Access options
Buy single article
Instant access to the full article PDF.
US$ 39.95
Tax calculation will be finalised during checkout.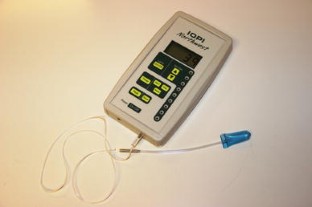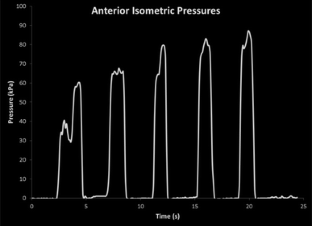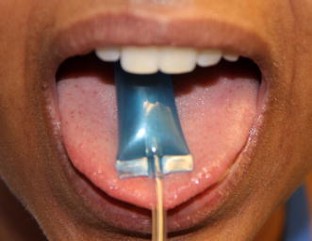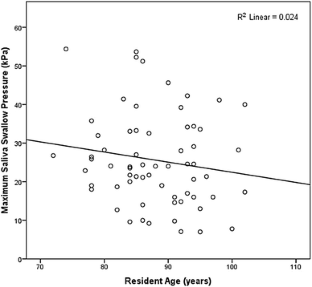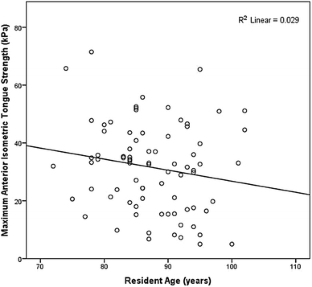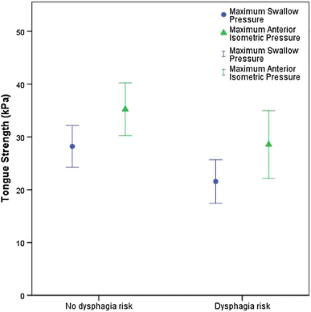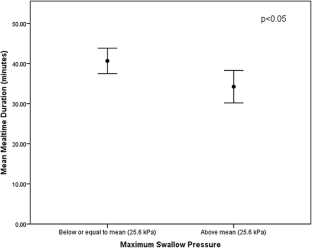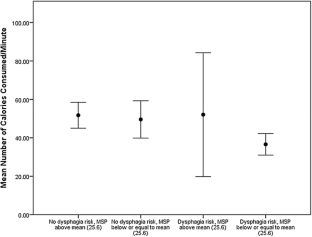 References
1.

Statistics Canada. The Canadian population in 2011: age and sex. Ottawa: Minister of Industry; 2012.

2.

Dudek SG. Malnutrition in hospitals. Who's assessing what patients eat? Am J Nurs. 2000;100:36.

3.

Thomas DR, Ashmen W, Morley JE, Evans WJ. Nutritional management in long-term care: development of a clinical guideline. J Gerontol Series A. 2000;55:M725–34.

4.

Reuben DB, Effros RB, Hirsch SH, Zhu X, Greendale GA. An in-home nurse-administered geriatric assessment for hypoalbuminemic older persons: development and preliminary experience. J Am Geriatr Soc. 1999;47:1244.

5.

Bourdel-Marchasson I, Helmer C, Fagot-Campagna A, Dehail P, Joseph P. Disability and quality of life in elderly people with diabetes. Diabetes Metab. 2007;33:S66–74.

6.

Bourdel-Marchasson I, Vincent S, Germain C, Salles N, Jenn J, Rasoamanarivo E, Emeriau J-P, Rainfray M, Richard-Harston S. Delirium symptoms and low dietary intake in older inpatients are independent predictors of institutionalization: a 1-year prospective population-based study. J Gerontol Series A. 2004;59:M350–4.

7.

Zizza C, Herring A, Domino M, Haines P, Stevens J, Popkin BM. The effect of weight change on nursing care facility admission in the NHANES I Epidemiologic Followup Survey. J Clin Epidemiol. 2003;56:906–13.

8.

Namasivayam AM, Steele CM. Malnutrition and dysphagia in long-term care: a systematic review. J Nutr Gerontol Geriatr. 2015;34:1–21.

9.

Chapman IM. Nutritional disorders in the elderly. Med Clin N Am. 2006;90:887.

10.

Logemann JA. Dysphagia and dementia: the challenge of dual diagnosis. ASHA Lead. 2003;8:1.

11.

Odderson IR, Keaton JC, McKenna BS. Swallow management in patients on an acute stroke pathway: quality is cost effective. Arch Phys Med Rehabil. 1995;76:1130–3.

12.

Reza Shariatzadeh M, Huang JQ, Marrie TJ. Differences in the features of aspiration pneumonia according to site of acquisition: community or continuing care facility. J Am Geriatr Soc. 2006;54:296–302.

13.

Youmans SR, Stierwalt JAG. Measures of tongue function related to normal swallowing. Dysphagia. 2006;21:102–11.

14.

Fei T, Polacco RC, Hori SE, Molfenter SM, Peladeau-Pigeon M, Tsang C, Steele CM. Age-related differences in tongue-palate pressures for strength and swallowing tasks. Dysphagia. 2013;28:575–81.

15.

Youmans SR, Youmans GL, Stierwalt JAG. Differences in tongue strength across age and gender: is there a diminished strength reserve? Dysphagia. 2009;24:57–65.

16.

Crow HC, Ship JA. Tongue strength and endurance in different aged individuals. J Gerontol Series A. 1996;51:M247–50.

17.

Lazarus CL, Logemann JA, Pauloski BR, Rademaker AW, Larson CR, Mittal BB, Pierce M. Swallowing and tongue function following treatment for oral and oropharyngeal cancer. J Speech Lang Hear Res. 2000;43:1011–23.

18.

Konaka K, Kondo J, Hirota N, Tamine K, Hori K, Ono T, Maeda Y, Sakoda S, Naritomi H. Relationship between tongue pressure and dysphagia in stroke patients. Eur Neurol. 2010;64:101–7.

19.

Yeates EM, Molfenter SM, Steele CM. Improvements in tongue strength and pressure-generation precision following a tongue-pressure training protocol in older individuals with dysphagia: three case reports. Clin Interv Aging. 2008;3:735.

20.

Steele CM, Bailey GL, Polacco REC, Hori SF, Molfenter SM, Oshalla M, Yeates EM. Outcomes of tongue-pressure strength and accuracy training for dysphagia following acquired brain injury. Int J Speech-Lang Pathol. 2013;15:492–502.

21.

Yoshida M, Kikutani T, Tsuga K, Utanohara Y, Hayashi R, Akagawa Y. Decreased tongue pressure reflects symptom of dysphagia. Dysphagia. 2006;21:61–5.

22.

Butler SG, Stuart A, Leng X, Wilhelm E, Rees C, Williamson J, Kritchevsky SB. The relationship of aspiration status with tongue and handgrip strength in healthy older adults. J Gerontol Series A. 2011;66:452–8.

23.

Namasivayam AM, Steele CM, Keller H. The effect of tongue strength on meal consumption in long term care. Clin Nutr (Edinburgh, Scotland). 2016;35:1078–83.

24.

Kays SA, Hind JA, Gangnon RE, Robbins J. Effects of dining on tongue endurance and swallowing-related outcomes. J Speech Lang Hear Res. 2010;53:898–907.

25.

Strathmann S, Lesser S, Bai-Habelski J, Overzier S, Paker-Eichelkraut HS, Stehle P, Heseker H. Institutional factors associated with the nutritional status of residents from 10 German nursing homes (ernstes study). J Nutr Health Aging. 2013;17:271–6.

26.

Aghdassi E, McArthur M, Liu B, McGeer A, Simor A, Allard JP. Dietary intake of elderly living in Toronto long-term care facilities: comparison to the dietary reference intake. Rejuvenation Res. 2007;10:301–10.

27.

Slaughter S, Cole D, Jennings E, Reimer MA. Consent and assent to participate in research from people with dementia. Nurs Ethics. 2007;14:27–40.

28.

Bauer J, Capra S, Ferguson M. Use of the scored Patient-Generated Subjective Global Assessment (PG-SGA) as a nutrition assessment tool in patients with cancer. Eur J Clin Nutr. 2002;56:779–85.

29.

Keith JN. Bedside nutrition assessment past, present, and future: a review of the subjective global assessment. Nutr Clin Pract. 2008;23:410–6.

30.

Keller HH, Carrier N, Duizer L, Lengyel C, Slaughter S, Steele CM, Brown S, Chaudhury H, Yoon M, Duncan A, Boscart V, Heckman G, Villalon L. Making the Most of Mealtimes (M3): a multi-centre cross-sectional study of food intake and its determinants in older adults living in long term care homes in Canada. BMC Geriatr. 2017;17:15.

31.

Detsky AS, McLaughlin JR, Baker JP, Johnston N, Whittaker S, Mendelson RA, Jeejeebhoy KN. What is subjective global assessment of nutritional status? J Parenter Enteral Nutr. 1987;11:8–13.

32.

Shephard T. Dysphagia update: evidence, tools, and practice. In: International Stroke Conference. San Francisco, USA; 2007.

33.

Hind JA, Nicosia MA, Gangnon R, Robbins J. The effects of intraoral pressure sensors on normal young and old swallowing patterns. Dysphagia. 2005;20:249–53.

34.

Nicosia MA, Hind JA, Roecker EB, Carnes M, Doyle J, Dengel GA, Robbins J. Age effects on the temporal evolution of isometric and swallowing pressure. J Gerontol Series A. 2000;55:M634–40.

35.

Robbins J, Levine R, Wood J, Roecker EB, Luschei E. Age effects on lingual pressure generation as a risk factor for dysphagia. J Gerontol Series A. 1995;50:M257.
Funding
This study was funded by Canadian Institute of Health Research (Grant Number MOP-136888).
Ethics declarations
Conflict of interest
Heather Keller is a part of the Speaker's Bureau for Nestle Health Science, Abbott Nutrition and Fresenius Kabi, and receives salary support from the Schlegel-University of Waterloo Research Institute for Aging. The remaining authors declare that they have no conflicts of interest.
About this article
Cite this article
Namasivayam-MacDonald, A.M., Morrison, J.M., Steele, C.M. et al. How Swallow Pressures and Dysphagia Affect Malnutrition and Mealtime Outcomes in Long-Term Care. Dysphagia 32, 785–796 (2017). https://doi.org/10.1007/s00455-017-9825-z
Received:

Accepted:

Published:

Issue Date:
Keywords
Deglutition

Dysphagia

Nutrition

Elderly

Tongue

Nursing home