Abstract
Speech language pathology (SLP) clinical bedside swallowing assessments (CBSA) are a cornerstone of quality care for patients in acute hospitals who have dysphagia. The CBSA informs clinical diagnosis and decisions regarding further instrumental assessment, and is used to develop a management plan and monitor progress. However, self-report and retrospective research shows that SLPs are highly variable in their use of assessment components considered by experts to be important for quality CBSA, casting doubt on the validity and reliability of CBSA. This prospective study describes the components included by SLPs when designing a standardised evidence based dysphagia assessment protocol for acute care patients and observed patterns of component use. The findings confirm that SLPs use the CBSA for multiple purposes beyond diagnosis of aspiration risk and dysphagia presence/severity. They are highly variable in their use of certain components, but also demonstrate consistent use of a core set. It is apparent that SLPs prioritise the application of clinical reasoning to tailor their CBSA to the patient over following a highly structured item-based protocol. The variability in component use likely reflects a complex clinical reasoning process that draws on a wide variety of information combined with expert knowledge as is also observed in many other medical specialties. Rather than promoting the standardisation of CBSA protocols that constrain SLP practice to strict item-based assessment protocols, consideration should be given to promoting the value and facilitating the clinical reasoning process that supports the utility of the CBSA for diagnosis, patient centred management and treatment planning.
This is a preview of subscription content, log in to check access.
Access options
Buy single article
Instant access to the full article PDF.
US$ 39.95
Price includes VAT for USA
Subscribe to journal
Immediate online access to all issues from 2019. Subscription will auto renew annually.
US$ 99
This is the net price. Taxes to be calculated in checkout.
References
1.

Eslick G, Talley N. Dysphagia: epidemiology, risk factors and impact on quality of life—a population-based study. Aliment Pharm Ther. 2008;27:971–9.

2.

Altman K, Yu G, Schaefer S. Consequence of dysphagia in the hospitalized patient. Arch Otolaryngol Head Neck Surg. 2010;136:784–9.

3.

Marsh K, Bertranou E, Suominen H, Venkatachalam M. An economic evaluation of speech and language therapy. London: Matrix Evidence; 2010.

4.

Carnaby-Mann G, Lenius K. The bedside examination in dysphagia. Phy Med Rehabil Cli. 2008;19:747–68.

5.

Speyer R. Oropharyngeal dysphagia: screening and assessment. Otolaryng Clin N Am. 2013;46:989–1008. doi:10.1016/j.otc.2013.08.004.

6.

Speech Pathology Australia. Clinical guideline: dysphagia. Melbourne: Speech Pathology Australia; 2012.

7.

Mathers-Schmidt BA, Kurlinski M. Dysphagia evaluation practices: inconsistencies in clinical assessment and instrumental examination decision-making. Dysphagia. 2003;18:114–25. doi:10.1007/s00455-002-0094-z.

8.

Martino R, Pron G, Diamant NE. Oropharyngeal dysphagia: surveying practice patterns of the speech-language pathologist. Dysphagia. 2004;19:165–76. doi:10.1007/s00455-004-0004-7.

9.

Bateman C, Leslie P, Drinnan MJ. Adult dysphagia assessment in the UK and Ireland: are SLTs assessing the same factors? Dysphagia. 2007;22:174–86. doi:10.1007/s00455-006-9070-3.

10.

Pettigrew CM, O'Toole C. Dysphagia evaluation practices of speech and language therapists in Ireland: clinical assessment and instrumental examination decision-making. Dysphagia. 2007;22:235–44.

11.

Vogels B, Cartwright J, Cocks N. The bedside assessment practices of speech-language pathologists in adult dysphagia. Int J Speech LangPathol. 2015;17:390–400. doi:10.3109/17549507.2014.979877.

12.

Leder SB, Suiter DM (2014) The Yale swallow protocol: an evidence-based approach to decision-making. Springer, Heidelberg. doi:10.1007/978-3-319-05113-0.

13.

Martino R, Silver F, Teasell R, Bayley M, Nicholson G, Streiner DL, Diamant NE. The Toronto Bedside Swallowing Screening Test (TOR-BSST): development and validation of a dysphagia screening tool for patients with stroke. Stroke. 2009;40:555–61. doi:10.1161/STROKEAHA.107.510370.

14.

Mann G. MASA: the mann assessment of swallowing ability. New York: Singular; 2002.

15.

Daniels SK, Anderson JA, Willson PC. Valid items for screening dysphagia risk in patients with stroke: a systematic review. Stroke. 2012;43:892–7. doi:10.1161/STROKEAHA.111.640946.

16.

Gonzalez-Fernandez M, Sein MT, Palmer JB. Clinical experience using the mann assessment of swallowing ability for identification of patients at risk for aspiration. Am J Speech Lang Pathol. 2011;20:331–6. doi:10.1044/1058-0360(2011/10-0082.

17.

Blauer SR, Bally K, Tschudi P, Martina B, Zeller A. Acute cough illness in general practice—predictive value of clinical judgement and accuracy of requesting chest X-rays. Praxis. 2013;102:1287–92.

18.

National Health and Medical Research Council of Australia and Australian Vice-Chancellors' Committee (2007) National statement on ethical conduct in human research. Australian Government, Canberra. http://www.nhmrc.gov.au/guidelines/publications/e72. Accessed 15 March 2016.

19.

World Medical Association. World Medical association declaration of Helsinki ethical principles for medical research involving human subjects. JAMA. 2013;310:2191–4.

20.

Mills E, Nimmo L. Speech pathology acute adult dysphagia management competency training programme. Adelaide: Adelaide Local Health Networks; 2012.

21.

Carnaby G. Importance of a clinical exam/cranial nerve assessment. Perspect Swallow Disord Dysphagia. 2012;21:143–9.

22.

Schmidt HG, Rikers RM. How expertise develops in medicine: knowledge encapsulation and illness script formation. Med Educ. 2007;41:1133–9. doi:10.1111/j.1365-2923.2007.02915.x.

23.

Crosskerry A. A universal model of clinical reasoning. Acad Med. 2009;84:1022–8.

24.

Norman G, Young M, Brooks L. Non-analytical models of clinical reasoning: the role of experience. Med Educ. 2007;41:1140–5. doi:10.1111/j.1365-2923.2007.02914.x.

25.

Charlin B, Boshuizen HP, Custers EJ, Feltovich PJ. Scripts and clinical reasoning. Med Educ. 2007;41:1178–84. doi:10.1111/j.1365-2923.2007.02924.x.

26.

Norman G. Research in clinical reasoning: past history and current trends. Med Educ. 2005;39:418–27.

27.

Benner PA, Tanner CA, Chesla CA. Expertise in nursing practice: caring, clinical judgment, and ethics. New York: Springer Publishing Company; 1996.

28.

Linacre JM. Optimizing rating scale category effectiveness. J Appl Measure. 2002;3(1):85–106.

29.

Govaerts MJ, van der Vleuten CP, Schuwirth LW, Muijtjens AM. Broadening perspectives on clinical performance assessment: rethinking the nature of in-training assessment. Adv Health Sci Educ. 2007;12:239–60. doi:10.1007/s10459-006-9043-1.

30.

Greenhalgh J, Flynn R, Long AF, Tyson S. Tacit and encoded knowledge in the use of standardised outcome measures in multidisciplinary team decision making: a case study of in-patient neurorehabilitation. Soc Sci Med. 2008;67:183–94. doi:10.1016/j.socscimed.2008.03.006.

31.

Greenhalgh J, Long AF, Flynn R, Tyson S. 'It's hard to tell': the challenges of scoring patients on standardised outcome measures by multidisciplinary teams: a case study of neurorehabilitation. BMC Health Serv Res. 2008;8:217. doi:10.1186/1472-6963-8-217.
Acknowledgments
Our grateful thanks to our speech language pathology colleagues for their support and diligent participation in this research.
This research was conducted without financial support.
Ethics declarations
Conflict of interest
The authors declare that they have no conflict of interest.
Appendix 1: Speech Pathology Initial Dysphagia Assessment (SPIDA) Proforma
Appendix 1: Speech Pathology Initial Dysphagia Assessment (SPIDA) Proforma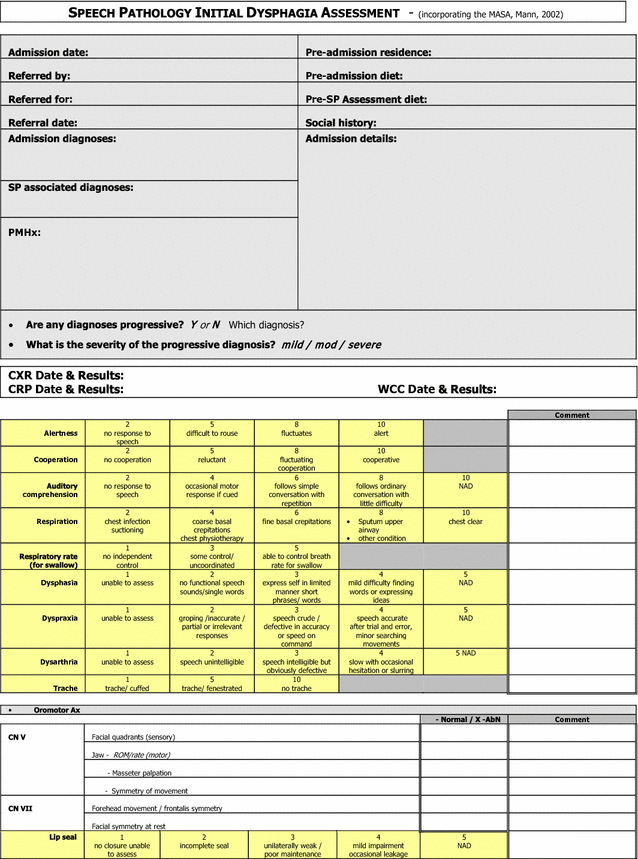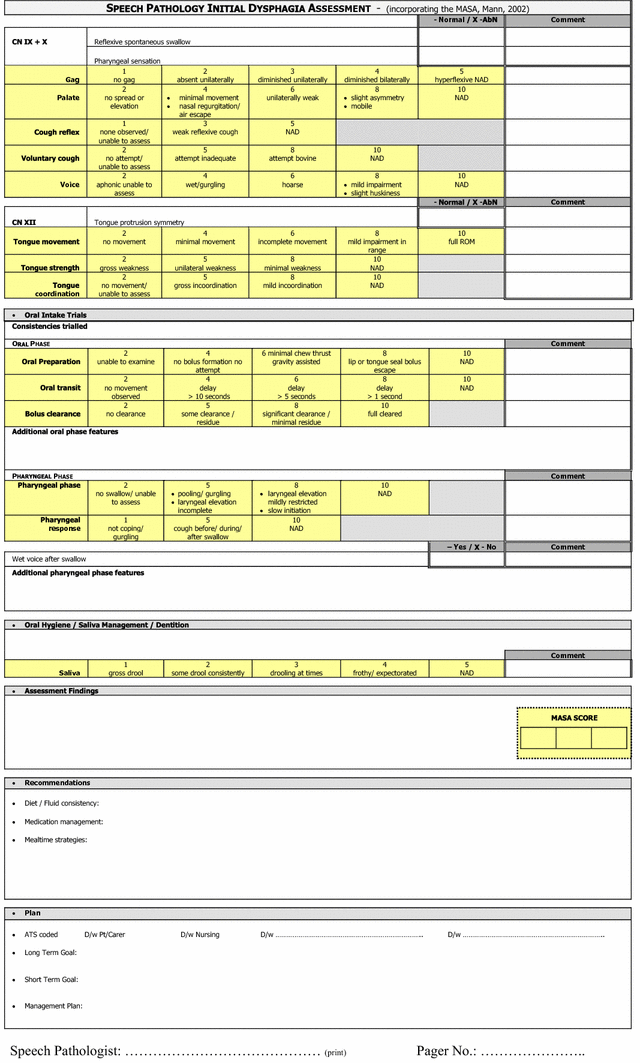 About this article
Cite this article
McAllister, S., Kruger, S., Doeltgen, S. et al. Implications of Variability in Clinical Bedside Swallowing Assessment Practices by Speech Language Pathologists. Dysphagia 31, 650–662 (2016). https://doi.org/10.1007/s00455-016-9724-8
Received:

Accepted:

Published:

Issue Date:
Keywords
Deglutition

Deglutition disorders

Clinical bedside assessment

Clinical reasoning

Dysphagia

Validity