Abstract
The purpose of this study was to assess the effect of repeated sessions of electrical stimulation therapy (EST) on the neck muscles with respect to the stimulation site by using quantitative kinematic analysis of videofluoroscopic swallowing studies (VFSS) in dysphagia patients with acquired brain injury. We analyzed 50 patients in a tertiary hospital who were randomly assigned into two different treatment groups. One group received EST on the suprahyoid muscle only (SM), and the other group received stimulation with one pair of electrodes on the suprahyoid muscle and the other pair on the infrahyoid muscle (SI). All patients received 10–15 sessions of EST over 2–3 weeks. The VFSS was carried out before and after the treatment. Temporal and spatial parameters of the hyoid excursion and laryngeal elevation during swallowing were analyzed by two-dimensional motion analysis. The SM group (n = 25) revealed a significant increase in maximal anterior hyoid excursion distance (mean ± SEM = 1.56 ± 0.52 mm, p = 0.008) and velocity (8.76 ± 3.42 mm/s, p = 0.017), but there was no significant increase laryngeal elevation. The SI group (n = 25), however, showed a significant increase in maximal superior excursion distance (2.09 ± 0.78 mm, p = 0.013) and maximal absolute excursion distance (2.20 ± 0.82 mm, p = 0.013) of laryngeal elevation, but no significant increase in hyoid excursion. There were no significant differences between the two groups with respect to changes in maximal anterior hyoid excursion distance (p = 0.130) and velocity (p = 0.254), and maximal distance of superior laryngeal elevation (p = 0.525). EST on the suprahyoid muscle induced an increase in anterior hyoid excursion, and infrahyoid stimulation caused an increase in superior laryngeal elevation. Hyolaryngeal structural movements were increased in different aspects according to the stimulation sites. Targeted electrical stimulation based on pathophysiology is necessary.
Access options
Buy single article
Instant access to the full article PDF.
US$ 39.95
Tax calculation will be finalised during checkout.
Subscribe to journal
Immediate online access to all issues from 2019. Subscription will auto renew annually.
US$ 79
Tax calculation will be finalised during checkout.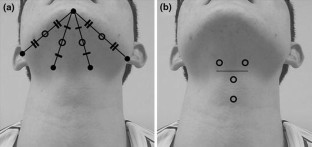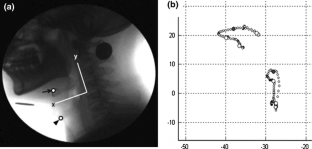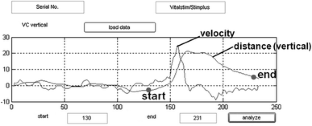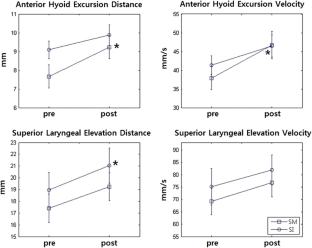 References
1.

Ashford J, McCabe D, Wheeler-Hegland K, Frymark T, Mullen R, Musson N, Schooling T, Hammond CS. Evidence-based systematic review: oropharyngeal dysphagia behavioral treatments. Part III—impact of dysphagia treatments on populations with neurological disorders. J Rehabil Res Dev. 2009;46:195–204.

2.

Freed ML, Freed L, Chatburn RL, Christian M. Electrical stimulation for swallowing disorders caused by stroke. Respir Care. 2001;46:466–74.

3.

Leelamanit V, Limsakul C, Geater A. Synchronized electrical stimulation in treating pharyngeal dysphagia. Laryngoscope. 2002;112:2204–10.

4.

Permsirivanich W, Tipchatyotin S, Wongchai M, Leelamanit V, Setthawatcharawanich S, Sathirapanya P, Phabphal K, Juntawises U, Boonmeeprakob A. Comparing the effects of rehabilitation swallowing therapy vs. neuromuscular electrical stimulation therapy among stroke patients with persistent pharyngeal dysphagia: a randomized controlled study. J Med Assoc Thai. 2009;92:259–65.

5.

Ludlow CL, Humbert I, Saxon K, Poletto C, Sonies B, Crujido L. Effects of surface electrical stimulation both at rest and during swallowing in chronic pharyngeal dysphagia. Dysphagia. 2007;22:1–10.

6.

Matsuo K, Palmer JB. Anatomy and physiology of feeding and swallowing: normal and abnormal. Phys Med Rehabil Clin N Am. 2008;19:691–707.

7.

Suiter DM, Leder SB, Ruark JL. Effects of neuromuscular electrical stimulation on submental muscle activity. Dysphagia. 2006;21:56–60.

8.

Humbert IA, Poletto CJ, Saxon KG, Kearney PR, Crujido L, Wright-Harp W, Payne J, Jeffries N, Sonies BC, Ludlow CL. The effect of surface electrical stimulation on hyolaryngeal movement in normal individuals at rest and during swallowing. J Appl Physiol. 2006;101:1657–63.

9.

Park JW, Kim Y, Oh JC, Lee HJ. Effortful swallowing training combined with electrical stimulation in post-stroke dysphagia: a randomized controlled study. Dysphagia. 2012;27:521–7.

10.

Park JW, Oh JC, Lee HJ, Park SJ, Yoon TS, Kwon BS. Effortful swallowing training coupled with electrical stimulation leads to an increase in hyoid elevation during swallowing. Dysphagia. 2009;24:296–301.

11.

Martin L, Cometti G, Pousson M, Morlon B. Effect of electrical stimulation training on the contractile characteristics of the triceps surae muscle. Eur J Appl Physiol Occup Physiol. 1993;67:457–61.

12.

Valli P, Boldrini L, Bianchedi D, Brizzi G, Miserocchi G. Effect of low intensity electrical stimulation on quadriceps muscle voluntary maximal strength. J Sports Med Phys Fitness. 2002;42:425–30.

13.

Wijting Y, Freed ML. Vitalstim therapy training manual. Hixson: Chattanooga Group; 2003. p. 103–9.

14.

Bulow M, Speyer R, Baijens L, Woisard V, Ekberg O. Neuromuscular electrical stimulation (NMES) in stroke patients with oral and pharyngeal dysfunction. Dysphagia. 2008;23:302–9.

15.

Carnaby-Mann GD, Crary MA. Adjunctive neuromuscular electrical stimulation for treatment-refractory dysphagia. Ann Otol Rhinol Laryngol. 2008;117:279–87.

16.

Seo HG, Oh BM, Han TR. Longitudinal changes of the swallowing process in subacute stroke patients with aspiration. Dysphagia. 2011;26:41–8.

17.

Prosiegel M, Heintze M, Sonntag EW, Schenk T, Yassouridis A. Kinematic analysis of laryngeal movements in patients with neurogenic dysphagia before and after swallowing rehabilitation. Dysphagia. 2000;15:173–9.

18.

Paik NJ, Kim SJ, Lee HJ, Jeon JY, Lim JY, Han TR. Movement of the hyoid bone and the epiglottis during swallowing in patients with dysphagia from different etiologies. J Electromyogr Kinesiol. 2008;18:329–35.

19.

Kang BS, Oh BM, Kim IS, Chung SG, Kim SJ, Han TR. Influence of aging on movement of the hyoid bone and epiglottis during normal swallowing: a motion analysis. Gerontology. 2010;56:474–82.

20.

Hsu SS, Hu MH, Wang YH, Yip PK, Chiu JW, Hsieh CL. Dose-response relation between neuromuscular electrical stimulation and upper-extremity function in patients with stroke. Stroke. 2010;41:821–4.

21.

Pearson WG Jr, Langmore SE, Zumwalt AC. Evaluating the structural properties of suprahyoid muscles and their potential for moving the hyoid. Dysphagia. 2010;26:345–51.

22.

Glinsky J, Harvey L, Van Es P. Efficacy of electrical stimulation to increase muscle strength in people with neurological conditions: a systematic review. Physiother Res Int. 2007;12:175–94.

23.

Burnett TA, Mann EA, Stoklosa JB, Ludlow CL. Self-triggered functional electrical stimulation during swallowing. J Neurophysiol. 2005;94:4011–8.

24.

Taub E, Uswatte G, Elbert T. New treatments in neurorehabilitation founded on basic research. Nat Rev Neurosci. 2002;3:228–36.

25.

Logemann JA, Pauloski BR, Rademaker AW, Colangelo LA, Kahrilas PJ, Smith CH. Temporal and biomechanical characteristics of oropharyngeal swallow in younger and older men. J Speech Lang Hear Res. 2000;43:1264–74.

26.

Sia I, Carvajal P, Carnaby-Mann GD, Crary MA. Measurement of hyoid and laryngeal displacement in video fluoroscopic swallowing studies: variability, reliability, and measurement error. Dysphagia. 2011;27:192–7.
Conflict of interest
The authors have no conflicts of interest to declare.
About this article
Cite this article
Nam, H.S., Beom, J., Oh, BM. et al. Kinematic Effects of Hyolaryngeal Electrical Stimulation Therapy on Hyoid Excursion and Laryngeal Elevation. Dysphagia 28, 548–556 (2013). https://doi.org/10.1007/s00455-013-9465-x
Received:

Accepted:

Published:

Issue Date:
Keywords
Deglutition

Deglutition disorders

Kinematic analysis

Electrical stimulation therapy

Hyoid excursion

Laryngeal elevation