Abstract
Powdered maize starch thickeners are used to modify drink consistency in the clinical management of dysphagia. Amylase is a digestive enzyme found in saliva which breaks down starch. This action is dependent on pH, which varies in practice depending on the particular drink. This study measured the effects of human saliva on the viscosity of drinks thickened with a widely used starch-based thickener. Experiments simulated a possible clinical scenario whereby saliva enters a cup and contaminates a drink. Citric acid (E330) was added to water to produce a controlled range of pH from 3.0 to 7.0, and several commercially available drinks with naturally low pH were investigated. When saliva was added to thickened water, viscosity was reduced to less than 1% of its original value after 10–15 min. However, lowering pH systematically slowed the reduction in viscosity attributable to saliva. At pH 3.5 and below, saliva was found to have no significant effect on viscosity. The pH of drinks in this study ranged from 2.6 for Coca Cola to 6.2 for black coffee. Again, low pH slowed the effect of saliva. For many popular drinks, having pH of 3.6 or less, viscosity was not significantly affected by the addition of saliva.
Access options
Buy single article
Instant access to the full article PDF.
US$ 39.95
Tax calculation will be finalised during checkout.
Subscribe to journal
Immediate online access to all issues from 2019. Subscription will auto renew annually.
US$ 79
Tax calculation will be finalised during checkout.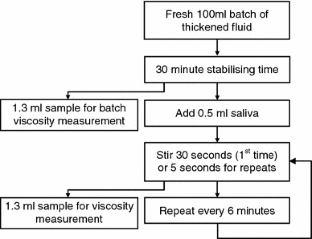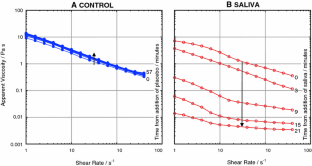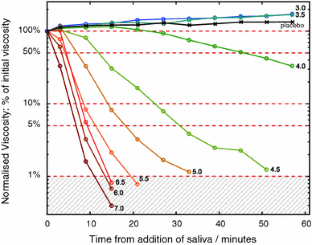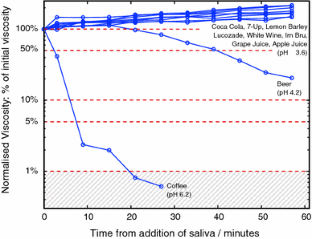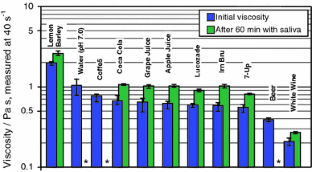 Notes
1.

In contrast, untreated corn starch (known as cornflour in the UK) is used in home baking and as an ingredient in pre-prepared meals but is not used as an instant thickening powder for dysphagia management.
References
1.

Whelan K. Inadequate fluid intakes in dysphagic acute stroke. Clin Nutr. 2001;20(5):423–8.

2.

Layne KA, Losinski DS, Zenner PM, Ament JA. Using the Fleming Index of dysphagia to establish prevalence. Dysphagia. 1989;4(1):39–42.

3.

Goulding R, Bakheit AMO. Evaluation of the benefits of monitoring fluid thickness in the dietary management of dysphagic stroke patients. Clin Rehabil. 2000;14:119–24.

4.

Finestone HM, Foley NC, Woodbury MG, Greene-Finestone L. Quantifying fluid intake in dysphagic stroke patients: a preliminary comparison of oral and nonoral strategies. Arch Phys Med Rehabil. 2001;82:1744–6.

5.

Kayser-Jones J, Schell ES, Porter C, Barbaccia JC, Shaw H. Factors contributing to dehydration in nursing homes: inadequate staffing and lack of professional supervision. J Am Geriatr Soc. 1999;47(10):1187–94.

6.

Davis LA. Quality of life issues related to dysphagia. Top Geriatr Rehabil. 2007;23:352–65.

7.

Ekberg O, Hamdy S, Woisard V, Wuttge-Hannig A, Ortega P. Social and psychological burden of dysphagia: its impact on diagnosis and treatment. Dysphagia. 2002;17:139–46.

8.

Dantas RO, Kern MK, Massey BT, Dodds WJ, Kahrilas PJ, Brasseur JG, Cook IJ, Lang IM. Effect of swallowed bolus variables on oral and pharyngeal phases of swallowing. Am J Physiol. 1990;258:G675–81.

9.

Cichero JAY, Jackson O, Halley PJ, Murdoch BE. Which one of these is not like the others? An inter-hospital study of the viscosity of thickened fluids. J Speech Lang Hear Res. 2000;43:537–47.

10.

Miller JL, Watkin KL. The influence of bolus volume and viscosity on anterior lingual force during the oral stage of swallowing. Dysphagia. 1996;11:117–24.

11.

Logemann JA, Gensler G, Robbins J, Lindblad AS, Brandt D, Hind JA, Kosek S, Dikeman K, Kazandjian M, Gramigna GD, Lundy D, McGarvey-Toler S, Miller Gardner PJ. A randomized study of three interventions for aspiration of thin liquids in patients with dementia or Parkinson's disease. J Speech Lang Hear Res. 2008;51:173–83.

12.

Cichero JAY, Murdoch BE. Dysphagia: foundation, theory and practice. Chichester: Wiley; 2006.

13.

Vaclavik VA, Christian EW. Essentials of food science. New York: Springer; 2008.

14.

Dewar RJ, Joyce MJ. The thixotropic and rheopectic behaviour of maize starch and maltodextrin thickeners used in dysphagia therapy. Carbohydr Polym. 2006;65:296–305.

15.

Dokic L, Jakovljevic J, Dokic P. Relation between viscous characteristics and dextrose equivalent of maltodextrins. Starch. 2004;56(11):520–5.

16.

Hall JE. Guyton and hall textbook of medical physiology. 12th ed. Philadelphia: Saunders; 2010.

17.

Harris M, Edgar M, Meghji S. Saliva: Its secretion, composition and functions. In: Clinical oral science. London: Butterworth-Heinemann, 1997

18.

Heinzerling CI, Smit G, Dransfield E. Modelling oral conditions and thickness perception of a starch product. Int Dairy J. 2008;18:867–73.

19.

Janssen AM, Terpstra ME, De Wijk RA, Prinz JF. Relations between rheological properties, saliva-induced structure breakdown and sensory texture attributes of custards. J Texture Stud. 2007;38:42–69.

20.

Ferry AL, Hort J, Mitchell JR, Lagarrigue S, Pamies BV. Effect of amylase activity on starch paste viscosity and its implications for flavor perception. J Texture Stud. 2004;35:511–24.

21.

Hanson B, O'Leary MT, Smith CH. The effect of saliva on the viscosity of thickened drinks, Dysphagia. doi:10.1007/s00455-011-9330-8.

22.

Lavelle CLB, editor. Applied physiology of the mouth. Bristol: John Wright and Sons Ltd; 1975.

23.

British Dietetic Association. National Descriptors for Texture Modification in Adults. Birmingham: BDA, 2009.

24.

O'Leary M, Hanson B, Smith CH. Variation of the apparent viscosity of thickened drinks. Int J Lang Commun Disord. 2011;46(1):17–29.

25.

Salimetrics LLC, Saliva Collection and Handling Advice. Available oat www.salimetrics.com. Accessed 1 May 2011.

26.

Malkin AY. Rheology Fundamentals. Toronto: ChemTec Publishing, 1994 (www.chemtec.org).

27.

Sharma F, Sherman P. Identification of stimuli controlling the sensory evaluation of viscosity. J Texture Stud. 1973;4:111–8.

28.

Sopade PA, Halley PJ, Cichero JAY, Ward LC. Rheological characterisation of food thickeners marketed in Australia in various media for the management of dysphagia. I: water and cordial. J Food Eng. 2007;79:69–82.

29.

O'Leary M, Hanson B, Smith CH. Viscosity and non-Newtonian features of thickened fluids used for dysphagia therapy. J Food Sci. 2010;75:E330–8.

30.

Pelletier CA, Lawless HT. Effect of citric acid and citric acid–sucrose mixtures on swallowing in neurogenic oropharyngeal dysphagia. Dysphagia. 2003;18:231–41.

31.

Desse M, Mitchell J, Wolf B, Budtova T. Droplet deformation and break-up under shear: hydrocolloid solution vs. suspension of starch granules. Food Hydrocolloids. 2011;25:495–502.

32.

Sevón L, Laine MA, Karjalainen S, Doroguinskaia A, Helenius H, Kiss E, Lehtonen-Veromaa M. Effect of age on flow-rate, protein and electrolyte composition of stimulated whole saliva in healthy, non-smoking women. Open Dent J. 2008;2:89–92.

33.

Tylenda CA, Ship JA, Fox PC, Baum BJ. Evaluation of submandibular salivary flow rate in different age groups. J Dent Res. 1988;67(9):1225–8.
Acknowledgment
This study was partly supported by an educational grant (Ref: Dept: 440000 Proj: 301253) by Fresenius-Kabi Ltd. to the first author.
About this article
Cite this article
Hanson, B., Cox, B., Kaliviotis, E. et al. Effects of Saliva on Starch-thickened Drinks with Acidic and Neutral pH. Dysphagia 27, 427–435 (2012). https://doi.org/10.1007/s00455-011-9386-5
Received:

Accepted:

Published:

Issue Date:
Keywords
Saliva

Amylase

Viscosity

Rheology

Starch

Thickener

pH

Deglutition

Deglutition disorders